BN Style's Top 8 Best Dressed Celebrities At The 2016 Grammys
Clearly all roads led to the 2016 Grammys that had celebrities dressed to the nines in dazzling and some of the most risqué ensembles of the 2016 awards season so far. While the world might have actually been interested in the music and awards, we at BN Style watched the red carpet procession with penetrating attention as we were enthralled by the celebrity fashion that was on full display.  And while a few stars brought it—A-list style, others clearly showed up looking like extras in a cirque du soleil performance.
For us though, it was all about positive energy and those celebrities whose style stars shone the brightest on the red carpet. See below, our Top 8 Best Dressed Celebrities at the 2016 Grammys 
8. Jiddena — Jiddena is indeed a man of many colours as expressed in this bold choice of colour. The classic man looked rather pleasantly quaint with his three-piece suit and staff that hinted old-Hollywood glamour. We are all about how he was able to make such a bright colour work so well for a him.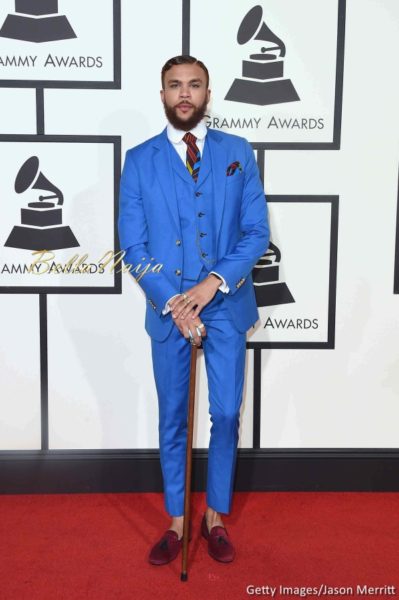 7. Seraya — The Empire starlet could have literally stolen the shine from the show's larger than life Cookie Lyon – in this lavender cut-out dress with a thigh high slit that could have given Jolie's a run for its worth. The dress was accessorized with a sleek center parted bob, burgundy lip-stain and nail polish, silver arm cuff, ankle rings, silver clutch and that strappy heels that we don't mind coveting.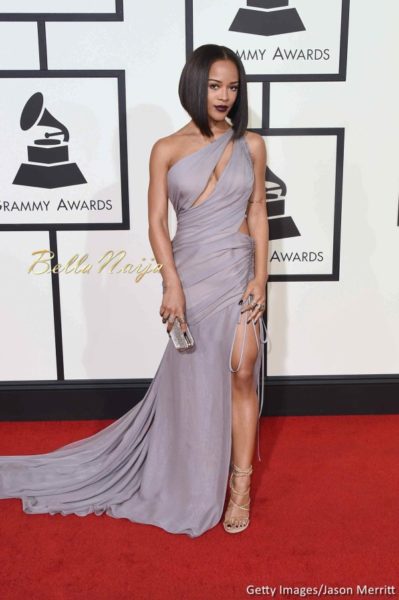 6. Giuliana Rancic — Guiliana was the woman in gold at the grammys in a fiercely studded mirror- and grommet Jani & Khosla dress.  Gee looked every inch a style star with gold drop earrings, swooped back rock-chic hair and cuff bangles. She exuded confidence, control and ownership of her presence.
5. Big Sean — We have come to know Big Sean for his distressed slash homeless chic Kanye-esque style—which has been good, until we saw him on the Grammys red carpet and thought —damn! he's ready to play with the big boys. Big Sean clearly has it locked down in the tux department as much as he does in the street style department. We particularly dig his crispy white blazer with the shiny satin lapel and unbuttoned vest which makes for a super cajsh ensemble.
4. Bella Hadid — This will probably go down in history as Bella Hadid's sexiest look yet. The model (and sister to Gigi Hadid) wore an Alexandre Vauthier Haute Couture piece with a deep plunging neckline, cut-outs, and a Jolie-esque leggy slit. We are totally team Bella for her pared back accessories and makeup which makes for an even more powerful style statement.
3. Alessandra Ambrosio — The super model had an unnamable pizzazz about her goth meet gypsie meet high fashion 'rock chic' ensemble.  The décolletage, cut-outs, choker, dark-dark eyes, full-on leg game, sleek center parted hair and bedazzled strappy heels seem like a whole lot to take in, but the Victoria Secret Angel effortless tied them down into this effortless edgy look.
2. Wiz Khalifa — Wizzy would have looked completely out of place if he had worn anything other than this swaggered version of a traditional tuxedo by Thom Browne . Wiz looked outstanding in his element, confidently embodying his many style quirks, without having to conform to the conventional way of dressing. Wizzy's ensemble was definitely a couture meet streets affair. Wiz Khalif is second on our list for pushing the boundary of what dapper is and ultimately redefining the word.
Ciara — It is near impossible to think of a celebrity that could have pulled this dress without so much as a hiccup and with so much elegance and grace as Ciara, well, save for Rihanna and J.Lo (ehnn, but they didn't this time around). Here's the thing, it is even much more impossible to look tasteful in an almost all revealing frock like this without looking remarkably tacky—but Ciara did, with a black strap sandals, nearly no make up, a loosely pulled back hair and a diamond stud earrings of course. Ciara is our best dressed celebrity at the 2016 Grammys because she literally stepped outside the box, then brought and completely slammed at it.