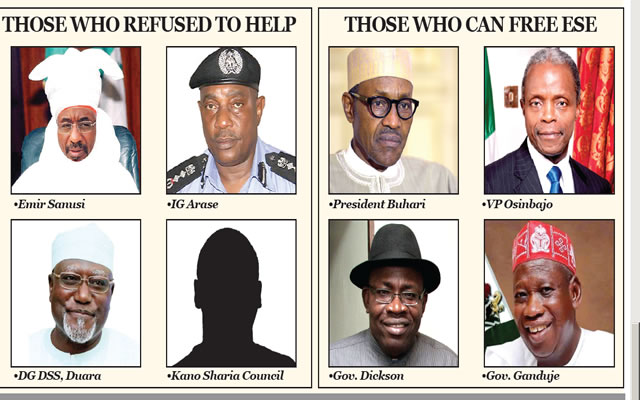 This is so disturbing! Unfortunately, it is one case out of many but we cannot let it go. Ese must return home #FreeEse.
The Punch Newspaper has now launched a campaign to push for her freedom.
On August 12, 2015, nothing indicated to Mrs. Rose Oruru, a food vendor in Opolo, Yenagoa Local Government Area of Bayelsa State, that she would soon face an ordeal over her 14-year-old daughter, Ese.
That day, she had gone to the market and left her four children at her shop. She returned to find out that her daughter, Ese, was allegedly abducted by one Yinusa, aka Yellow, who is one of her long standing customers.
EseEse
Narrating the incident, the distraught mother said, "When I came back, the elder brother of Ese, Kevin, 16, said Ese had left the shop since 11am and had not returned. I enquired where she could have gone, but he said he did not know.
"From there, I started looking for her, asking neighbours if they saw her, but they said they did not. As she usually sold food to northern artisans, I went to the place they usually gathered to find out if they saw Ese. But by the time I got there, they were in the mosque, so, I had to go back.
"After some minutes, I sent my son back to the place and directed that he should tell anybody he saw there that I wanted to see Yinusa. As the boy got there, one of them asked my son to tell me to come. When I got there, he said Yinusa, who is also called Yellow, told them he had sold his commercial tricycle and had gone home to Kano with my daughter, Ese. They told me Yinusa said he was taking Ese home to convert her to Islam to enable him to marry her."
One Mohammed (aka Daidi) reportedly informed Oruru that Yinusa had taken Ese to Kano with an intention to marry her. She was 13 years old then.
Acting on the information, Oruru approached one Dan Kano, who not only confirmed the story, but also promised to take her to Kano to recover her daughter.
But Dan Kano reneged on his promise and sent one Rabiu to accompany the child's mother to Kano instead.
On August 14, the anguished mother set for Kano. She and Rabiu arrived at the ancient city after midnight. In the morning, Rabiu took Oruru to the chief of a village in Tufa, Kura Local Government Area of Kano State.
Narrating her anguish amid sobs, Rose said the chief was furious with Rabiu for bringing her to Kano. He told them that Ese had been converted into Islam and renamed 'Aisha.' Not only that, the 14-year-old was married and that the child was no longer her daughter.
"He also informed us that Ese was in the custody of the Emir of Kano, Sanusi Lamido Sanusi, at the palace," she stated.
Not cowed by the chief's position, Oruru, in company with Rabiu, approached the Emir of Kano's palace but met a stiff opposition by many youths, who pushed them out of the palace.
Oruru said Yinusa (the suspect), through phone calls, informed her that he did not kidnap her daughter as he took permission from one Dan Kano before he abducted her.
You can read the rest of the story – Part 1 sand Part 2 on the Punch website.
The bottom line is that Ese is still forcefully married and those who can help have not done so.