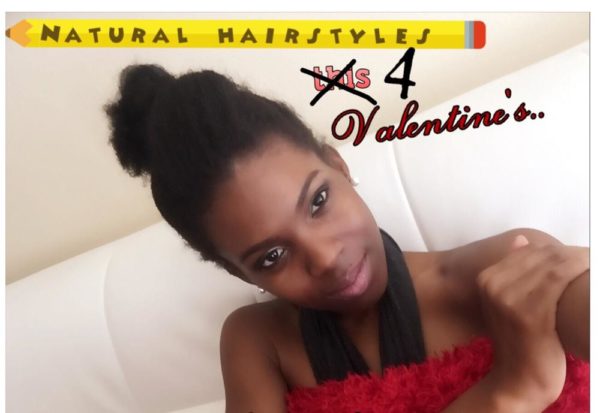 Those with Natural 'unpermed' hair know how tasking it is to come up with quick hairstyling ideas especially when we aren't on any protective styles… and the sound of the car horn or our boyfriend's/husband's impatiently raised voice, asking us what we are still doing in the bathroom or why it's taking us forever to put our hair in order, right?
Well, I figured some easy styles and a better way out. You'll be pleased with what you can achieve on freshly washed, stretched hair, with a little moisturizer, oil, a scarf and two hair bands.
Here are a few styles I came up with that you could wear to your valentine date (lunch or dinner) to help you avoid being late or keeping loved ones waiting, and yes, you don't have to have unrelaxed hair to try them out too.
Steps to take before you begin styling:
Preparing your hair
Deep Condition and Cowash hair (You could avoid this if your hair is already clean.
Moisturize (using a moisturizing cream) and Seal with oil (jojoba or Castor oil)
Blow dry with cold air or low heat with combing to stretch hair (be sure to use heat protectant) or see ways to stretch hair without heat here.
Choose what styles from the pictures below you would like to recreate.
Don't be afraid to get creative, alter a step(s) to suit your taste.
Styling
What you need
Bobby Pins/Clips
Wide tooth comb
Scarf
Little hair bands
Little brush
Edge Control
Corn-rowed Crown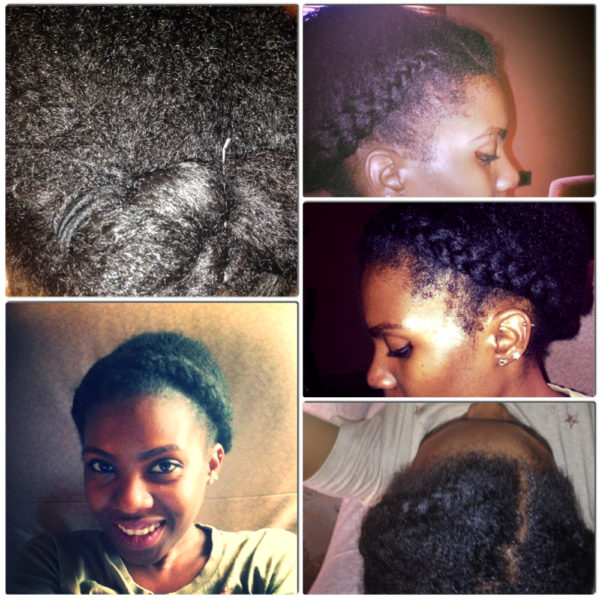 Divide your hair into 2 unequal parts (you could part in the middle or in the side like is done in the picture
Braid the smaller part in front in 3-strands on both sides
When done, put all of your hair in a bun.
Twisted Mo'hawk Bun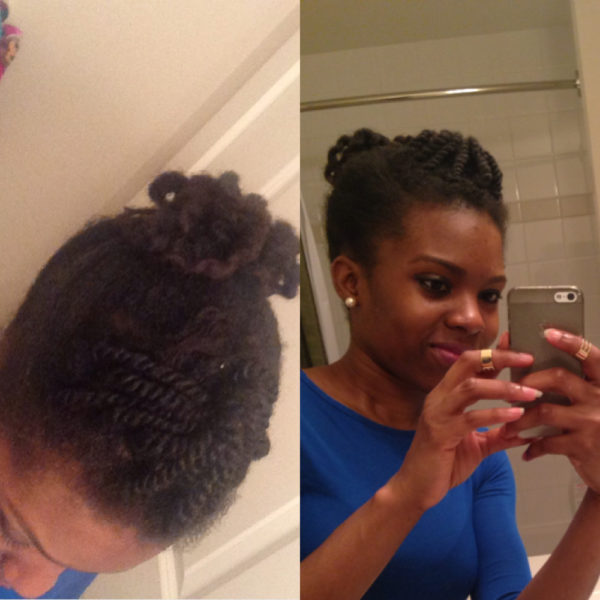 Bring out some middle hair infront and twist individually
Brush the sides and pack in a high bun
Twist the the tips using a curling cream or moisturizer
When ready to leave, loosen the twist to have the curl at the bun
Fold in the braided front and secure with bobby pin.
Folded Bun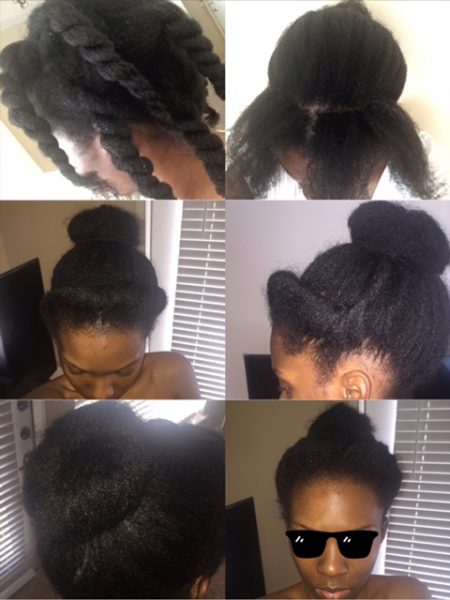 Separate all front hair to be folded like in pic1.
Fold the left out front inwards all the way to the end
Put the remaining hair in a bun using your hair band
Fold the tips round to form a donut on top
Don't forget your makeup and jewelry!
Wrapped Bun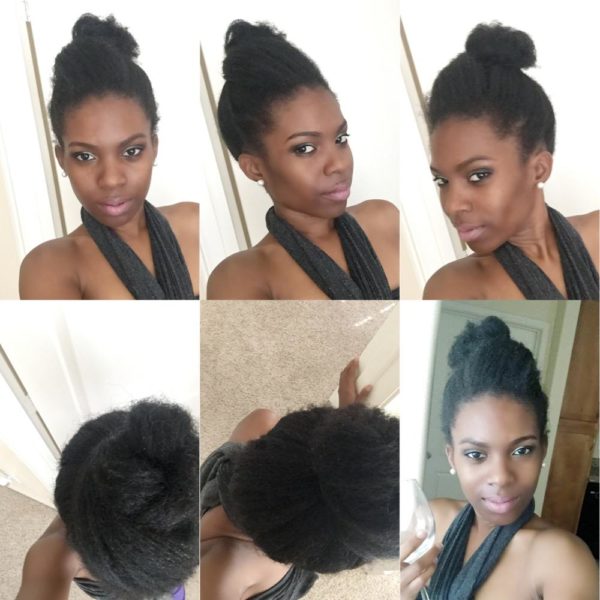 Like in picture 2, bring out some hair in the middle, like a mo'hawk
Pack the rest of the hair in a high messy bun
Then wrap the left out hair infront around the bun(you can use bobby pins to secure)
Apply makeup wear jewelry…Pow!!
Double Bun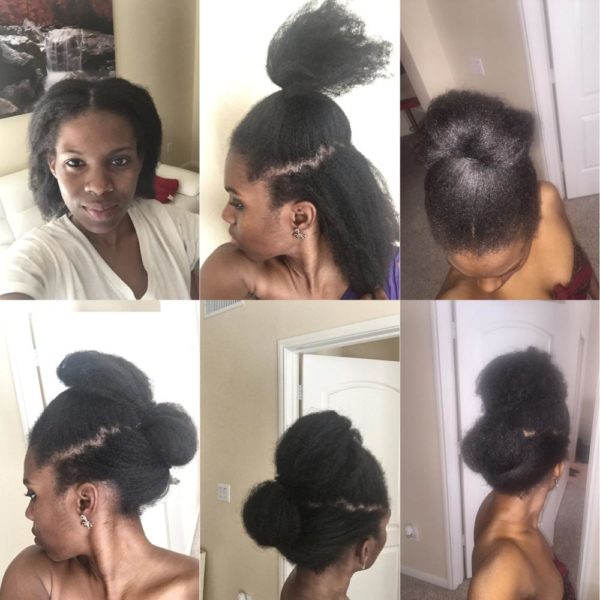 Separate hair into 2 equal parts, top & bottom
Using two hair bands, pack them in a bun
Use bobby pins or small clips to hold the both buns together in the middle
Don't forget the makeup & a little perfume at the back of the ears!
Old School Bun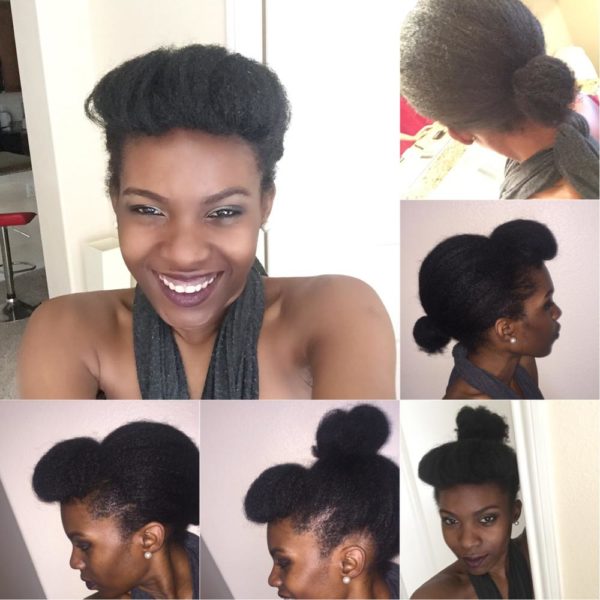 Now this could be in a high bun or low one
Section hair like in picture 2 and pack the rest of the hair all to the back or in a high bun
Fold the left out middle hair infront inwards and secure with bobby pins
It would create a folded fringe
A little makeup, brushed edges with edge control, jewelry then you're good to go!
Scarfed Fold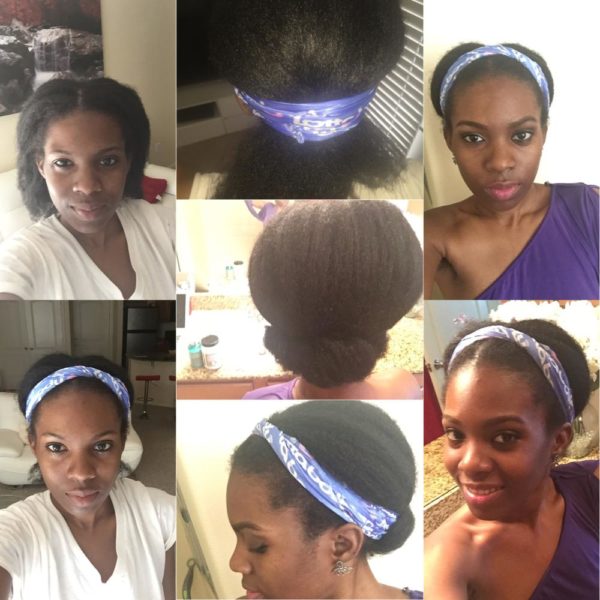 Tie the scarf (you can use colored elastic head band instead) around the hair tightly (you can part your hair in the middle or side)
Fold the left out hair at the bottom into the scarf
Pull scarf backwards
A little makeup and jewelry then you're done.
What hairstyles would you be trying out this Valentine's?
Photo Credit: @knotteebynature