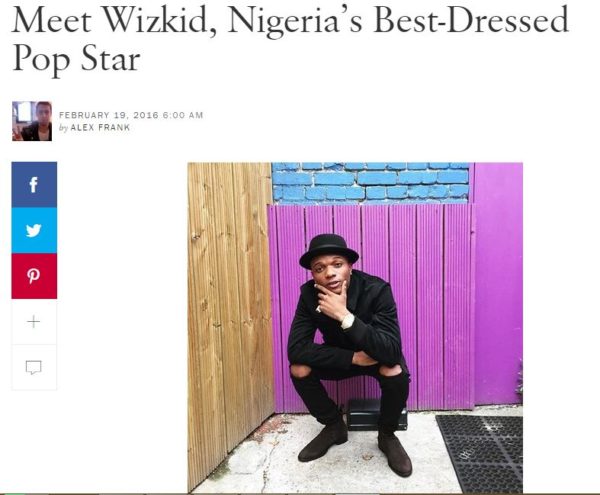 We love how our music stars are getting a lot of international recognition. It's amazing and well deserved.
Wizkid, who was featured in Fader Magazine a couple of weeks ago (click here) was today featured on Vogue.com and described as Nigeria's Best Dressed Pop Star.
The 25-year-old superstar had a chat with Vogue.com via Skype and he shares his shopping habits, his favourite brands and more.
According to Vogue.com, Wizkid "has become almost as known for his trendsetting style as his sound, and his is a thoughtful and fun approach to wardrobe: clean lines and minimalism; a mix of fresh streetwear with traditional Nigerian clothes; and bold, bright accessories."
See excerpts from his interview below.
On shopping in Lagos: I have local tailors out there who make me traditional stuff. So I get material from Lagos, and I have them make me pieces. I mix them up with whatever I wear. I have a whole lot of tailors. The fabrics are from different parts of Nigeria. We have the tie and dye from the western part of Nigeria. We get stuff from the north. I mix it up. When I'm back home, all I wear is African fabric. All I really rock is the traditional stuff. That's the in thing right now. That's really coming back. Back in the day, our parents used to wear it every day, and they still do, but now it's cool for wee young ones to wear it. It's amazing. We're doing it differently. We're having it a little bit more fitted. We have styles on it, embroideries and stuff, by local people, made by hand, designed on it.
On Lagos style: Lagos style is fresh and different. Even with the tailors, they get very innovative with their stuff, with the cuts. When my parents used to make the traditional wares, it was a little bit baggy. But now the tailors are able to infuse the European style, making it slim-fit. Lagos style is different, man. Innovative.
On his traditional outfits: I design everything myself, and I get them to make it. I do a little sketch; sometimes I just sit down with a tailor and describe what I want. Sometimes we go back and forth, like, for days, trying to get it right. Sometimes it'll take a day to make it, sometimes three, four days. I have a lot of tailors. If I want something made in 12 hours, it will be made in 12 hours.
On his style growing up: Growing up in Lagos, I wasn't fortunate enough to get the fresh stuff when it was new. There was this place we used to go to find stuff that had been shipped from America, like secondhand clothes. I used to rock a lot of Reebok, just a lot of sporty stuff.
On launching a clothing line: I'm hoping to release a clothing line after my EP, planned for April. It's going to be tracksuits, T-shirts, hats, and African attire as well. I'll have a special line for traditional [clothes] with my tailors. Taking Africa to the world.