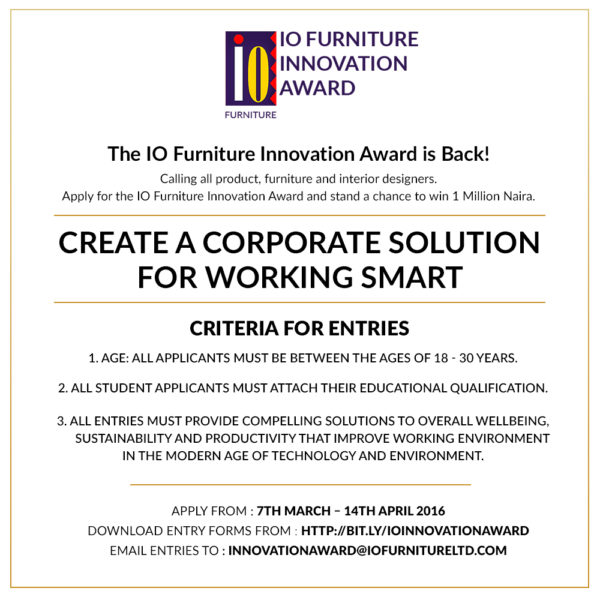 IO furniture, leading interior design and furniture manufacturing firm is reaffirming its commitment to create opportunities for young talented Nigerian furniture and interior design enthusiasts through the launch of the second edition of the IO Furniture Innovation Award.
The second edition of the competition focuses on addressing corporate solutions for working smart – challenging entrants to create innovative, sustainable and boundary breaking solutions in furniture and interior design by extending their creative ideas into real-world settings.
Entries should provide compelling solutions to overall wellbeing, efficiency and productivity in the workspace so as to curb issues of fatigue, low productivity and also ease the future conflict of these workspaces.
Entry submissions for the IO Furniture Innovation Award competition started on the 7th of March 2016 and the deadline for submissions is Thursday 14th April 2016.
Download entry forms at; http://bit.ly/ioinnovationaward | Forward Email entries to; [email protected]
Submission Begins: 7th of March, 2016 | Deadline for Submission: 14th of April, 2016
For more information about IO Furniture, see the following social media platforms; Facebook: https://www.facebook.com/iofurnitureltd| Tumblr: http://iofurniture.tumblr.com | Twitter: https://twitter.com/iofurnitureltd | Instagram: http://instagram.com/iofurnitureltd
______________________________________________________________________
Sponsored Content