Hello BellaNaijarians,
Everyday, we come across so many sad stories. Right here in our beloved nation.
BNer Ugochi, a News Anchor at TVC News got in touch regarding Joy. She has been trying in her own way to help but Joy needs more.
***
Ugochi says;
I saw her sitting at the office gate, with two children. She looked like she needed help so I stopped to find out what the problem was. She had limped helped by her clutches, all the way, from Agbara to Ikosi, hoping to have her story broadcast, and possibly get Nigerians to help her. She was disappointed when she was asked to return the next day. Going back and returning the next day would be a hard one for her, so she begged me to drive her to the closest church to spend the night. I gave them some money for food. I saw her again the next day, in a different outfit. Asked her how she changed, told me they risked the journey back because the church refused to let them spend the night on the premises. She told me had undergone multiple surgeries but they have not set her bone, nor helped work unassisted. She has 2 other children to live for.
Joy Musa lost her husband and four children during in a violent crisis in Jos.
Ugochi continues narrating the issue;
We have not been able to raise enough money to treat her leg, we did not send her account details initially and therefore got only two responses. The injury is developing more holes, fresh sores and she is in terrible pain. Her children have been out of school because in her condition, she can't earn a living to care for them. Please help reach out to wonderful Nigerians to support financially. She can also be called and offered counsel or psychological support on 08053412110. Joy is an indegene of Kogi State.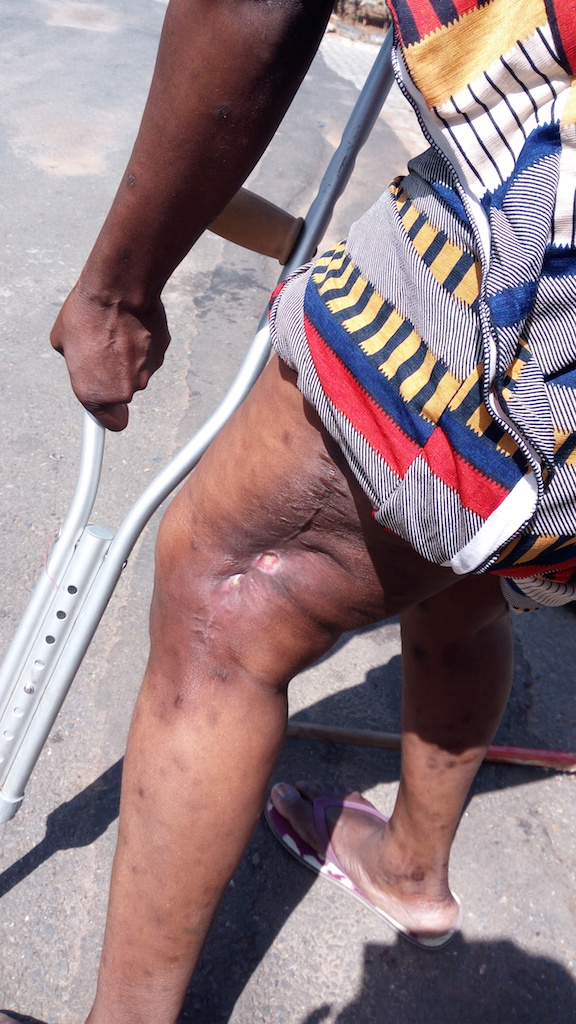 What She Needs right now
She needs N300,000 for the treatment. I am looking at helping her raise about 500,000 so she can start her life again,(maybe a small business) and send the two remaining children to school when she gets well.
Right now, she needs N120,000 to add to the 100,000 she has, so treatment can commence immediately. The balance can be paid during or after treatment.
Here is her direct account number
Joy Musa
Union Bank
0047853282
Here is her phone number if you will like to get in touch – 08053412110
__________________________________________________________________
If you've ever had a health-related issue in Nigeria, then you will probably understand that it is extremely difficult to fund your treatment and navigate the healthcare system.
In view of this, BellaNaija is launched the BN Community Centre. This online platform will feature "calls for help" as submitted to us. This includes information, photos and account numbers.
We encourage you to give if you can, however, please ensure you perform independent verification prior to donating any funds.