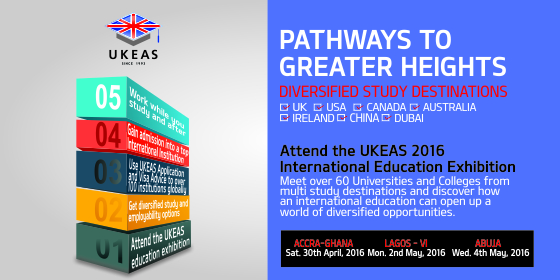 UKEAS (UK Education Advisory Services) offers you the opportunity to discover how an international education can be a career and life changing experience even in these challenging times.
Attend these life changing seminars by renowned Speaker and Career management coach – Muyiwa Afolabi as part of the schedule of events for the UKEAS Education Exhibition in Abuja and Lagos.
Also, meet one-on-one with representatives of over 60 of the best International Universities & Colleges in the USA, UK, Canada, Australia and more at the exhibitions to discuss your diversified Career and Study plans.
This is an opportunity you cannot afford to miss!
FREE Entry, FREE Application Processing, FREE Study Visa advice.  Don't miss this opportunity. Register now at www.ukeas.com.ng/registration
EVENT DETAILS:
Lagos;
Date:  Monday, 2nd May 
Time: 10:00am – 5:00pm
Venue: Eko Hotel & Suites, Victoria Island, Lagos.
Phone no: 01- 3429059
Abuja:
Date: Wednesday, 4th May
Time: 10:00am – 5:00pm
Venue: Sheraton Hotel, Ladi Kwali Way, Abuja.
Phone no: 09- 2906508
MAJOR ATTRACTIONS;
Seminar titled 'Overseas Study & Career Prospects in Challenging times' by renowned speaker Muyiwa Afolabi.
One-on-one discussions with leading International University representatives about your diversified study options.
Access to information about studying and living abroad.
Access to guidance on visa application processing.
Opportunity to start the application process right there at the exhibition.
UKEAS in Nigeria has assisted thousands of students in getting access to quality international education. Now it's your turn.
Don't miss this opportunity. Register now at www.ukeas.com.ng/registration
__________________________________________________________________
Sponsored content