The Nigerian Army has released images from their successful operation at the spiritual headquarters of Boko Haram at Alagarno Forest in Borno State.
A Statement released by Colonel Sani Kukasheka Usman, Acting Director, Army Public Relations said; Y"ou may recall that our gallant troops on Tuesday 29th March 2016 cleared Boko Haram terrorists from their supposed 'Spritiual Headquarters' at Alagarno Forest in Borno State. Here are some photographs of the clearance operations. Thank you for your kind cooperation."
*Viewer Discretion Alert*
You can see photos of laptops, vehicles, fake army uniforms and more.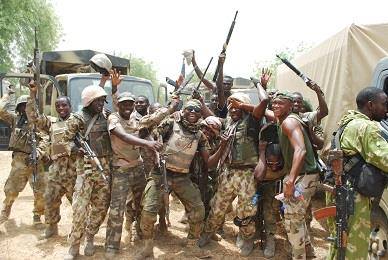 Additional images of burnt dead bodies were present but BN has chosen not to publish.