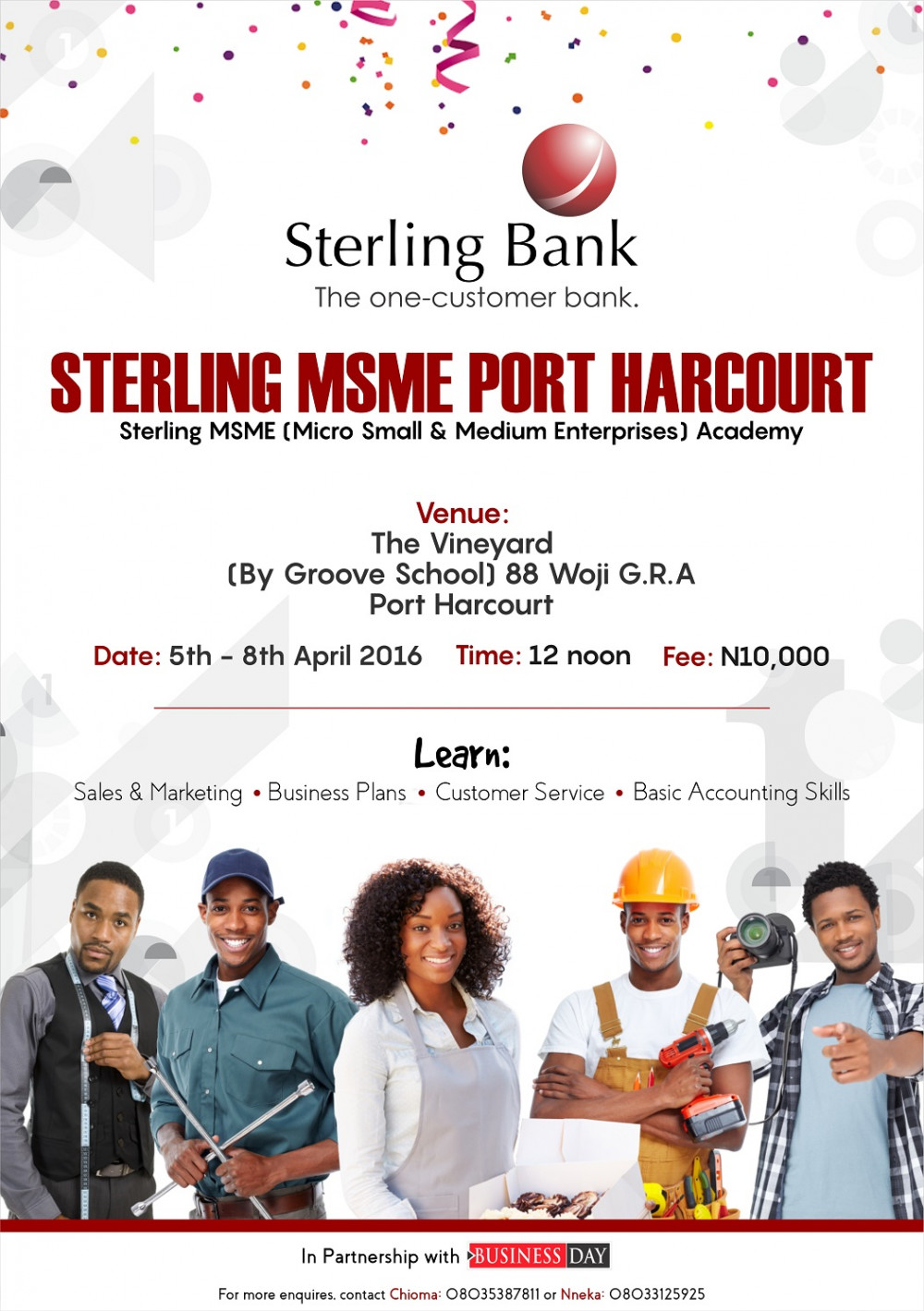 Following the success of Sterling MSME Academy, Sterling Bank sets out to commence the second season of the academy in Port Harcourt from Tuesday, April 5 – 8, 2016 at The Vineyard Hall, No.88 Woji Road, GRA Phase 2.
The focus of the Academy is to train and mentor existing and emerging MSMEs to build viable business development plans as well as equip trainees with entrepreneurial and managerial skills in order to better manage funds, maximize profit and improve assets quality of their businesses. The Academy will also prepare and equip MSMEs towards accessing finance from both local and international financial donors.
The Academy will engage MSME Participants in an intensive Capacity building session which will provide entrepreneurial training that will enhance the productivity and de-risking of MSMEs. There will also be Mentoring sessions to get MSMEs closer to relevant and reliable business information that will facilitate business growth in terms of fostering access to market(s) and funds via financial advisory services.
The Academy is part of the Bank's strategy to empower and support Nigerian SMEs and contribute to the growth and development of the Nigerian Economy and is also open to non-account holders. Participation fee is N10,000.
For more information call 01-2932566 or visit www.sterlingbankng.com/msme to apply online.
Date: Tuesday, April 5 – 8, 2016
Venue: The Vineyard Hall, No.88 Woji Road, GRA Phase 2, Port Harcourt
Time: 12 Noon
Fee: N10,000
___________________________________________________________________________________
Sponsored Content