It's time for another edition of BN Style Your Bump, a series where BN Style looks into maternity style from different women to help inspire you! So far we have profiled Chrissy Teigen, Patricia Bright and Kourtney Kardashian – click here to see them in all their glow and glory.
Today, we're featuring popular celebrity twin of the Sister Sister duo, talk show co host at The Real and mother of two, Tamera Mowry. Her maternity style is different from Chrissy's with a mix of trends like jackets and dresses but we most especially love her print bodycon dress choices.
So let's start with the jackets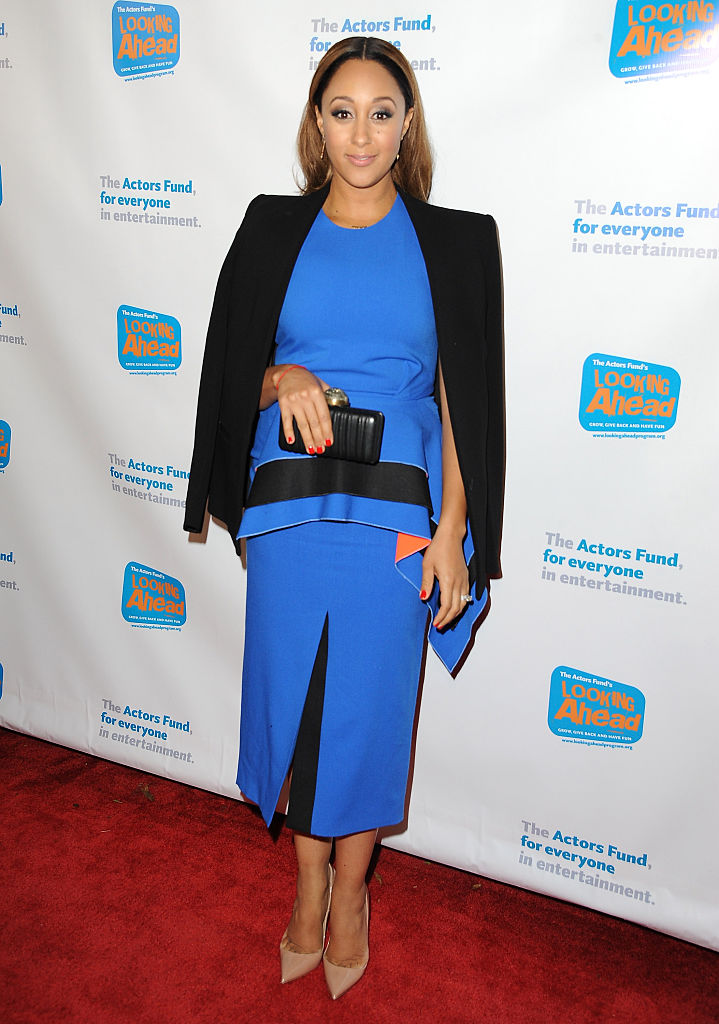 Though I think she didn't need the jacket, a peplum style always works and I love the colour of this dress and the contrast orange underneath the peplum. The jacket here did a great job at concealing the bump as well but if done wrong, it could make you look a lot heavier than you are.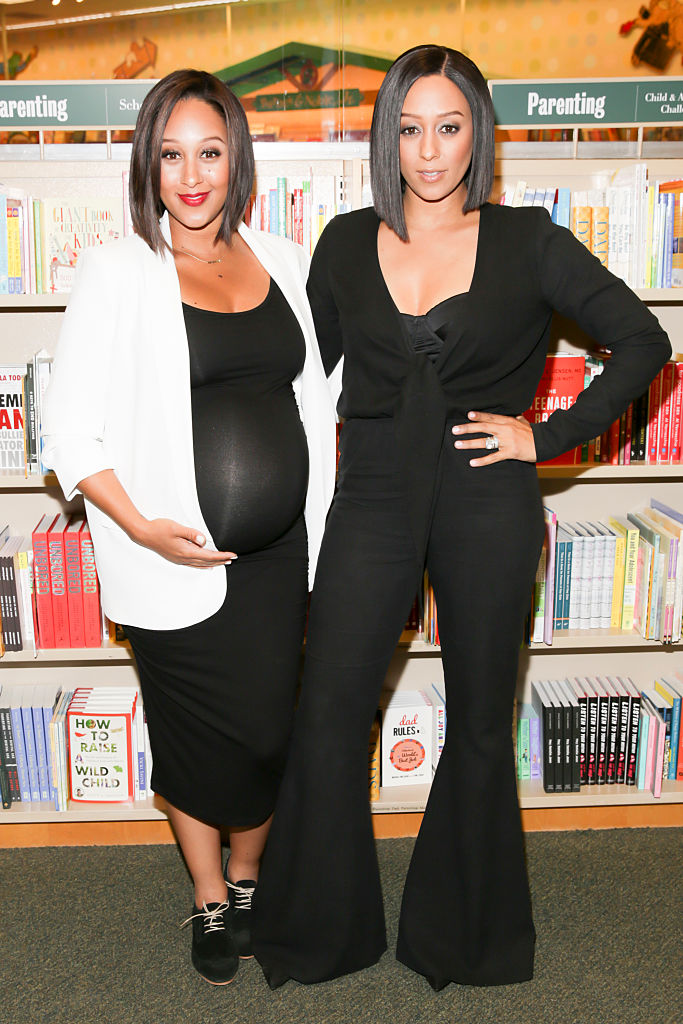 Here with her sister mother of one and actress Tia Mowry, she's rocking the monochrome trend with a while jacket, a black bodycon dress and comfortable flat shoes at their book signing for their book 'Twintuition".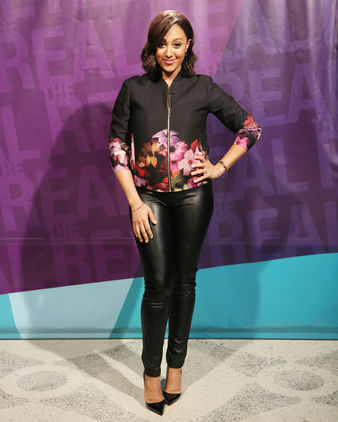 I really like this look on her, it fits very well and makes her look very trendy with the floral print jacket and faux leather leggings. I love the all black look with a pop of print, the black pumps were perfect.
Next, here's how Tamera wears dresses both casually and for red carpet event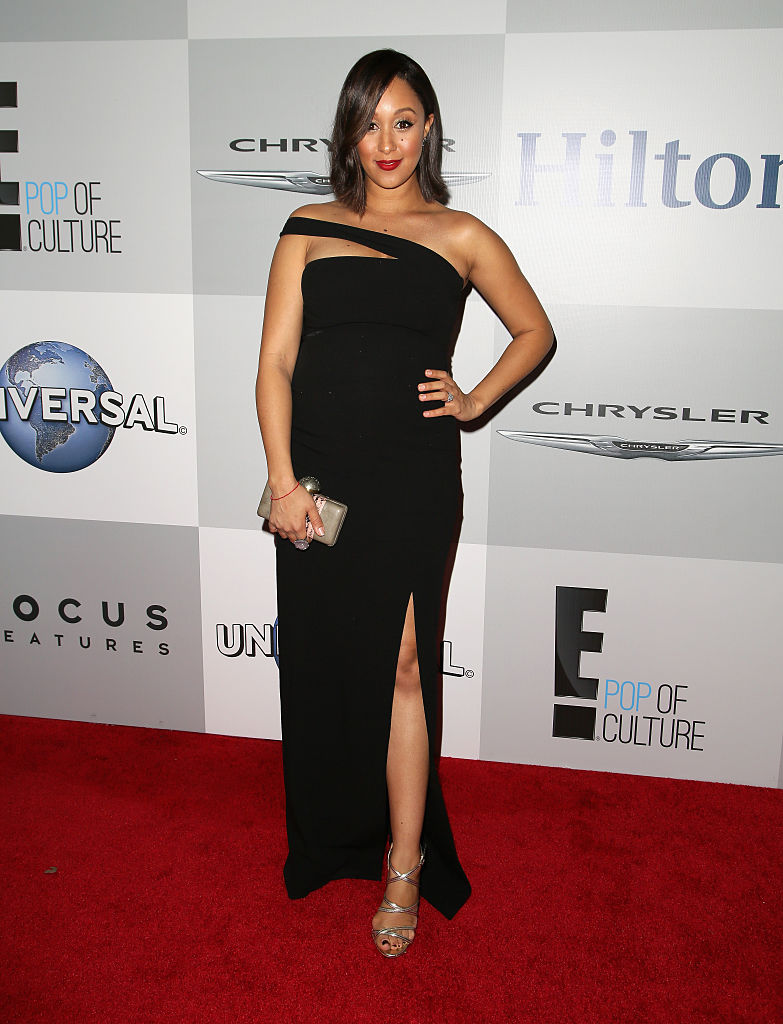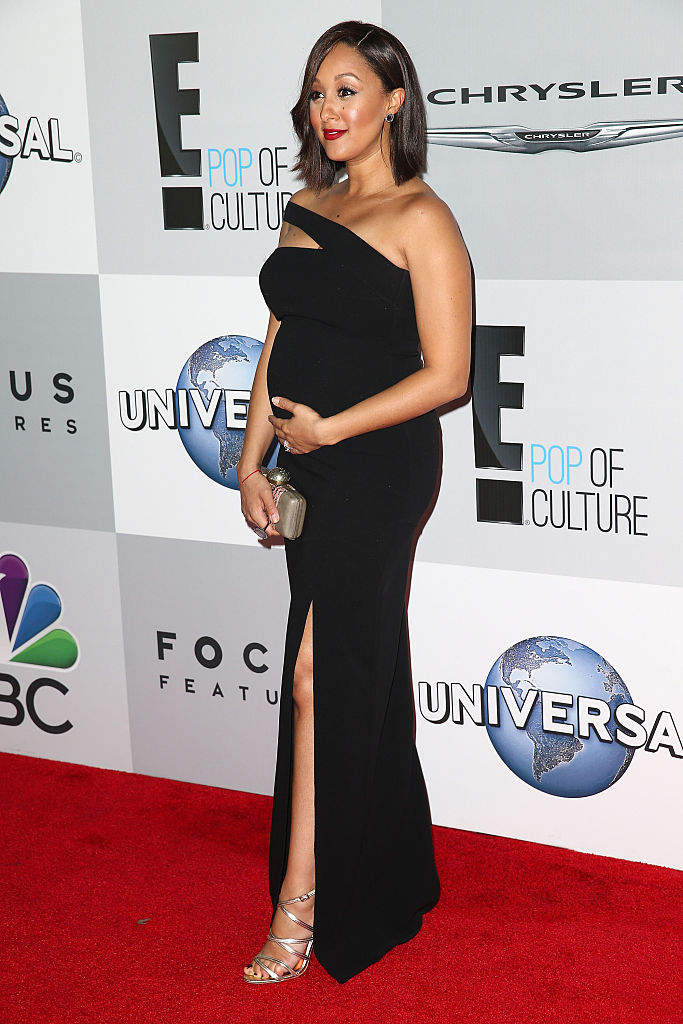 This black dress is very elegant for a maternity red carpet look. It's also quite sexy with the thigh high slit and one shoulder cut out sleeve. I like her choice of simple jewellery and a classic red lip. The black dress with a bare neck and thigh high slit help take your attention away from her bump and even more to her face with the red lip.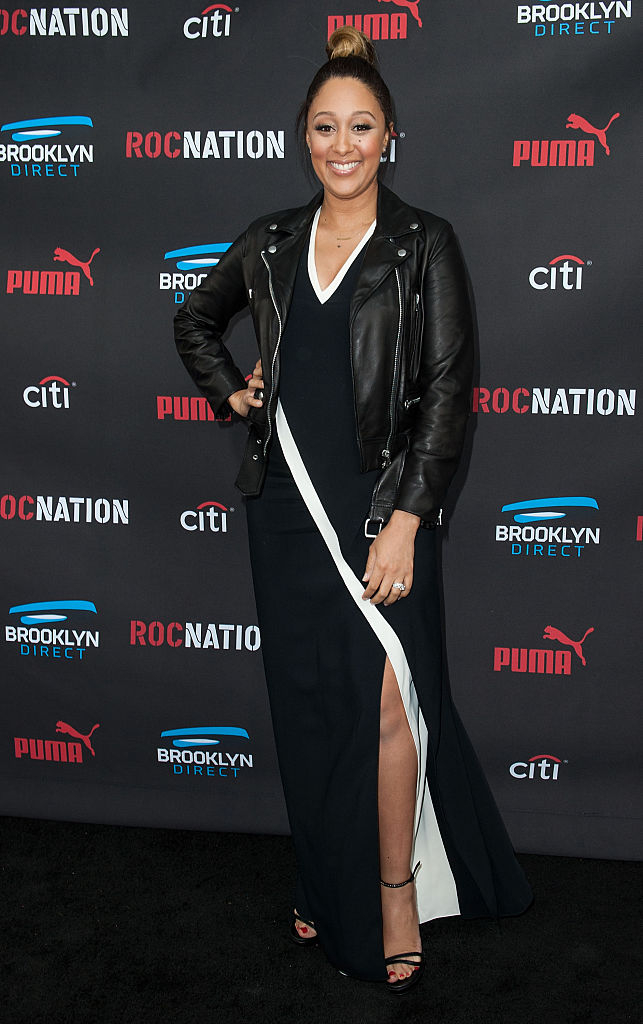 Tamera is wearing another long black dress with a thigh high slit but this time, the dress has a contrasting white detail from the neckline down to the slit. She's always wearing a leather jacket. The combination of the V-neckline and thigh high slip are great for a slimming effect. Remember to show off your slim areas, in this case that would be her neck and her legs.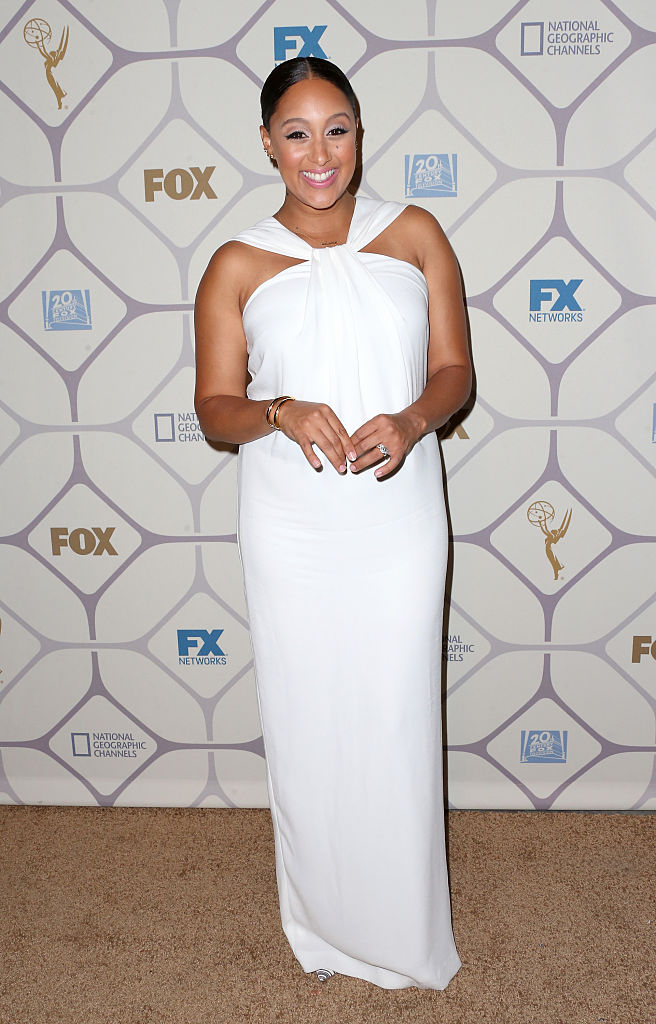 Angelic! The light pink lips are perfect with this white floor length dress with an interesting knot detail on the neckline. I want this dress.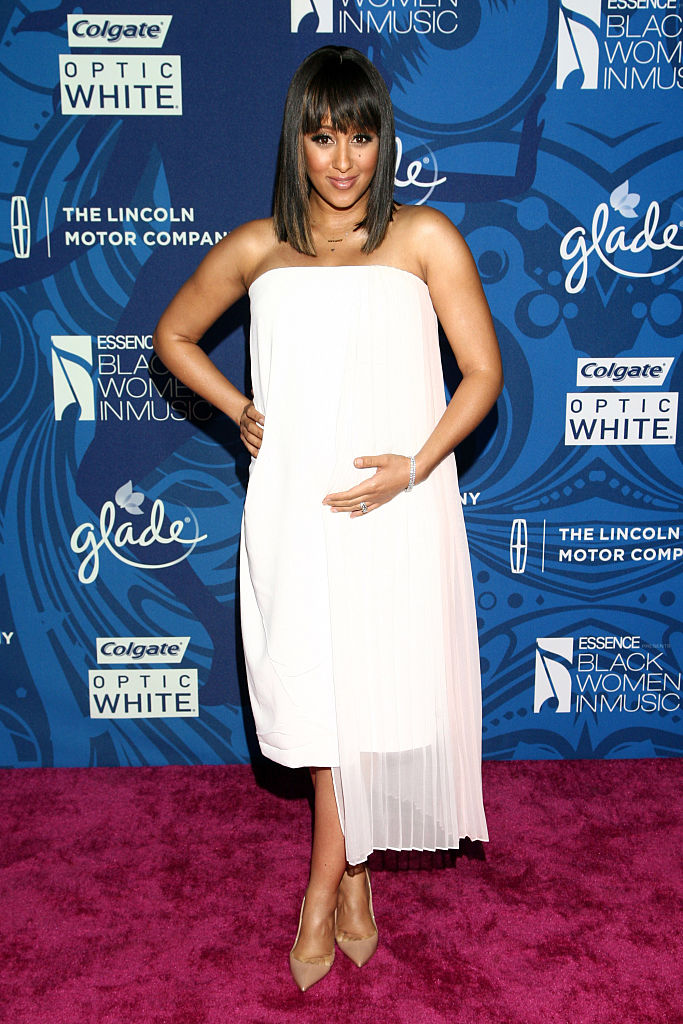 This light pink asymmetric dress makes her look very stylish while concealing her baby bump. Dark eyes and nude pumps were a great styling choice for this look and baring her neck and shoulders helps add some sexiness while flaunting her slimmer parts.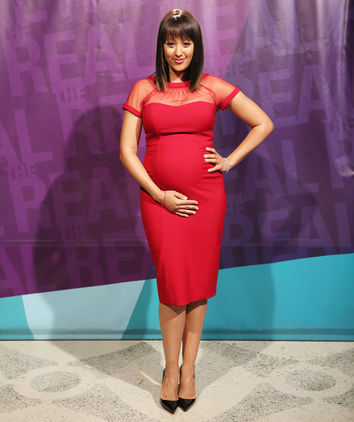 I really like this red dress on her. The mesh detail in the neckline is very chic, keeps her covered but still shows off her slim neck and shoulders.
We've also seen Tamera in more trousers and shorts!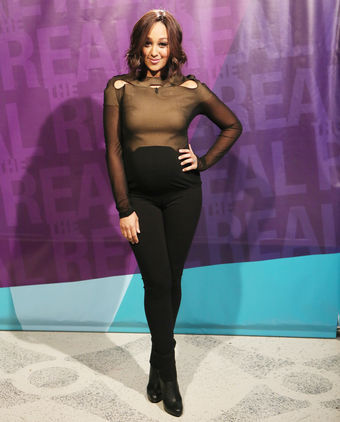 This jumpsuit isn't something I'd expect her to wear but I love it on her. It's very fashion forward and I like that it has a high waist feature as well.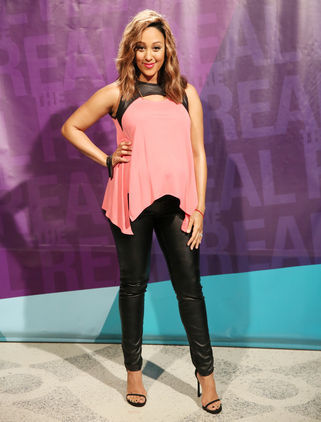 I like the mix of volume here, a full top and skinny jeans always makes a great outfit.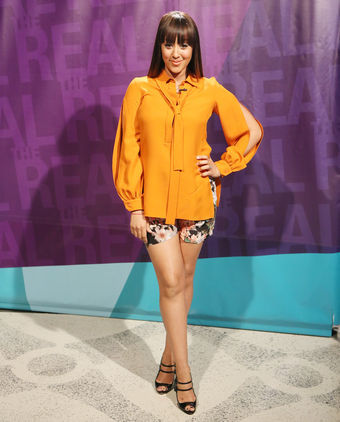 This might just be my favourite look. I love how balanced this outfit is, from the volume on top to the bare legs on the bottom she hardly looks pregnant here! Flaunting her legs, the lovely orange coloured top and print shorts, the combination is a win for me.
Finally, we spotted her in a few print dresses and I love them!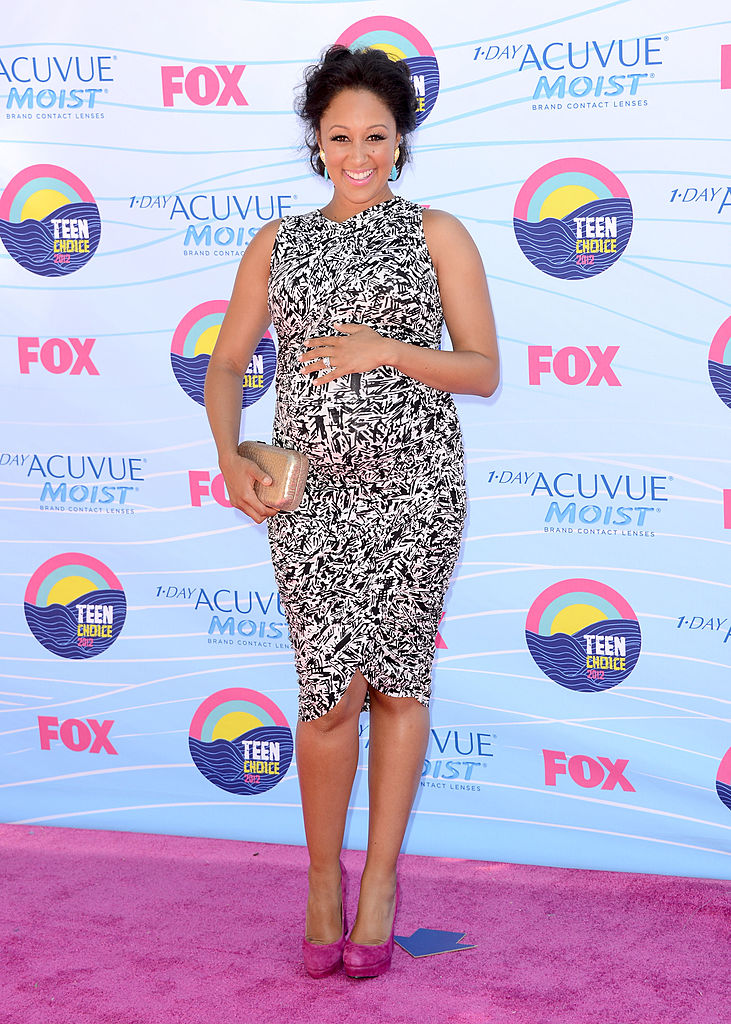 She has such a beautiful glow here! Love the dress and the make up.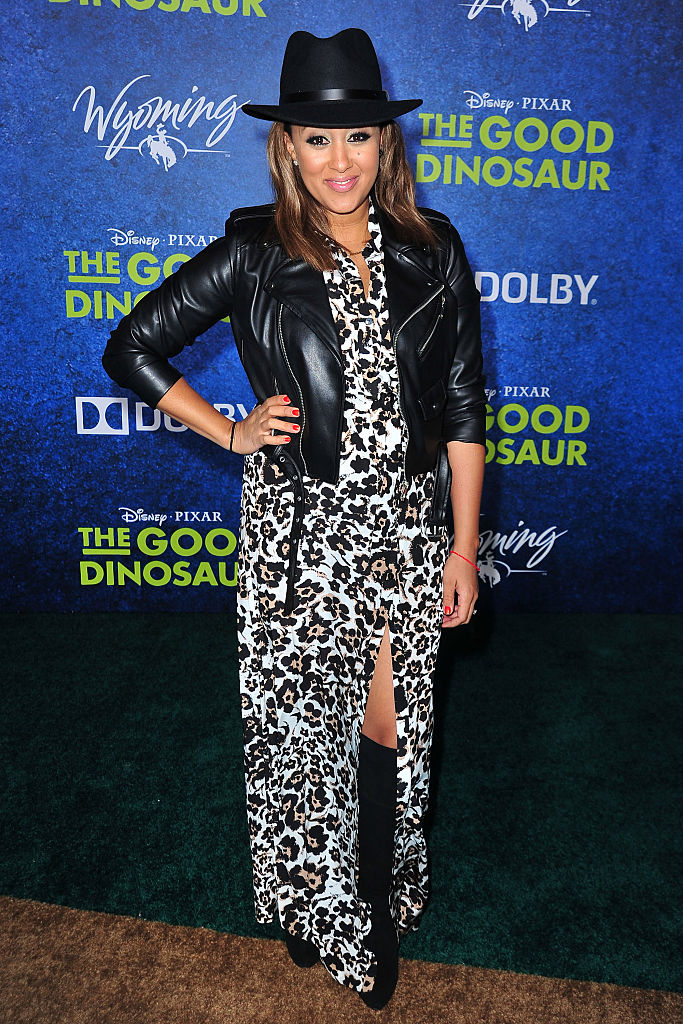 With two trends we've seen before, a thigh high slit and a jacket, she's rocking this floral print dress with a cowboy hat at the premiere of Disney-Pixar's 'The Good Dinosaur'.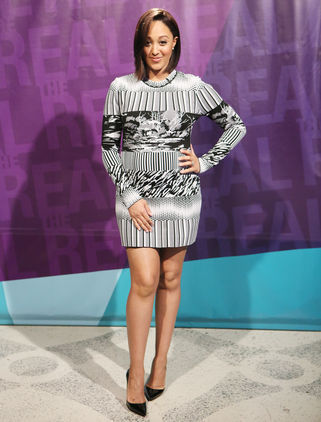 Tamara is wearing another monochrome print dress here on the set of The Real tv-show.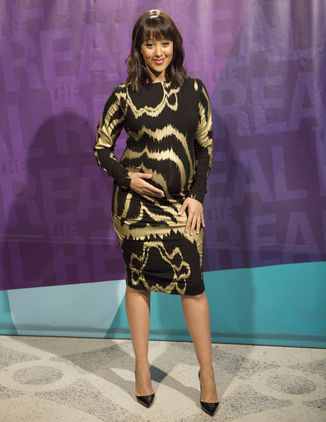 Here she's wearing a black dress with gold print details and black pumps.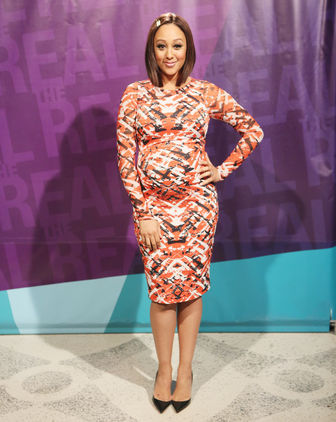 Still on the set of The Real, Tamera's wearing a black, white and orange print dress and black pumps as well.
To conclude this edition, it's safe to say Tamera is comfortable in her body and knows what she likes with the jackets and bodycon print dresses. Her choices make it more obvious why it's important to balance your look, when there's volume on the top you should go for something more form fitting for a bottom and vice versa.
Hope you enjoyed this edition, there'll be more on the way, with a Nigerian mum-to-be next!
Photo Credits: The Real, Angela Weiss/Getty Images, Alison Buck/Getty Images, Alberto E. Rodriguez/Getty Images, Merritt/Getty Images, Jerod Harris/Getty Images, Chelsea Lauren/Getty Images, Imeh Akpanudosen/Getty Images, Tommaso Boddi/Getty Images, Frederick M. Brown/Getty Images, Frederick M. Brown/Getty Images, Rob Kim/Getty Images