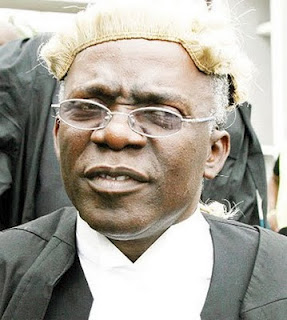 Senior Advocate of Nigeria, Femi Falana has called on the the Attorney-General of Borno state initiate a lawsuit against the Boko Haram terrorist who was captured with the rescued Chibok girl, Amina Ali Nkeki.
Falana, in a statement on Thursday night titled "Rescued Chibok Girl Has No Husband", said that the captor should be tried for  abduction, slavery, torture and rape.
Read the statement below:
Yesterday, Amina Ali, one of the abducted Chibok girls was rescued by the Borno State Civilian Joint Task Force aided by the Nigerian Army.

However, one of the terrorists who abducted her and had put her in a family way was arrested by the Nigerian army.

The captured terrorist who was arrested with Amina is not her husband but an abductor and a rapist. The media should therefore desist from further referring to the criminal suspect as the husband of the girl.

While congratulating the combined team of Nigerian army and the Borno State Joint Task Force who rescued Amina, we call on them to intensify their efforts to free the remaining Chibok girls.

The Attorney-General of Borno State should proceed to charge the terrorist with abduction and slavery, torture and rape without any further delay.
Also, co-founder of the Bring Back Our Girls Advocacy Group, Oby Ezekwesili and the Chibok Community has called on the Federal Government and media outlets to stop calling Mohammed Hayatu, the alleged abductor, Amina's husband.
Oby Ezekwesili said this in a series of tweets:
Does media not know that #AminaAli's parents did not give her out in marriage to anyone? She is a VICTIM of #Abduction & #SexualViolence.

— Oby Ezekwesili (@obyezeks) May 19, 2016
From now, I shall CALL OUT ANY media that WRITES or SAYS "her Boko Haram husband" for that PREDATOR that VIOLATED #AminaAli. Get ready.

— Oby Ezekwesili (@obyezeks) May 19, 2016
According to Vanguard, the Chairman of the Chibok community in Abuja, Tsambido Hosea Abana also said:
We condemn, in strong terms, the calling of Mohammad Hayyatu as Boko Haram husband of our daughter; rather, upon confirmation by the Nigerian Military, should be referred to as a 'Boko Haram sexual exploiter'. Amina had no husband and who ever that was rescued with her should not be referred to as her husband for any reason. They should be treated separately until Amina is fully rehabilitated.