The week-long trip in Paris with the Moët Hennessy group was truly unforgettable! It's been a week and I still can't get all the unforgettable times and every #MoetMoment out of my head. Thanks @MoetNigeria!
Here's Part 2 of the trip – we walked down the most expensive street in the world, went to the French Open where Andrew Murray and the Williams sisters played that day.
We also had the most epic time dancing with the Eiffel Tower in the horizon, and sipped the finest champagne (in Champagne) – Moët & Chandon, Dom Pérignon & Veuve Clicquot.
Click here for Part 1! Here we go.
Tuesday Night
Salut Paris!
We went to a restaurant called African Lounge, and got to try some food from Francophone West Africa.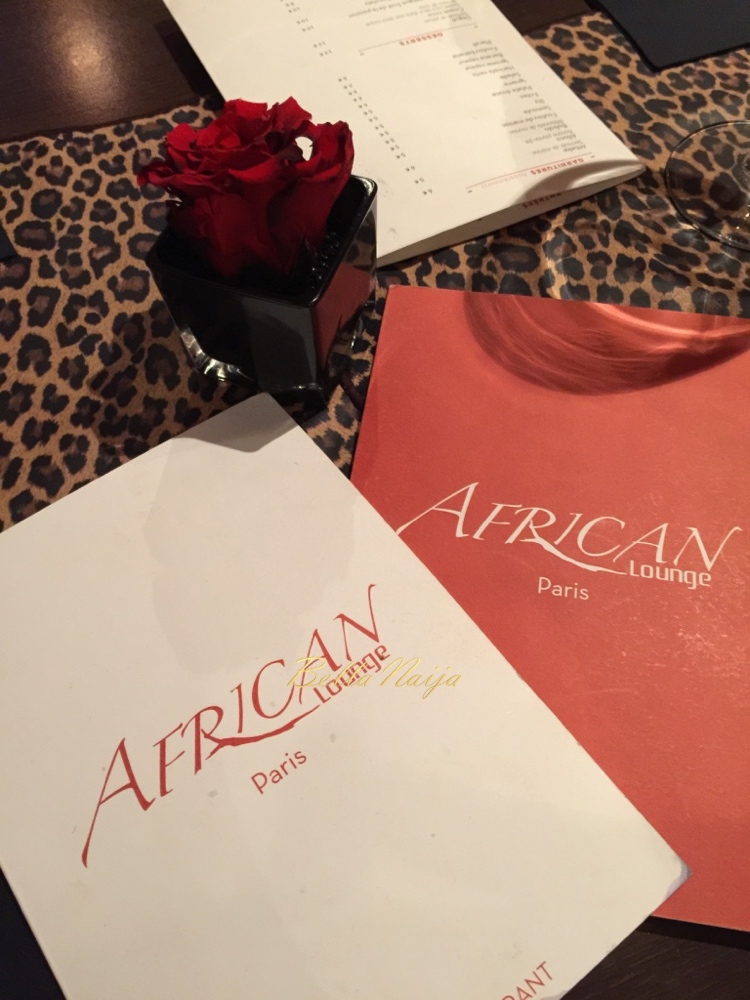 The ingredients are similar to Nigerian food, but the prep and presentation can be slightly different. Like look at that big plate of fried plantain. We finished it o 🙂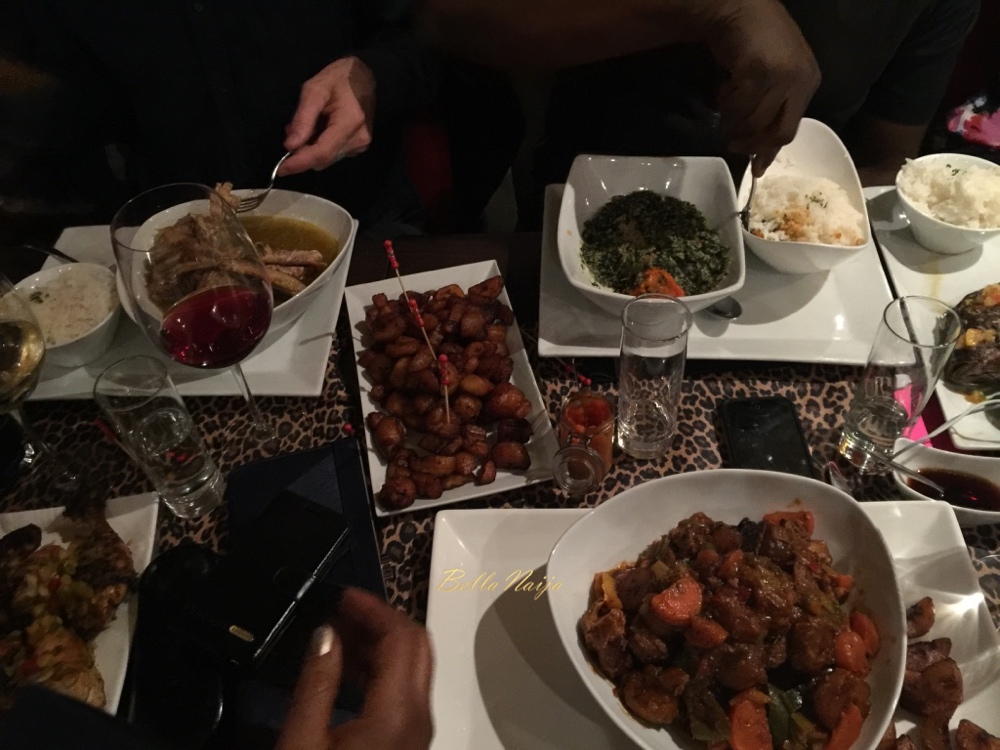 One main difference is they don't make their food spicy, there's some pepper sauce you can add, according to what you can handle. Watch out though – the sauce is HOT! Let's just say *someone* (cough cough) learned the hard way!
Wednesday Morning & Afternoon
Wakey wakey! We got to have a much needed lay-in, (yes, having fun can be tiring :p ) because we didn't need to leave for the French Open until 11. Whoop!
This day was sooo exciting, from beginning to end. I wore a FAB skirt set – the Jessica Pearson set (Suits fan anyone?) by Wana Sambo.
Then I practised my French before I set out, just in case!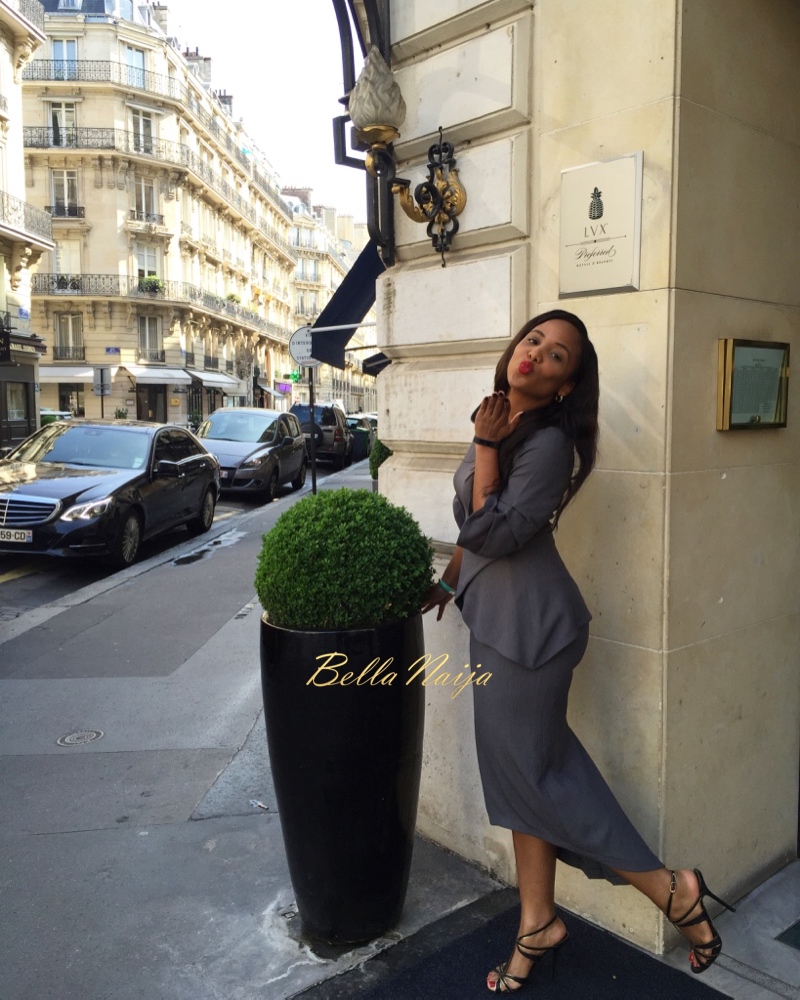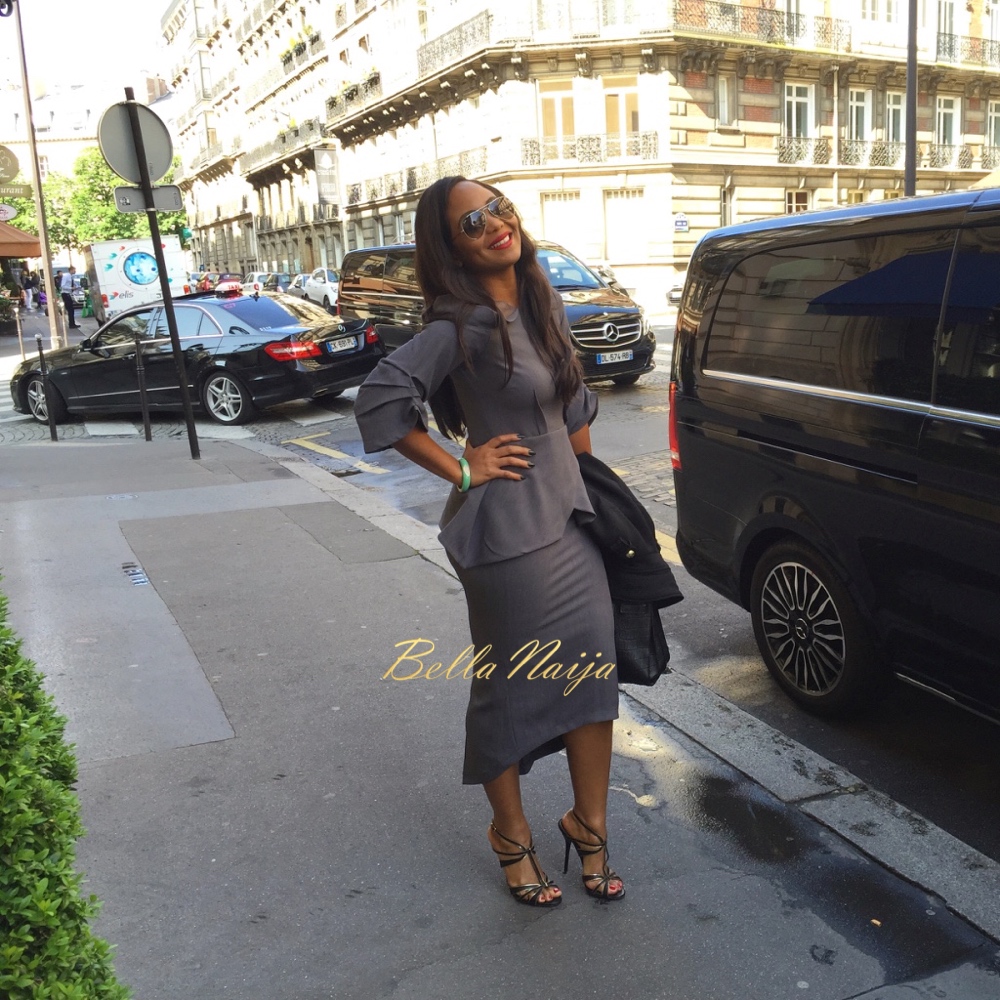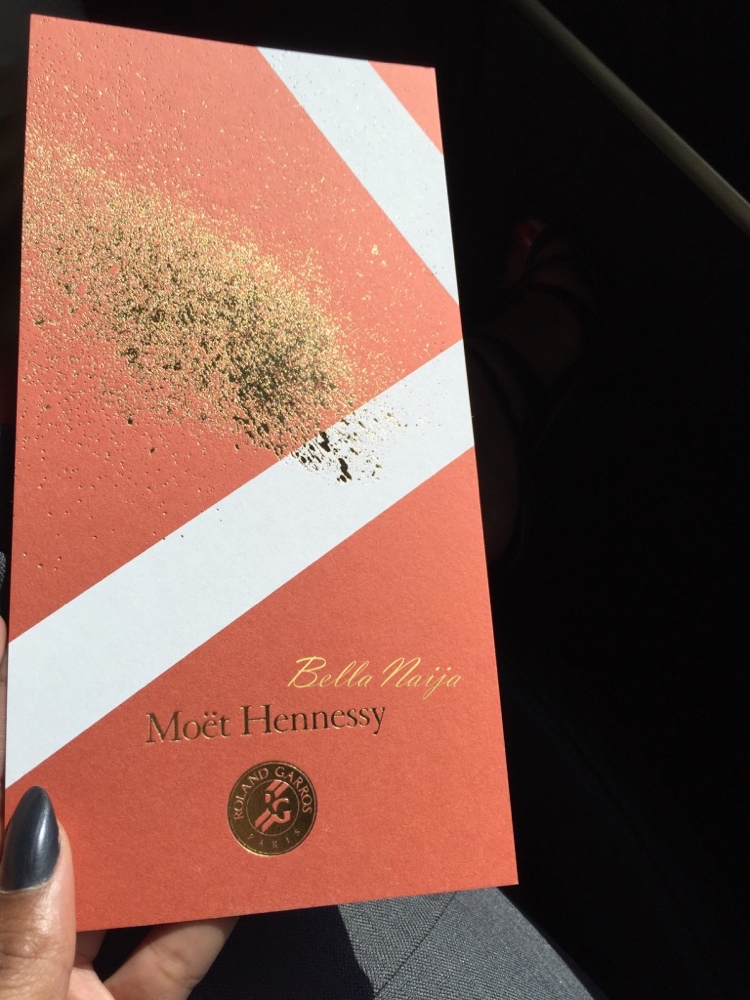 The line to Roland Garros wrapped around the corner, but because we had VIP access, we breezed right through.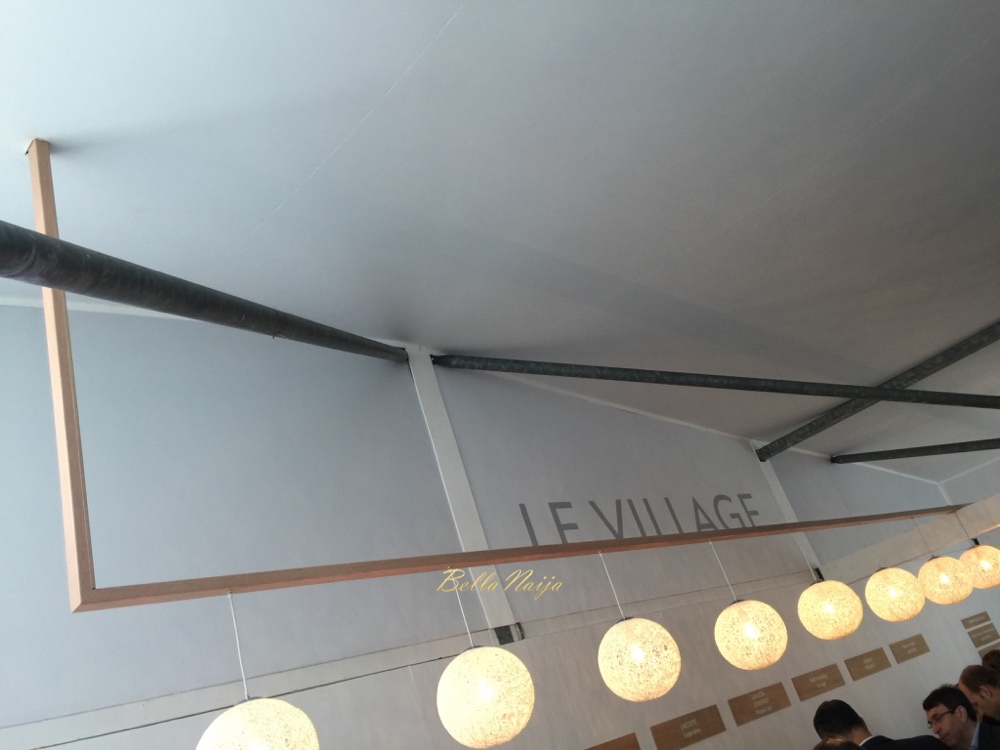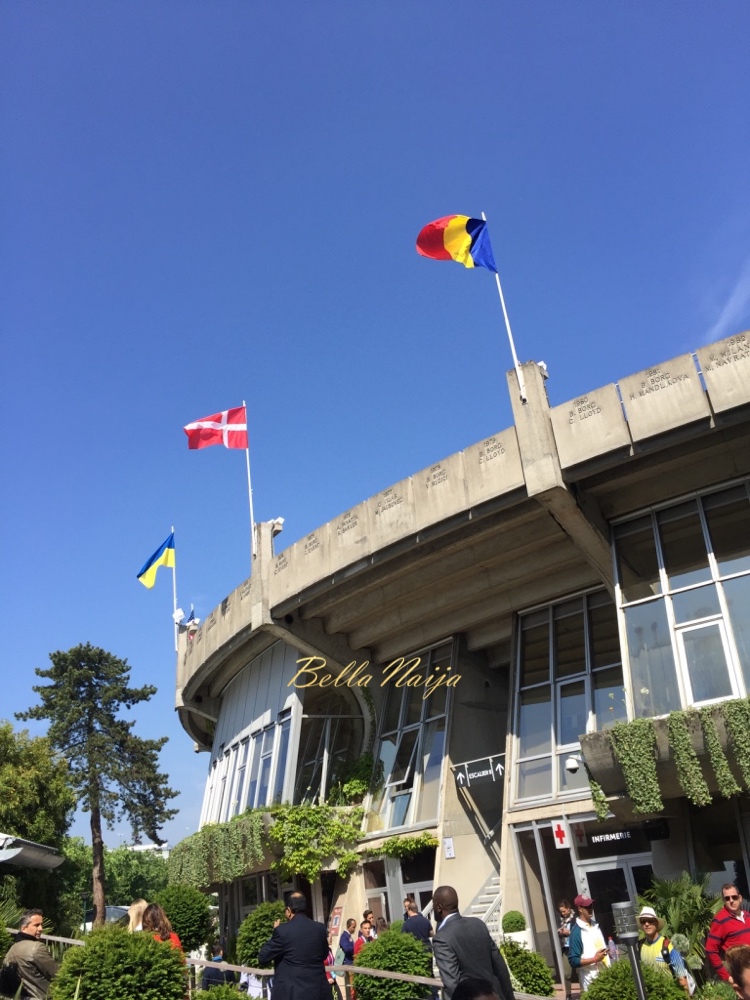 We were checked in by a fellow African – a Cameroonian lady, who led us to the Moët & Chandon lounge.
Not only was it BEAUTIFUL! The lounge was elevated above all the others, so we could see into the tennis courts right behind us. How cool is that?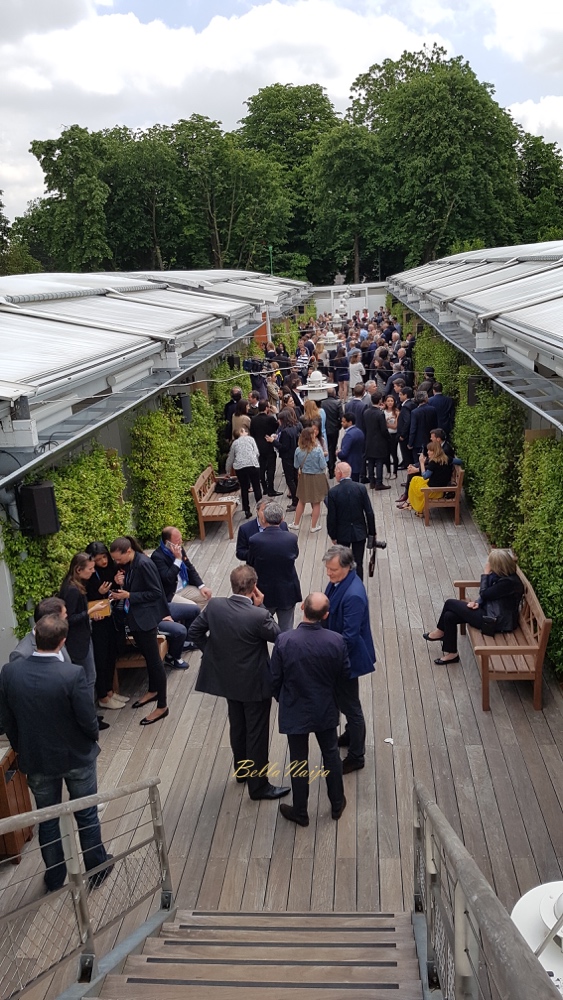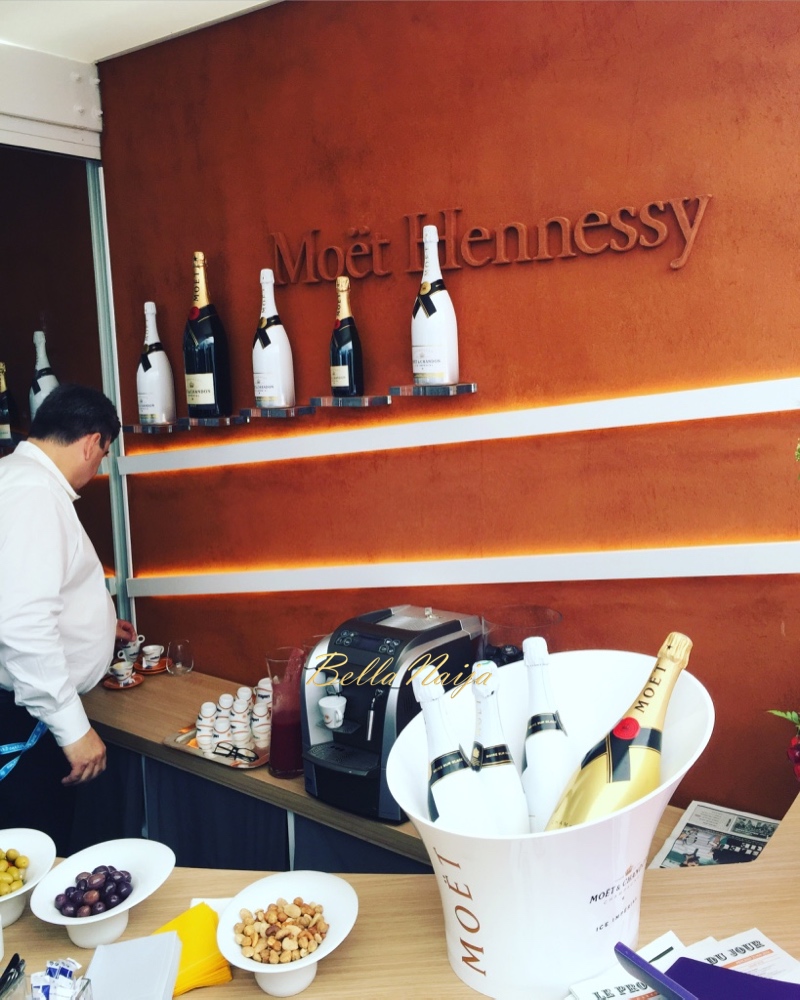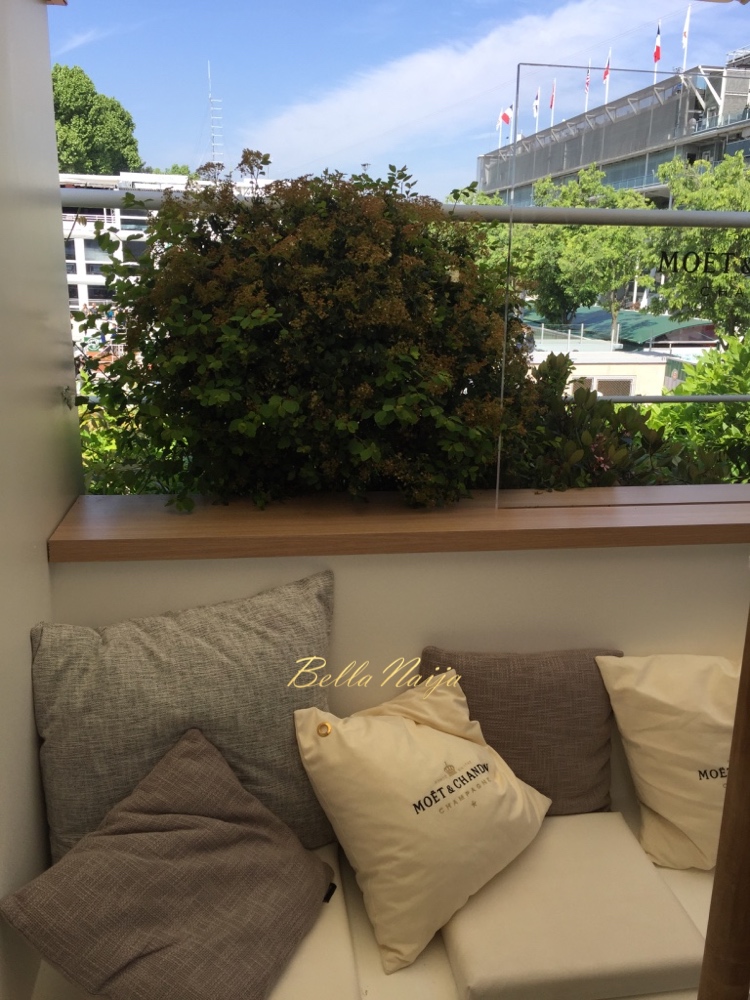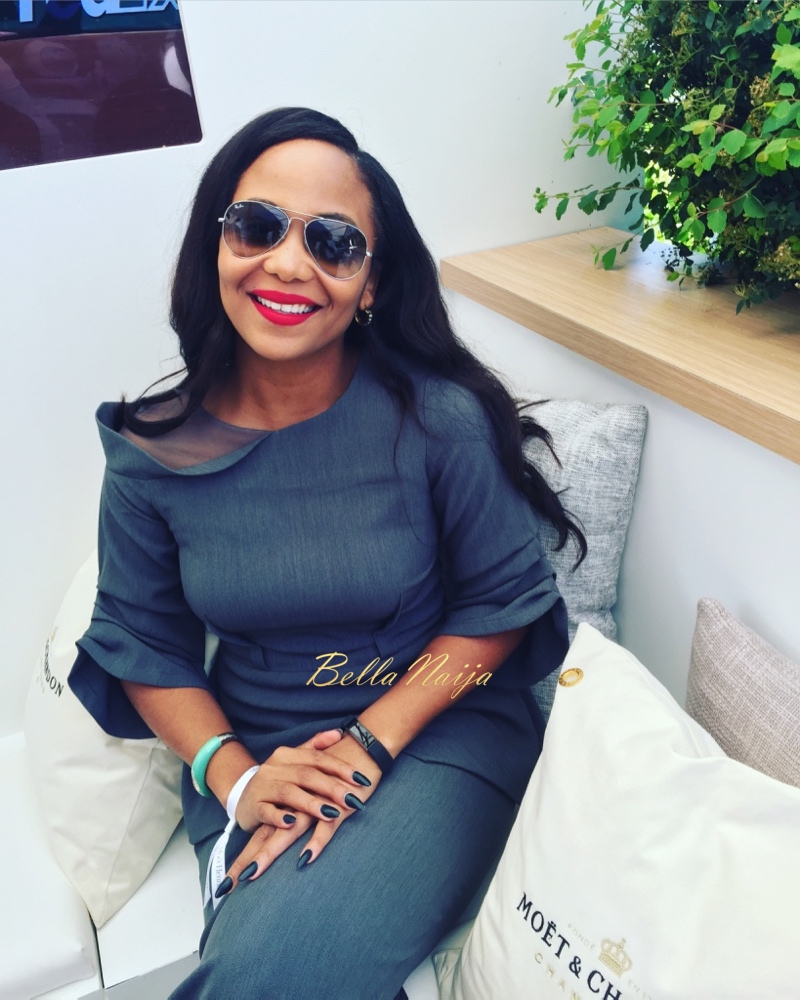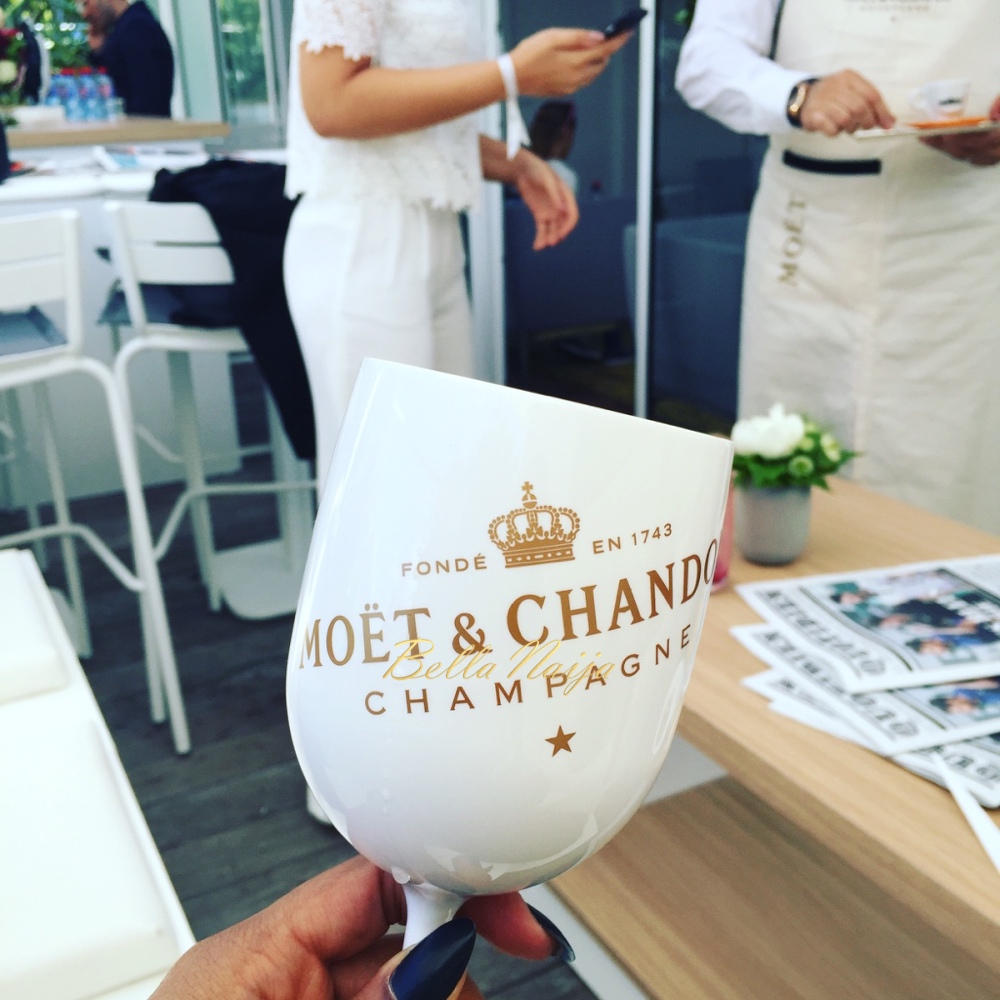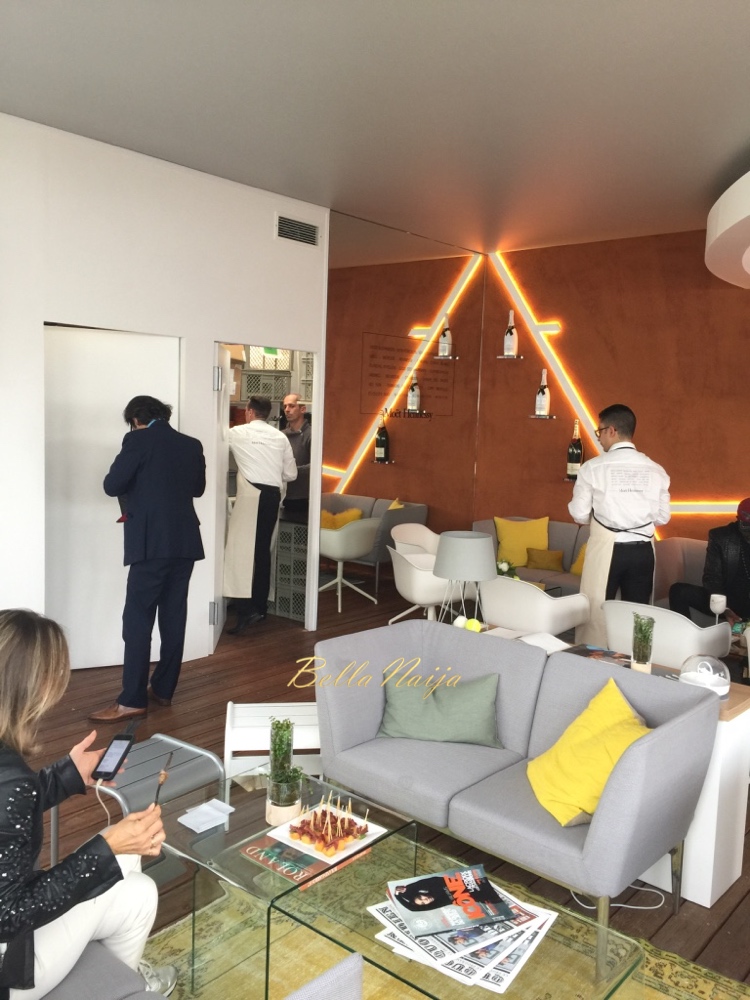 We also had unlimited champagne, hors d'oeuvres, charging ports, multiple TV screens showing major matches. They printed out photos as keepsakes, there were even magic tricks, it was just FUN.
Off to the matches! Some people went to see Andrew Murray, while others (including me) saw Richard Gasquet – (both men ended up playing each other at the quarter finals!)
The French supported their own, there's this trumpet-like sound you make, then everyone shouts "Allez!" which means "Go!". They they would sporadically shout "Allez Richard!" during the games.
The Williams sisters did play that day, but because they were in a smaller court, there was no VIP section, so everyone had to line up to get in. The line was super long already, so we didn't get in but of course we wished them the best.
There were food stalls, souvenir stores, and even a clinic! Before we knew it – yes, time flew! It was time to head back to hotel, freshen up, and get ready for the night.

Wednesday Evening – #MoetMoment
Honey, Moët & Chandon knows how to throw a party. I wore a cobalt blue jumpsuit from Wanni Fuga.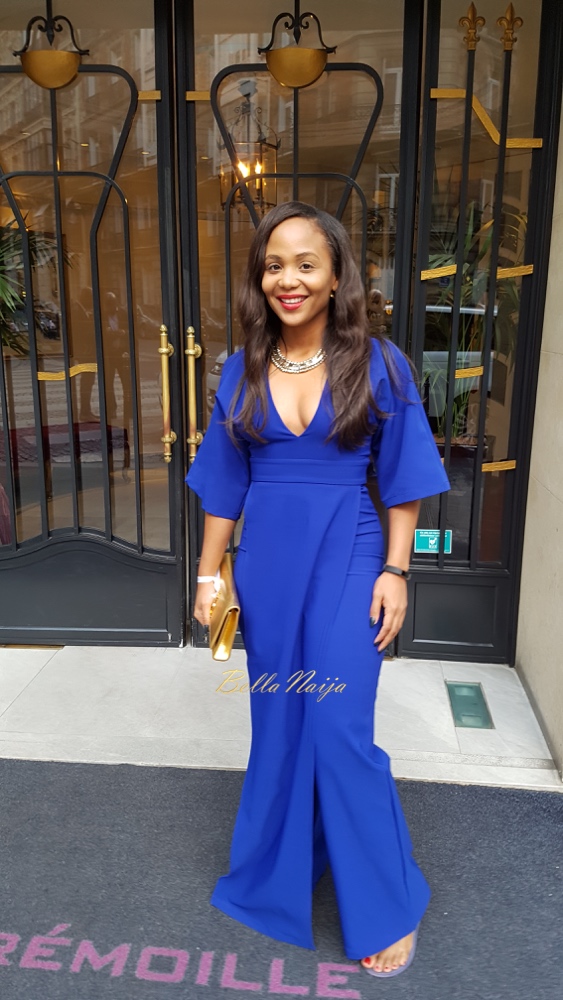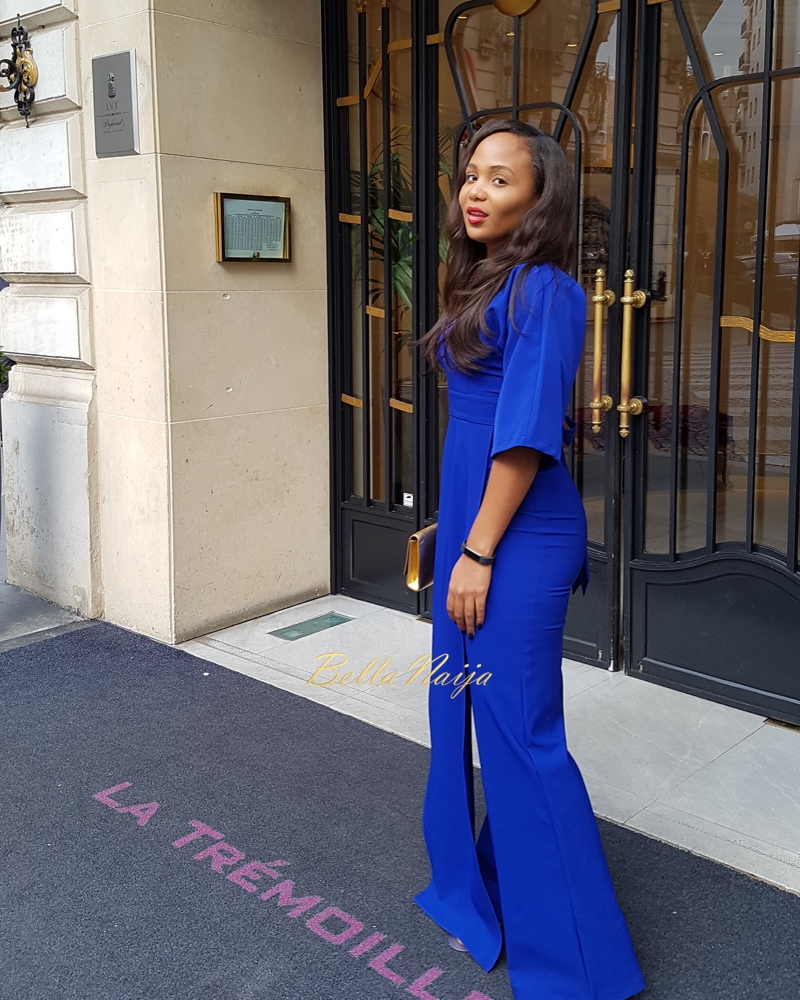 We took a nice 5/10 minute walk to the hotel where the party was. When we got there, we met with people also on experiential trips – from Israel and Spain. The couple from Israel owns a 4,000 person capacity club. Yes, FOUR THOUSAND! We saw a video and it was like a movie. Click here to see the club!
We started off with tastings of Moet vintages spread over 30 years – 2008, 1998 and 1988.
Then it was time to party. I made sure I wore flats, because I was ready to dance! The party was spread out over two floors, connected by balconies. The creativity was what blew me away.
We could bowl with Moët Bottles! There was a bath tub filled with ice and Mini Moët. There was a room filled with gold balloons and a bath tub where you could go and take photos. There was also a bathtub filled with Moët!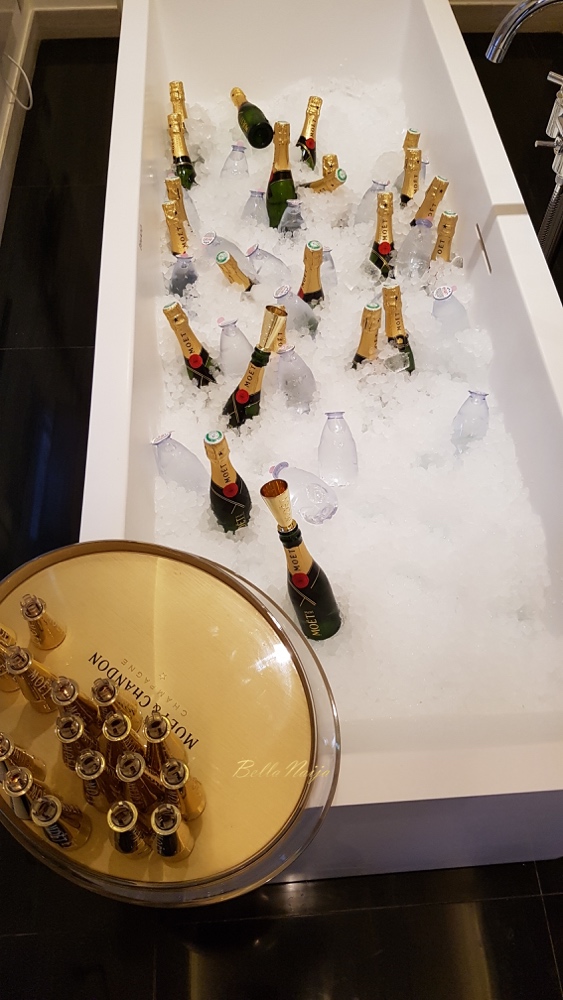 The dance floor had LED lights, and of course, more balloons. There was a Moët Tower, and they positioned right next to the Eiffel Tower. There was also a fixed photo frame, with the tower at the background.
Imagine making the Lekki-Ikoyi bridge the focal point of a party – it was too much fun.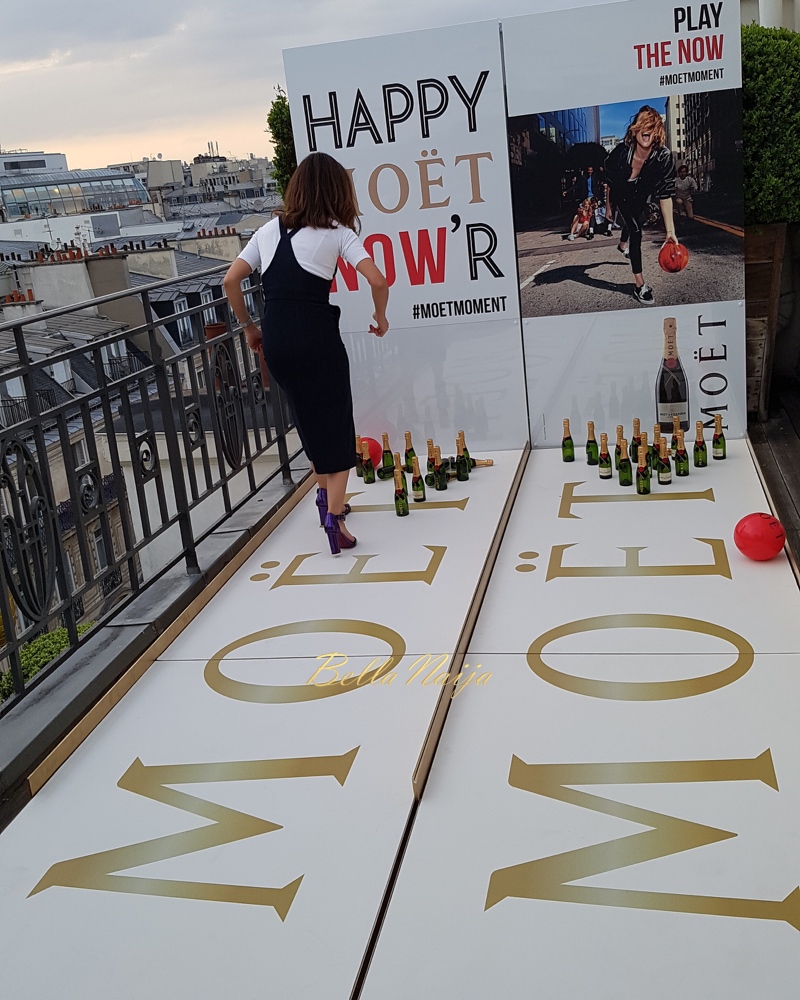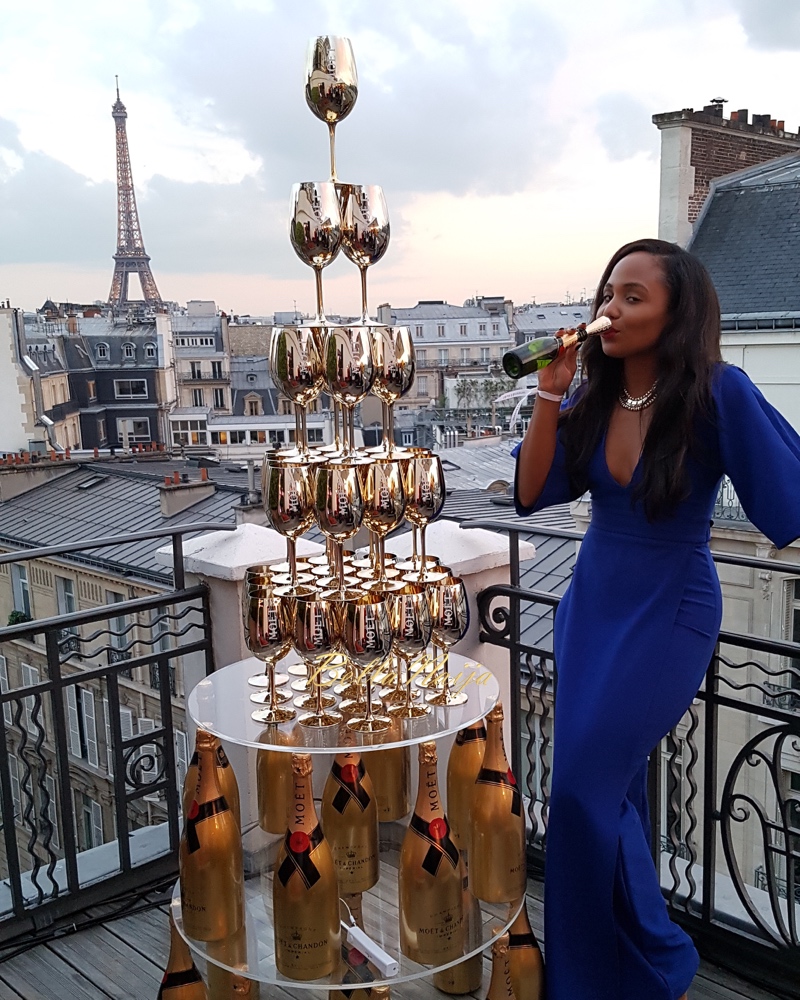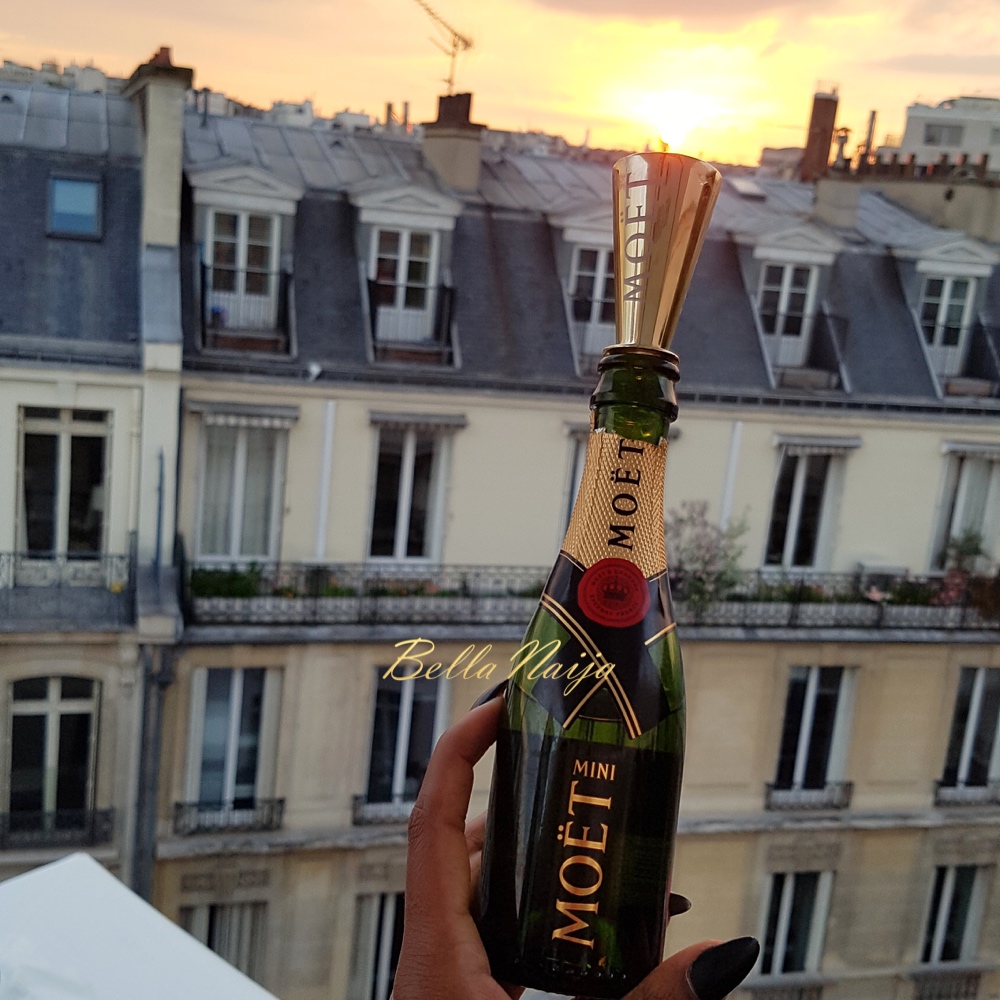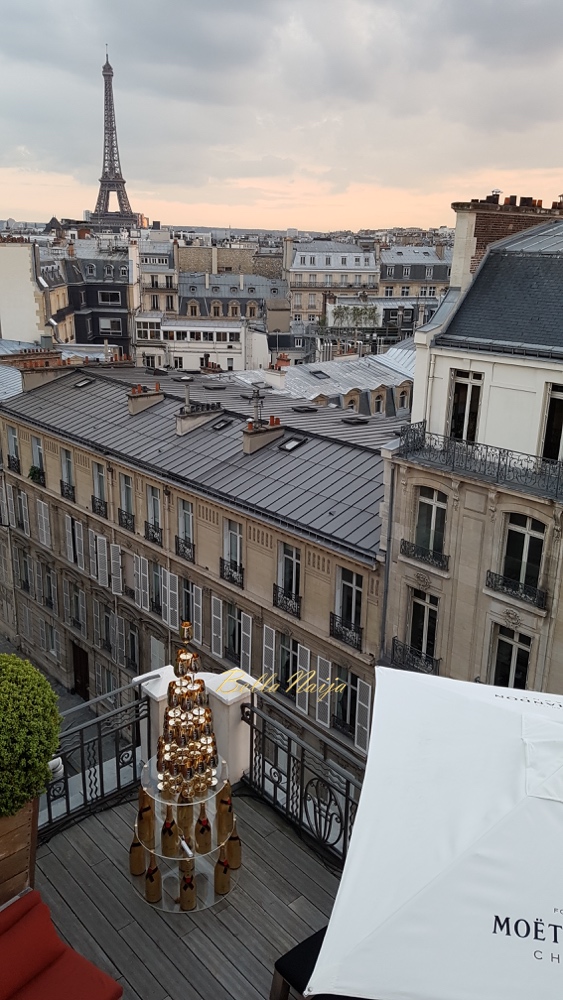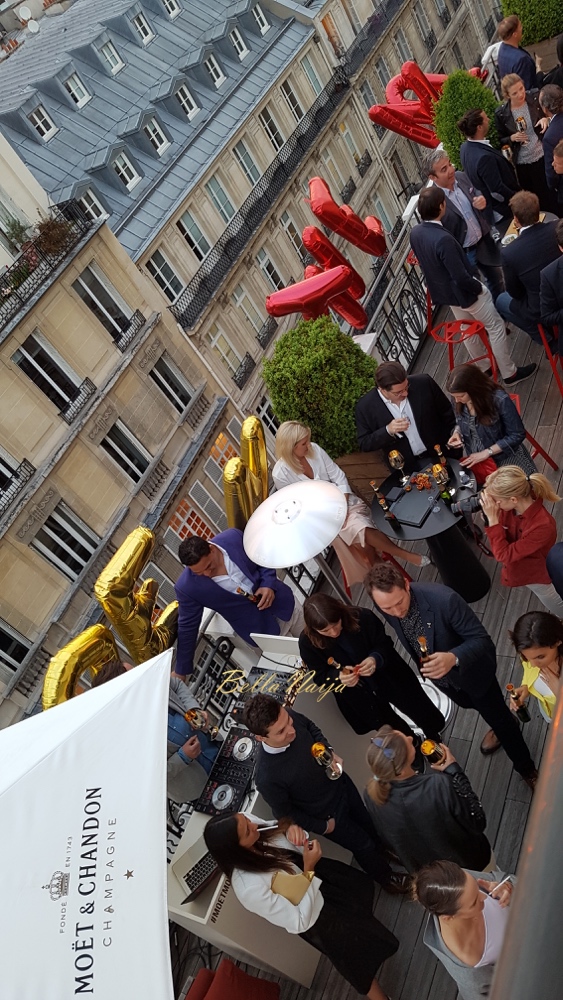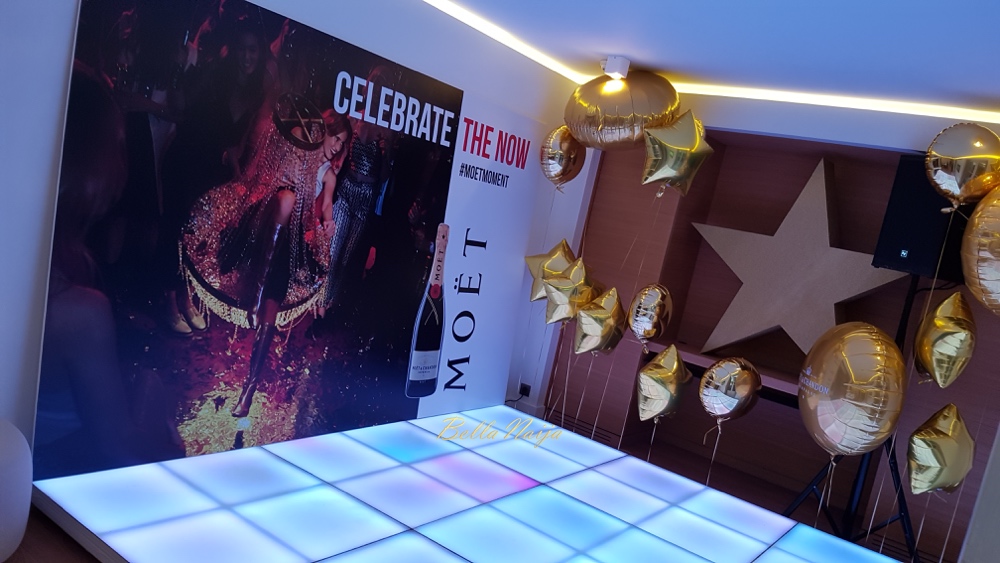 We danced, and they played Nigerian music for a good 20/30 minutes. Many French clubs/TV channels play P-Square, Yemi Alade and the likes, so everyone danced along, no-one was left out. We did the whole thing like the Soul Train line, and dancing in a circle, with someone going in and breaking it down.
I left around 11pm/12am but many people stayed and I heard there were more mega bottles for all to share. Here's the new Moët Imperial Bright Night.
Thursday
Time to drink more champagne – in Champagne! Champagne is a region in France and our first stop was Epernay for Moët & Chandon and Dom Pérignon, where we ended up on the most expensive street in the world!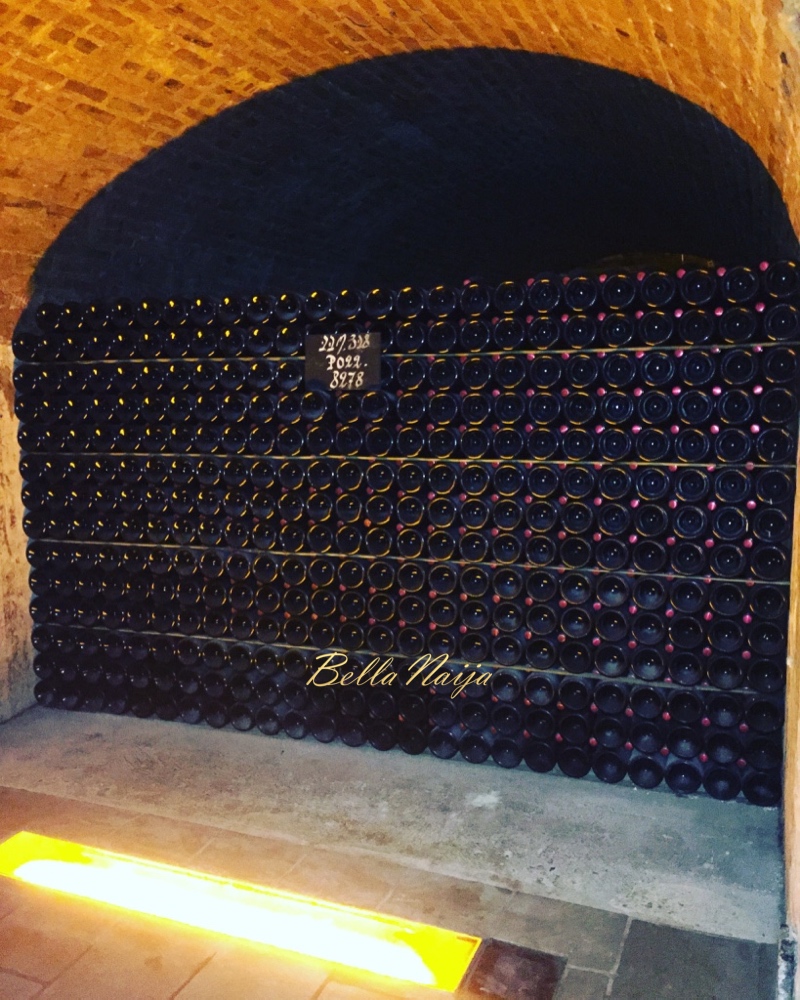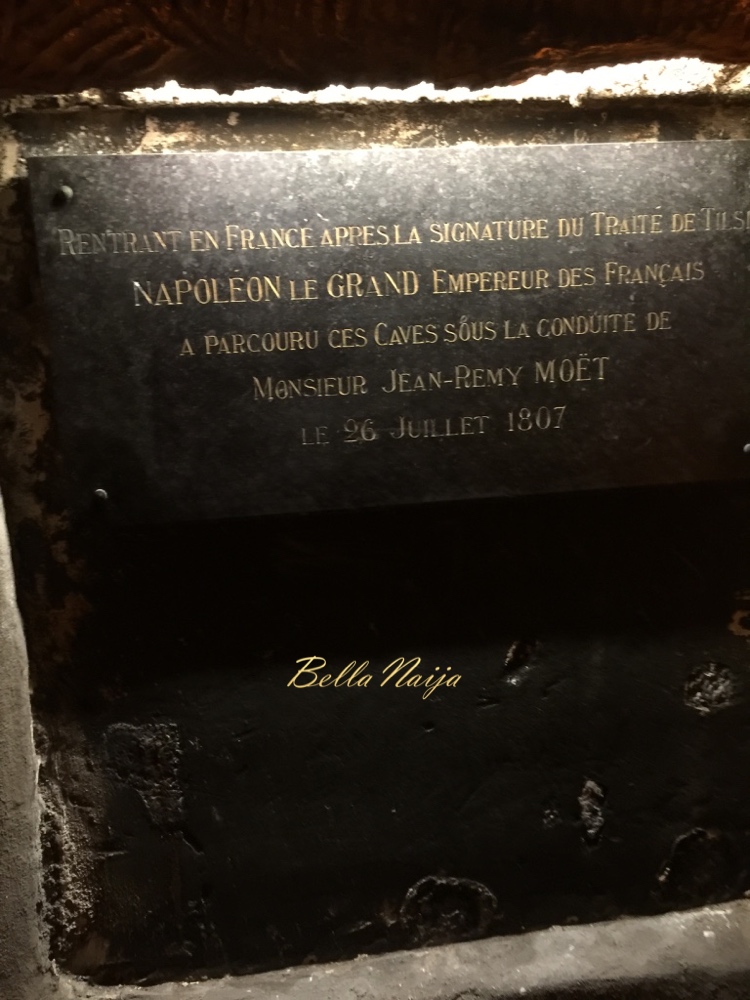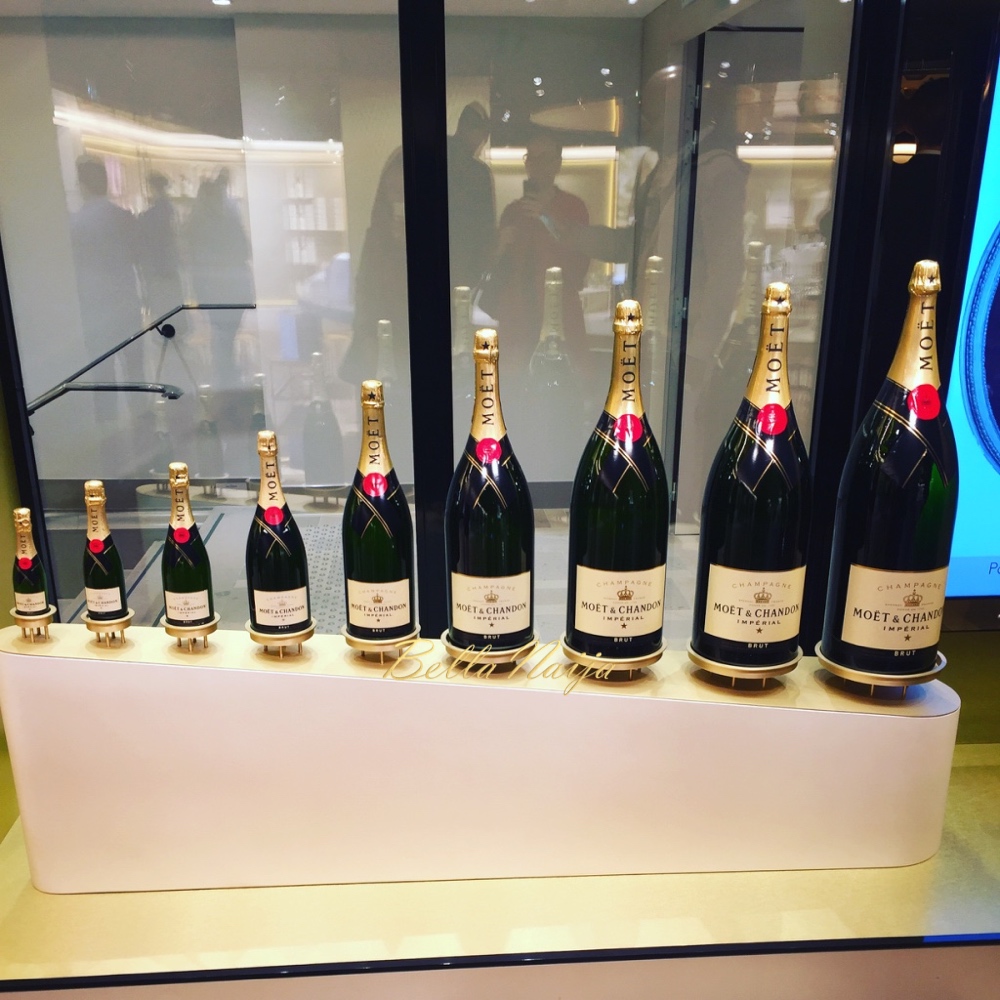 Then it was time for tasting! We had champagne in a beautiful outdoor garden.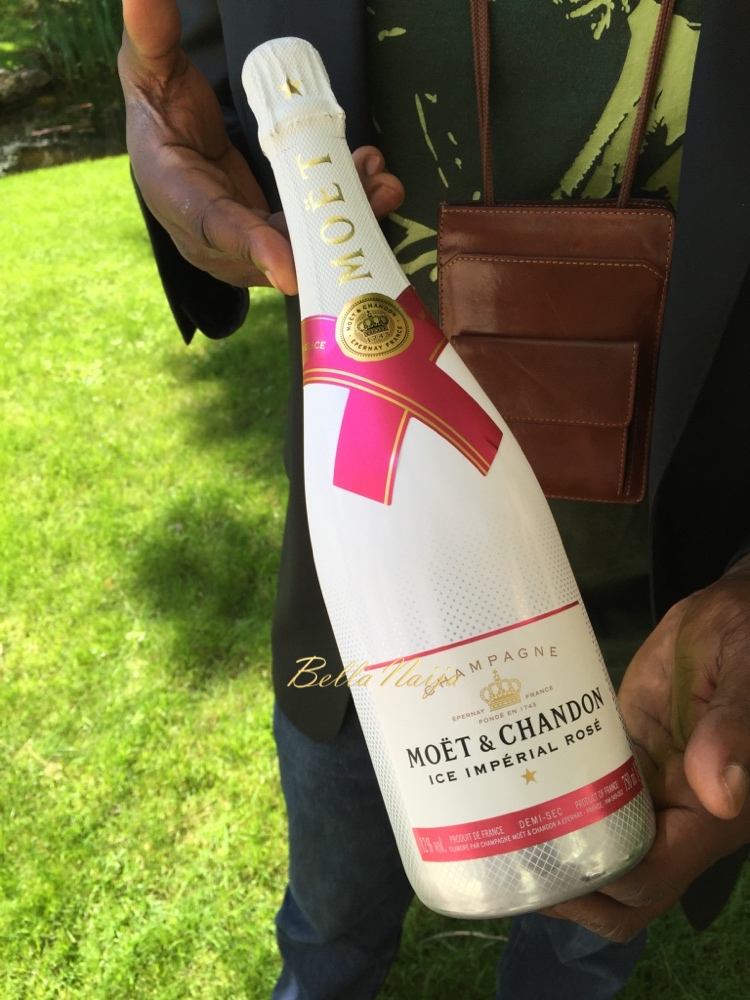 Up next – Dom Pérignon – did you know Dom means Master?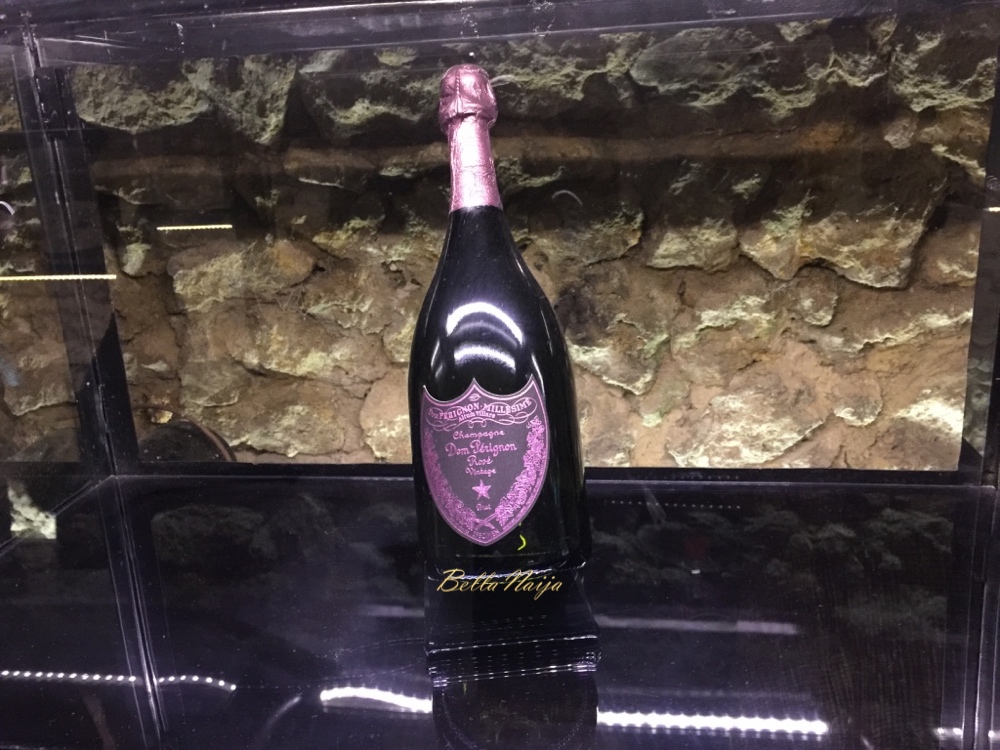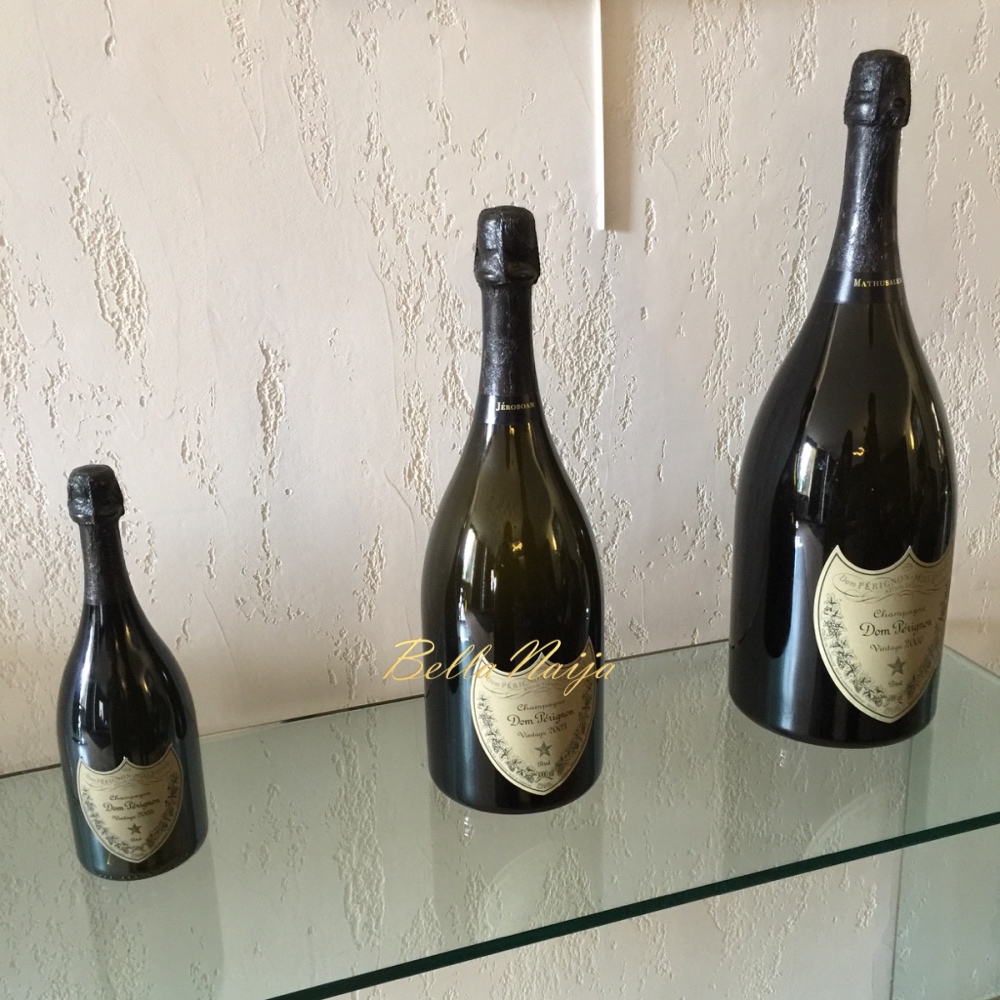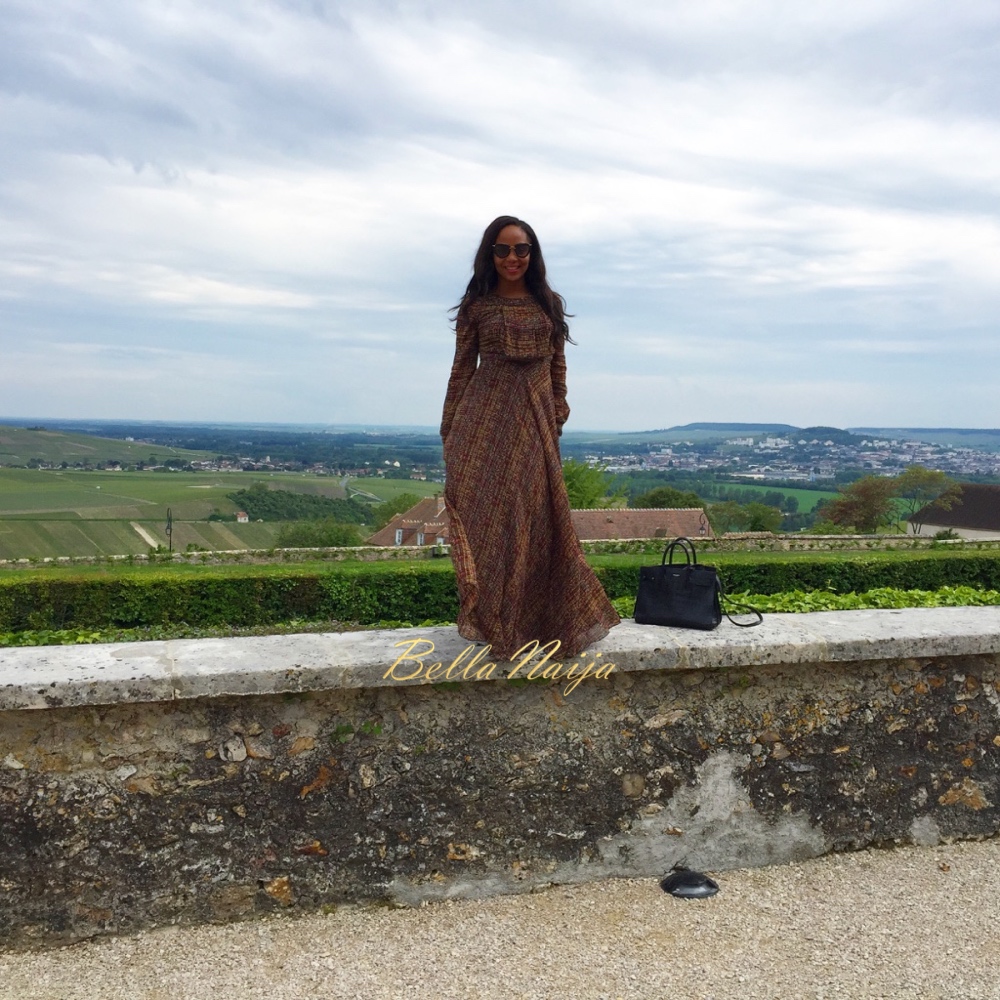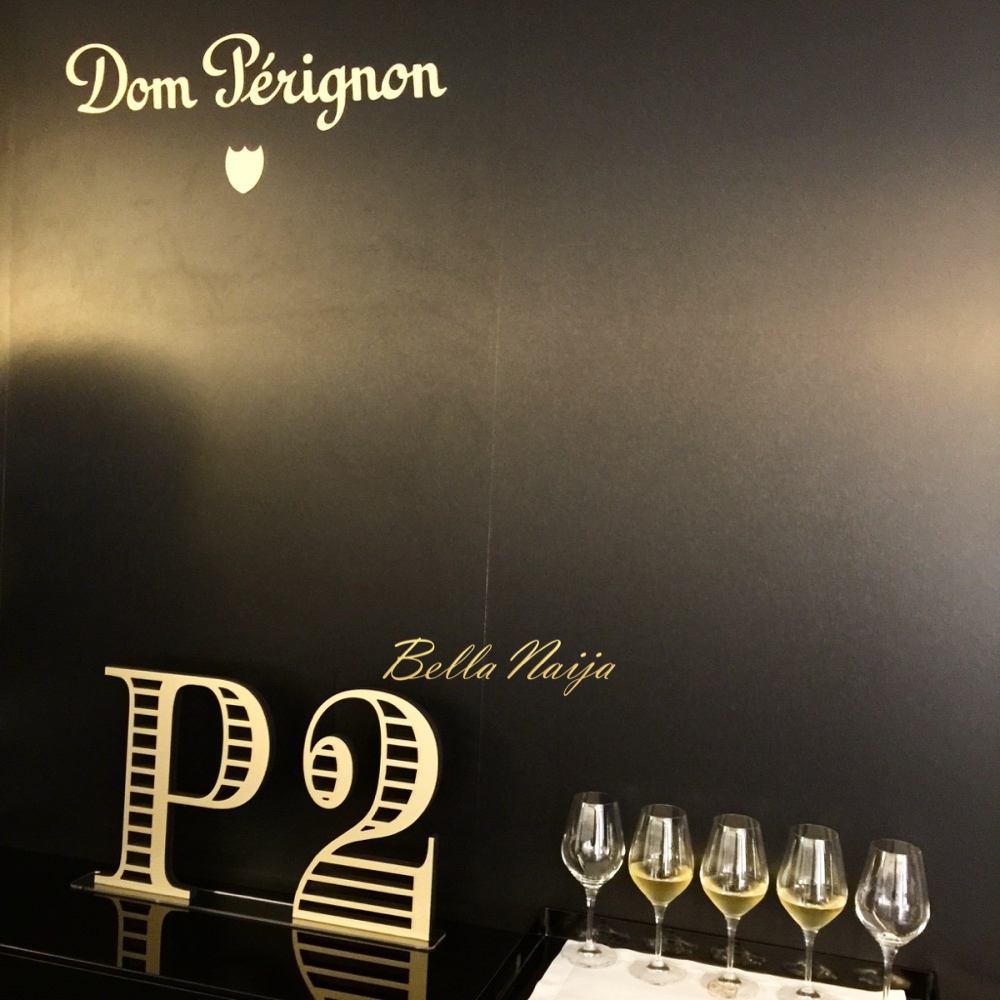 The 1998 vintage was AMAZING! That was truly a great year for grapes – notice Moet also has a vintage that year. A vintage means all the grapes are from that year, as opposed to a non-vintage – a mix of wines from different years to give a more standardized taste.
By the way, they shuttled us around in the best cars 🙂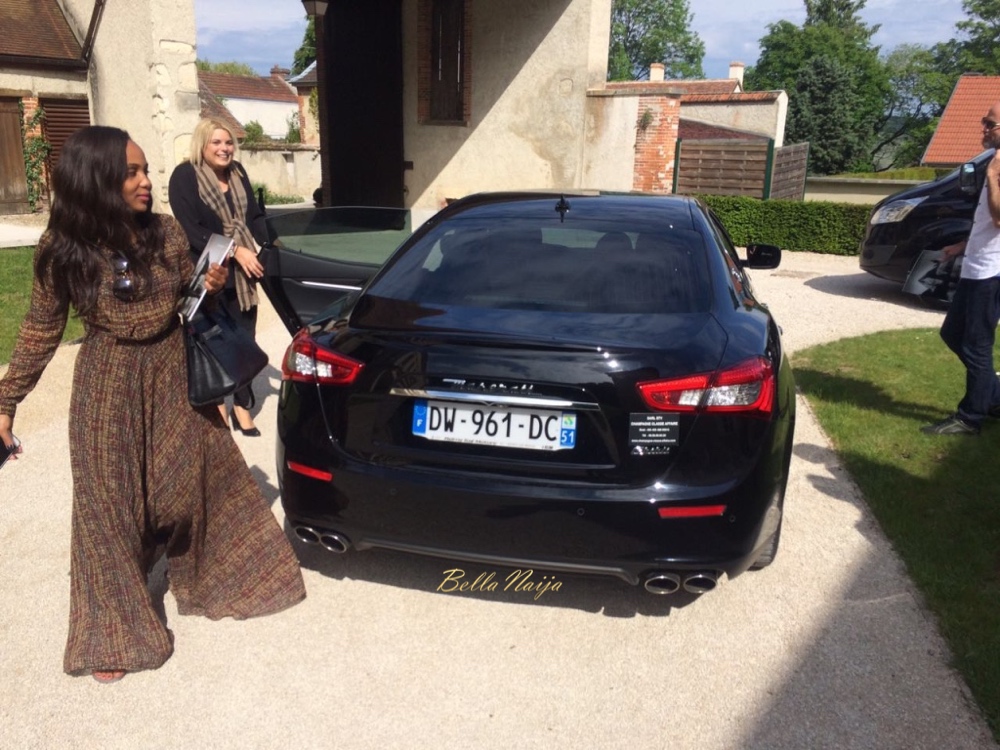 We ended the night with a hearty dinner at a trendy bar, then it was time to sleep!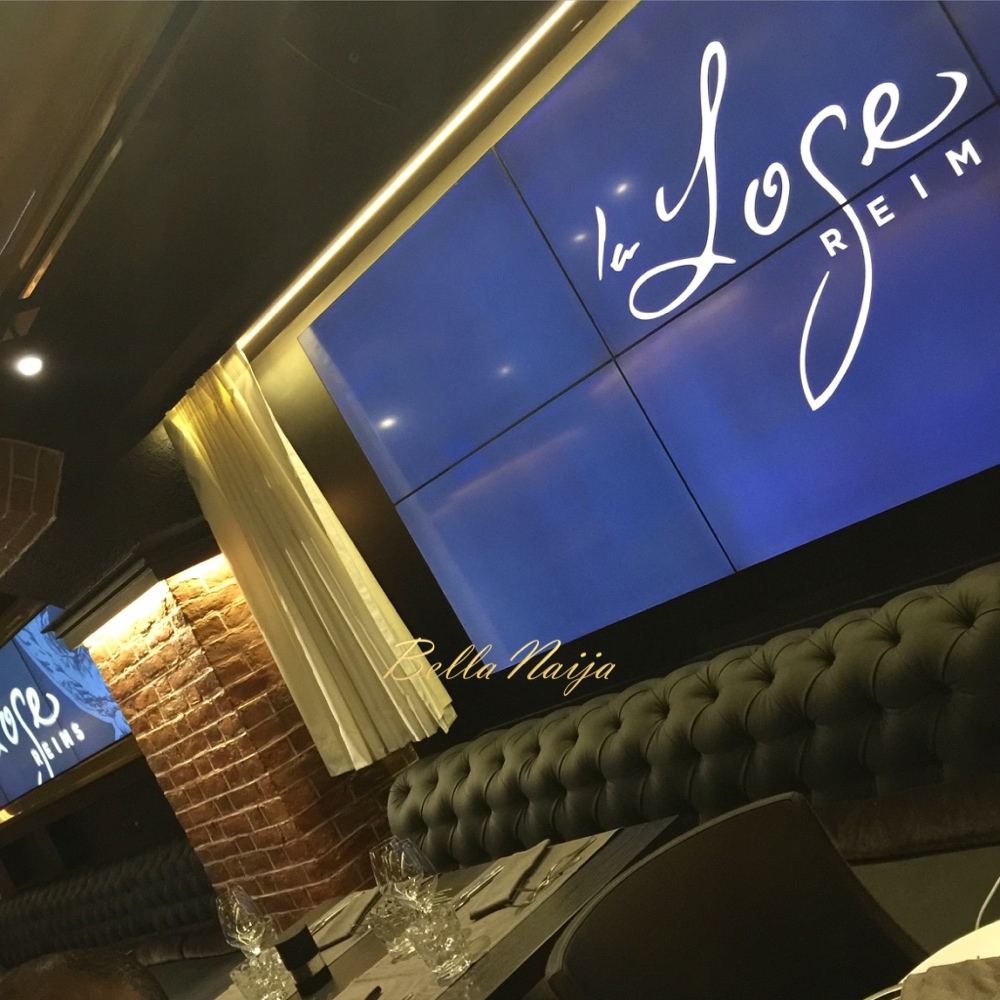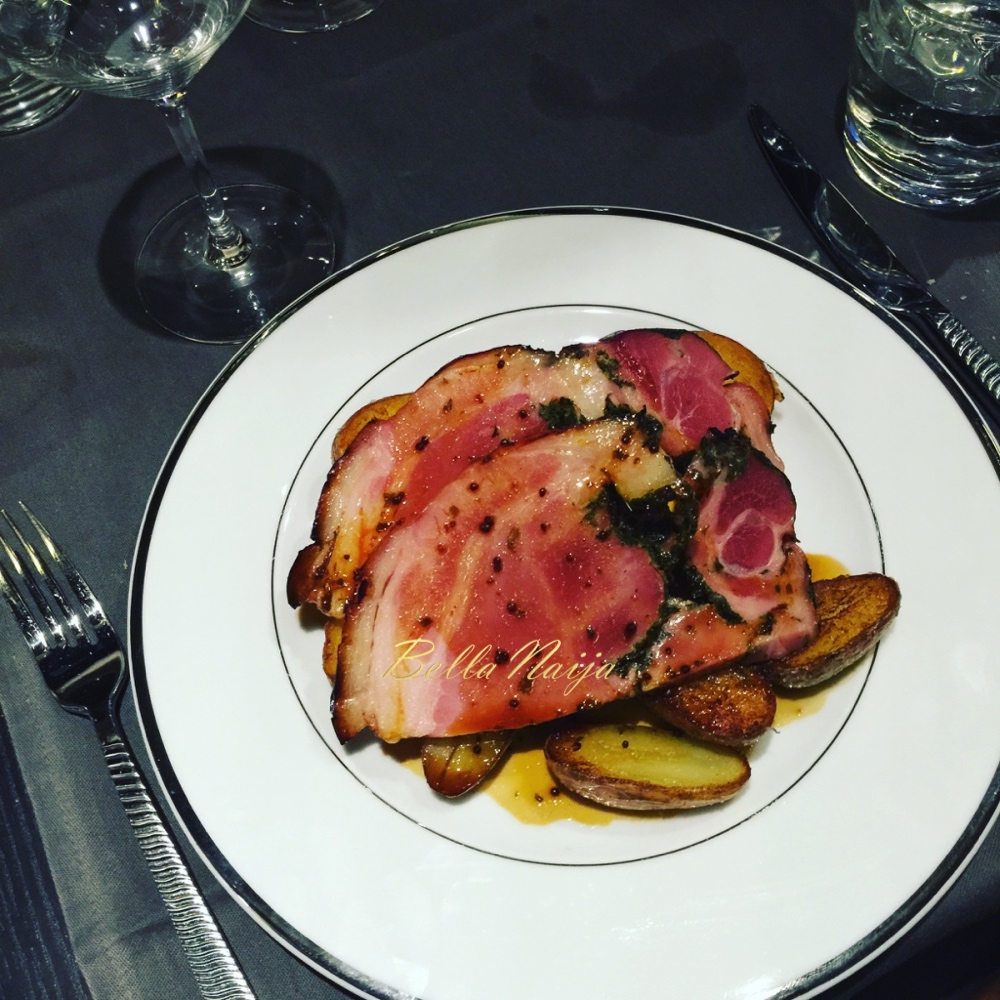 Friday
This was my best day so far! Yes, I know everything was hard to top on this trip, but the night time was amazing, plus the branding of the Veuve Clicquot maison was soooo cool. I'm totally a Veuve girl Lol. They said it took a while to settle on the yellow, due to push back from different markets. And I'm glad it stuck.
I wore another skirt set from designer Wana Sambo.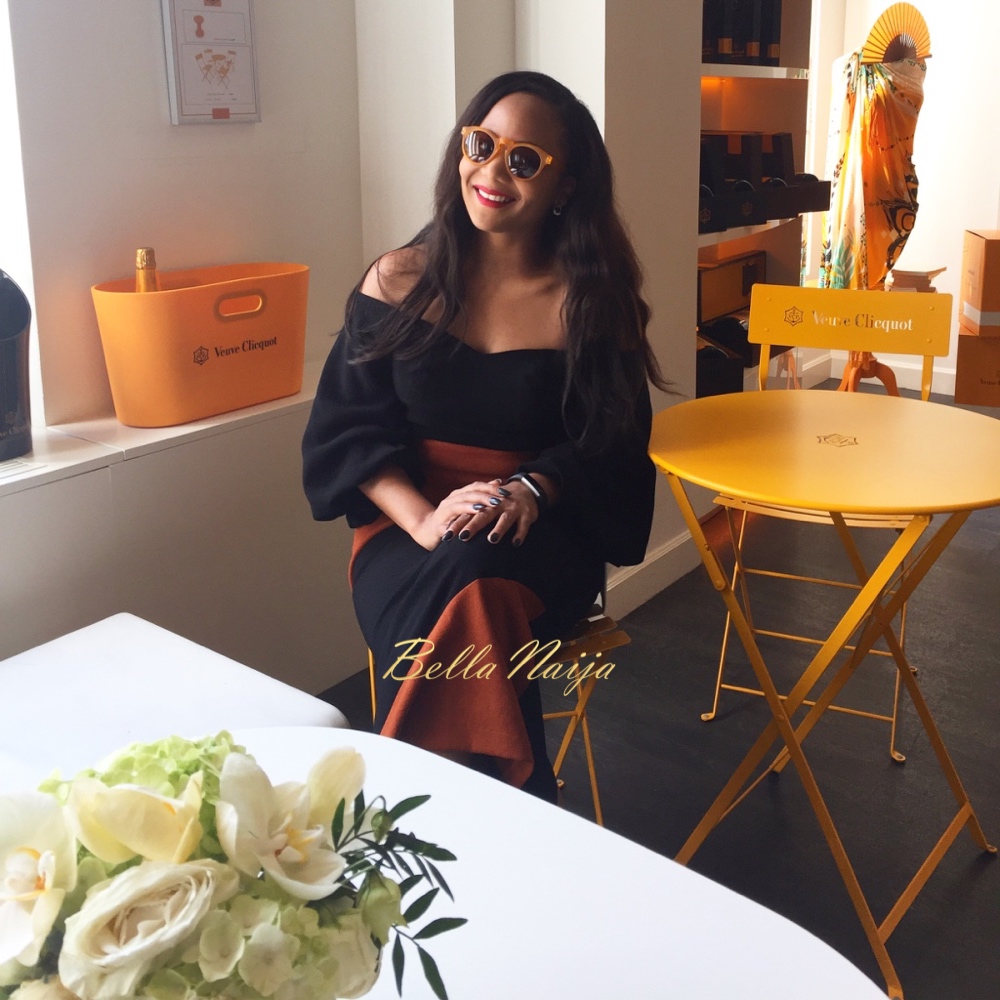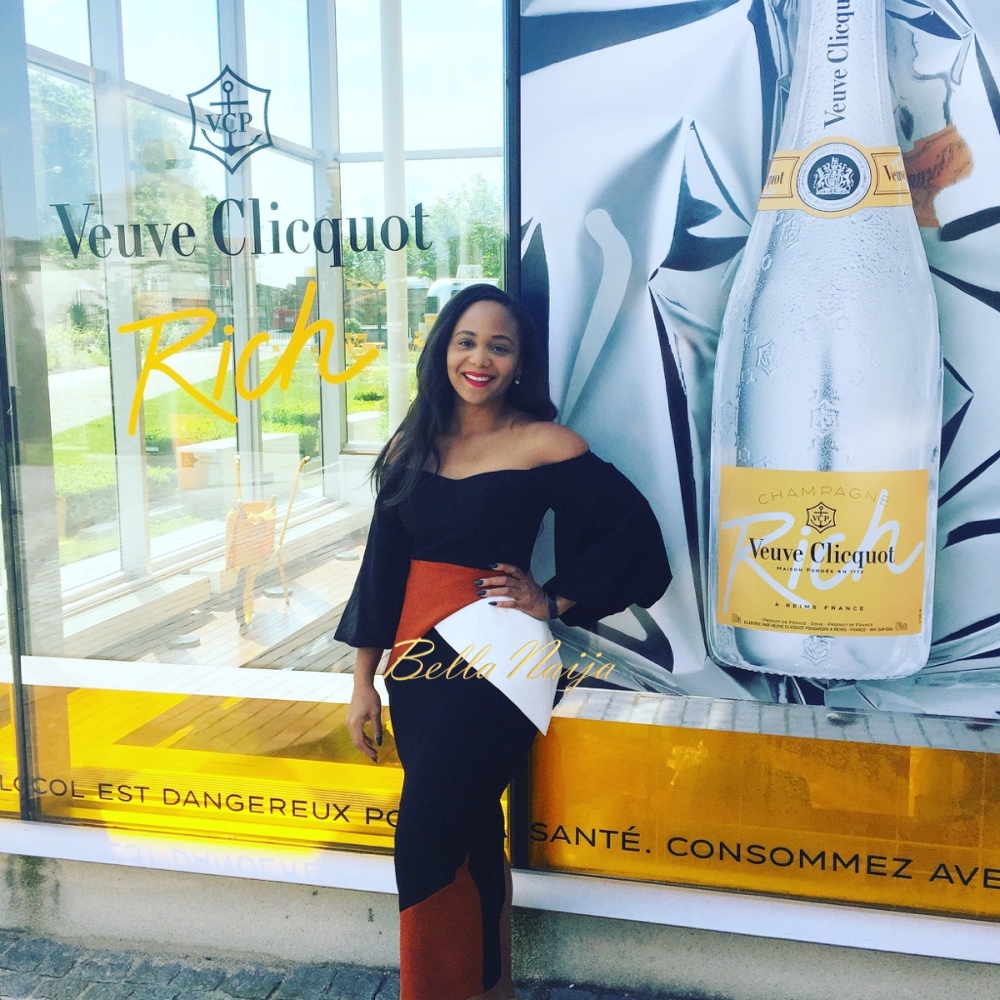 More than the branding, the story of Madame Clicquot was so enlightening and inspiring! For a widow of 27 years old with a young child to come up with so many inventions and build the house into an EMPIRE, she should be emulated.
Did you know?!
Check the back of every Veuve Clicquot bottle – it says 'widow' in different languages at the bottom of the label as a tribute to her.
So what happened? Her husband was a textile merchant. He used to give away champagne for free with each order, then he discovered the champagne orders outweighed the textile orders, then decided to focus on it! (This is a good life lesson – you never know where your hobbies might lead).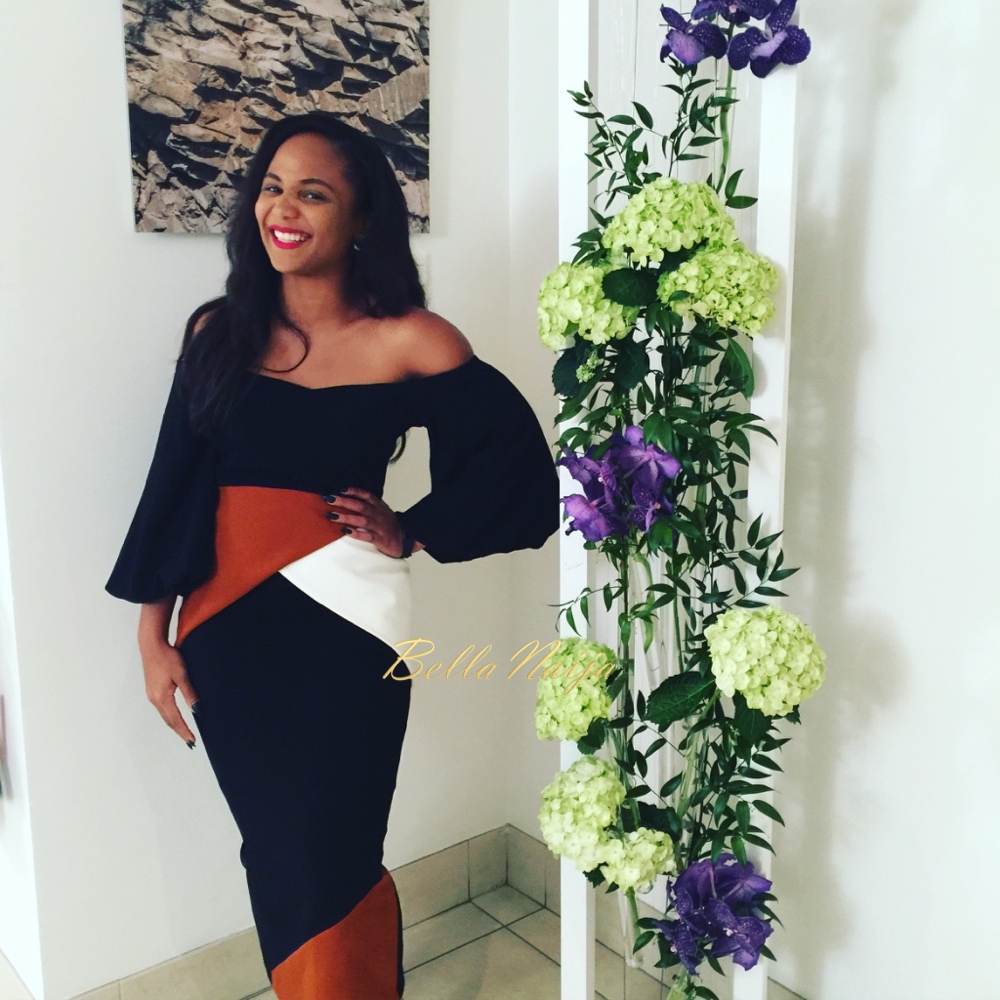 This skirt set was so comfy and weather appropriate. We were so lucky with the weather that week! It rained so heavily after we left, that Roland Garros even had to shut down for a day (never happened before).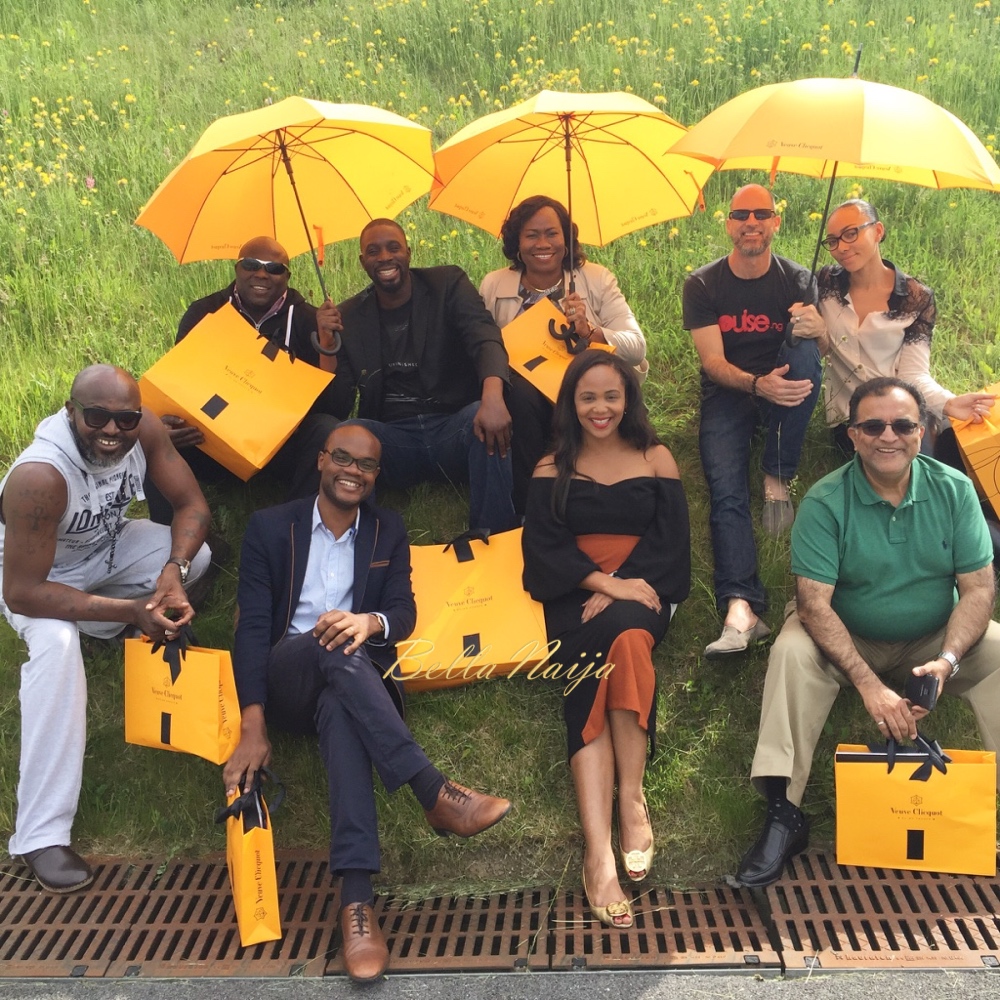 We also got the chance to go round town. Reims is so beautiful.
Friday Evening
Time to go back to Paris for an epic night! We went to a beautiful restaurant Yeeels and then one of the city's most exclusive clubs, right near the Champs-Élysées.
We had unlimited bottles and ample space to alors on danse!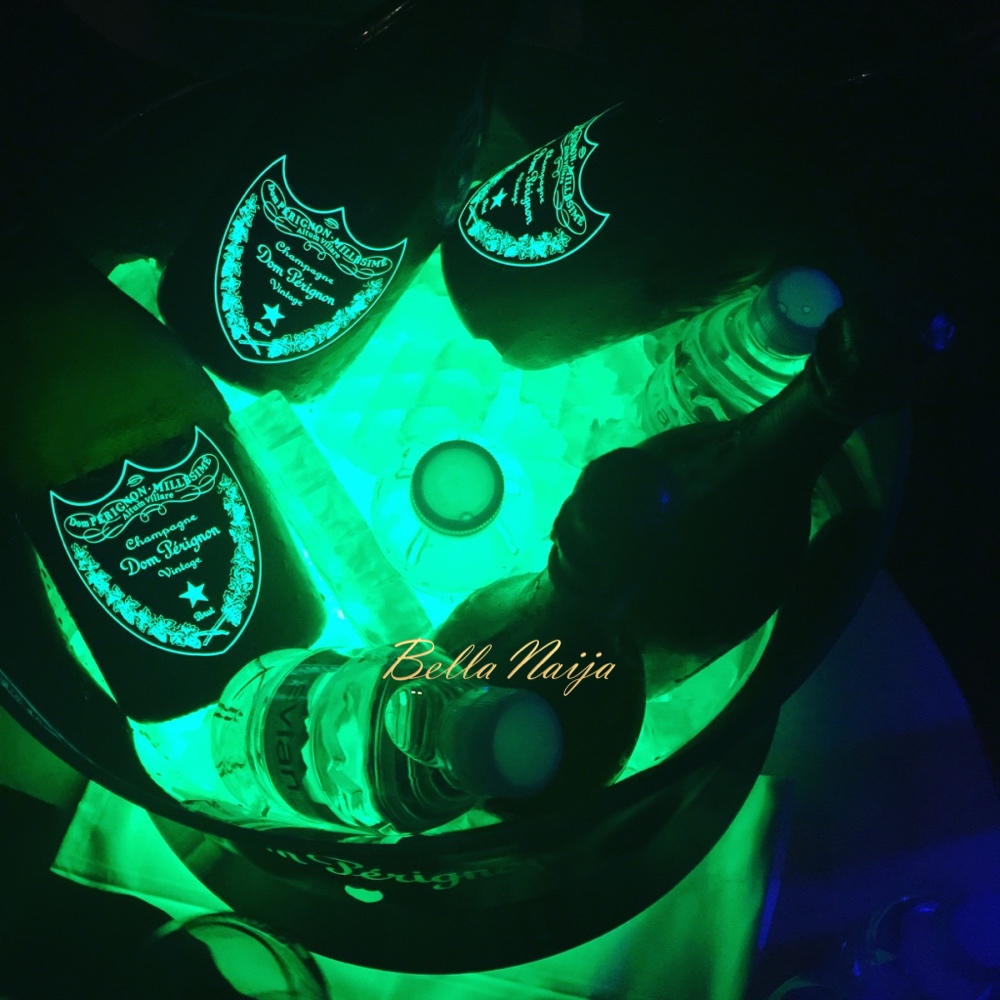 All in all, an E.P.I.C. trip.
***
Thank you so much for the opportunity to entertain you, I'm really grateful for the kind comments, and I hope to get another chance to share an exciting trip again 😉 *hint hint* LOL.
Thank you so much to @WanaSambo and @WanniFuga for the fabulous pieces!
See all the Instagram photos and video by clicking here!
Photos taken with Samsung Galaxy S7. For more BN Travel adventures, click here.