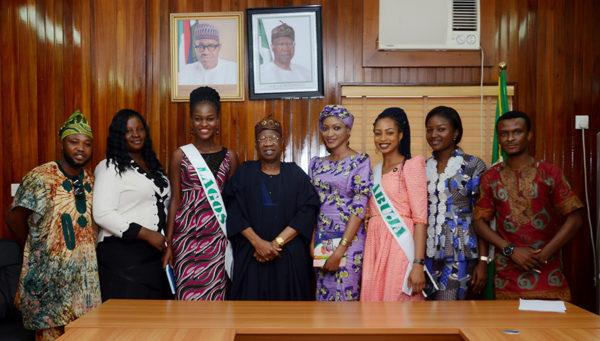 The Caires Grooming Agency, CGA team during a visit to the Minister of Information, Culture and Tourism, Lai Mohammed received commendation from the minister for their work in societal development.
Mohammed urged the Agency to assist government in providing job opportunities, curbing social vices and encouraging youths beyond formal education, he commended the Chief Executive Officer of the organisation, Chinor Emeka for her courage, single-mindedness and your determination to make something out of life.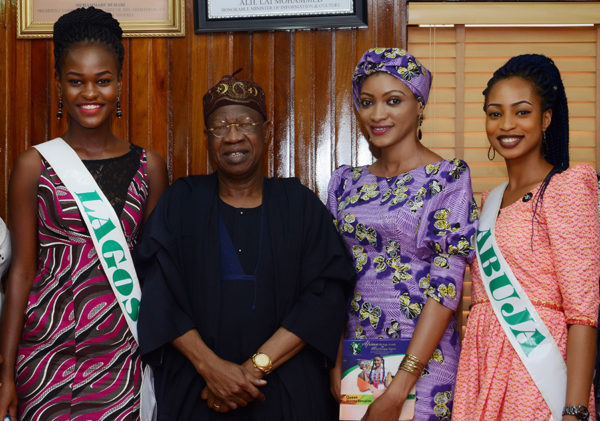 The minister, who promised to endorse the organisation, directed the organization to work closely with the Heritage department in the Ministry, expressing delight that it's activities fall within the purview of the department.
The Minister charged the organization to come up with visible and identifiable projects that will empower and make impacts not just on the beauty queens but on the society as a whole.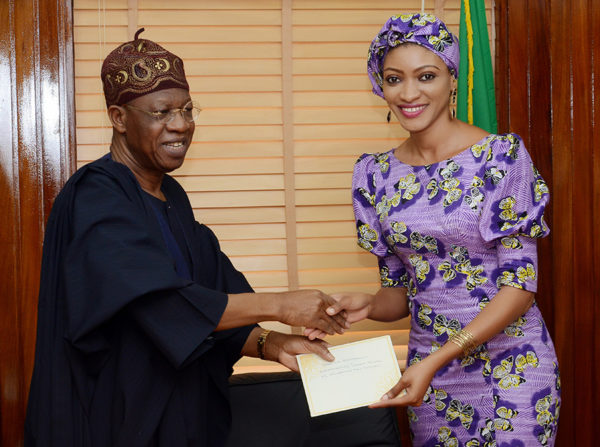 Caires Grooming Agency, a Non Governmental Organisation, says it will create 1000 jobs each for young women in the 36 states in Nigeria through its Miss Heritage Nigeria beauty pageant platform.
This is contained in a statement issued in Abuja by Chinor Emeka in the just Concluded Miss Heritage Nigeria 2016.
She said the organization would leverage on the occasion of the African Heritage Awards to also showcase the country's rich Cultural Heritage.
She also said the organization would partner with the relevant government departments and agencies to provide opportunities for female youths to actualize their dreams in the tourism sector ,and encourage them to become patriotic and law abiding.
The Miss Heritage Nigeria platform is an initiative to improve on the educational opportunities through skill acquisition, agricultural practice, entrepreneurship and leadership programmes," the CGA boss said.
Emeka said the Minister alluded to the fact that there were many areas in the creative industries where such organizations could make their impacts felt.
Emeka said the Director – General of National Council for Arts and Culture, Dayo Keshi, who they also visited and was present at the event observed that some African countries were currently imbibing the Nigerian dress culture.
She said Keshi urged organizations and individuals to complement government's efforts in reviving Nigeria's Culture that was being eroded by westernization.
See Photos from the Miss Heritage Nigeria Beauty Pageant below:
—————————————————————————————————————–
Sponsored Content