Emilinks Is Minting New Entrepreneurs With Its 1 Billion Naira Giveaway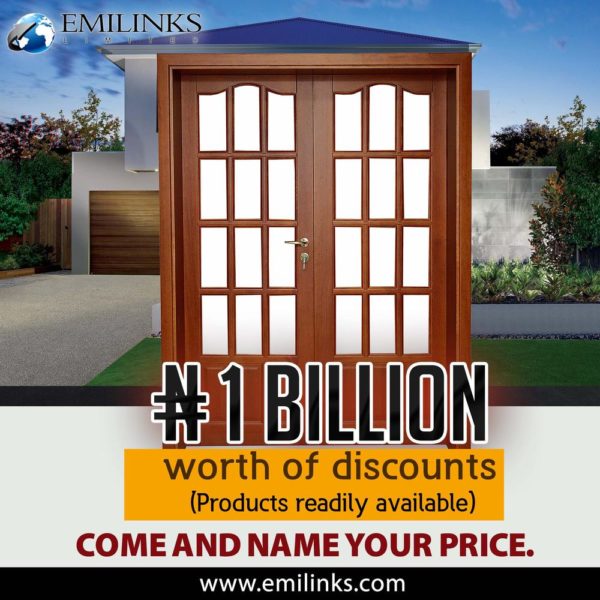 If you go to the Emilinks website right now, you will be welcomed with a can't-miss headline: "Complete Your House Promo". With it, the prestige door manufacturer is announcing an incredibly large price cut on its luxury doors, kitchens and wardrobes. In the beginning, its hope was that the discounts would help hundreds of Nigerians build their own homes. What it didn't foresee, however, is the bonanza attracting a whole lot of aspiring moguls.
Since the deals started in February 2016, with prices dropping on all Emilinks' products by as much as 65%, many people have discovered a chance to become entrepreneurs in the building supplies sector.
These people include builders such as Janet Nwachukwu, construction goods retailers like Tajudeen Rafiu, and Eniola Adebayo, who is starting an entirely new business venture. These days, Adebayo buys Emilinks doors and resells them at a fraction of the current market rates and still makes significant profits.
Looking at the new Emilinks prices, his business model is a no-brainer.
From the warehouse, he can pick up a 900mm x 2.1m hand-finished wooden door for between N150,000 and N120,000 instead of the usual N350,000.
Also, the bestselling solid wood flush door that is used in thousands of new homes across the country is now down from N110,000 to only N50,000, just like the Economic Flush Door which currently sells for N30,000 rather than N60,000.
Then, he can pay half the price for the Emilinks made-in-Italy fire-rated door at only N120,000.
The Emilinks Historic Armour Door was normally valued at N3m; now it is only N1m. This is remarkable because the Armour Door is made with galvanised steel and pure forest wood. Similarly, all non-corroding, non-rusting security doors that used to retail at 370,000 per unit are now available at N150,000 each.
For good measure, Emilinks announced that every door would come complete with frames, lock, cylinder, handles, and keys. Ultimately,
This development is inspirational, says Solomon Emeka Nwadiogbu, chairman of Emilinks, a 14-year-old company whose 7-year-old door manufacturing division has built a reputation on the back of its top-of-the-range, and sometimes pricey, wood products.
"We're happy to create employment and push value into the system with our long-lifespan, high quality products," he says.

"It is not enough to simply be living to make a living; one needs to live to make an impact. For me, I want to impact my generation with style and elegance. That is why we're offering the quality and price that no one can beat at home and abroad— not even in Italy."
Nwadiogbu has two names for his company's low price bonanza: 'Name Your Price' and 'Pay As You Go'. This way, he expects that his message will be clear to everyone. He expects that Nigerians will immediately understand that a rare opportunity is available for them to feel less hamstrung by the galloping inflation and finish their dream projects.
Although he concedes that some may have to see the doors and the new prices for themselves to believe him, he maintains that "no one else in this country or abroad—not even in Italy, can do what we are doing."
Emilinks, it turns out, has its own forests in Europe, its own processing plant, and four warehouses in Lagos where the stock on offer is readily available.
_______________________________________________________________
Sponsored Content