The Ooni of Ife, Oba Adeyeye Enitan Ogunwusi (Ojaja II) in company of his wife Olori Wuraola Ogunwusi (Yeyelua), as well as other traditional rulers and chiefs of Ife Kingdom, is on a historic 3-week tour of the United States of America.
Over the weekend, the Ooni was honored by the New Jersey Congress and Mayor Ras J. Baraka. He was also given the key to the City of Newark.
He also  visited the United Nations Population Fund (UNFPA)'s office in New York to formally announce a partnership with the UN to promote women's rights and equality. (Click here if you missed it). He was greeted by UNFPA Director, Professor Babatunde Osotimehin. Over the course of the next few months, the Ooni will establish avenues to create jobs and homes for women, not only in Nigeria, but other parts of Africa.
During the visit, His Imperial Majesty said: "Women are the foundation of the world, when you empower a woman, you empower the world." Her Majesty, Queen Wuraola Ogunwusi, also commented, "A majority of our charity initiatives are centered around the empowerment of women of all ages. Our mission is to use our position to draw attention to important issues such as education, proper child care, and gender equality."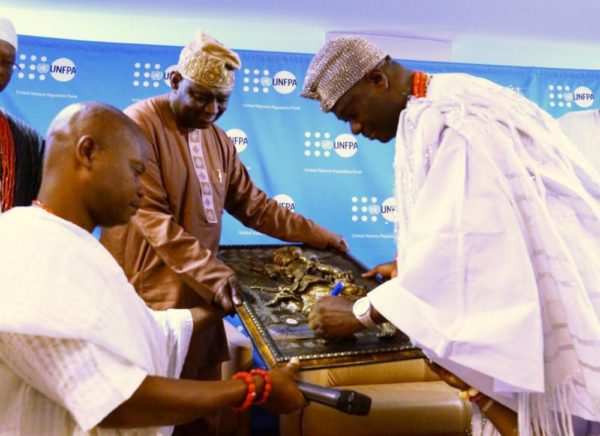 The Ooni and his wife also attended the Philadelphia Odunde Festival. They were also honored by Philadelphia Congress.
At the Odunde Festival, the Ooni preached a message of unity and equality amongst African Americans and the Black race as a whole. Over 85,000 people were in attendance alone for the Philadelphia Odunde Festival. A group that consists of mainly African Americans and an additional, estimated 1,000, Yorubas from Cuban and Brazilian descent. Boxing Champion, Bernard Hopkins was also in attendance.
Addressing the crowd during the festival, the Ooni said,
Philadelphia is a city with such great cultural history for African Americans. We are all brothers and sisters, regardless of where we live in the world.  African American heritage is African culture. Your struggles are our struggles. Your successes are our successes. We are ONE. Over the span of many decades, this magnificent city has been many things: a fugitive slave port, a seat of Africans and African Americans and an organizing ground for the Civil War. This magnificent ground we stand on was a staging ground for the civil rights and social equality struggles that continued for many decades after the end of slavery. I am here to honor you as you have honored me and my ancestors. We must come together, united as one, to continue to promote peace amongst ourselves as a race and peace around the world.
The Ooni will be received at the White House next week, where he will be honoured for his humanitarian efforts.