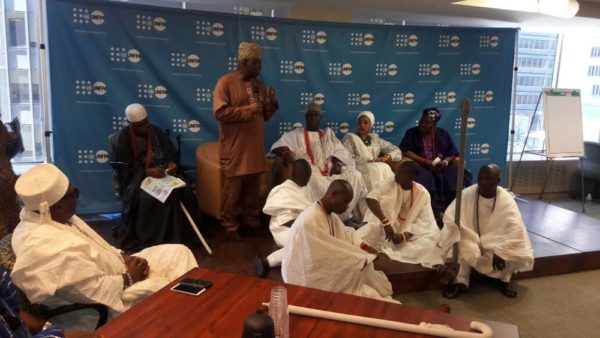 His Imperial Majesty Ooni Adeyeye Enitan Ogunwusi (Ojaja II) in company of his queen Olori  Wuraola Ogunwusi (Yeyelua) on Monday paid a courtesy visit to the office the United Nations Population Fund (UNFPA) at New York on America received by the Executive Director of the fund Professor Babatunde Osotimehin.
Ooni Ogunwusi described the visit a very important one especially as the very important arm of United Nations is head by a Nigerian from Yorubaland who deserves to be celebrated. He prayed for him and charged him to use his expected office to assist the continent of Africa and solicited his support and that of United Nations for his Youth Development and Widows empowerment programs.
In his speech, Professor Osotimehin thanked His Majesy for the royal visit which will remain indelible in his mind for the rest of his life. He thus promised to reciprocate the honour by not only supporting the kabiyesi's developmental agenda with his office, UNFPA, but also mobilize the entire United Nations for him.
According to a statement signed by the palace's Director of Media and Pubic Affairs, Moses Olafare, on the Arole Oodua's entourage are his sisters Folasade Fadairo, Adesola Olojede Ogunwusi Daodu and her husband Akin Daodu. The traditional rulers include the Orangun of Ila HRM Oba Wahab Adedotun (Bibiire 1); HRM Timi of Ede HRM Oba Munirudeen Adesola Laminisa 1; Ajero of Ijero Oba Adewole Joseph; Olubaka of Oka-Akoko Oba Yusuf Adeleye, HRM Oba Adedapo Aderemi the Alayemore of Ido-Osun; HRM Oba Olufon of Ifon Oba Al-Moroof Magbagbeola; HRM Oba Elerinmon of Erinmo Oba Ajayi Micheal; HRM Oba Onigbaye of Igbaye Oba Joseph Morontoye; HRM Oba Alaagba of Aagba Oba Ogunwole Joseph; Alara of Ara Oodaye, and Adagba of Iyanfoworogi.
The kingmakers were represented by HRH Oba Saka Olawusi the Obaloran of Ilode; Adekola Adeyeye Jaaran of Ife; Akinropo Zaccheus Waasin of Ife, Jimo Awe the Arode of Ife, Obadio of Ife, Ifarotimi Faloba; Obalesun of Ife, O.O. Dada; Lokore of Ife Adegbolabo Agun, and Eredumi of Ife Omiwenu Odeyele.