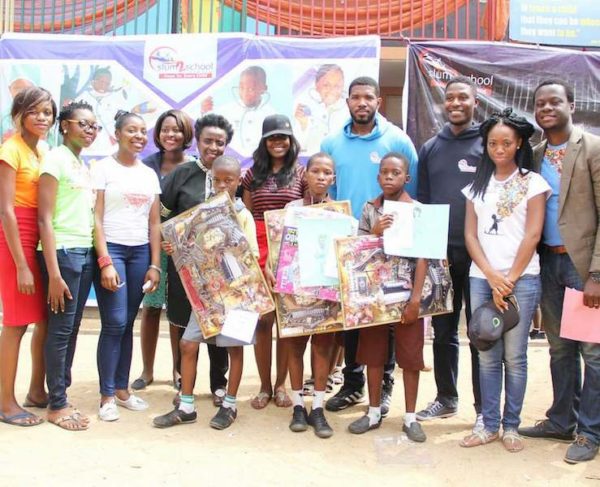 On Saturday 4th June 2016, Slum2School Africa celebrated another remarkable milestone as they commissioned a fully equipped one-of-a-kind healthcare center in Makoko community, Yaba, Lagos state.
The center which is projected to serve over 2000 beneficiaries within the community will help bridge the gap in healthcare and first aid administration across the community. It is the first of its kind in the community and is very critical in providing health solutions to the children in school by reducing the prevalence of illnesses and minor health challenges.
To commission the facility was the Chairman of the Lagos state Employment Trust fund, Mrs Ifueko Omougui Okuaro, who commended the effort of the volunteers, government, partners and teachers who had continuously worked passionately to support the Nigerian child. Having been captivated by the performances of several children, she was filled with excitement and pledged to volunteer more often to support the organization achieve its ambitious goals. In her own words, it is because of children like Seun, one of the most outstanding children of the day that Slum2School Africa exists.
A major highlight of the day was the cultural dance which was performed by the children who were joined by the founder of the organization, Otto Orondaam. It was a very exciting moment for them and the entire audience. Also speaking at the event, Mr Otto mentioned that the health centre is only one of several programs lined up to support the education of the children to ensure that every child irrespective of their background have access to quality education and primary health care. He appreciated the continuous commitment of the network of volunteers and stakeholders.
Samuel Hunge, a parent and resident of the Makoko Community, declared that Slum2School has been of tremendous help to the community and they are grateful to God for such support provided to their children at a time when most of them couldn't support the education of their children.
The Head teacher of Makoko Primary School, Ojelade who was also extremely excited revealed that this was a first of any organization run by young people consistently committed to helping improve the lives of the less privileged children. She thanked the government for providing an enabling environment for such organizations to thrive in their vision to create impact in the society.
See Photos below:
_______________________________________________________________________
BellaNaija.com is a media partner with Slum2School Africa