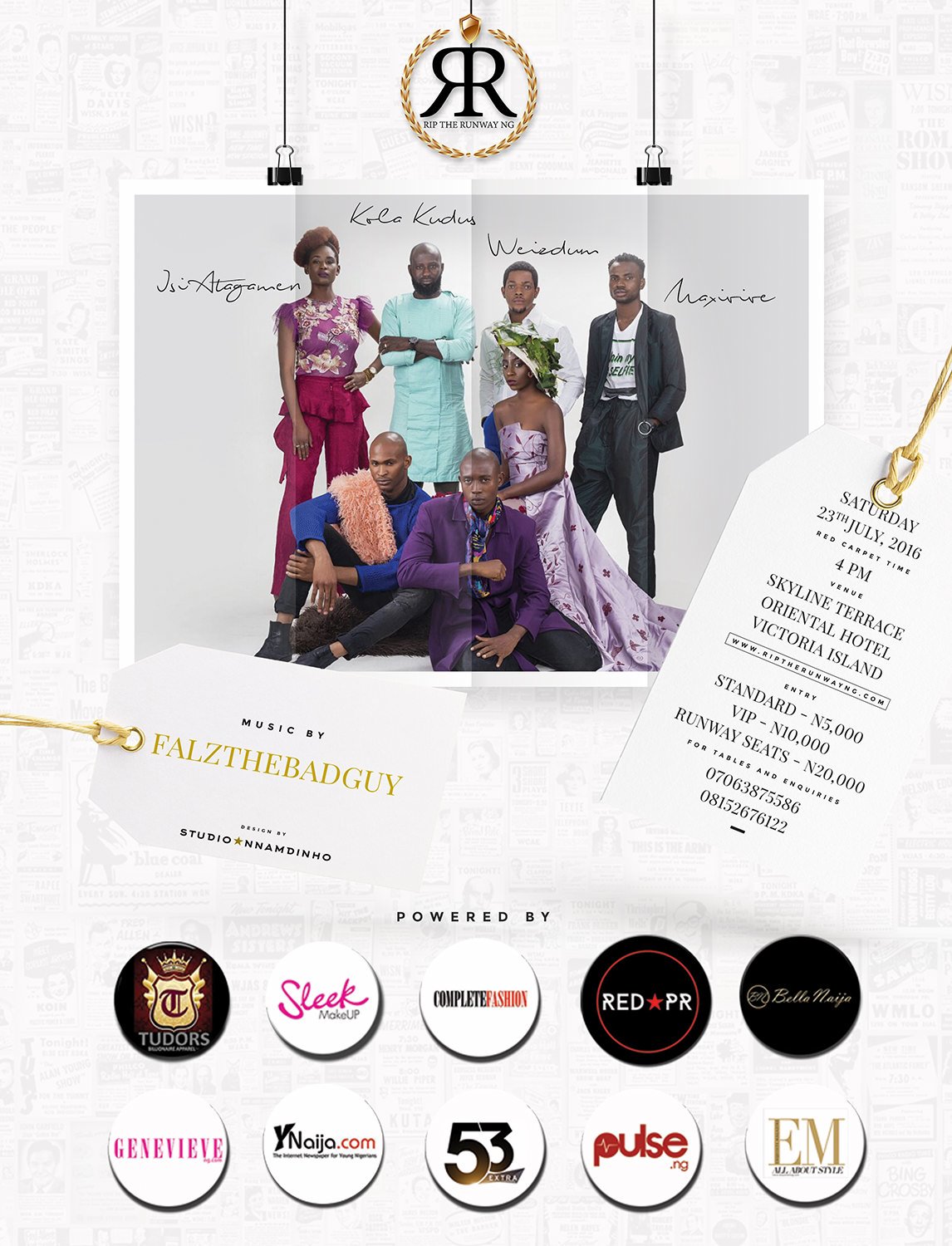 On Saturday, July 23rd 2016 Rip the Runway NG will be hosting the 4th edition of its fashion showcase featuring Kola Kuddus, Maxivive, Weiz Dhurm Franklyn, Isi Atageme, Jason Porshe, JZO, Cece , L'Afrique and Asake Oge Couture.
Rip the Runway NG is a fashion, music and youth empowerment initiative to provide a platform for young creative star designers to showcase their works while celebrating fashion icons.
For its 4th Edition, Tudors Group, initiators of the annual event is partnering with Red Star PR and Party Poopers to package the show which aims to support and celebrate fashion stars by providing not just an event platform but a media platform to project the designers and their collection to the world.
According to Biyi Ogunbiyi founder of Rip the Runway NG,
The show is a dedicated platform for young fashion designers to showcase their works and position their brands for their target markets while celebrating young established designers like Kola Kuddus. There would also be a strong line up of music stars headlined by Falz The Bahd Guy. Over the years the show has evolved and I'm proud and excited about this 2016 edition which promises to be lit"
Femi Kuku founder of Red Star PR revealed,
"For the 2016 edition of Rip the Runway NG, Red Star PR is partnering with Tudors to package a world class fashion show and level with other renowned fashion shows across the globe. We've identified a great platform with great potentials to identify, promote and market young fashion designers to the world while exposing talents and creatives including photographers, stylists, make up artistes and the lot to opportunities in Africa's fashion industry"
Designers include:
Kola Kuddus
Maxivive
Weiz Dhurm Franklyn
Isi Atageme
Jason Porshe
JZO
Cece
L'Afrique
Marigold by Adunni
See the details below:
Date: Saturday, July 23rd 2016
Theme: Shooting For The Stars
Venue: Skyline Terrace, Oriental Hotel, VI Lagos.
Contact Info: 07063875586, 08152676122
_____________________________________________________________
Sponsored Content