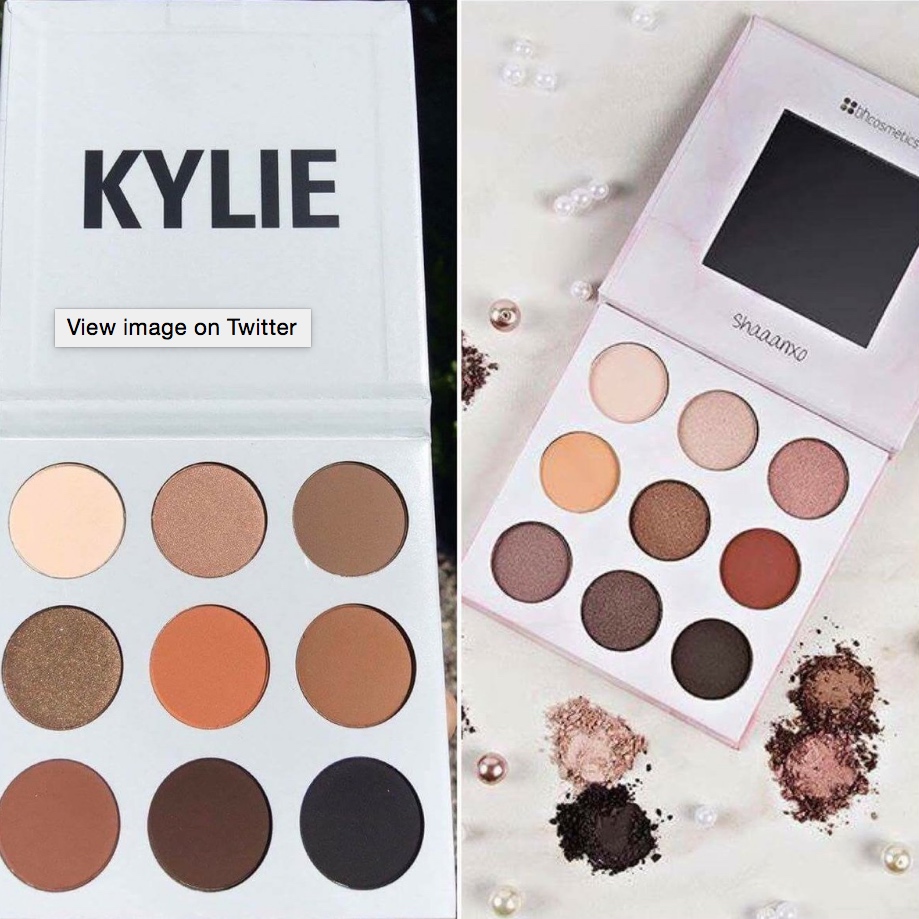 Kylie Jenner recently released a new eyeshadow palette 3 days ago, kyshadow as she calls it, and it sold out in one minute. With the fast success of this palette, similar to Kylie's other cosmetics like her lip kits that sell out in minutes, the success also came with a little shade.
It all started when New Zealand-based beauty Youtuber, Shannon Harris (aka Shaaanxo), tweeted a picture of Kylie's eyeshadow palette next to a similar one from her own makeup line – which at just $11 is much cheaper than Kylie's $42 version. Shannon kept the snap caption-free, and instead just used a couple of emojis, the frog and a cup of tea.
— Shaaanxo (@xoShaaan) July 25, 2016
The shade didn't go unnoticed, the twitter-verse beauty community had their say on the matter. Beauty enthusiasts like Doyin Adelekun, TheBossette Doyin on Youtube did swatches of both palettes to compare.
??I didn't think they were that similar but … #bhcosmetics #ShaaanxoPalette #KYLIECOSMETICS pic.twitter.com/JxxFiCKIB9

— doyin adelekun (@doyinbabi) July 26, 2016
After all the backlash against the similar palettes, Shannon tries to clear the air with these tweets saying she will still buy Kylie's palette and that most eyeshadow palettes look similar.
Let's be honest I'm gonna buy the Kylie eyeshadows ?

— Shaaanxo (@xoShaaan) July 25, 2016
I never once said "Kylie copied me" ➡️ I made a joke bc they look similar lol come on! ? yes, like lots of palettes do! No beef here guys

— Shaaanxo (@xoShaaan) July 26, 2016
Source: Cosmopolitan