Nigerian Actor Ifeanyi Dike Jr is making a HUGE Move into Hollywood! Get the Scoop on his New Projects, being the Only African in UCLA's Theatre Department & More in this Exclusive Interview
Meet 25-year old Nigerian actor Ifeanyi Dike Jr.
Remember his name, because you will be hearing more and more about him as he makes a huge move into Hollywood.
Ifeanyi Dike Jr is an actor as well as a writer. He has a new column called "Monkey Business" which will debut on BN soon.
After schooling in Igbinedion University, he started his career on television as Tokunbo 'Titan' Akinjobi on M-Net's "Tinsel" and has since appeared on a host of other movies and TV shows including "Desperate Housewives Africa", "Shuga" and "Gidi Up".
BN Movies had a chat with him about his current projects, his big move into Hollywood and his plans for the future.
Ifeanyi, who actually studied medicine, has a passion for acting that is evident in everything he does. Currently he is in talks with HBO Network reps (home to hit series "Game of Thrones") for a new project while also, amazingly, being the only African in the whole of UCLA's theatre department.
Read our interview with him below.
Tell us about the journey from Tinsel till now?
It's been an incredible journey. I was getting a little frustrated that medical school was taking longer than expected at the same time that I saw adverts for a Tinsel audition and a writing position at Nigerian Idol. I had originally planned to wait until graduation before I took a chance with acting and writing. When I saw the audition notice however, something gave way inside of me. I thought; 'well you have to do this. You have to know if you have a chance.' So I packed up my workbook, left the lab with my backpack and got on a bus to Lagos from Benin. I didn't tell my parents. Once I got into Lagos, Nigerian Idol said they had just hired someone else and I didn't need to come in. It felt like someone had punched me in the gut. But I went in anyway and convinced the assistant project manager Adaora Mbelu to hire me without pay. I ended up working there three years and in the second year I became the executive content creator for the website.
I auditioned for Tinsel the day after I arrived Lagos and I didn't get called back until after a year while I was working remotely at Nigerian Idol, writing on Rhythm's 93.7fm Benin and battling 5th year paediatrics and obstetrics and gynaecology. I sent an email to every publication I was interested in and asked to write for them. It was part of the process of figuring out my niche. One time I had my paediatric finals but I had to shoot Tinsel the day before. So I drove to Lagos from Benin, shot and got back to Benin a little after midnight. The roads were hideous and had no street lights. It was the scariest day.
Once I graduated, I had to do my internship which was a very difficult year and that meant I had to take about two years off. I only had time to shoot. I had to pick extra call days and nights and do extra work at the hospital to cover for all the times I went off filming. I literally had no time to do anything else. But I got to do some of the most amazing jobs from Gidi Up to Desperate Housewives and Shuga. Once my internship was over, I was off to South Africa to film Top Actor Africa for BET.  I returned and flew to New York for my drama school auditions and interviews. And now, I'm answering these interview questions and thinking seriously about what to have for dinner.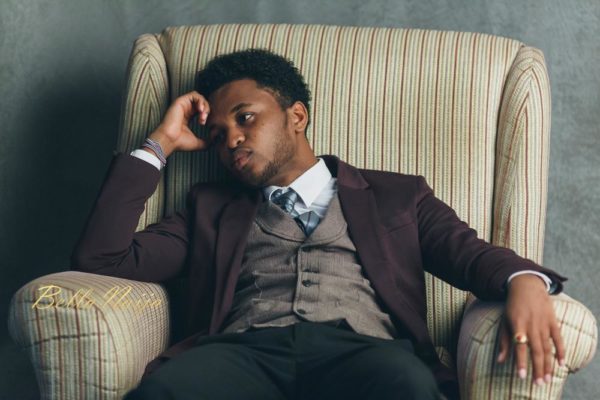 You crossed over from medicine to acting, what was the pressure like from family and friends?
Medicine is important to me and that's why I studied it for 8 years and practised for 1year. It's an honour to have people trust you with their lives and It's not something I've taken for granted. Working at The General Hospital, I met some of the most interesting people who had these stories that were important and taught me humility and kindness and the thing I've learnt about acting is that the more experiences you have to draw from, the better.
I don't regret studying medicine. I feel lucky that I got to experience it. I feel like it's made me a better actor – it's prepared me. My family and friends understand this and they are supportive. Sure, I feel some pressure to make my people proud but they call me and say 'jisi ike' when times are tough and they remind me that my best is enough.
What influenced your decision to finally choose acting over medicine?
Acting is what I'm doing with the rest of my life. Medicine is an added advantage. Like a life skill I'm always going to have. I don't see anyone asking English majors or Engineers why they are fashion designers instead. I've never felt there was a choice I had to make. I'm just at this time attuned to focusing on my journey as an actor. The other day on set, I performed CPR. I set a cast for my friend on Thursday. My medical license is permanent. I think however, if I get the chance to study again after my undergrad, I'm not going to decide on the same thing I spent the last 9 years studying.
Tell us more about the HBO project, who have you been working with?
I have a couple meetings with the network rep once I land. I'm unfortunately not at liberty at the moment to say exactly why. I would however say that I'm very excited about future projects. HBO is responsible for some of the best content available on television such as Game of Thrones so if things fall into place, you'll surely know.
How does it feel being the only African in UCLA Theatre Department?
Honestly, there are many things I considered before my position as a statistic registered. I mean, I'm happy because it's important and special but at the same time sad because more people like me should be accepted to these programs. It's one of the first steps to solving diversity and inclusion, pseudo-integration in these fields.
I was more focused on the process and the aftermath. Getting into drama school is absolutely ridiculously hectic and arguably harder to get into than medical school.
I decided 3 years ago while in my final year that I was going to get a master's degree in acting or writing or both. I started to research and saw it was possible even if I had a completely unrelated undergraduate degree. Then I looked at the best schools in the world and applied to the Top 5 which included UCLA (University of California Los Angeles).  I began the process early 2015.
I spent a couple months reading through Classical and Contemporary pieces per the requirements. I was reading Shakespeare every day and it drove my family nuts. Then I applied, flew over and spent 3 months auditioning and interviewing with these schools. The scary thing is, they only select 8 – 16 students out of up to 5 000 applicants and I wasn't sure that I had an actual chance. After the process, I heard back from one of the schools. They said they liked my audition and had me on the waiting list.
Then I got an email from UCLA saying they had been trying to reach me for weeks and they couldn't because I had put in the wrong contact number and email address. They wanted to make me an offer but they couldn't anymore because the time had now passed and they had contacted someone else. On the same day, the first school contacted me to drop me off their waiting list. I was depressed because I had just spent 1 year and some months planning the biggest failure of my life. I could have been one of 8 selected on the planet to attend UCLA. It would have been an amazing opportunity.
I got back to Nigeria and my manager and I started to regroup. Two weeks later, around 2AM on a Thursday, I get this dramatic email from UCLA that said 'UCLA… Calling. Ifeanyi life and the gods are sometimes crazy' and it was apt. I got in.
There was another email to say I was the first Nigerian admitted to the program. Man, I couldn't go back to sleep.
Don't People ever say; 'you are already acting so why get a degree?'
My response is 1. I was going to get a master's degree in any case – I didn't want to be boring in choosing. 2. You are never done learning acting. I want to expose myself to the opportunity to get taught world class acting by world class teachers who have taught people like Olu Jacobs, Joke Silva, Meryl Streep, Lupita N'yogo. 3. I just really want to? Is it okay if I don't have an extended explanation other than just wanting it?
In light of everything happening in America right now, do you have concerns over moving for a few years?
I'm of course worried about the ongoing gun violence and conversations about racism but asides from doing my part in being a responsible representative of Nigeria, of Africa, doing what I can to adjust whatever terribly skewed world image of us and speaking up when and where need be, I'm trying to stay as relaxed and as involved with the process and the moment as I can.
What input do you have to add to the #BlackLivesMatter movement?
I'm sensitive to plights that highlight victimization and intolerance. While I can't exactly say that I know how the African-Americans living in America feel, I'm able to empathise with them. For me it's a couple months at a time but for them, it's their home, there's nowhere else to go so I can see why there's so much protest to make it okay for them to exist in their home. I want to be more focused on my experiences, the things that bother me in Nigeria and work towards solving them with the same kind of momentum. The Boko Haram killings are hideous and hurtful and so are the recent herd men brutalities and I wish we could intensify our protests.
I'm black; there are the Nigerian stereotypes I have to deal with. I think we make jokes out of these things now but they affect us and we should consider it a responsibility to represent 'us' in the way we truly are. I didn't quite enjoy the way I was handled at Texas immigration for example. The first time, I was randomly selected and pulled aside for further questioning. I thought that was okay. I get to this room that was dominated by blacks and Latinos. They asked me why I was travelling at this time. I said I had just graduated medical school and I wanted a holiday. We went back and forth over nothing, they went through my phone without my permission, text messages, photos, emails. Then one of the officers said to the other one 'I was definitely lying about being a doctor'. They eventually let me go but I missed my connecting flight. It was an inconvenience.
On my second trip via Texas, I was 'randomly selected' again and taken to the same place holding room. Now the immigration officer asked me what I was doing in America and I told him I had just finished my internship and wanted a holiday as I showed him my General Hospital ID card. In response he said my 'excuse' was too similar to the 'excuse' from last year. So I said first it's not an excuse, it's the actual reason. He says, why do I have to travel often and I must find a different excuse for visiting. I asked him like what. He said he didn't know – I must just find one. I said well I want to do better next time so tell me what to say henceforth because two years in a row is certainly not 'random selection'. He says 'maybe change your look' and I just remember feeling offended. What did he prefer, that I didn't have an afro? Because an afro is unacceptable or that I wasn't a doctor from Nigeria who was young because that was just too suspicious or that I wasn't Nigerian at all. Nigerians are resilient, the system here puts us through a lot so we've all had training with roadblocks – it's expected but we survive. I'm the only foreign student in my class for example who can't pay certain visa fees with a 'Nigerian' credit card or from Nigeria for that matter. It's an irritating unnecessary inconvenience. I think coming out of Nigeria and going to a place that race and perhaps citizenship is precious and I'm made conscious of the fact per snide comments disguised as jokes give me some concern but I think all I can do is work hard at changing the impression.
There are many great Nigerians accomplishing great things and we can have the world focus on those rather than the negatives. It's weird when some of my friends who live abroad tell their exotic friends that they are not Nigerian. It's even weirder that they won't introduce us because they are not sure how said friends would react to my being Nigerian. It's important that the world sees us for who we truly are. It's important to me because I want to raise Nigerian kids and I don't want them to ever think they need to change their passport or their look to exist in the world.
Being Nigerians that we are is there a Nigerian actors "community" in Hollywood and what has the reception been like if there is?
There is a Nigerian community everywhere, in every field and I've of course met Nigerians that are receptive and eager to show me around. I've reached out to some Dayo Okeniyi, John Boyega, Femi Oguns. I look forward to meeting many more. However, I think at this time, I'm focused on meeting with and swapping stories with people from every community, tribe, race possible. It's like travelling to places I've never been.
You've been listed as one of Nigeria's most stylish men, who/what influences your style and ever plan on owning or co-owning a design label/outfit?
Firstly, thank you, that's kind. I feel like I don't have a definitive style. I like to look different on different days. So, I just wear whatever I think makes me feel good when I look in the mirror just before I step out. Over the years, I've been influenced by people like Mai Atafo, Kanye West, Pharrell Williams, Daniel Craig and David Beckham. If I found a good combination of their styles fused with whatever my style is, then it's a good day
To answer your second question
I don't know. I would never do anything that wasn't inspired or motivated. If I feel motivated to design sneakers or shorts or socks in some kind of fusion collaborative effort with a designer (Mai, my people will call your people)  I'd do it. But owning or co-owning a label isn't something I'm interested in.
Your new column on BN, what should we expect from it?
Monkey Business is a humorous column I used to run. The idea came from constantly finding myself in peculiar situations that made me laugh in retrospect so I decided to document. It will cover my life experiences from the mundane to the serious always, always with a big dose of humour.
Are you looking into any form of charity? Or projects?
A couple of my doctor colleagues and I get together and travel around rural areas offering primary health care to people who cannot afford it. It's a passion project we are hoping to expand.
What other projects are you working on presently?
My team and I are working on a roster of things. I just concluded Top Actor Africa in South Africa for BET. I've just shot a documentary for ON TV and I'm shooting a criminal procedural television series which is something I've always wanted to do. I'm filming a web series called 'Unruly Dr Dike' which is basically a satirical telling of true events from my year as an intern as well as working on a vlog about travelling to L.A. I'm also writing a ton of stuff and developing some work for a major global network with a director I'm super excited to work with.
My first feature Green White Green and All the Beautiful Colours in my Mosaic of Madness directed by Abba Makama is out soon and we have great news about its release and acceptance into one of the world's biggest festivals. There are a lot of exciting news I'd only be allowed to disclose in due time. I'm however looking forward to leaving for a couple months to experience L.A and being back every other month to film in Nigeria. Right now though, I'm having some pancakes and finishing up this interview.
Thank you so much for sharing with BN 🙂
***
Ifeanyi is repped by Inya Lawal at Ascend Talent Management. Find him on Instagram and Facebook – Ifeanyi Dike Jr and on Twitter and Snapchat – IfeanyiDikeJr.