'On The Catwalk' is a new weekly column by BellaNaija's former fashion writer and critic turned fashion publicist and vlogger – Richard Akuson that explores the length and breadth of the emerging Nigerian fashion industry, weighing in his thoughts on happenings within the industry, one week at a time. 
Since inception, South Africa Menswear Week (SAMW) has given a platform to the creme of Nigeria's slightly disregarded menswear industry, strategically positioning SAMW in the consciousness of the Nigerian fashion insiders.
This season, unlike those past, for the most part, participating Nigerian designers showcased their most striking collections, with some taking a more commercial approach and others sticking to their niche-specific aesthetics. The clothes were exceptionally stunning with well put-together collections that combined a stellar cast of models and cutting-edge use of styling to achieve gorgeous presentations.
Read below for my thoughts on the individual collections
Mai Atafo
Mai Atafo's Spring/Summer collection at SAMW proved to be the designer's most memorable and pared down collection, a glaring departure from the brand's nearly tired aesthetic. This couldn't have been more timely. Just when I thought I could confidently predict the brand's preferred fashion week lineup/formula of classic and double breasted suits, then this happened. A much relaxed and smart mash-up of casual and dressy options for today's discerning man.
Unique Selling Point: On the surface, clean lines and impeccable tailoring appear the most obvious, but beneath that, the collection pops with the right balance of colour, quirk and youth that in a sense stretches and breathes vitality to the storied brand.
See more photos here
Tokyo James
Ditching the clean lines that characterized the brand's last season collection, Tokyo James went downtown for some body modification-esque, punk-indie, hardcore vibe all thanks to the iron rings of varying sizes appended to the pieces. This collection, unlike anything Tokyo James has done in the past, oozes of a startling unmistakable manly vigor that is the most transformation that I have ever witnessed of any Nigerian brand's aesthetic. It comes as a shock, but a pleasant and unforgettable one. I might not have the nerve to wear most of the pieces, but give me the all black number and beige coat below and I'll show you how it's done, my way.
Unique Selling Point: This is the most cool and experimental that Tokyo James has ever been, and it's the most likely to sell-out all thanks to the cult-like aesthetic and statement pieces.
See more photos here
Orange Culture
Orange  Culture's next season man had better start hitting the gym as for such a man, showing some chiseled chest, clear skin and toned legs à la manière de collection will be non-negotiable. Although a simpler version of the typical Orange Culture collection, I am tempted to say that in its simplicity lies its biggest treasure: a more commercial and likely best-selling collection that isn't too left-winged nor popular, beautifully seating in-between two parallels forging a necessary meeting point.
Unique Selling Point: The collection successfully strikes a balance between broad appeal and signature Orange Culture aesthetics of fun colours and youthful quirks, with extra print delight.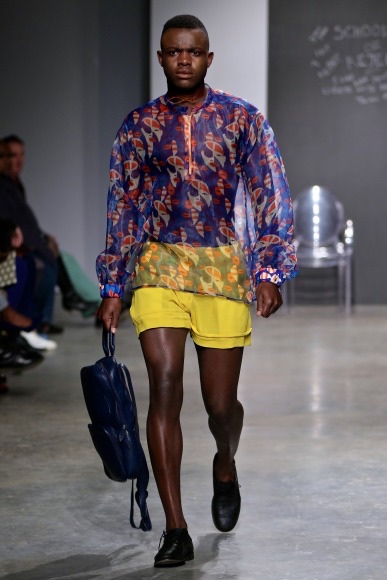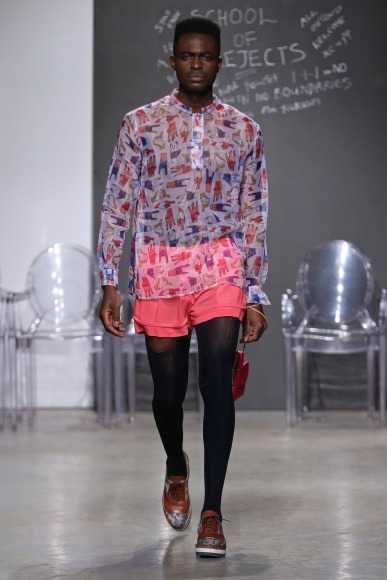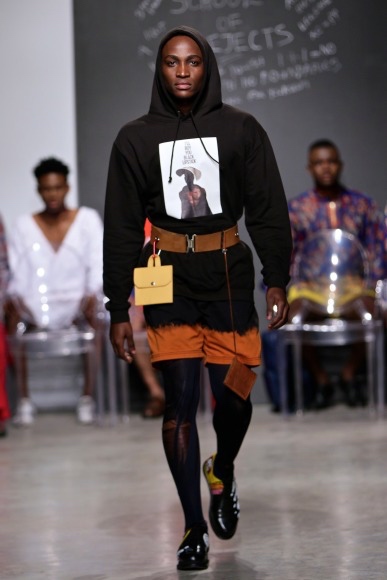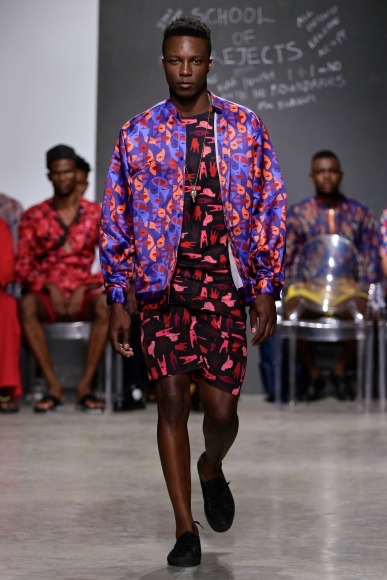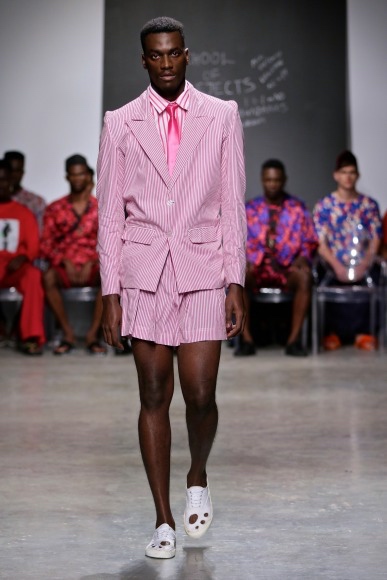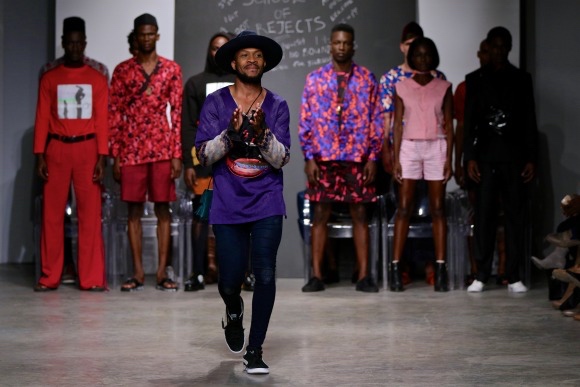 See more photos here
Maxivive
Emerging menswear designer brand Maxivive just keeps getting better with every season. This season, their Spring Summer 2017 collection is an elaborate continuation of their Autumn Winter 2016 collection. In this case, the most difference being the change in fabrication, in the case of the latter, the brand favored irridiscent tarpaulin fabrics over the airtex mesh and luxe organza used this season. It's not just a matter of fabrication alone, the brand further explores the athleisure theme of last season a little further with a commendable improvement and familiarity that makes this a HD version of the previous season.
Unique Selling Point: The collection offers breathable, functional and practical statement pieces.
See more photos here
Kola Kuddus
Kola Kuddus continues to reinvent the familiar while expanding his narration and interpretation of such. The brand takes the classic tunic and pants set, reinvents it with uneven hemlines, geometry and tracings of directional lines and what appears to be roads. Kola's unparalleled mastery of colours comes into full bloom with an alluring appeal that one wouldn't expect from a collection of tunics and pants, but Kuddus somehow makes it work.
Unique Selling Point: The collection offers a modern and stylish alternative to  traditional Nigerian menswear attires.
See more photos here
Emmy Kasbit
SA Menswear Week first timer, Emmy Kasbit also got to present a three mannequin installation of his work in collaboration with London based leather accessories brand, 1702 London.
Photo Credit: SDR Photos | Emmy Kasbit