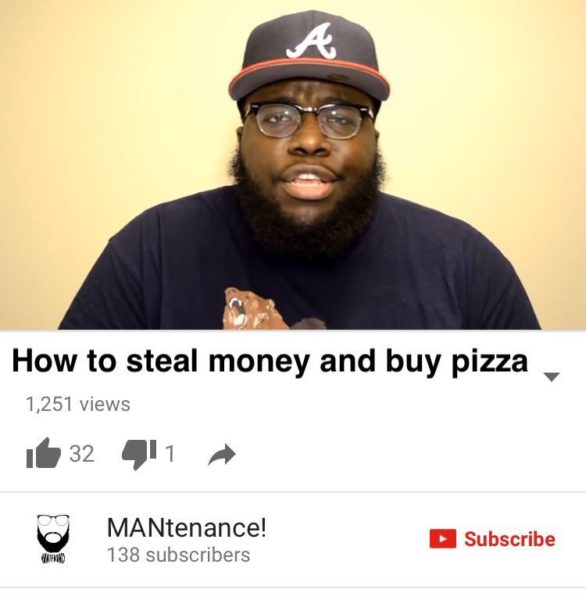 So, something juicy is going down on Twitter this evening, and it will be remiss of us not to bring it to you. Don't worry, it's not the cure to AIDS or anything significant. Hold your horses! Sometimes we just need a good laugh here and there.
If you're sure this isn't your thing, you can stop reading now. But if you're kuku bored and need some laughter, read on!
Twitter provides us with so much entertainment for FREE! *sigh* Bliss!
Anyway here's the gist: Twitter user @KolorsofKeish came on Twitter to alert her followers that a certain Twitter persona (awon TeamBeardGang) @Ecalevol stole her card and ordered Pizza! (Hunger does not know respect, you guys!)
You are a piece of shit @Ecalevol. You stole my card to order fucking pizza, then left a tip like you balling out of control or some shit

— Bad Influence (@KolorsofKeish) July 12, 2016
He even tipped! Kai, this world is a wicked place sha.
THE FUCKING NERVE https://t.co/hUda8iX7La

— Bad Influence (@KolorsofKeish) July 12, 2016
honestly, the tip takes it straight from deceit to disrespect lmaooo

— trillary banks. (@thePHAmemonster) July 12, 2016
is it better to tip or not to tip when youve stolen a card and ordered pizza? VOTE

— Bareback Contessa (@OhEmmeG) July 12, 2016
Eez like we're all in agreement on this tip matter.
But, here's the koko of the gist… her tweets have since opened a can of worms with other 'victims' of this guy coming to testify to his notoriety.
No be today, e don tey!!!
No nigga. NO. Not even a pepperoni! https://t.co/US9f3UPT4V

— Bad Influence (@KolorsofKeish) July 12, 2016
Ahn ahn, he didn't even give her some to eat. This LIFE!
@KolorsofKeish I have a friend that's gotten her card stolen from him. He used some other chick's car to see her & swore he was a kappa

— Danì Savage (@wishfulll) July 12, 2016
And you know the bants that ensued were LIVE!
When she sleep and you see her debit card on the nightstand…. pic.twitter.com/iR3FqzaDrs

— Jonathan Rogers (@SKEJayRogers) July 12, 2016
When she found out you used her card for pizza pic.twitter.com/svd2OBim6P

— Honey (@DJHoneyTea) July 12, 2016
Oh my God https://t.co/VI3VksfTG3

— Bad Influence (@KolorsofKeish) July 12, 2016
Atlanta Police Dept has just released footage of @Ecalevol after stealing a woman's card to buy pizza. See it here: pic.twitter.com/LBmTxLCFxv

— KT (@thenKTwrote) July 12, 2016
Anyway, be your neighbour's keeper and warn people if you happen to meet a thief and a scammer!
Y'ALL ?? HAD ?? ME ?? PARTYING ?? WITH ?? THIS ?? MAN ?? LIKE ?? MY ?? WALLET ?? WASN'T ?? AT ?? RISK ??

— Princeton Anglaise (@3rdAndMiles) July 12, 2016
E dey pain sha
? you stealing chicks cards man? man I just helped you with some cool apple watch tips! I aint know you was scumbagging! @Ecalevol

— #OTAPshow (@TheRealSchitty) July 12, 2016
LMFAOOO he in 30 relationships https://t.co/KjfW1wsjll

— Bad Influence (@KolorsofKeish) July 12, 2016
THIRTY RELATIONSHIPS?! Oose, Solomon's harem keeper!
A friend in need is a friend in deed!
All our ATL peeps, we did this for you. Don't say BN don't love y'all or bring y'all sweet gist. We hope this explains why you've been seeing pictures of Pizza on your time lines. Oya go and read the rest of the gist on Twitter, we've given you enough crumbs to follow.
*drops mic*
P.s
The guy has since deleted his Twitter account… but we're watching.