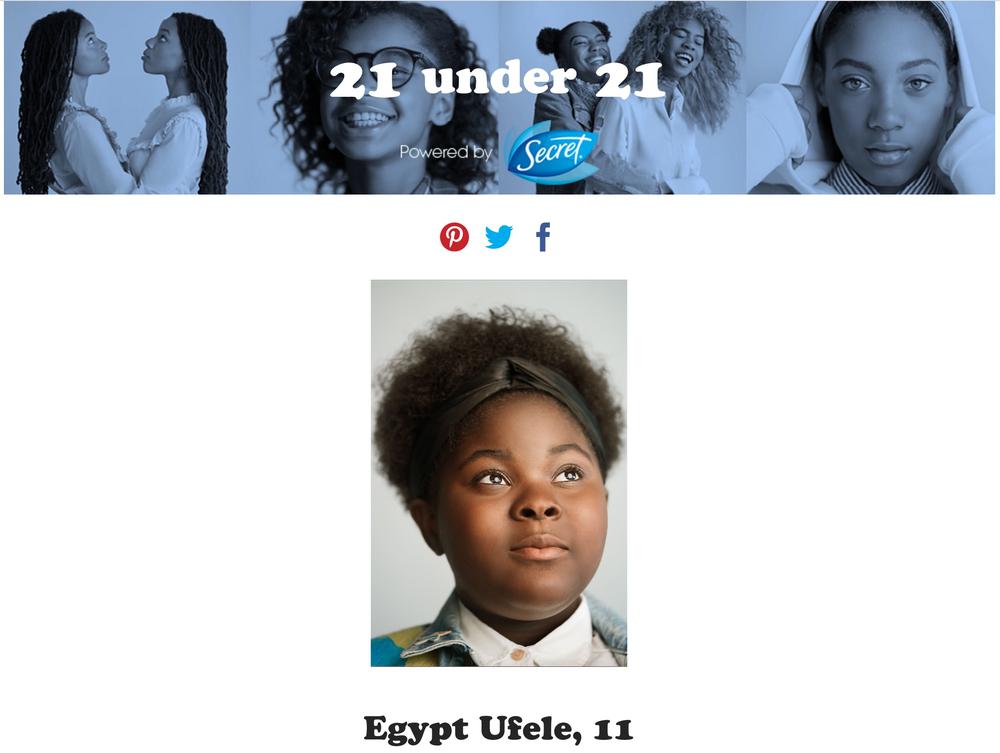 Teen Vogue has just published its first-ever 21 Under 21 List sponsored by Secret.
"Introducing 21 Under 21: Our Official Guide to the Girls and Femmes Changing the World!" says the publication.
The list includes inventors, artists, athletes and social warriors all under 21!
One of the youngest girls on the list of Egypt Ify Ufele. Ify is the Founder of ChubbiLine – shopchubiiline.com.
Read her story below and click here to read all about these amazing girls.
***
"My mom always told me to turn a negative into a positive—that's why I started ChubbiLine," says Egypt "Ify" Ufele, the designer who was inspired to create a clothing brand for people of all shapes and sizes after being teased for her weight. "I was verbally and physically bullied and knew that being creative was my comfort zone, so I used it to my advantage."
Having learned to sew from her grandmother starting at age 3, Ify's first foray into fashion was making dresses and skirts for her dolls. At age 5, she was proficient at using the sewing machine, and by the time she was 9, she was creating wearable pieces for her mom and sister. "I was making them things like dresses and pants," says Ify. "But when I couldn't find clothes that were my size in stores I started making things for myself as well."
Since then, the young visionary has honed a design aesthetic that she describes as colorful and urban with the occasional vintage influence. "I really like the fashion of the 60's, so a lot of my clothes are inspired by that," says Ify. "I like the flared sleeves and A-line skirts from that era." The most notable signature of her brand, however, is undoubtedly the vibrant African fabrics that are heavily integrated into her line and serve as an homage to Ify's cultural roots. "My father is Nigerian, so it's important to me to show my heritage in my clothing," explains the sartorial whiz, who visits the country twice a year and has her father ship textiles to America when she needs them for new designs. "There are different patterns that represent different tribes. We're from the Igbo tribe, so I use mostly those."
Despite the fact that she was only 10 years old at the time, Ify was invited to show her vibrant line during New York Fashion Week last spring — an opportunity that many experienced fashion designers could only dream of. "There were a lot of people there at my show!" she remembers excitedly. "When it ended and I stepped onto the runway they were like, 'A kid made that?' They were very impressed!"
Though she's already achieved monumental success for someone of her age, Ify is still dreaming bigger. "My goal as a designer is to dress Sasha and Malia Obama one day — I love their style," she says. "But when I grow up, I want to be an architectural engineer. I'm looking forward to that." Seems like some people really can do it all.