BN Making It!: Fierce, Hardworking & Innovative Linda Mabhena-Olagunju Shows Us We Live in the Age of Amazing Boss Ladies in Africa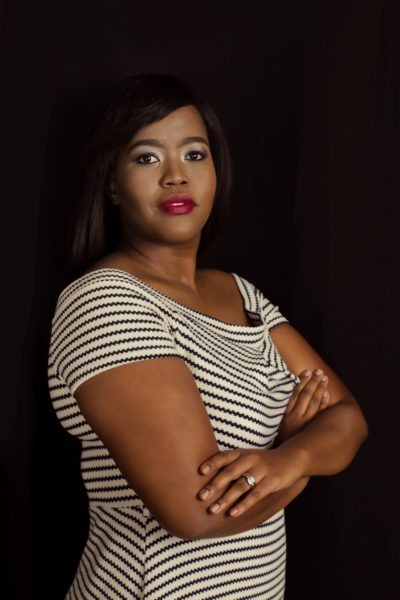 Girl Power fills us with an intense rush! It's that thing about seeing a woman – particularly of African descent – rising against all the inherent biases to make something awesome for herself, and other women.
Linda Mabhena-Olagunju is one of those women who do not see the glass ceiling as a hinderance, but a challenge to scale and be victorious. At 32, Linda won the Forbes Women Africa Best Emerging Entrepreneur 2015 award and her company, DLO Energy, was recognised as the most innovative black business at the Black Business Quarterly awards. DLO Energy Resources Group (Pty) Ltd  is an energy investment and advisory company with a portfolio in renewable energy assets in South Africa that currently includes wind farms and solar PV power plants. The company is also currently developing projects in Nigeria with the hopes of contributing to the country's current electricity deficit.
In this chat with BellaNaija, Linda talks about her career journey, playing in a male-dominated field,  life as a leading female African entrepreneur and her plans for the future.
***
Thank you so much for deciding to share your story with BN. Tell us about your career path
I began my career as an attorney, I studied law at the University of Cape Town and shortly thereafter I pursued a Masters degree at the University of Aberdeen in Scotland. Part of the focus of my degree there was on oil and gas law. My interest in power stemmed from the time I worked for the Aberdeen Renewable Energy Group which was tasked with developing Aberdeen's first wind farm at the time. During that period I learnt a lot about developing power projects and ironically it was during this period my own country South Africa was facing rolling black outs caused by increased demand on power resources. This was obviously leading an adverse effect on our economy as growth was being stifled by the lack of electricity to large industrial users who are in turn large employers. It was then I saw the opportunity for renewable energy as a means of efficiently addressing the power deficient in a clean and cost effective manner.
When I returned home from Scotland I began to research ways in which I could get involved. At first I continued practising law at an energy firm, however I saw an opportunity to start my own company and become an energy developer. My skills rest in my experience in being a project finance lawyer that had advised on numerous power projects what I lacked was the technical engineering experience. So I approached a little known energy start up with the idea that I would offer my legal experience at a significantly reduced cost if they would give me the opportunity to buy equity in their projects and that effectively is how DLO started.
Please share some of your most memorable events growing up?
I grew up in apartheid South Africa, I remember being one of the first black students to enter a white school after democracy in 1994 I remember being told we don't belong and being physically attacked. That hatred stemmed an ambition in me. I was obsessed with addressing inequality and hence I got into law, more importantly I was obsessed with addressing economic inequality especially in so far as it related to the management of natural resources. I remember as a kid seeing a map of Africa which depicted all the natural resources across the continent and yet we always ranked amongst the poorest countries in the world. Often these resources were foreign owned. I wanted to change this narrative.
Wow, you've travelled quite a bit! So, where do you currently live and run your company out of?
Up until 2016 I lived in both Johannesburg and Lagos and would commute between the 2 countries as we were busy setting up our projects in Nigeria. However we are currently based in Johannesburg even though I travel to Nigeria regularly for work.
What inspired you to start DLO Energy?
The desire to see Africans own key infrastructure in their countries, the need for us as a continent to become industrialised and power is a crucial part of that industrialisation. We always talk about Africa's potential, but not a single one of these goals can be reached without access to electricity. Studies have shown a direct link between economic growth and the presence of power.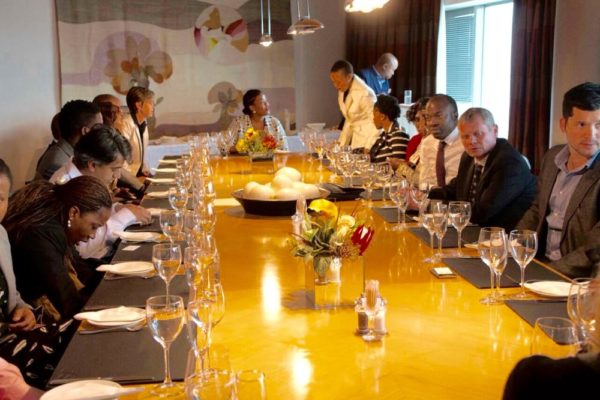 Tell us about the runnings of DLO Energy
Currently DLO is completing construction of its 2 wind farms in the Northern Cape in South Africa which have a combined capacity of 244MW we expect these to go online next year,these will be amongst the largest wind farms on the continent. We are also closing out our solar PV plant project in the same province. In Nigeria we are currently looking at various projects for investment. We see great potential for solar PV in Nigeria. The recent NERC regulations have been encouraging but a clearer regulatory framework is required to attract international investment. The capital required for these projects is large and as such it is imperative that they are bankable. Nigeria has been of interest to a number of developers but the regulatory environment and bankability issues have led to slow investment. Strong government will and direction is required to accelerate the rate at which projects are being done in the country.
DLO Energy is a fully-female owned company, have you ever considered that this might be viewed as sexist?
Definitely not. The issue of gender parity is clear across the globe; women still lag behind in corporate and more especially in ownership in traditionally male dominated sectors such as energy. If one were to run through the ownership structure of most energy companies in the world and Africa in particular I believe you would see that very few of these organsisationshave female shareholders, would you then also term them as being sexist? Often the mistake many people make is that, they view gender issues as women issues. If we had more men supporting feminism and being feminist themselves we would see a faster rate of equality .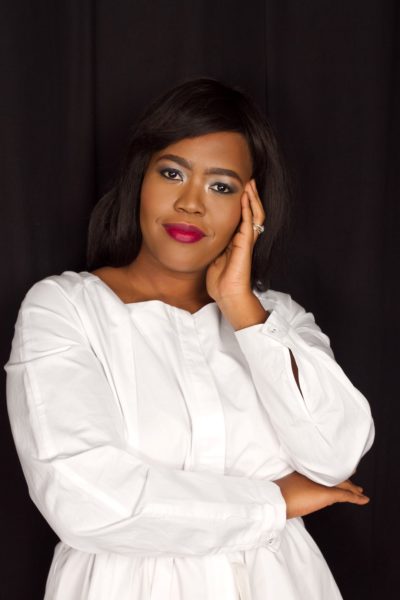 Please walk us through your average day as the M.D of DLO Energy
I start my day with a to-do list. I run through my emails make calls and attend to urgent matters at hand. Usually this involves a call or sit down with my financial team who run through financial models for the projects. I also run through the legal documents which tend to be cumbersome especially during financial close, I like to have hands on approach to the company. I also then talk to the technical team and our technical director to plan and strategize, one of the key things we are working on is getting more technically involved in our projects our technical director has been very adamant about moving DLO to a company with in-house engineering capabilities.
My role is to broker this with our partners and ensure that a real skills transfer is happening. I am responsible for relationships with our funders and banks and well as managing the various consortium relationships we are in. It's very busy especially because we are trying to do a lot this year. However, it's a very exciting time for the company as we being to solidify our medium and long term strategies as a group.
What is the staff strength of your organisation and how would you describe the work culture in an all-women owned organization?
All women owned doesn't mean only women work there. I think it's important to clarify that. The work environment at DLO is like any other IPP we are mindful of costs because we are involved in long term projects as such we keep our staff small and only employ critical staff for the day to day operations. Through our projects however, we have contributed to the creation of hundreds of jobs in South Africa and we plan to do that across the continent.
What are some of the challenges you faced when you were starting your company?
Raising money. People underestimate that the biggest barrier is capital. Whilst the saying in project finance is that if you have a good project the funding will find you. They never talk about the fact that funders also want you to have skin in the game, meaning they want you to have your own money in it too and the quantums for these projects are high. The second challenge is raising finding without a proven track record. Once you have successfully closed a project funders are comfortable in backing you but until then it's a challenge but not insurmountable.
Tell us why you're passionate about renewable energy?
I am passionate about energy as a whole. I see it as a way of unlocking the true industrialisation of Africa. My real passion is seeing Africa and Africans win economically. I am tired of reading about our failures the time has come to read about our successes.
What unique traits do you bring to your organization?
I am good at brokering deals, forming relationships and most importantly I dream big and I never give up. I am focused on my vision for this continent and DLO for me is a representation of how great we can be as Africans. I am obsessed with changing narratives; often people see renewable energy as a white industry. When they see a black African female in the boardroom it changes the narrative and another African child can be inspired to do even better. If we have more of that I believe our narrative as a continent will change.
Go girl power! So in all of this, how do you balance the work-life dynamics?
Anyone that tells you that success can be achieved without sacrifice in my view is naïve or lying. At the beginning a lot of sacrifice was made by my family my husband and myself to achieve this goal. As things progress you begin to find balance. One of the things I love most about working for myself is I am able to prioritise being a mother. Often I work from home, so as to be around for my daughter. I never had a full time nanny and this was very hard. It meant a lot of late nights catching up on work. But I would not trade it for anything because it allowed me to bond with my daughter.
Now that she is a little older I'm able to take on more. It also helps to have a supportive partner. We both support each other's careers. It takes a village but ultimately it takes resilience. I often think as women we underestimate our strength until we are put in these situations.
As an influential African woman, what do you think about the struggles an African woman has to deal with cultural expectation and modern advancement?
I think it varies in different societies. More than looking at external factors which I believe we are all familiar with, I would like to look at internal obstacles. I think as women we tend to limit our ambition because we want the marriage and family and society tells us men do not want women that are over ambitious or that you cannot be a good mother and a successful CEO. We believe and internalise these narratives.
I think the key lies in being honest with ourselves about who we are. One thing I have learnt is nothing is more fulfilling that achieving your real potential. That potential could be to be a housewife, a designer , a corporate woman or whatever my point is women need to give themselves the opportunity to live a life that is truly authentic to them not one imposed on them. Ironically I have found the biggest oppressors of women to be other women. We cast judgements on ourselves over our decisions and I think it's imperative we start to become more supportive and celebrate each other more.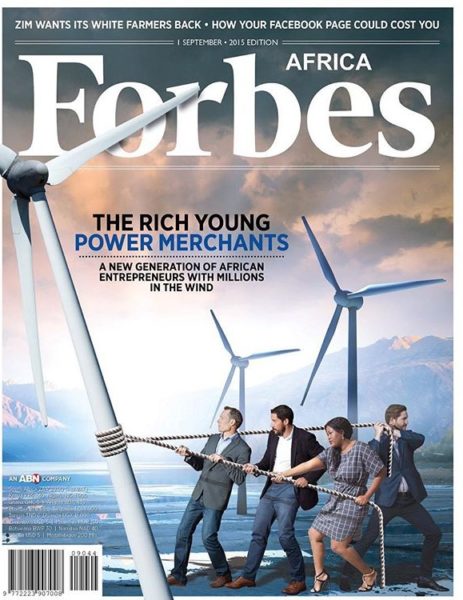 You're working in a field largely dominated by men. Have you ever had to justify your professional success as a young woman? 
I let my work speak for itself. Yes, people will look at what I have managed to achieve at the age of 32 and cast doubt. I remember when I was looking for funding for my first project I was 28, I approached a successful business woman for funding and the response from her adviser was that there was no way I could possibly be leading a consortium in a large scale deal. She said I was young and "too junior";  he advised her that it might be a scam. They never invested. But a year later we won the project. The following year I was on the cover of Forbes, point is there will always be people who doubt. My husband has really taught me the best response to critics is success and excellence.
Considering the absence of basic infrastructure in many African countries, where do you think renewable energy (introduction, advocacy and utilisation) fits into the general scheme of things
Grid infrastructure requires a largescale upgrade on the continent but this is costly. The truth is even with the greatest of ambition the national grids will not in our life time in my opinion be able to reach every remote area on the continent to provide electricity. That is why off-grid power projects have a key role to play. Renewable energy plays a critical part especially in reaching remote areas and providing off grid solutions. On a national scale South Africa's renewable energy projects have added 4000MW to the national grid. So Renewables address both grid and off-grid needs.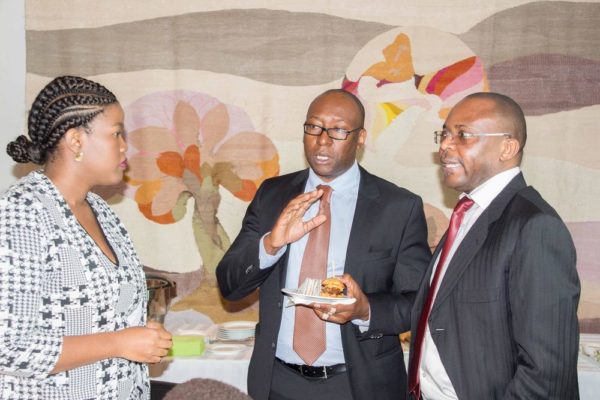 How successful would you say DLO Energy has been – with regards fulfilling its core functions and your goals at inception?
We have achieved a lot as a company. We have punched above our weight and we are excited about our future. We have managed to achieve all the goals we set thus far, and are now working on the next phase of the company which involves expansion.
What are your plans for DLO Energy in the next 5-10 years?
We would like to have operating projects in Nigeria and other parts of the continent. We would like to expand our technology base beyond renewables.
What is one thing you know how that you wish someone had told you at the beginning of your professional journey?
The journey requires patience and resilience. It will be the hardest thing you have ever done but the second most rewarding after motherhood.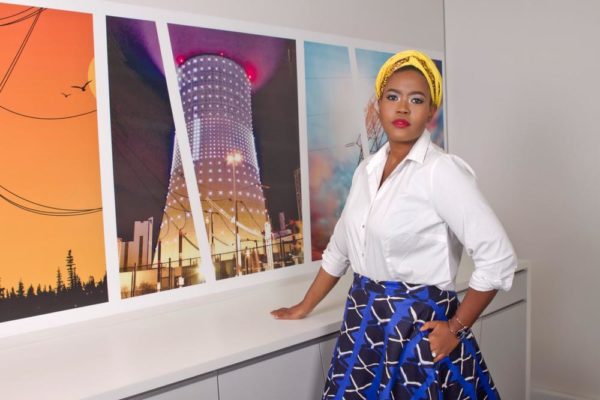 Let's relax a bit
Tell us about your hair and style regimen
I'm lazy when it comes to my hair I usually plait it or wear wigs, because I honestly do not have the time to spend at salons. However, I like to look good and take care of my hair.
What's your favourite BellaNaija section?
I love your weddings section, actually that's what got me reading the website. You guys have done well in challenging the perceptions about Nigeria. I know a lot of people in SA are now following it and finding inspiration there for their own weddings.
If you had a super power, what would it be?
To turn 24 hours to 28 hours
What's the most exotic place you've ever been?
I just got back from the Seychelles on a family vacation that was amazing.
Which African fashion icon would you raid her wardrobe?
I love Lisa Folowiyo and KarenKoshoni's style and I love Lanre Da Silva's designs as well as Deola Sagoe.
Three things you can't absolutely go anywhere without?
My phone, with internet, my laptop and my car.
I thoroughly enjoyed that! Thank you so much for speaking to BellaNaija, Linda.  We can't wait to see the rest of your successes.