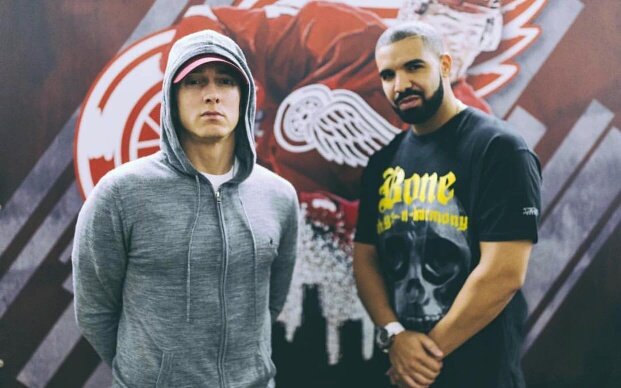 Rumours made the rounds recently that Eminem was preparing a Drake diss track. Well the two rappers shut them down when they shared the stage at Joe Louis Arena in Detroit.
During a concert for Drake's Summer Sixteen Tour in Detroit, Eminem literally rose from a trap door in the stage and joined Drake to perform 'Forever' to a packed crowd.
Drake announced (and also captioned a photo on Instagram), "Make some noise for the greatest rapper to ever get on a microphone—he goes by the name of Eminem," after bowing to Eminem. Eminem returned the favor by saying, "It's an honor to share the stage with this man right here."
Drake brings Eminem out in Detroit to perform "Forever". #SummerSixteenTour pic.twitter.com/ylwmC3DDaB

— Word On Road (@WordOnRd) August 17, 2016
Drake brought out fucking Eminem pic.twitter.com/w6ik08tvMu

— Juice (@OJTheKing) August 17, 2016
So far during this tour, Drake has been joined on stage by Rihanna, Kanye West, French Montana, J. Cole, Fat Joe, Remy Ma, and more.
Photo Credit: Instagram/Champagnepapi