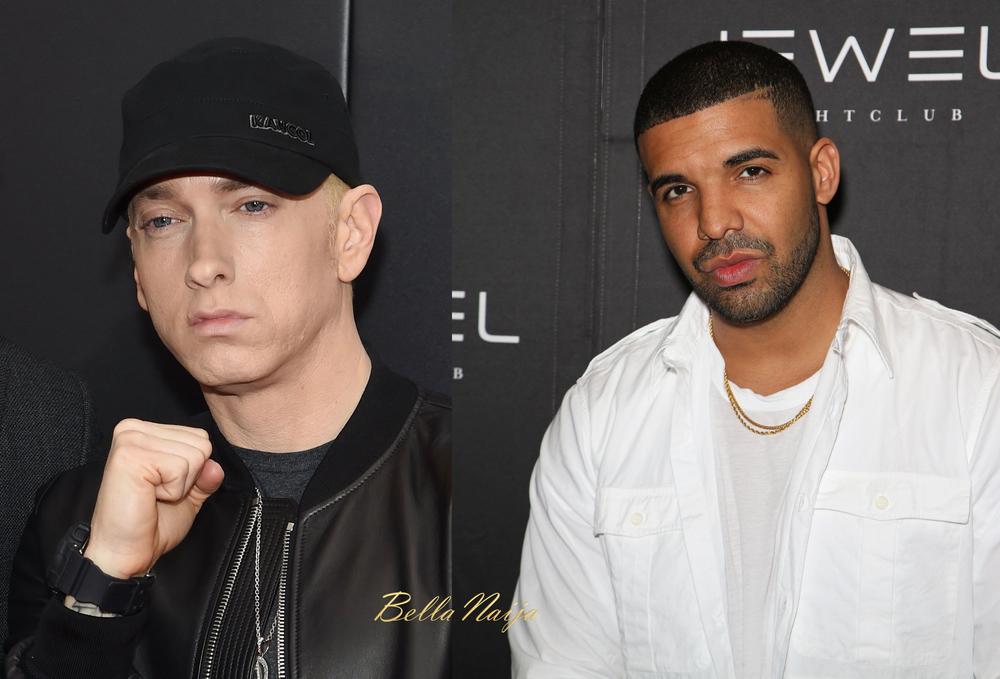 Is Eminem about to come for Drake? At least that what Ebro from Hot 97 said until he sorta retracted his statement.
While on air yesterday morning, the radio host described a private conversation he recently had with Drake to Peter Rosenberg and Laura Stylez.
He said,
"I told Drake I heard the rumor was that Eminem was gonna gear up to come after him. And [Drake] laughed, and he said, 'That's not gonna happen. He'll never do that. And if he did I got something for him, too".
Ebro speaks on his recent convo with Drake about Joe Budden & if Eminem were to diss him pic.twitter.com/BFNMOULkWs

— ITSBIZKIT (@itsbizkit) August 3, 2016
Since the audio clip went viral on twitter with rap lovers picking sides, Ebro has come out to clear the air on the matter. He tweeted:
It was such a joke and people ran with it… Slow news day. Drake got too much respect for all that… https://t.co/fzq1WnwRbb

— El Viejo Ebro (@oldmanebro) August 4, 2016
Facts we was joking…
Talked about in jest & fools jumped out the window. I ain't even think it was a big deal https://t.co/xBbWkzjXMN

— El Viejo Ebro (@oldmanebro) August 4, 2016
See some reactions to the audio clip on twitter:
Drake in your own words "don't do it, please don't do it"…. #Eminem #Drake #RapBattle

— Toke Makinwa (@tokstarr) August 4, 2016
This is a clip of Eminem 6 minute and 45 seconds freestyle…. Imagine if he spent timing writing a diss track pic.twitter.com/O01iOmJwJf

— ⚒ Nanbra ⚒ (@NanbraG) August 4, 2016
PEOPLE YOU SHOULD NEVER RAP BATTLE, @Drake:

3. EMINEM
2. Slim Shady
3. Marshal Mathers.

— TsunamiJaysuke♛ (@TsunamiJaysuke) August 4, 2016
before and after you beef with Eminem pic.twitter.com/HejWstkOgM

— Mr. Poopy Butthole (@Suleau_) August 4, 2016
drakes ghosts writers faces when they heard hes trynna rap battle eminem pic.twitter.com/rt1oDbtcWa

— $ (@shadestep) August 4, 2016
I guess Drake wants to find out what it feels like to be Meek Mill #Eminem

— Robert Wedge IV (@rtwedge4) August 4, 2016
its guys who think designer, young thug n future are rappers that think drake is better than #Eminem

— Njogu (@Eddie_Njogu) August 4, 2016
Reporter: Drake says he was sent by the god of rappers to rap.. What can you say??#Eminem : I dont remember sending anyone to rap….

— Dark-Skinny (@That254Chiq) August 4, 2016
But if it were to really happen, who do you think will win?
RT for @Eminem
Like for @Drake pic.twitter.com/74WB8l9Ven

— Swpr♛ (@KingsmanSwpr) August 4, 2016
Photo Credit: Getty Images/Gabe Ginsberg/ FilmMagic/Jamie McCarthy