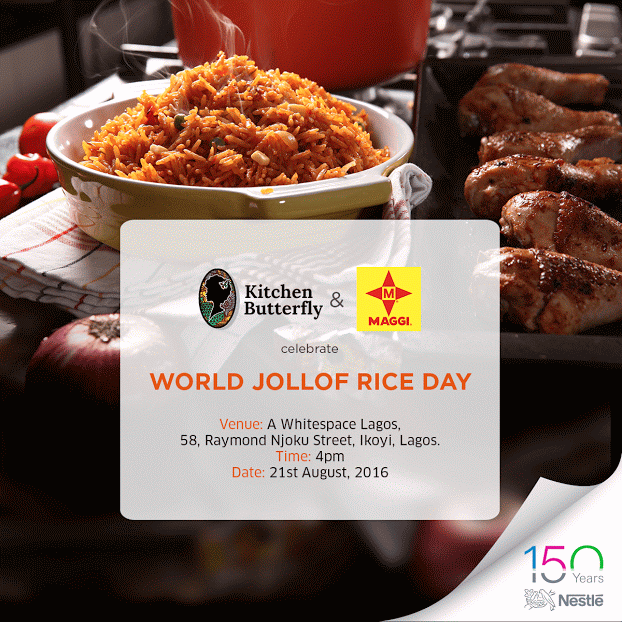 Call it One-pot, call it Wolof, call it the Jollof rice that we know it as, whatever you know it as we can all agree that it is a way of life for us.
Whether we are arguing with the Ghanaians and Senegalese about who does it better, whether we're disagreeing with Jamie Oliver's version, one thing that stands is that we collectively agree that Jollof Rice is important! Party Jollof o, your mummy's Jollof rice or the perfectly garnished Jollof rice (complete with the sole bay leaf) at a fine dining restaurant… Jollof Rice remains bae!
So, in reaffirming the importance of Jollof rice to everyone who has ever appreciated the smoky flavourful dish, MAGGI Nigeria and Kitchen Butterfly have organized a special event to celebrate World Jollof Rice Day, Monday, August 22nd 2016 – Jollof-Rice Lovers Unite!
On Sunday, August 21st between 4PM & 7PM at A Whitespace, Ikoyi, we will have a chance to unite and celebrate Jollof Rice.
On that Jollof-blessed day, there will be:
a Jollof Rice Exhibition: Involving food art from super-creative Haneefah Adams (@muslimahanie) and the winners of the Instagram Photo Contest for World Jollof Rice Day; Famous Jollof Quotes and more
a Short introduction to Jollof Rice, its history and culture.
a Short talk by Folakunle Oshun who's a Sculptor and the convener of the first Wolof/Jolof exhibition.
a Book Meet: A discussion on 'Jollof Rice in Literature' (Americanah by Chimamanda Ngozie Adichie, Without a Silver Spoon by Eddie Iroh, others) by panelists Wana Udobang, Ozoz Sokoh & Amanda Chukwudozie. The session will be moderated by author of Fine Boys, Eghosa Imasuen.
They will explore themes that cover:
Cultural significance of Jollof; Jollof Rice across ethnic and socioeconomic barriers;
Jollof as comfort Food/ Food from home.
Jollof Rice Eating! Jollof Rice specially made by Ghana High.
a jollof-ly exciting party afterwards with loads of music and drinks!
Excited yet? See you there! Don't forget: A Whitespace, 58 Raymond Njoku, Ikoyi on Sunday, August 21st 2016 at 4PM – 7PM! Come hungry!
Date: Sunday, August 21st 2016
Time: 4PM – 7PM
Venue: A Whitespace, 58 Raymond Njoku, Ikoyi, Lagos.
__________________________________________________________
Sponsored Content