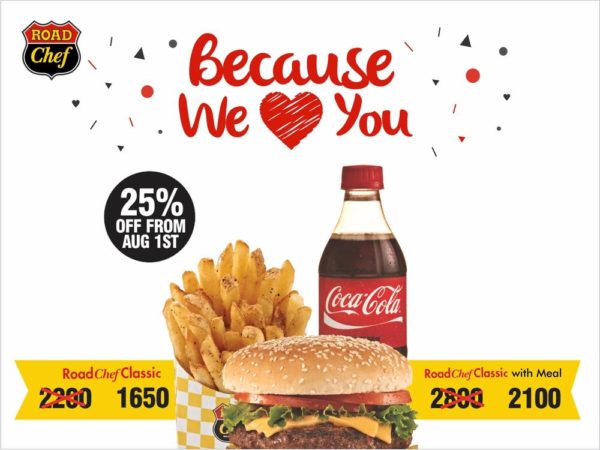 RoadChef Drive-Thru is Nigeria's only 24-hour drive-thru with an offering of a wide variety of meals such as Burgers, wraps, salads, pizzas, pastries and much more! This August is RoadChef's customer appreciation month and they want to use the opportunity to thank all their customers for being invaluable to them. Throughout this month, they are giving a 25% discount on the RoadChef Classic Burger and the RoadChef Classic Burger meal which is the RoadChef Classic Burger, fries or rice and a drink!
This means that the classic burger price drops from N2200 to N1650 and the RoadChef classic burger meal drops from N2800 to N2100! A pack of fries or rice, a soft drink and a full burger for N2100!
So hurry now and visit them at Ascon Filling Station, Lekki Phase 1 for your amazing 25% discount today on the RoadChef Classic burger and RoadChef Classic meal as part of the RoadChef Customer Appreciation Month. You should also follow them on their social media accounts @weareroadchef on Twitter, Facebook and Instagram.
______________________________________________________________________
Sponsored Content