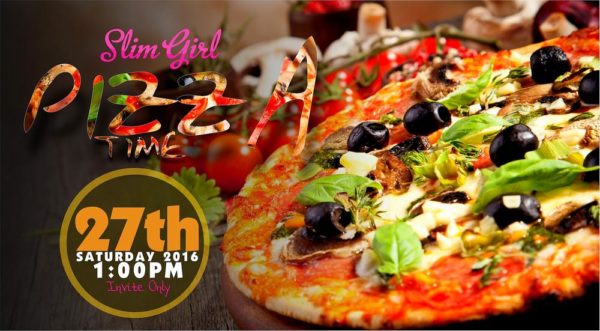 It's that time of the month again: We know what you are thinking. Clear your minds ladies, we are talking about yet another Sweet Treat from Slim Girl on Saturday.
Date: Saturday, August 27th, 2016
Time: 1PM-3PM
Slim Girl is treating 20 ladies and 2 of their friends to a well respected Pizza hot spot alongside drinks. This is a strictly by invite only event. We love all shapes and sizes and we love sweet treats! As a form of encouragement and to celebrate the Nigerian woman, this is yet another way we want to put a smile on the faces of 20 special ladies and their friends.
To get your invitation to this event which takes place at Victoria Island and Ikeja, this Saturday the 27th of August starts at 1:00PM -and ends at 3:00PM – click the following link to request your special voucher for this Fun Treat. http://www.slimgirl.ng/blogs/freebies
Get to know us more, visit: www.slimgirl.ng  Physical location: 52 Allen Avenue, Ikeja, Lagos.
Please Call/WhatsApp:
+234 908 616 8384
+234 908 616 8385
+234 809 066 3293
+234 809 066 3294
____________________________________________________________________
Sponsored Content