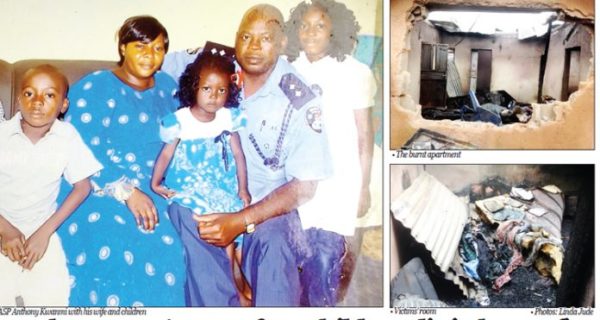 Retired ASP Anthony Kwanmi, former Aide-de-Camp (ADC) to ex-Gov. Fidelis Tapgun of Plateau, was on Monday morning killed in an inferno that gutted his residence in the Jenta-Adamu neighbourhood of Jos.
Also killed along with the retired police officer were his two daughters, Theresa and Kerry, and two sons, Thomas and Emmanuel.
According to Terna Tyopev, the spokesman of the Plateau Police Command, Kwanmi's wife, Charity and his daughter, Evelyn, survived the early morning fire disaster but sustained severe burns.
"The deceased were burnt to ashes; what were taken to the mortuary of Plateau Specialist Hospital in Jos were just the skeletons," Tyopev told News Agency of Nigeria (NAN) in Jos on Monday.
"The fire started around 1AM; that is all I am sure of," a neighbour, Tina Fobur, said.
According to PUNCH, another neighbour said the fire started after an electric spark from a meter in the house.
"The meter was mounted at the entrance to the building. There was a spark from the meter which started the fire. Because the meter was at the entrance, the fire prevented them from escaping. It quickly spread to other rooms in the house," the source added.
The Village Head of Jenta-Adamu, Kabala Bako, whose residence shares a fence with that of the deceased, said that he rushed out of his house when he heard sounds of the fire.
"When Ì rushed out, I called out other neighbours and we tried to put out the fire, but it had already engulfed the entire house and there was nothing we could do about it.

But we succeeded in making sure that that not so many houses in our area were affected.

In spite of our efforts, some adjacent houses were affected but no life was lost," he said.
Photo Credit: Linda Jude