Winning! Chiedozie Ibekwe emerges Winner of The 2016 7Up Harvard Business School Scholarship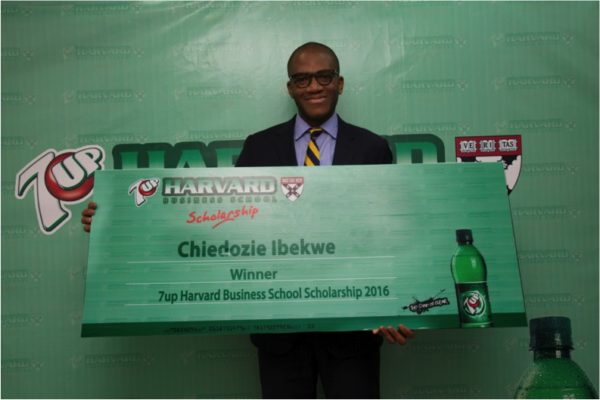 Chiedozie Ibekwe has emerged the winner of the 2016 edition of the 7Up Harvard Business School MBA Scholarship.
Ibekwe, an electrical engineer, is the 6th recipient of the prestigious award, and an alumnus of King's College Lagos, University of Lagos, and the University of Mississippi, USA, respectively.
He joins past winners such as  Misan Rewane (2011), Olujimi Williams (2012), Mayowa Kuyoro (2013), Shola Olaniyan (2014), and Bankole Rasheed Makanju (2015), who have benefited from the initiative since its inception in 2010.
Managing Director of Seven-Up Bottling Company Plc, Sunil Sawhney said
"The mission of Harvard Business School is to educate leaders who make a difference in the world. As part of the many CSR initiatives of Seven-Up Company Plc, the 7Up Harvard Business School Scholarship was launched in 2010 to commemorate the 50th year anniversary of the company. Every year through the scholarship, a Nigerian resident in the country gets the opportunity of a top quality education from this prestigious school at no cost and with no bond to the company.The objective being that in the future they become leaders in different sectors of the Nigerian economy driving growth and development for a better society for all. I would like to congratulate Chidozie as the 6th recipient of the scholarship".
Explaining further, General Manager Human Capital, Seven Up Bottling Company Plc, Yinka Adesina said the 7Up Harvard Business School Scholarship is in tandem with the CSR Policy of the organisation, which is aimed at empowering people and creating a better society. Adesina further mentioned that Seven Up Bottling Company's CSR initiatives are diversified touching areas such as community development, education, health, sports, arts and entertainment.
Specifically, he listed some of the projects to include the Pepsi Football Academy, provision of social amenities such as boreholes to host communities, provision of books and laboratory equipment to secondary schools, award of scholarships to indigent students to post-primary and tertiary institutions and support for cancer and cholera awareness programmes.
Other initiatives include partnerships with Pan Atlantic University on Infrastructural build, support for LEAP Africa to train young Nigerians on leadership, Partnering with the Society for Performing Arts (SPAN), support for culture and tourism through sponsorship of the Calabar carnival, Copa Lagos, One Lagos Fiesta amongst many others as well as contribution to the landscaping of parks and other public places.
Chiedozie Ibekwe, the 2016 7Up HBS Scholar thanked Seven-Up Bottling Company for this unbelievable opportunity and stated that he is committed to fulfilling the vision of the scholarship to making a difference in Nigeria.
_____________________________________________________________________
Sponsored Content