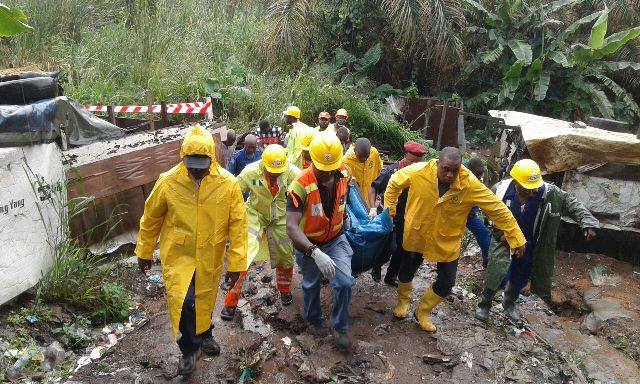 A teenager named Faisa, has been reported dead in a collapsed shanty in the Agidingbi area of Ikeja, Lagos State.
She was said to have been caught by the mudslide while she was asleep in her makeshift wooden structure built on a canal.
PUNCH reports that the 16-year-old got married 10 days ago to one Muhammed, in their village in Goza, Borno State, before relocating to Lagos.
The body of the woman has since been deposited at a mortuary by officials of the State Environmental Health Monitoring Unit, who responded to a distress call.
According to the report, about 100 people lived in the slum located on Dosumu Street, off Amara Olu Road, Agidingbi. Most of the inhabitants were former Borno residents who fled their state as a result of Boko Haram attacks.
One resident, Ibrahim Aliu, said they paid N24,000 per year as rent to some men who claimed to be working for the Lagos State Government.
Another resident, Umaru Mate, narrating what happened said:
I went out very early this morning and returned around 10AM. I was about going into my house when I heard a loud noise.

About 20 of us rushed there and saw that three houses had been destroyed by the mudslide. We were able to rescue a man, Umar, his wife and their five children.

The woman that died just got married to her husband in the village. They have not stayed up to 10 days in this place.
Hassan Aji, another resident, appealed to the government to help them get shelter. "We are all from Borno State. We left our villages because of Boko Haram. We relocated here about two years ago. Our villages are deserted. As I speak with you, I don't know where my mother is. I have two wives and seven children and if the government sends us away from here, I don't know where to go," he said.
The spokesperson for National Emergency Management Agency (NEMA), South-West Zone, Ibrahim Farinloye, confirmed the report, saying: "It was a mudslide which collapsed on shanties in the slum. A woman, 16-year-old Faisa, who got wedded about 10 days ago, was killed."
The General Manager of Lagos State Emergency Management Agency (LASEMA), Michael Akindele, said:
Three persons were discovered trapped in the mud.  The agency's emergency response team was able to rescue two of them, while the third victim was recovered dead.

The area is a buffer zone which is not good for human settlement. The Lagos State Government has been sensitising people staying in flood-prone areas and wetland to vacate such areas to avert loss of lives especially, during this rainy season.
Photo Credit: Facebook