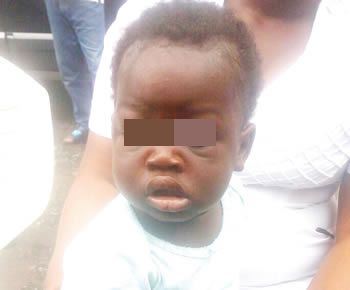 Police officers on patrol in the in the Ikeja Government Reserved Area of Lagos State, on Wednesday picked up an abandoned baby boy crawling on Shodipo Crescent in the area.
Residents alerted the police officers who took the child and brought him to the Lagos State Police Command headquarters, Ikeja.
The baby, whose name is yet to be ascertained, was thereafter taken for a checkup.
PUNCH reports that  the child would remain in the police custody until his family showed up with concrete proofs of relationship.
"We found the boy on Shodipo Crescent in the Ikeja GRA. He is about nine months old. He was found crawling on the road. Some residents thereafter alerted some policemen on patrol.

The police team rescued the baby. So far, nobody has come up to claim the baby. He must have left the custody of his parents or guardian and that is how some children fall into the hands of kidnappers and ritual killers. He is still with us at the command headquarters," the source said.
Photo Credit: PUNCH