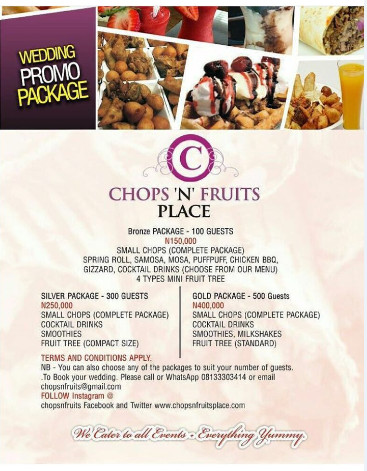 Wow! The Chops N Fruits Wedding Promo Package is selling very fast. Don't be left out and book your date today!
Are you a bride on a budget, getting married between October 2016 – March 2017!! Get in here.
Our Wedding Promo Package is for you!! You don't have to break the bank to have everything #Yummy at your wedding! See details of the Bronze, Silver and Gold packages discounted up to 30%.
Bronze Package – 100 Guests
N150,000 only
Small Chops (Complete Package)
Cocktail Drinks
Mini Fruit Tree
Silver Package – 300 Guests
N250,000 Only
Small Chops
Cocktail Drinks
Smoothies
Compact Fruit Tree
Gold Package – 500 Guests
N400,000 only
Small Chops
Cocktail Drinks
Smoothies
Milkshakes
Standard Fruit Tree
Terms & conditions apply.
Call or whatsapp 08133303414, email [email protected] to book your wedding.
Book on or before October 15th, 2016 for the wedding promo. We are also giving 10% discount for small chops order for all events (100 guests and above).
Follow @chopsnfruits on Instagram to also see details of the October Training Session. #TagAbrideandGroom #TagAFriend
______________________________________________________________________________
Sponsored Content