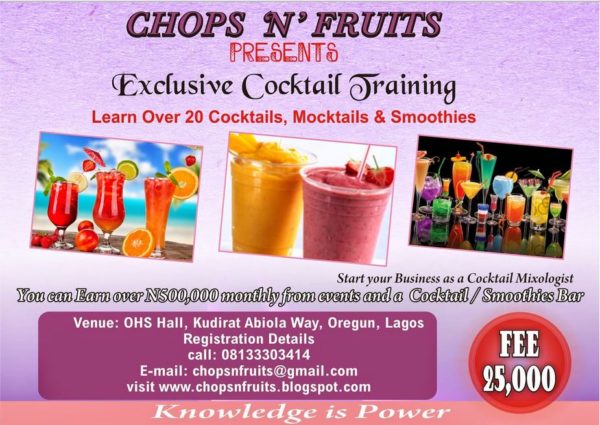 Have you been thinking of a viable business to start in 2015 or looking to expand your business? Then you are in luck!
If you are a Chef in an hotel or restaurant and you would like to improve your skills, this is also for you!
Learn over 20 Cocktails, Mocktails & Smoothies, Fruit Art Training – How to create fruit trees for events, fruit designs etc. It will be 100% practicals and we will also have a business session on how to start up, getting your items, utensils, equipment, ingredients, etc.
We will be having 3 facilitators, the best in the Industry. Don't miss this opportunity for anything!
Date: August 26th – 28th
Venue: OHS hall Kudirat Abiola Way, Oregun, Lagos
Fee: N25,000
10% discount to BN Readers. Register on or before August 22nd
20% Discount to BN readers on other classes.
Other classes include:
Small Chops, Sharwama and Pizza
Date: September 4th – 6th
Fee: N15,000
Dessert Making
Date: September 12th – 13th (Weekend session)
Fee: N20,000
For more inquires, please call or whatsapp: 08133303414 | Email: [email protected] | Instagram: @chopsnfruit
___________________________________________________________________________________________________
Sponsored Content