Hi everyone! IK Nwosu here.
So, I got back from my road trip to Ikogosi Warm Springs, Ekiti state, yesterday, and I'm both excited and sad. Excited because I'm back to share the adventurous and fun-filled experience with you, and sad because… I'm back.
We made a stop at Erin Ijesha Waterfalls in Osun state. It was my first time at both locations and I had so much fun.
The trip was sponsored by Google Nigeria, and I and 12 other Bloggers and Media Personalities shared the adventure together. I got to the Quadrant MSL Group's office at 7:47 for an 8AM call. Folarin, Chiamaka (Social Prefect), Chinwe (Metezy Photography) were already there.
As soon as I arrived, I signed in and got my Ankara bag containing lots of goodies. We later got a box of snacks each to keep body and soul together till we get to have lunch.
We didn't leave until about 10:30AM, so we had time to hang out with each other before the actual hangout.
The Tour Bus: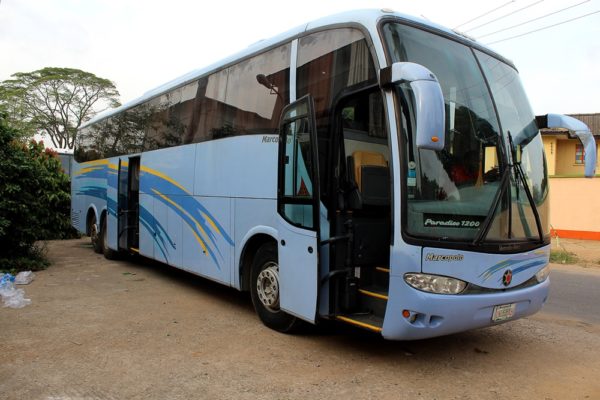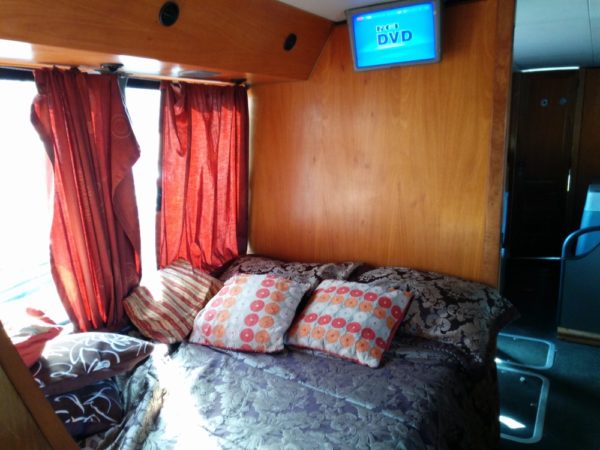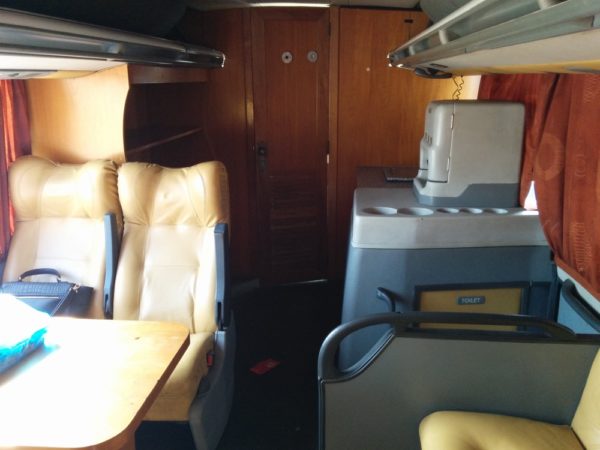 It was a road trip and that was, for me, one of the coolest part of it all. We got to explore the beauty of nature from Lagos, through Ogun, Oyo, Osun states, and then to Ekiti State… the Palace of Iyan (Pounded Yam).
We quickly got moving and everyone introduced themselves. Mich, Google's PR Lead in South Africa, Kunmi from Mirusevents, Nosa (Quadrant MSL Group), LazyWrita (Paul), Demola Expoze, Tosin (OloriSupergal), Lamide, Bella Rose, and Kolapo.
We had a quick game of 'Two Truths and a Lie'. So, you make three statements and everyone takes a guess on which of the statements is false, and the ones they think is true.
Here's a personal example: I've featured in a Nollywood Film. I wrote a book at 16. I play three musical instruments. So, tell me what you think is true, and what you think is a lie. (I'll answer it by 10PM Nigerian Time today).
After that we played the 'concentration game'. I got out in the first round… So I won't talk about it. LOL…. Okay let me just do it. So, someone asks the group to give names of things/people/places that can be classified into a group. Something that's not like names of female anopheles mosquitoes along Lagos-Ibadan Expressway.
Social Prefect said we should give female Yoruba names that starts with letter 'A'. She said 'Abisola', Demola said 'Adenike', Kunmi said 'Adetokunbo', and there I was thinking whether Adetoun, Adeola, Adunni, or Anwurika, were female Yoruba names.
After all the rounds, LazyWrita won the game, and he got his price… One N50 Yoghurt.
We saw the beautiful scenery and landscape of Lagos-Ibadan with minor interruptions from trailers and petrol tankers. It was really amazing.
We got to the big city of Ibadan, navigated through Ife, and got to the Erin Ijesha Community.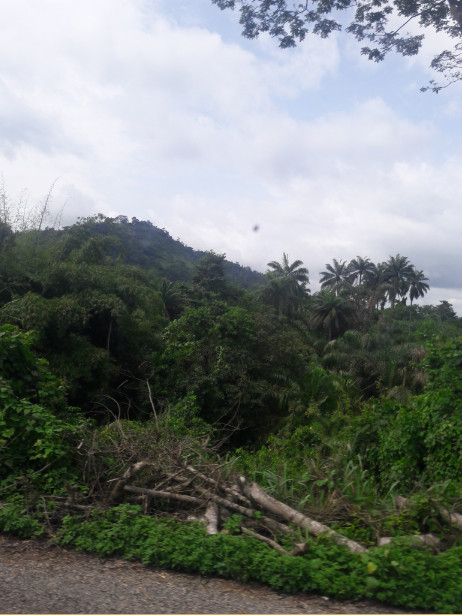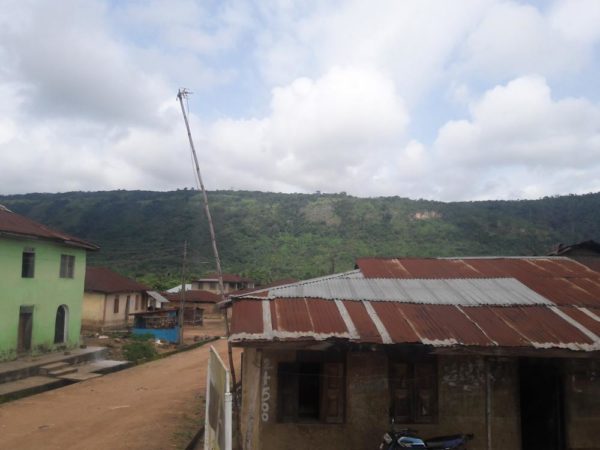 We got there at about 2PM. When we got down from the bus, we had one of the coolest welcome parties in the world.
Our Tour Guide told us that the Falls was discovered by a hunter, named Akila, who is the brother of Oduduwa. Akila  discovered the Falls about 831 years ago.
He said Oduduwa named it Erin Ijesha, connoting peace. The Falls is also a god, named Olumirin.
The Erin Ijesha Waterfalls have 7 levels… and it'll take you like a million steps to get to the second level from the first.
We could only get to the second level, and fortunately, it's the highest of the seven. By the time we got to the second level, our legs were vibrating like a hen that just had a bath.
It was beautiful. It was peaceful. It was amazing. It was huge.
We thought getting to the second level was easy, until we start descending. Phew! At some point, I was afraid my femur will just break up with my pelvic girdle. But we survived.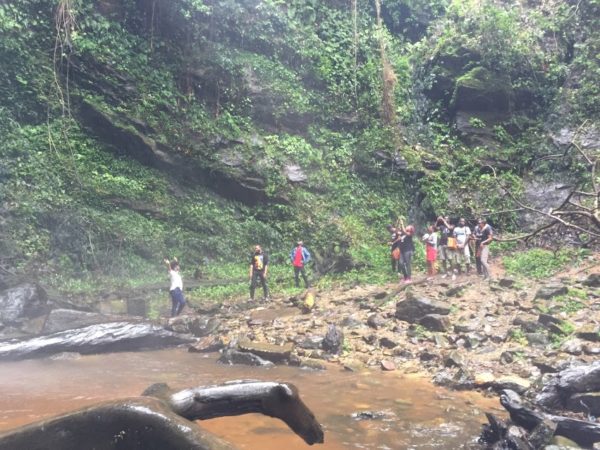 Left there by 4:45PM and got back on the move… tired, hungry. We quickly grabbed something to eat and continued our journey.
At some point, I discovered that I had little memory space on my phone. I had copied some heavy files on my phone prior to the trip and I didn't have a memory card. While this would have been a disappointment, I smiled because, Google Photos got my back. I quickly backed up all the photos I had taken on Google Photos, and cleared up some space for more!
Google Photos is like one of the coolest things on the planet at the moment. It lets you import all your photos from your library to its unlimited storage space.
You can download from the App stores of your Android and iOS devices.
Once that is done, you import the photos from your library to Google Photos. Once there, the 'magic' can begin. You also have to enable backup so that nothing is lost or in a case of low storage space.
First is that Google taught a machine how to identify things and place in any photo you have taken at whatever time. So, once you type anything in a photo you took in 2013, or the place you took the photo, the photo, among others in the same category will come up.
Down at the bottom of the Photos app, you'll see a tab marked "Assistant". This is where things get really clever.
The assistant can edit your photos if it thinks it's really cool and suggest to you for review. It can also create a GIF or video from photos and/or videos you have taken and suggests to you too.
Sometimes, the Assistant will also show you a Timehop-style "Rediscover this Day" picture of something you were doing about the same time a year ago. You can easily share these on social media.
See an amazing video Google Photos Assistant did for our trip:
So, we got talking on the bus, and somehow somehow, we started discussing about the Recession. You really can't have a conversation in Nigeria these days without that popping up.
We got to Ikogosi late at night so we could not do a tour of the place. But I was happy. After two dead power banks one dead laptop, and 'low battery' calling me several times, the wall socket at the reception was 'bae'.
We got to our rooms, freshened up and came out for dinner. Nothing like Fitfam that night o. This was about 9:30PM and we were munching Rice & Plantain and/or Iyan & Efo/Egusi like Savage Soldiers. Everything had a hint of red in it. Our eyes were red with hunger while our mouths were ready to devour anything in sight… and we did!

Dinner!
We were done in like an hour and we all headed back to our rooms. For me, Folarin and Chinwe, the walk back to our rooms could compete with the 'long walk to freedom' in 'Any Book of World Records'. We were lodged outside the area where everyone was.
The resort was serene and beautiful. As soon as I got back to the room, I quickly located the spot on my bed where the internet reception was good and began to upload all the upload-ables. Few minutes later, I slept.
I didn't sleep for too long and I honestly did not know why. Got up 3:30AM and could not sleep again. I think this post woke me up, because as soon as I found out that trying to get back to sleep was like Arsenal FC trying to win the Premiership, I gave up and wrote the first half of this post.
You know how fast the time runs when you are doing what you love? That happened to me. In a matter of what I taught to be 20 minutes, it was 5:45AM. I was already done with the activities of Tuesday, so I was fine. Breakfast was for 6:30AM, so I had enough time to get ready. You know, there were no Foundation, Eye Shadow, Concealer, Mascara, etc obstacle courses to surmount.
I got out of the room and here's what I saw: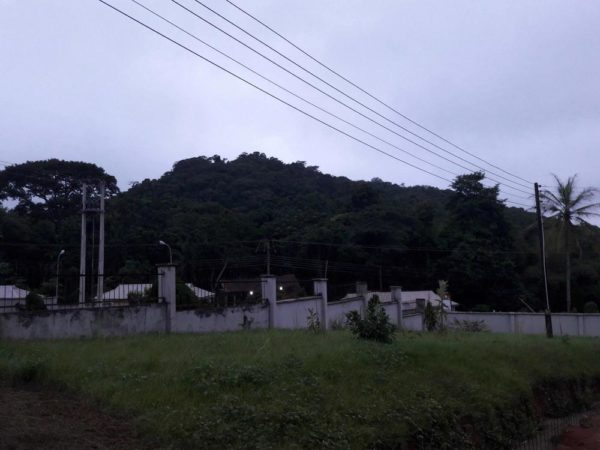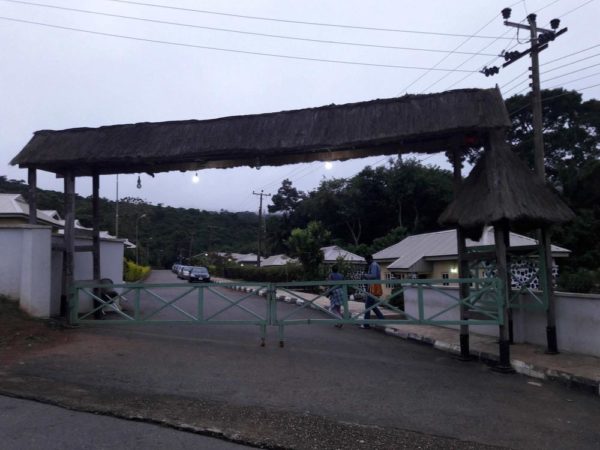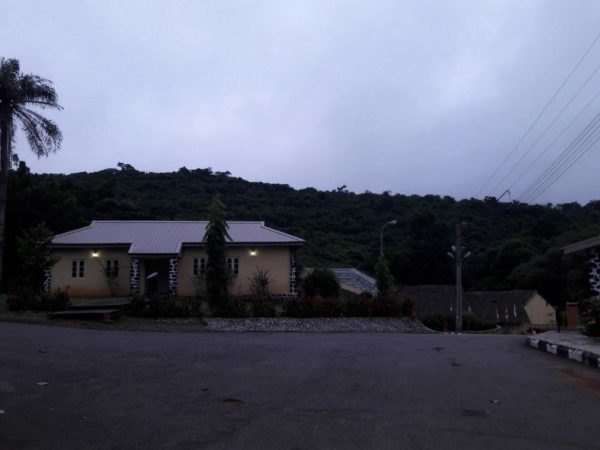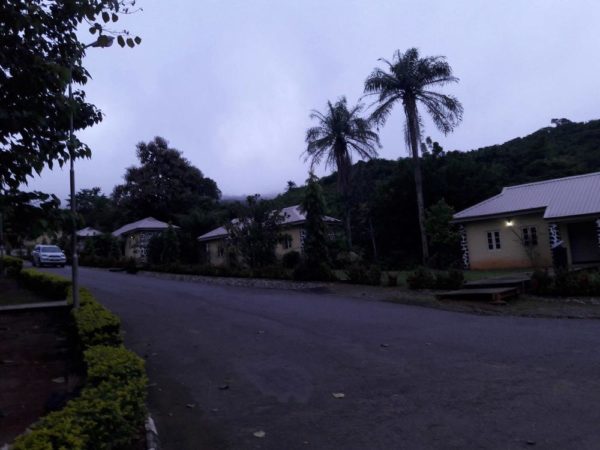 We gathered at the restaurant, and after the 'good mornings' and the 'how was your nights?' (like I knew what was happening during my sleep), someone finally asked the all-important question – When is the food getting ready?
Finally breakfast was served. I had Yam (Ekiti special) and scrambled eggs, and tea. Some Instagram folks had a problem with the tea in the equation though. But I loved the combination, and I did not find it unusual. I don't think I've had it like that before, but I loved what I saw and I loved how I felt when I chewed and swallowed the yam and egg, and how the tea helped to push it down from time to time.
After breakfast we proceeded to take a tour the Ikogosi Warm Springs.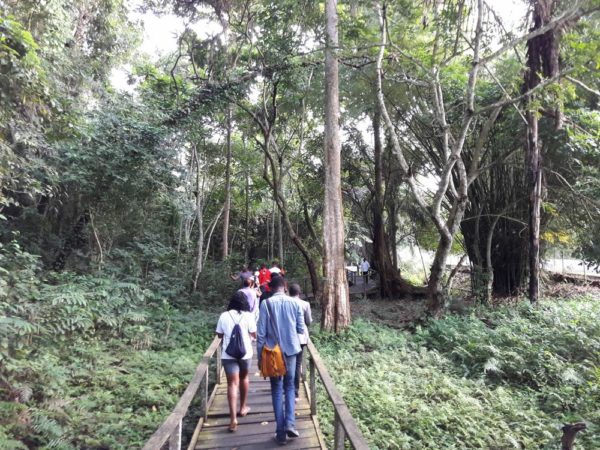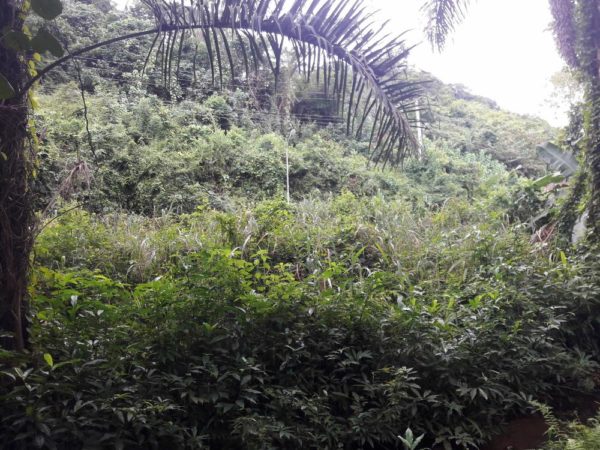 Our Tour Guide Narrating the story of the Origin of the Cold and Water Spring
So, a certain hunter from Ife named Olosun was walking in the forest when he heard a strange sound -the sound of waters. When he checked he saw the water and discovered that a part was warm while the other was cold.
On seeing the springs, he went back to Ife to report what he had seen and ask why it was so.
Legend has it that the Ifa narrated the story thus: A certain man, Ogangan had two wives. One of them Awele, was hot tempered, while the other, Awon, was cold tempered.
The women were always quarrelling. So one day, while quarrelling, they turned into water. Awele became the warm water while Awon became the cold water.
Upon getting back to see what had become of his wives, Olosun transformed into a rock to guide them. Olosun is the rock surrounding the water.
Other Fun Times During the Trip
The adventure and fun in the trip was nothing less than phenomenal! Loved it!