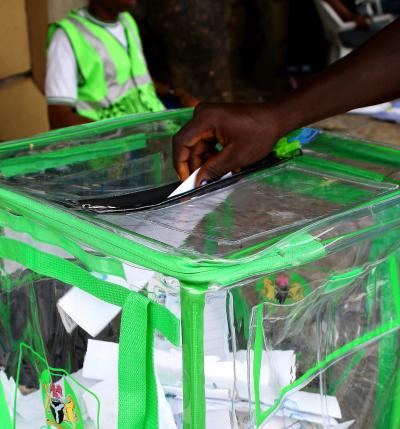 Lebari Nduh, the Independent National Electoral Commission (INEC) Electoral Officer in Esan West Local Government Area, has confirmed that hoodlums had snatched a ballot box from Ward 7 unit 11, during the Edo governorship election on Wednesday.
Nduh made the confirmation while addressing Journalists at INEC office in Ekpoma.
He, however, said that the election was peaceful at the various polling centres, 'except in ward 7 unit 11, where hoodlums snatched a ballot box'.
"The hoodlums couldn't lay their hands on the result sheets which were saved by the presiding officer, but as I speak with you, there is no result from there," he said.
The electoral officer said although INEC officials experienced some hitches with the card readers, "the faulty machines were immediately replaced with functional ones".
INEC had earlier denied the report of ballot box snatching and gunshots in some polling centres after Governor Adams Oshiomhole stated that he received a report  that some thugs allegedly snatched ballot boxes at Opoji in Esan North-East Local Government Area during the election.
Oshiomhole also alleged that the suspected snatchers shot sporadically before taking away the ballot boxes.
Nick Dazang, INEC Deputy Director of Voter Education and Publicity, made the denial in an interview with the News Agency of Nigeria (NAN) on Wednesday.
'I just called Solomon Soyebi, who is the National Commissioner supervising the election and has denied the allegation of gunshots and ballot box snatching at Opoji in Esan North-East Local Government Area of the state,' Dazang had said.
On the reported accident involving a youths corps member serving with INEC, Dazang said he had not heard 'any such sad news', but promised to get back to our Correspondent 'if there is anything like that'.