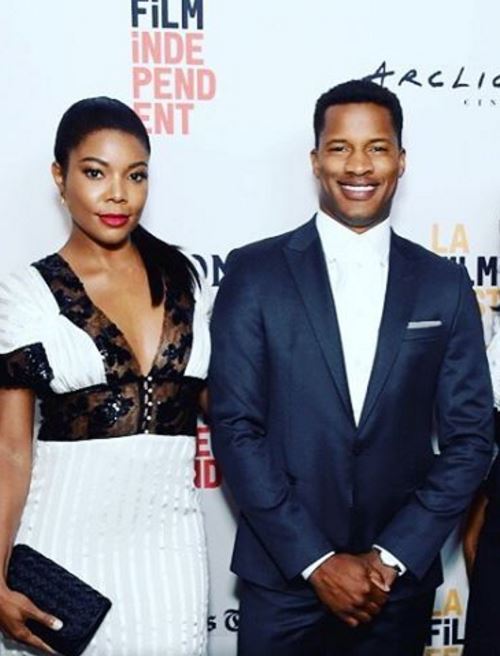 Rape survivor, victim's advocate and an actress in upcoming movie 'The Birth of a Nation', Gabrielle Union has found herself in an impossible position. Along with the much of the world, Gabrielle learned that her film's director, writer, producer and star, Nate Parker, was accused and acquitted of rape 17 years ago.
In the film, about Nat Turner's 1831 slave rebellion, Union's character is raped, though it's not depicted on screen. It's why the actor took the part, she writes. She wanted to give voice to women of history, especially black women, who have for so long been silenced on the matter.
Gabrielle Union was raped at gunpoint in the backroom of a Payless shoe store 24 years ago and she says she's been "in a state of stomach-churning confusion" since learning of Parker's 1999 rape case.
"As important and ground-breaking as this film is, I cannot take these allegations lightly. On that night, 17-odd years ago, did Nate have his date's consent? It's very possible he thought he did. Yet by his own admission he did not have verbal affirmation; and even if she never said "no," silence certainly does not equal "yes." Although it's often difficult to read and understand body language, the fact that some individuals interpret the absence of a "no" as a "yes" is problematic at least, criminal at worst. That's why education on this issue is so vital.
Nate Parker was a student and wrestler at Penn State University and was accused of rape 17 years ago. He was acquitted, though his college roommate Jean Celestin (who co-wrote The Birth of a Nation) was initially found guilty of sexual assault. That conviction was later overturned when the accuser declined to testify for a trial.
The case garnered a lot of attention and spawned a civil lawsuit by the woman against the college, with a settlement of $17,500. Nate's accuser committed suicide in 2012, which brought the case to the fore once more.
Nate Parker, who is now married with five daughters, learned about the death from media reports. He later wrote on his Facebook page that he was "filled with profound sorrow" and regretted that he didn't "show enough empathy".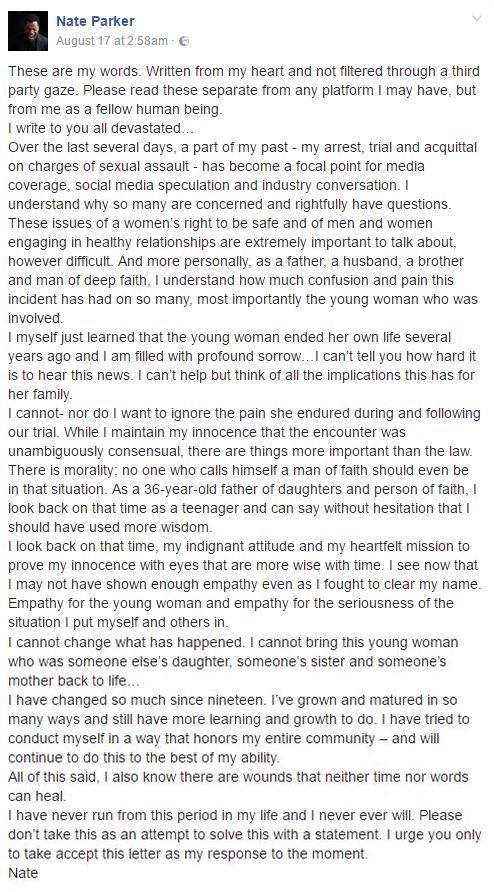 It is in light of this that Gabrielle made her thoughts known to the L.A. Times
She said,
As a black woman raising brilliant, handsome, talented young black men, I am cognizant of my responsibility to them and their future. My husband and I stress the importance of their having to walk an even straighter line than their white counterparts. A lesson that is heartbreaking and infuriating, but mandatory in the world we live in. We have spent countless hours focused on manners, education, the perils of drugs. We teach them about stranger-danger and making good choices. But recently I've become aware that we must speak to our children about boundaries between the sexes. And what it means to not be a danger to someone else.

To that end, we are making an effort to teach our sons about affirmative consent. We explain that the onus is on them to explicitly ask if their partner consents. And we tell them that a shrug or a smile or a sigh won't suffice. They have to hear "yes."

Regardless of what I think may have happened that night 17 years ago, after reading all 700 pages of the trial transcript, I still don't actually know. Nor does anyone who was not in that room. But I believe that the film is an opportunity to inform and educate so that these situations cease to occur on college campuses, in dorm rooms, in fraternities, in apartments or anywhere else young people get together to socialize.

I took this part in this film to talk about sexual violence. To talk about this stain that lives on in our psyches. I know these conversations are uncomfortable and difficult and painful. But they are necessary. Addressing misogyny, toxic masculinity, and rape culture is necessary. Addressing what should and should not be deemed consent is necessary.

Think of all the victims who, like my character, are silent. The girls sitting in their dorm rooms, scared to speak up. The wife who is abused by her husband. The woman attacked in an alley. The child molested. Countless souls broken from trans-violence attacks. It is for you that I am speaking. This is real. We are real. Sexual violence happens more often than anyone can imagine. And if the stories around this film do not prove and emphasize this, then I don't know what does.

It is my hope that we can use this as an opportunity to look within. To open up the conversation. To reach out to organizations which are working hard to prevent these kinds of crimes. And to support its victims. To donate time or money. To play an active role in creating a ripple that will change the ingrained misogyny that permeates our culture. And to eventually wipe the stain clean.
The film's distributor Fox Searchlight is proceeding with the October release and will still take the film, and Parker, to the Toronto International Film Festival this month, although things look very different from just a month ago.
Photo Credit: Instagram/Origi_Nate | Nate Parker's Facebook Page