Institut Choiseul hosts 'A Evening with Dr. Pascal Lorot' | Thursday, September 29th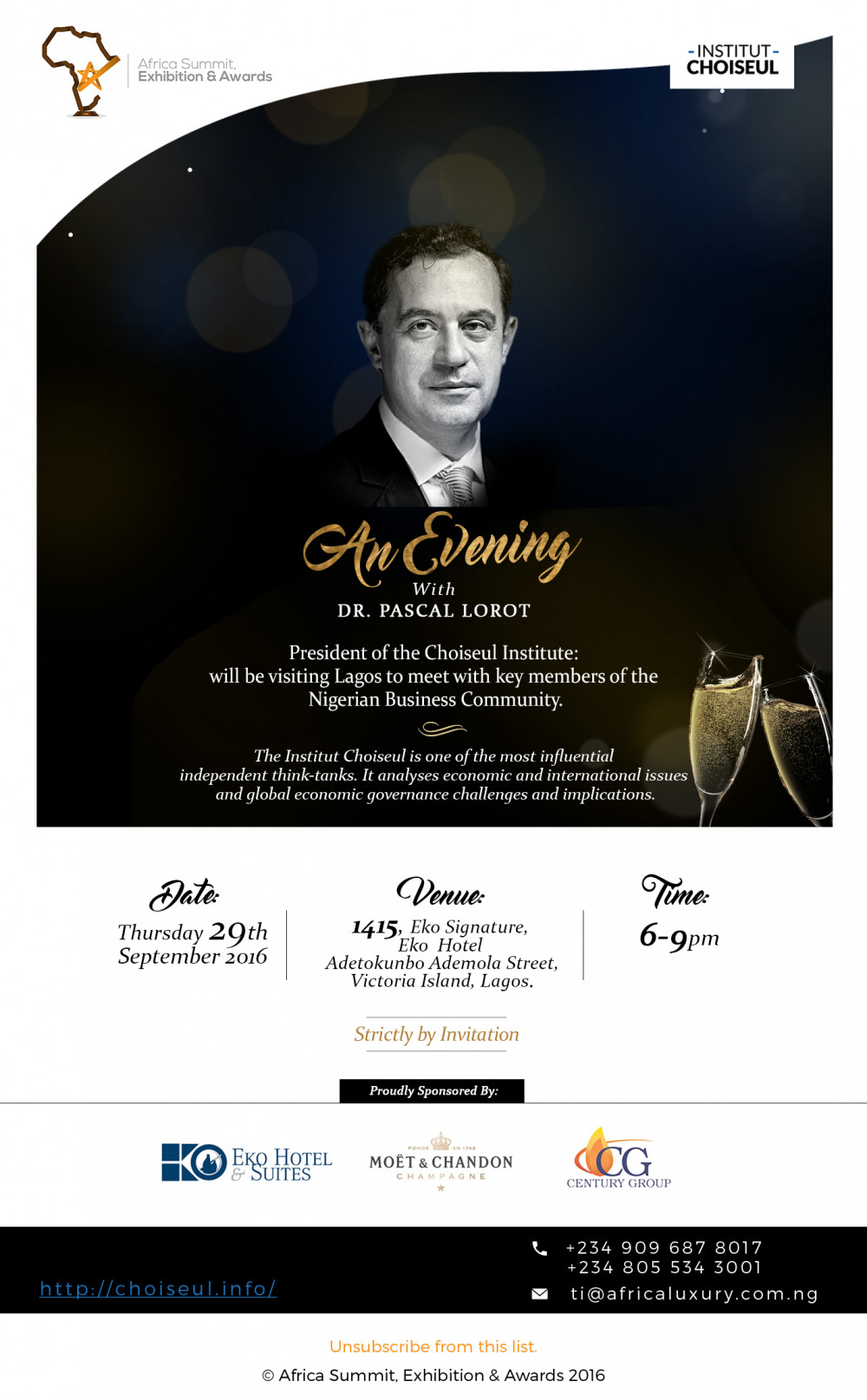 Lagos is set to play hosts to a meeting of select 100 Africans, who are key players in their countries and in the African continent. The meeting is organised by Institut Choiseul, an influential independent think tank chaired by Dr. Pascal Lorot. The meeting is set to hold from Wednesday 15th November to Friday 17th November 2016.
Ahead of this year's meeting the Chairman of Institut Choiseul, Dr. Pascal Lorot, will be in Nigeria for three days from Wednesday, 28th September 2016 to meet with business leaders and high ranking government officials. Dr. Pascal, who is also the founding President of Institut Choiseul, had a research career (including the French Institute for International Relations), which led him to publish about twenty books on geopolitics and international relations before developing and deepen the concept of geo-economics.
Date: Thursday, September 29th, 2016
Time: 6PM-9PM
Venue: 1415, Eko Signature, Eko Hotel, Adetokunbo Ademola Street, Victoria Island, Lagos.
As a Business man, Dr. Pascal led the BNP's representative office in the USSR before becoming chief economist and director of institutional relations of the Group total.  Dr. Pascal Lorot has served France as advisor to the Minister of Economy and Finance (Edmond Alphandéry) and a member of the college of the Energy Regulatory Commission (CRE) from 2004 to 2010.
After a keenly competitive bid to host the event, Lagos emerged as the selected city. Dr. Pascal's visit will set the stage ahead of the meeting in November. The meeting is the 4th of such meetings, previous meetings having held in Paris, France and Marrakech, Morocco.
The 100 Africans are selected by Institut Choiseul and rank who will play a major role in the Africa's economic development in the near future. As part of Dr. Pascal's visit he will also be hosted by the Nigerian Choiseul 100 Africa Laureates in an event tagged 'An Evening with Dr Pascal Lorot'.  The event is strictly by invitation and is sponsored by Century Group organized by Africa Summit, Exhibition and Awards Limited.
*Admission is strictly by invitation.
_______________________________________________________________
Sponsored Content