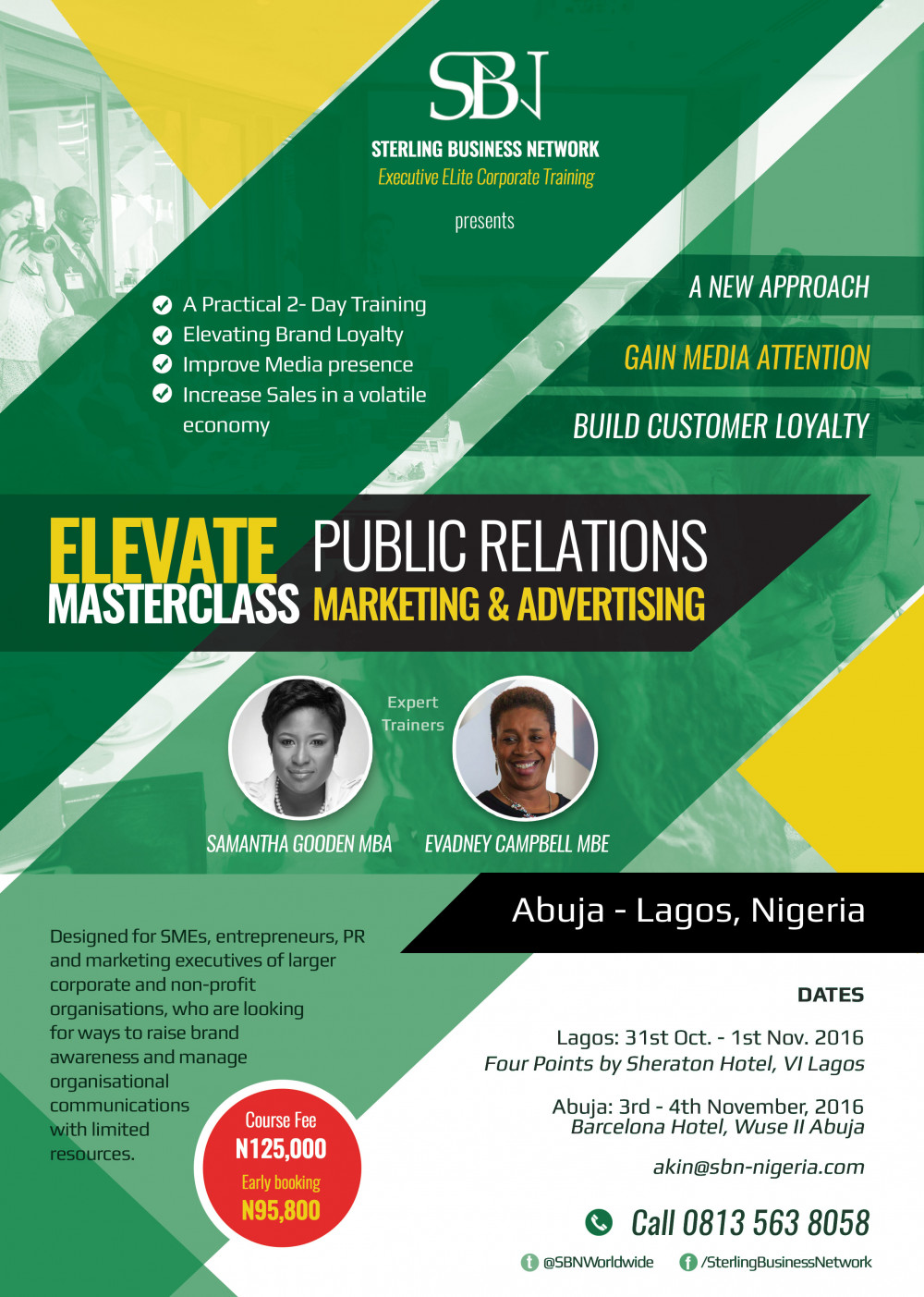 Evadney Campbell MBE and Samantha Gooden MBA came to Nigeria for the first time in May, 2016. They enjoyed their stay so much, that they are eager to return to 'teach us a thing or two' about PR & Marketing from an international perspective.
Join the international training gurus as they deliver two training sessions in Nigeria.
Evadney Campbell MBE, who's listed as among the Top 100 most influential entrepreneurs in the United Kingdom  is a qualified adult tutor with over 25 years working in the media sector, especially with the BBC UK. Evadney runs her own Public Relations company, Shiloh PR for over 10years. As far back as 1994, she was awarded an MBE by the Queen of England at the Queen's New Year's honours for her voluntary contributions towards the development of the United Kingdom.
Samantha Gooden MBA, a Marketing expert has over 15years of experience developing brand and business strategy for several multi-nationals like Cable & Wireless Communications. She conducts training workshops in marketing and leadership that further empower marketers to present at the boardroom level and  impact organizational success. She is an active board member of several corporate and non-profit organizations.
Evadney Campbell, MBE said the following;
"This Masterclass is designed for professionals seeking ways to manage organisational communications, increase customer loyalty, brand awareness and ultimately improve sales revenue with limited resources. This training will embed practical skills that enable organisations to remain competitive in challenging economies, be it SMEs, non-profit organisations or large multi-nationals. ELEVATE is suitable for managers looking to progress or develop skills in public relations, marketing, advertising or brand management. It is also ideal for individuals seeking a new career in the industry."
Samantha Gooden added that;
"The programme will engage delegates in a practical session on new media consumer targeting techniques, enriching them with the critical skills required to strategise and run effective social media, PR, online marketing and advertising campaigns on downsized budgets. Course content is appropriate for both consumer and business markets with appropriate case studies used in a hands-on workshop delivery."
This Masterclass is ideal for Business Owners, Marketing Managers, HR & PR Managers, Social Media Strategists, Brand Managers, Advertising Managers, Digital Marketing Strategists, Sales Managers, Finance Managers and professionals interested in exploring employment opportunities in public relations advertising and/or marketing. People who are new to sales or with limited sales experience or those wanting to understand the best practices in brand management from experienced and successful industry professionals. It is also suitable for Travel & Tourism, IT & Marketing, Media, Agriculture, Government, Religious & Non-profit organisations and several other industries.
Training Details:
You can participate in their unique style of training at:
Lagos
Dates: 31st October – 1st November, 2016
Time: 9am – 5.30pm
Venue: Four Points by Sheraton, Plot 9/10 Block 2 Oniru Chieftaincy Estate, Victoria Island, Lagos.
Abuja
Date: 3rd – 4th November, 2016
Time: 9am – 5.30pm
Venue: Barcelona International Hotels, Abuja, 23 Blantyre Street, Wuse II, Abuja.
Early Bird tickets are on sale now for both sessions.
Course fee (Per delegate, including certificates, coffee breaks & lunch covering 2 days):
Full Training Fee: N125,800
Early Bird: N95,800 (strictly expires on the 1st of October, 2016)
We have options to pay in 2 instalments (Applies to Full training fee of N125,800 only)
SBN Members receive 20% discount on all prices above.
All registration closes on October 21st, 2016.
Payment Info (Use your full name as reference):
GT BANK
Acc name: SBN International
Acc No: 0211574993
Email us at: [email protected]
Telephone: +234 813 563 8058
To register, click on the following link: http://bit.ly/2bQDo0V
____________________________________________________________
Sponsored Content