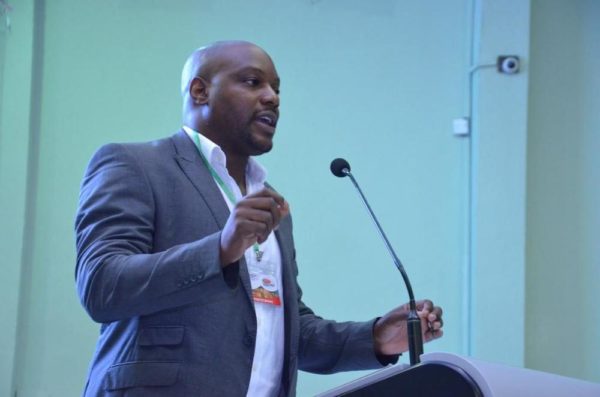 Move Back to Nigeria is a series on BellaNaija which aims to encourage young and not-so-young professionals in the diaspora who are trying to make the decision of whether to move back to Nigeria. In collaboration with the brilliant team at MoveBackToNigeria.com, we hope to bring you regular interviews with individuals who have successfully made the leap, so you can learn from their experiences and make a success of your move back.
***
Hello. My name is Uvie Ugono. I'm a British Nigerian entrepreneur with a banking and finance background. I came to Nigeria in April 2013 on a two week trip to assess the potential for Solar Power in Nigeria and 3 years later we are the countries leading Solar Power Company having pioneered consumer financing and pay-as-you go options for customers. We now have over 1MW of installations across 17 states. We are currently delivering at a rate of 100KW per month and this is growing rapidly.
Tell us about some of your fondest memories from childhood growing up in England.
Growing up I loved athletics. In 1993 I won the 100m and 200m races at the London Schools Championships and was then selected to take part in the England Schools Championships. It was an exhilarating moment. Athletics was really character building. I even had the opportunity to travel across Europe, America and Australia.
That's nice. Please walk us through your educational background.
I grew up in Peckham, which is now quite trendy but back then was one of the most deprived areas in South London. I attended Warwick Park Primary School and went onto Lambeth College. After my A levels I studied psychology at Goldsmiths College in New Cross, South London.
What came next after your educational pursuit was over?
After graduating in 1999, I considered teaching. However for financial reasons, I chose to train to become an accountant at BDO Stoy Hayward. I qualified at age 23 and from there worked at Lehman Brothers as a Corporate Financial Analyst. My greatest career accomplishment was in 2006 when I became HSBC Chief Financial Officer for the Global Project & Export Finance business in Canary Wharf.
After leaving HSBC, I started several businesses and contracted in between. One of these ventures was a tech business called Urecruiteme. The concept was ahead of it times…a match.com for the recruitment industry. I moved to Atlanta in 2011 to launch the business but returned to the UK the following year as it required more funding than I had initially anticipated. The cash burn rate was very high. I'm extremely grateful for the lessons learnt from Urecruitme and other ventures as they have been critical to Solynta's success to date.
Experiential learning is indeed very valuable. So, how did you know the time was right to move back and what were the first few months like?
In 2012, I started thinking about going to Nigeria to see what business opportunities were available. I hadn't visited Nigeria since I was a child so it was unfamiliar territory.
It was definitely an adjustment despite the fact that I had travelled extensively before coming here. Initially the most challenging aspects of day to day life were the overwhelming levels of traffic which made getting around so difficult. Also, the significantly lower levels of efficiency. A bank visit taking 2 to 3 hours was highly frustrating having come from the UK where a lot of processes are online or automated. But adjusting to these was well worth it.
The greatest opportunities lie where there are the greatest number of problems. There's a lot to fix in Nigeria so the openings are quite simply vast for anyone in business. Couple this with the fact that the average Nigerian has a high level of spending power compared to their western counterparts. Did you know that Nigerians spend $4.98bn every year fueling their generators? That's cash spent because credit is virtually non existent.
What was the motivation behind your pursuit to bring clean and affordable energy to Nigeria and how did you make the transition from an ongoing career in finance to becoming a serial entrepreneur
Initially my motivation was seeking a business opportunity to secure my families long term future. However, that quickly changed when I could see the potential societal changes Solynta could bring about. Power plays a fundamental part in any country's economic growth and having cheap and reliable power will significantly increase Nigeria's economic growth and employment. Knowing that is a greater driver and helps keep me going in the face of daily challenges.
Tell us about some of the peculiar challenges a serial entrepreneur such as yourself is faced with when it comes to doing business in Nigeria and possibly some recommendations to solving some of those challenges.
The main challenges were initially establishing trust given the many failed Solar projects that preceded us. Also, logistics because of the poor infrastructure. We have managed to overcome these. However, the ongoing issue for us is financing the huge demand for Solar.
How has the current recession affected your business and what are you doing to mitigate the effects?
Demand has actually increased because people are ever more cost conscious. One of the biggest expenses for families is generator fuel and we are helping them save considerably by going Solar.
Where do you see Solynta Energy in the next 5 years?
We will be a billion dollar company and a household name in Nigeria.
So, are you back in Nigeria for good?
Good question. Nigeria, like the UK, is one of the places I consider home so I will always have a base here.
What do you do for fun/relaxation in Lagos?
Ha! Allow me to be honest. I don't get much down time. When you're trying to achieve something incredible it requires an incredible amount of effort. I try to go to the cinema once in a while with my family but that's it. I am completely focused on growing Solynta to fully achieve its potential.
Do you have any advice for prospective returnees?
It is absolutely critical to have a definiteness of purpose backed by research. It will help you survive and ultimately thrive.