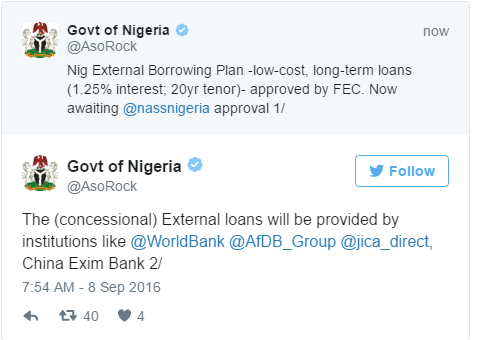 The presidency on Thursday said it had approved an external borrowing plan following the economic recession.
This was made known in a series of tweets by the Federal Government's official twitter handle – @AsoRock
"Nigeria External Borrowing Plan -low-cost, long-term loans (1.25% interest; 20yr tenor)- approved by FEC. Now awaiting approval of National Assembly.

The (concessional) External loans will be provided by institutions like World Bank, African Development Bank, China Exim Bank, and Japan International Cooperation Agency.

Apart from these loans, there will also be a FGN Eurobond offer (details in due course).

The External borrowing will be directed at the following sectors: Agriculture, Power (esp. Transmission) Mining Development, and Healthcare," it announced.