Bigger, better, more unforgettable bonds made –
The second edition of #BBNWonderland was truly a dream come true for everyone involved – Baileys Nigeria & BellaNaija Weddings, vendors, and of course, the brides.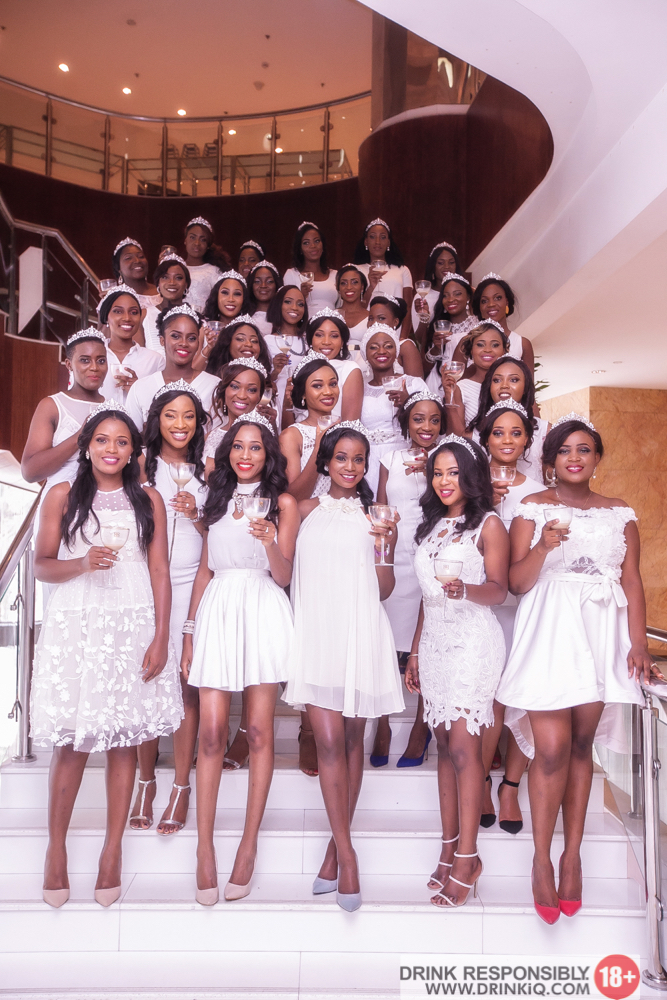 On the 1st of October 2016 at The Civic Centre in Victoria Island, Lagos, over 30 lucky brides-to-be were welcomed to WONDERLAND!
Inspired by the bonds formed with the #BBNWonderland brides in 2015, Wonderland 2016 was as much about friendship as it was about love.
#MyBSquad was about celebrating the women who are pivotal in making dreams come true. For the brides, this means their sister-friends and BFFs who encourage us, and help us on the path to forever.
Over a thousand entries came in from all over the country from accomplished and amazing women, who talked about how their best friends sacrificed money, time and a lot more to help make their wedding dreams come true. Hundreds were sent bottles of the creamy luxe Baileys to share with their friends while stocks lasted.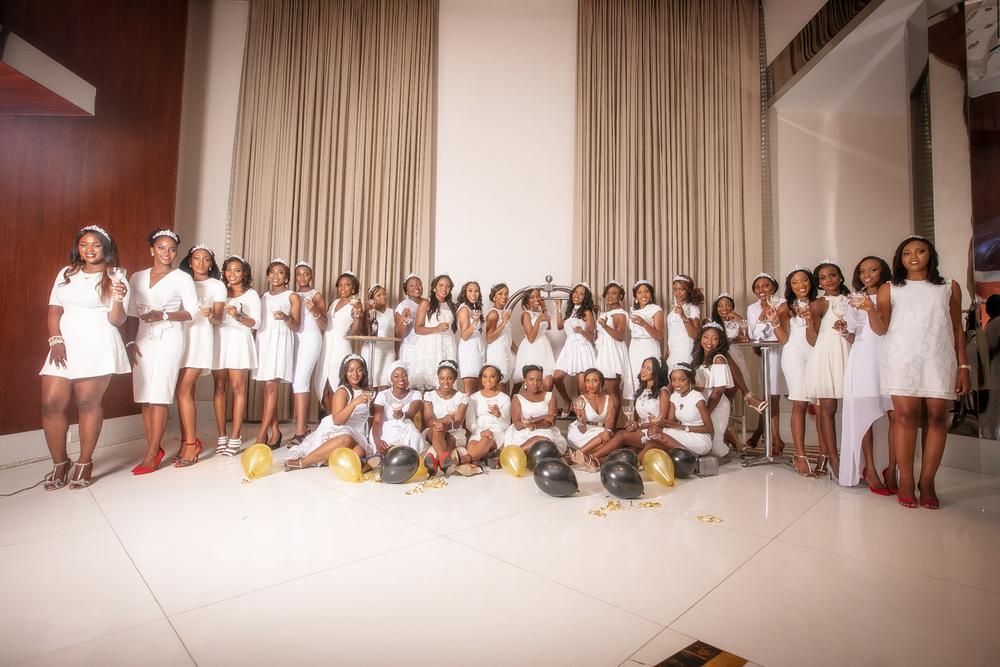 It was such a hard task to narrow down the list, as all the brides had captivating stories to share.
Like Bride Busola's best friend Debby, who shared the spotlight with her on her big day. Debby handed her bouquet to Busola on her wedding day, so her boyfriend of seven years could propose.
"Fast forward to her wedding day reception, which I attended with my fiancée who was also among the groomsmen. When it was time for her to throw the bouquet I was so ready to catch because of those saying that you are next when you catch it. 🙂

Hmmm I jumped so high to catch it and then she turned and stepped down from the stage and handed over the bouquet to me. I collected it from her with so much eagerness and she kept hugging me not allowing me to walk away and then he tapped me and I turned and there he was, on one knee and I couldn't quite figure out, but then I saw the ring; my heart was filled with so much joy and love and it happened on my friend Debby's wedding day.

I kept on saying yes and yes over and over again. After that she reminded me that was the reason for the excitement on her bridal shower and I was like OMG!

My friends really are awesome. Debby didn't stop there, she followed me on Instagram by making sure the video went viral and it was posted on BellaNaijaWeddings and the likes.

I'm forever grateful to my friend Debby for this precious moment. Planning the wedding now she's still standing stronger than ever with me on getting the best out of my big day. Yes she shared her wedding day with me. To find one real friend in a lifetime is truly a good fortune.

She's now Mrs. Deborah Ibitoye and I'm a bride-to-be. I'm getting married to the only man I ever dreamed of getting old with, with my best friend by my side. #dreamsdocometrue"
Brides who were invited were given a custom invitation box (there were a total of 3 boxes)! The packaging box with, "Your Fairytale Begins." The main box and an inner mini box with a mirror W with the acrylic invite inside. There was also a tiara, miniature bottle of Baileys and keepsake box, designed by Parchment by Dami.
The box and invite politely reminded the brides to Drink Responsibly.
This year the ladies were treated to a special slumber party with a yummy buffet accompanied by Baileys on the rocks at Intercontinental Hotel. They played games, and got custom sleepwear and slippers to lounge in courtesy of Baileys.
There is more to the wedding journey than planning, so we invited entrepreneur and philanthropist Betty Irabor of Genevieve Magazine, who has been married for over 30 years, and Kehinde Daniel of Kots Catering, who has also balanced career, a husband and children for over 24 years.
Questions were asked and frank answers were given about about in-laws, going clubbing, hot-headedness and more.
The ladies went to bed fulfilled and excited about the big day to come.
Saturday October 1, which also marked Nigeria's Independence Day arrived and it was truly a day for celebration. While the brides got their hair and makeup done by the BM|Pro team, the venue was set up by the amazing The Wedding Guru team headed by Christine Ogbeh, who also brought last year's romantic vision to life. Just like last year, the event was planned and coordinated by Coker Creative.
This year the hall was divided into two distinct spaces, each with a with different ambiance. The white and gold set up for the main event exuded understated elegance, with a white and gold colour scheme.
Chandeliers and candles provided the lighting… Feast your eyes on the spectacular decor!
The gold menu cards were also created by Parchment by Dami, the regal gold cutlery was provided by Gigs, while the brides sat on royal chairs from Magna Events with custom Wonderland cushions, while guests kicked back in gold-rimmed Angel chairs from Chestnut Rentals.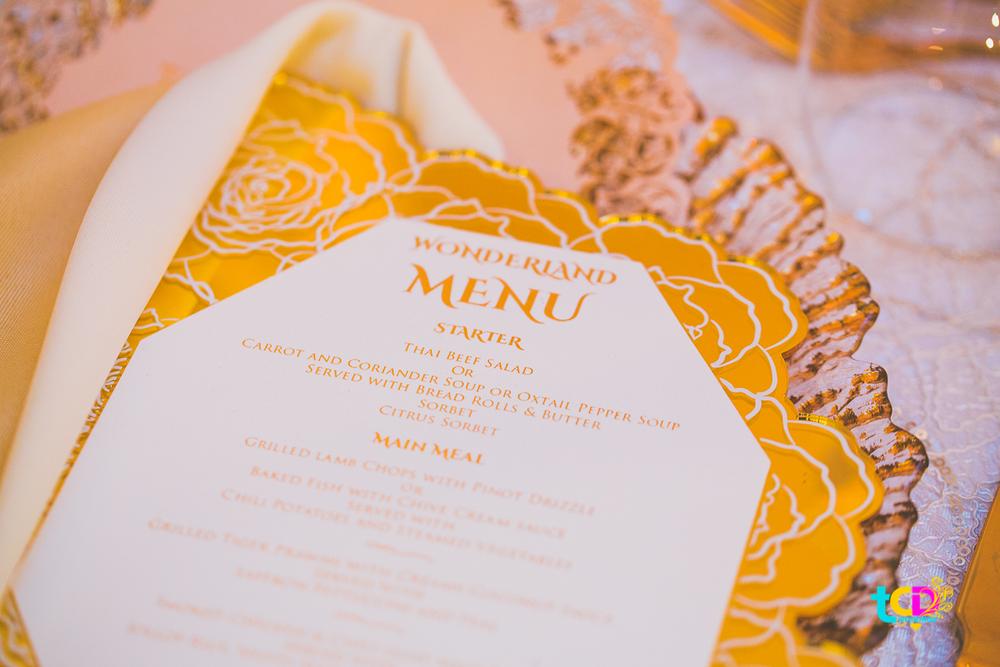 The appetizers were specially made by Tash Bistro, three-course meal was provided by Kots Catering, with dessert by SALT Lagos.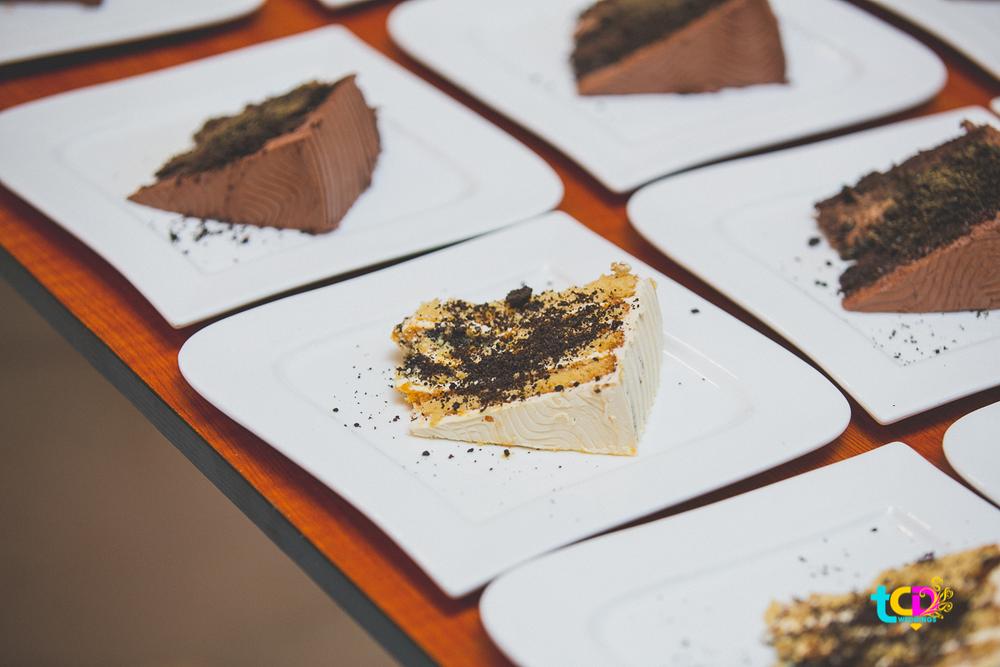 The black and gold side was made for the 'turn up'. There was a custom black bar with drinks all night by Eventi Cocktails, a dessert table by Sokolad and a whimsical black and gold Baileys-infused cake by Cakes by Tosan, and a ceiling of balloons by Misorge.
There was also a basketball and rim for anyone in the mood to shoot some hoops.
There were small chops, bites by Grind Grill Cafe, Baileys milkshakes by Moo Diary, so everyone was filled and fueled for a proper turn up.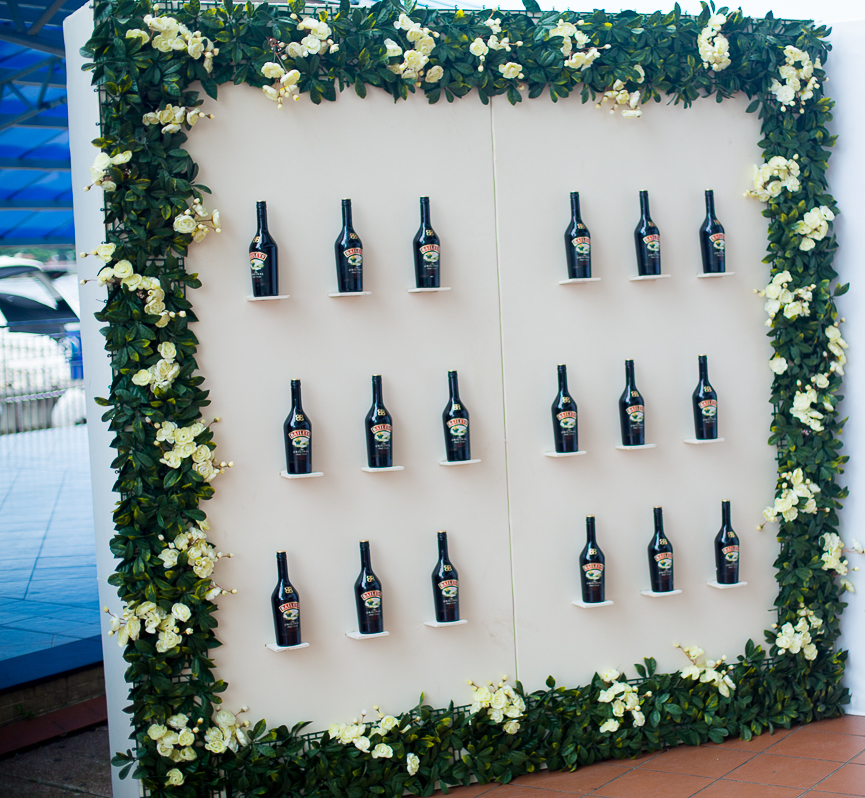 Leading to the event, guests were welcomed by a Baileys bottle wall outside, and a gold sequin wall inside.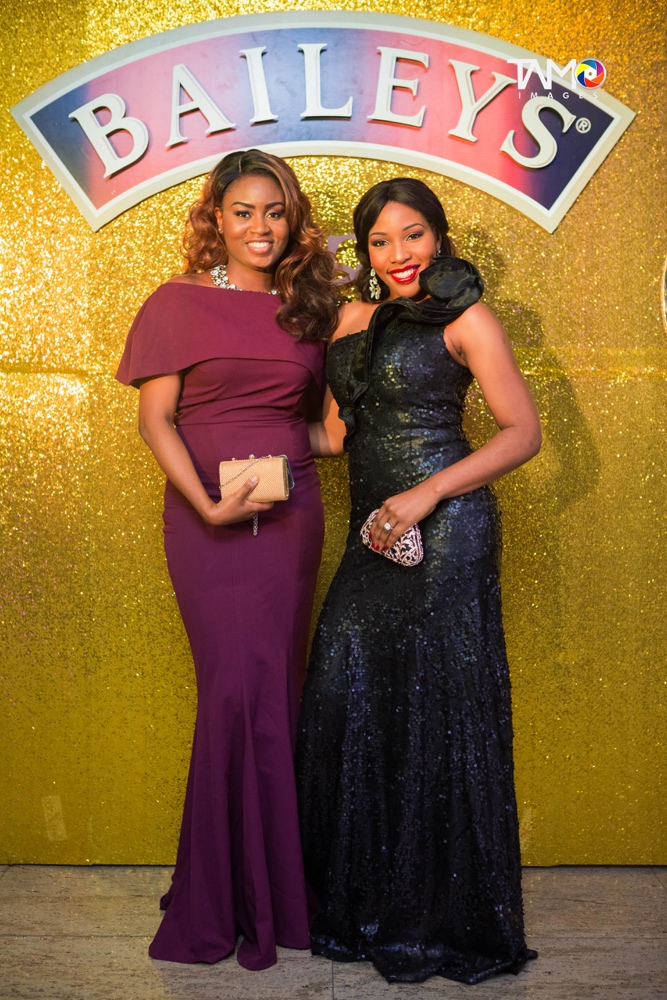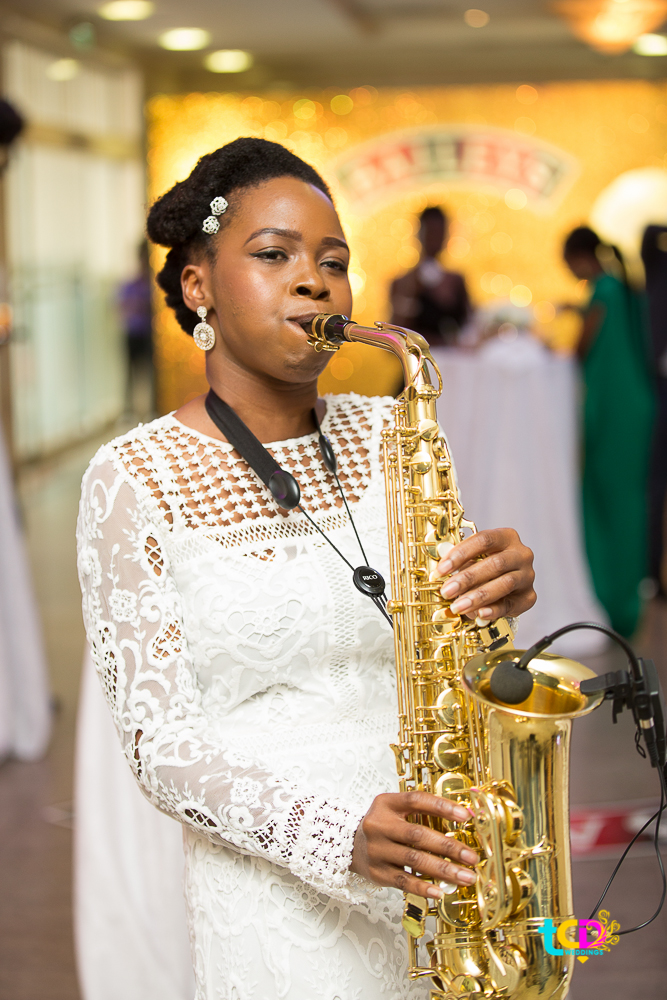 Saxophonist Tuke Morgan and her band played local and international tunes for guests during cocktail hour.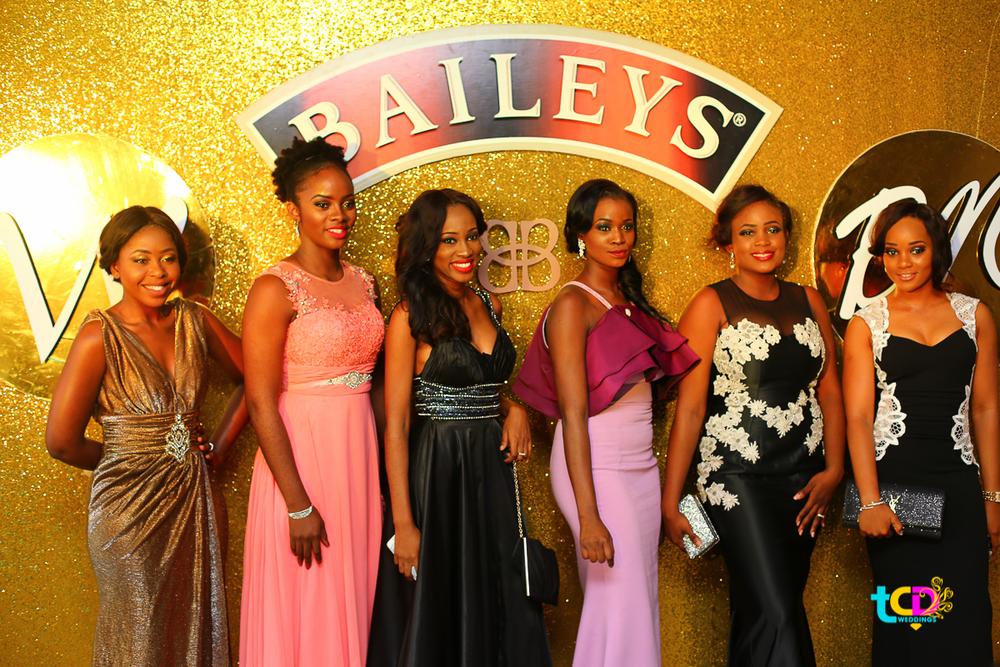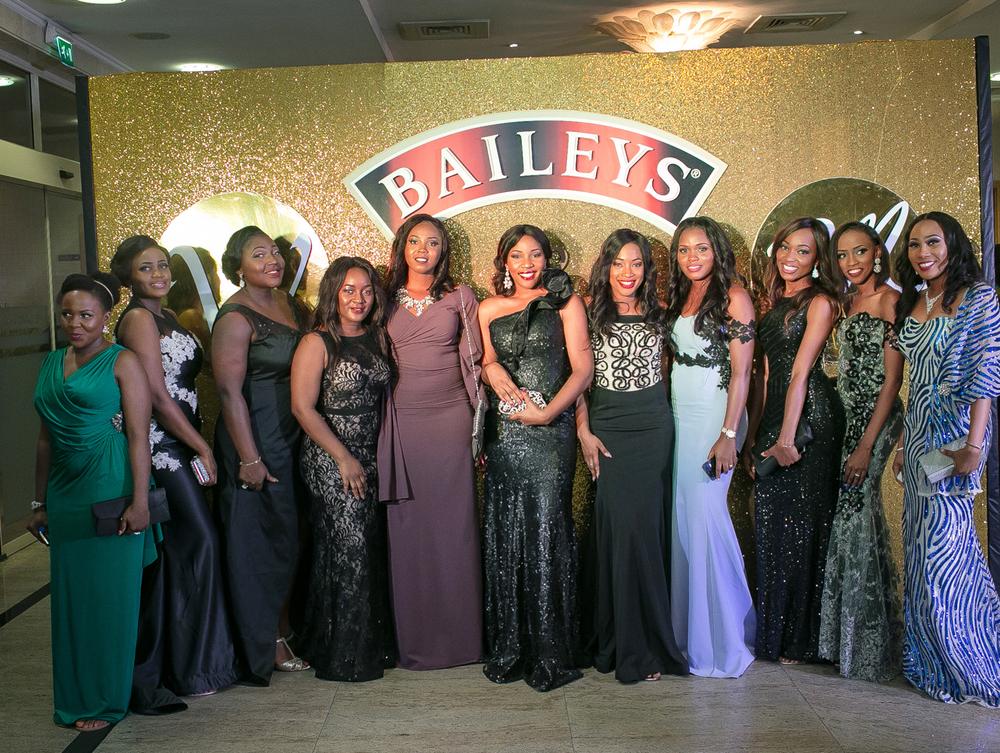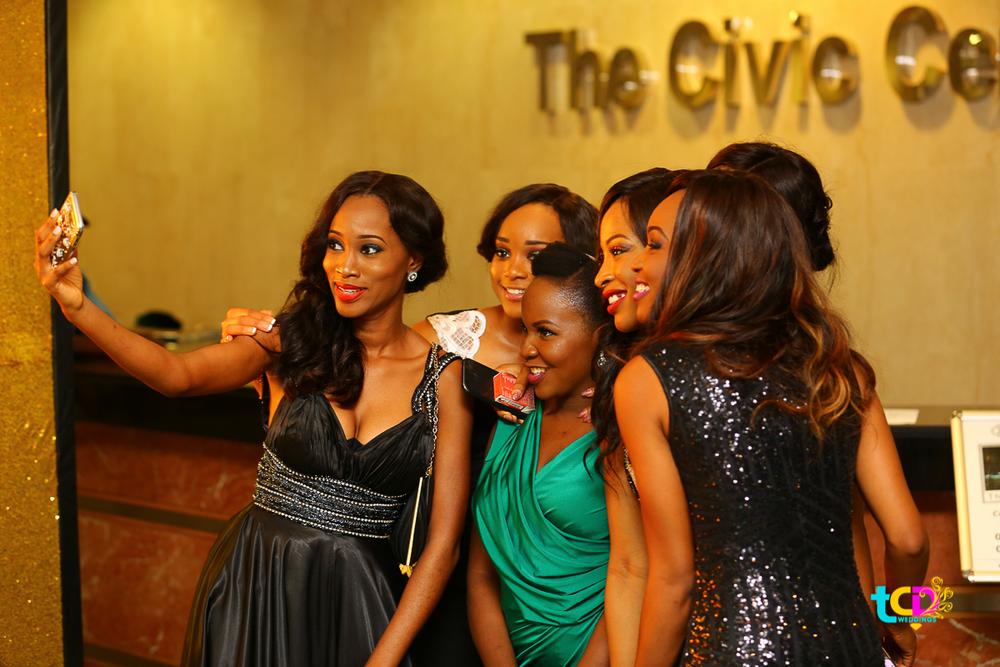 Oh look, it's matching #BNbling!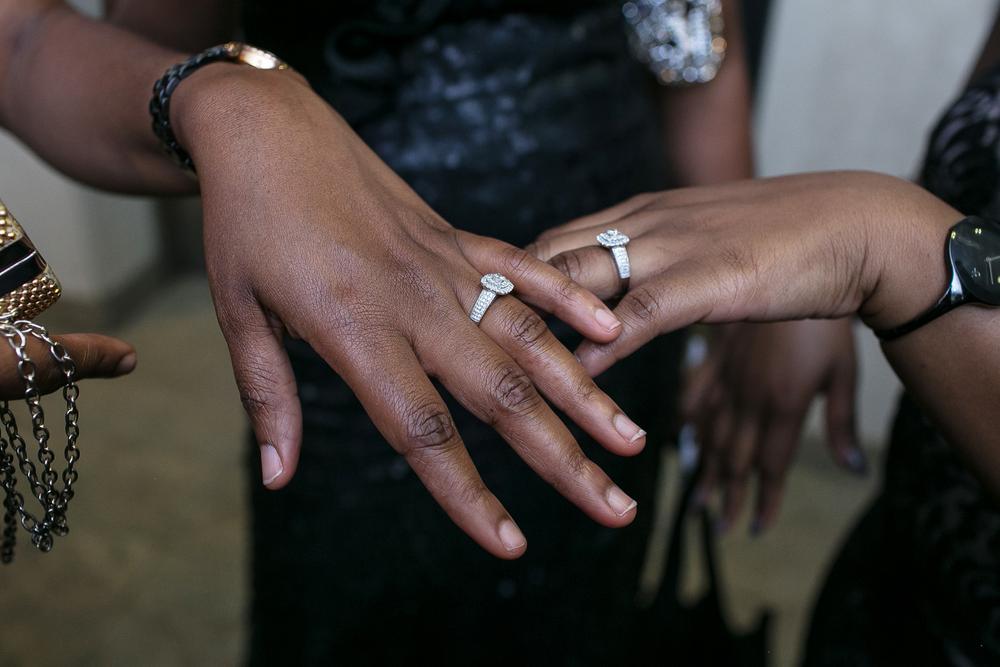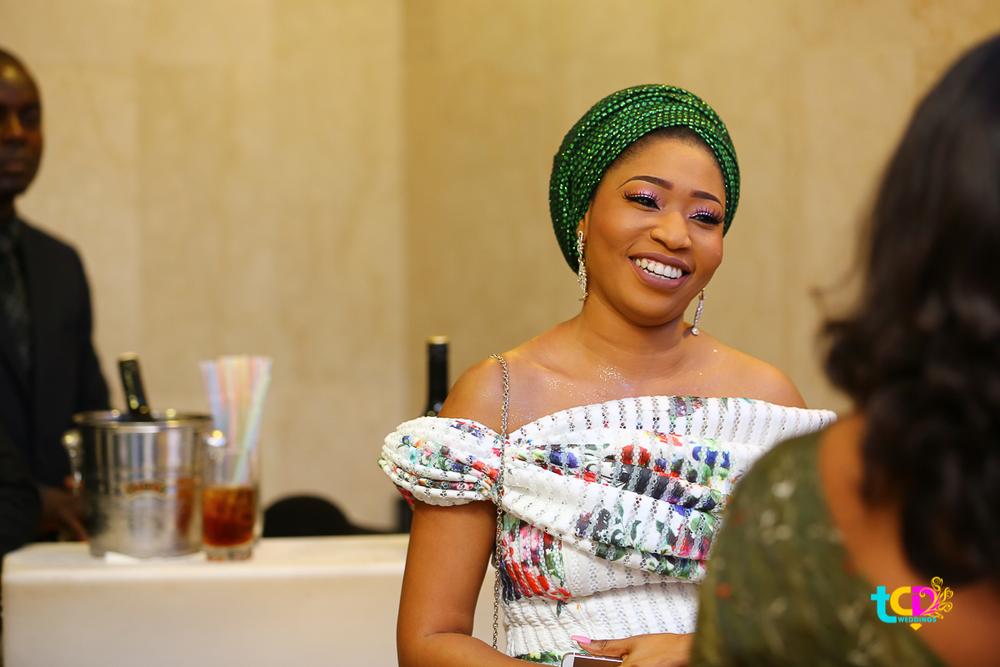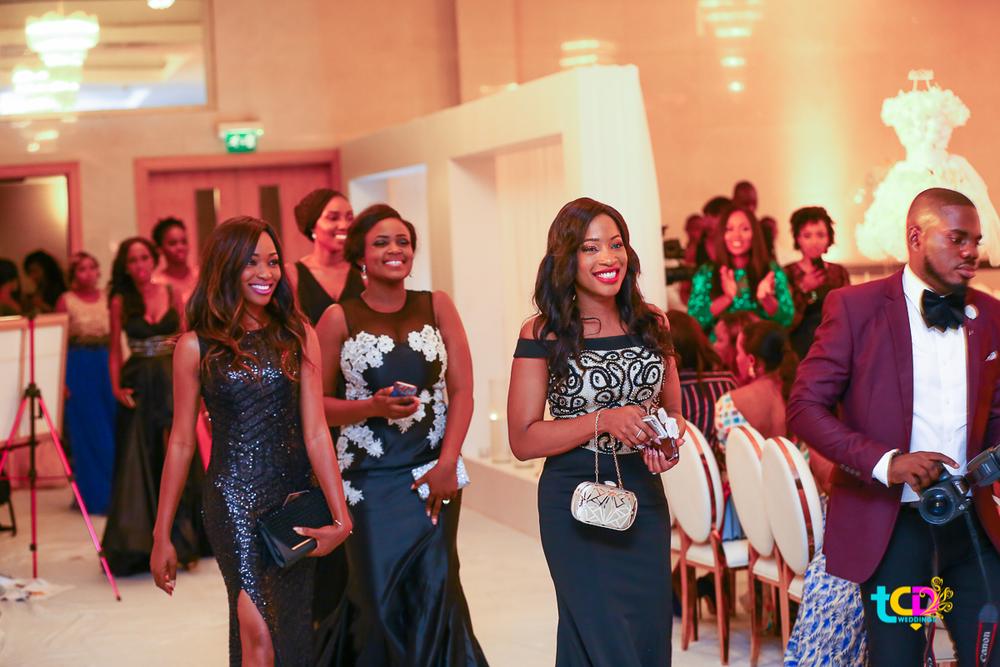 Then it was time for the brides to take in the spectacular space, and for the first surprise of the night to be revealed! Basketmouth was revealed as this year's host.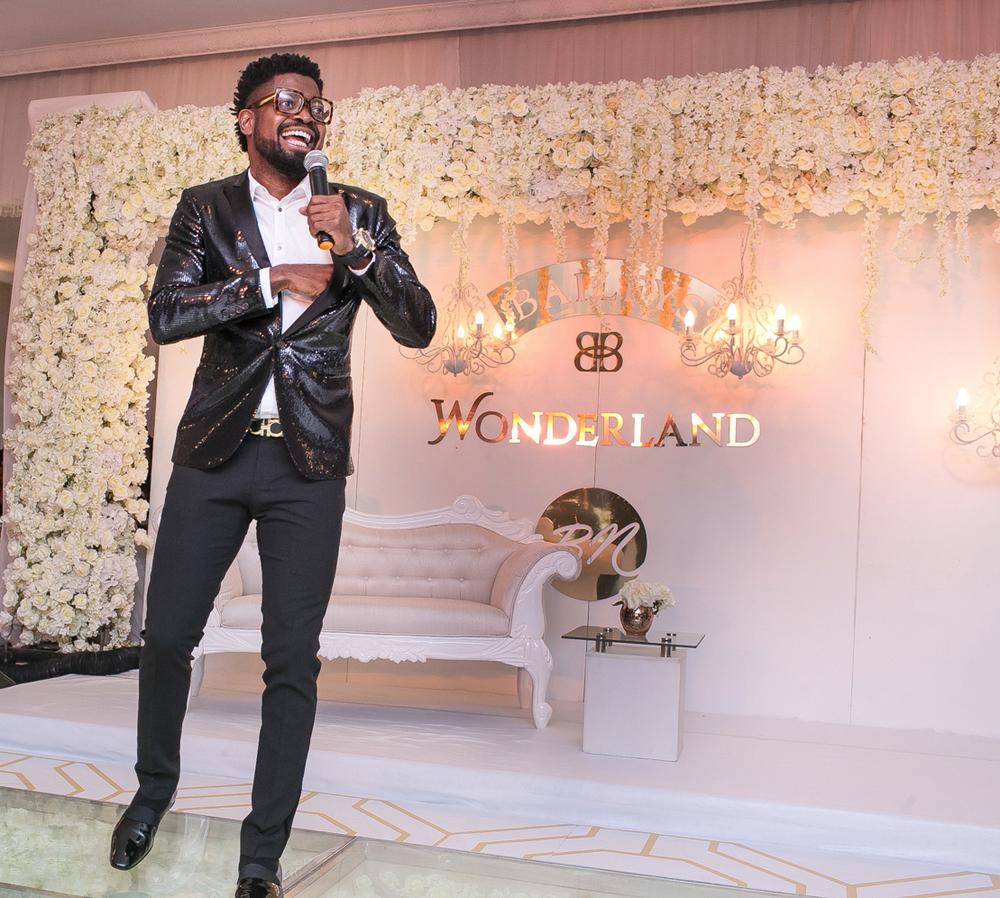 He started off putting the crowd at ease with some humour. This joke was about how ladies SnapChat themselves in the club.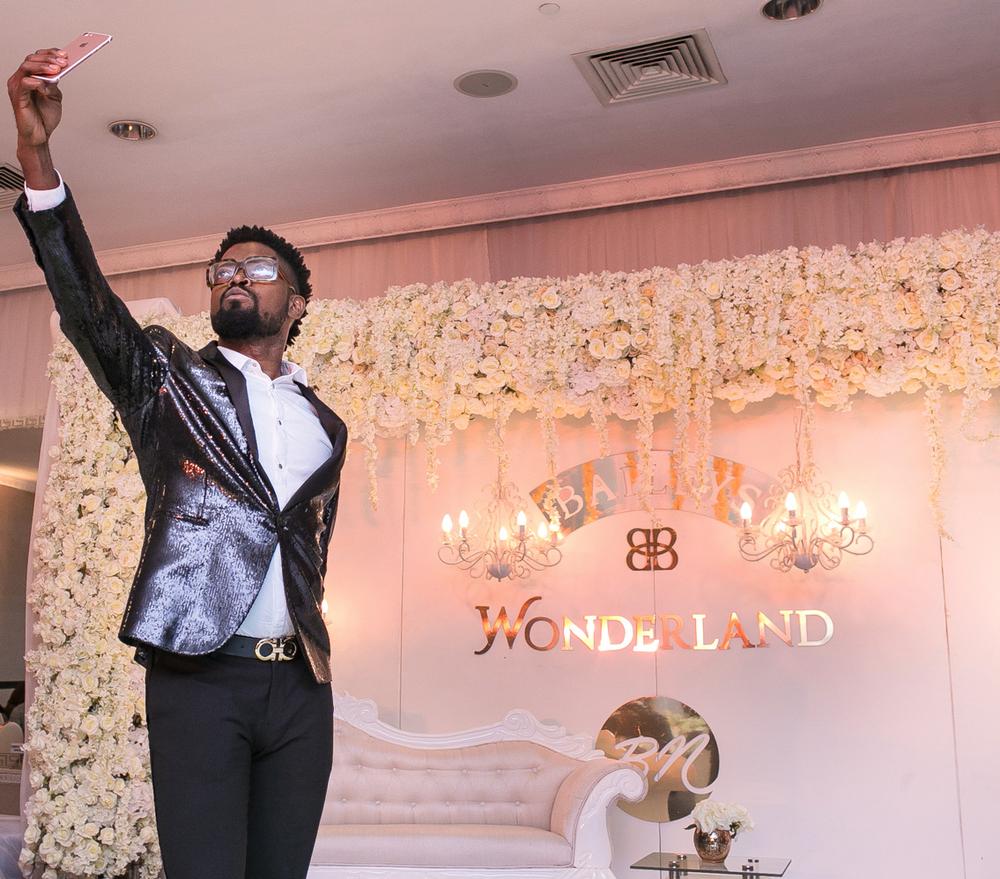 At this point, DJ Obi was on the decks and had the crowd moving, with Sakal Multimedia keeping the sound seamless. It was time to get the ladies winning fab items that could be used for their weddings!
The fab gifts for the games were special #BNbling nail lacquer sets by Nigerian brand Amali Cosmetics, a Mr & Mrs set from The Gift Source, 20 spa boxes from The Gift Haven, glamorous headpieces, clutch, necklace sets Le Reve Pieces, a box of treats from The Lekki Gift Company and travel-size Baileys bottles.
In the Independence Day spirit, the games included reciting the national pledge and singing the anthem. Imitating artistes from music videos, musical chairs and more were played while brides sipped on Baileys.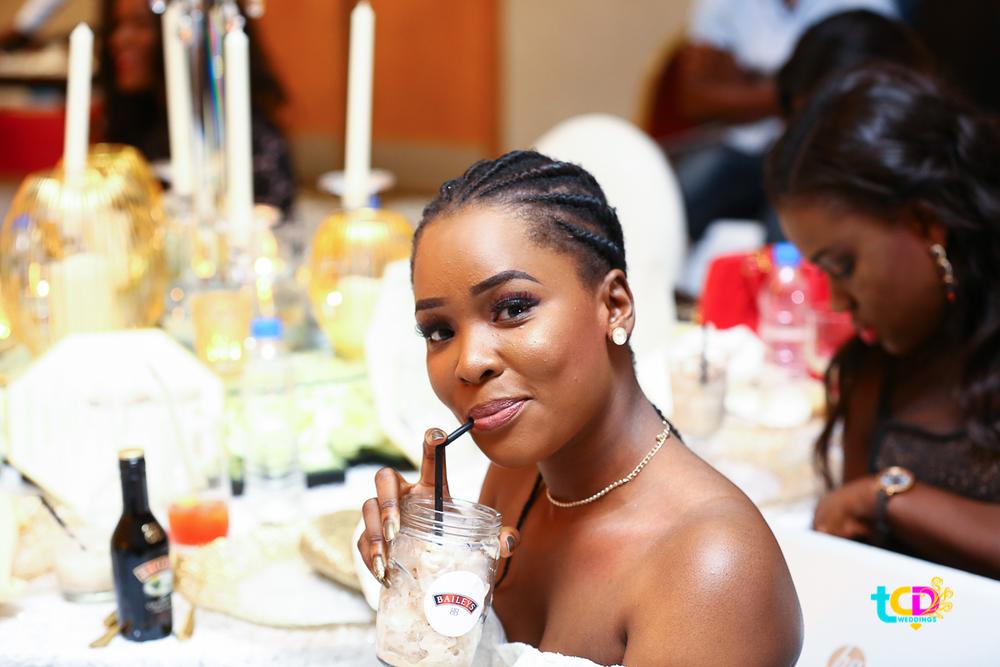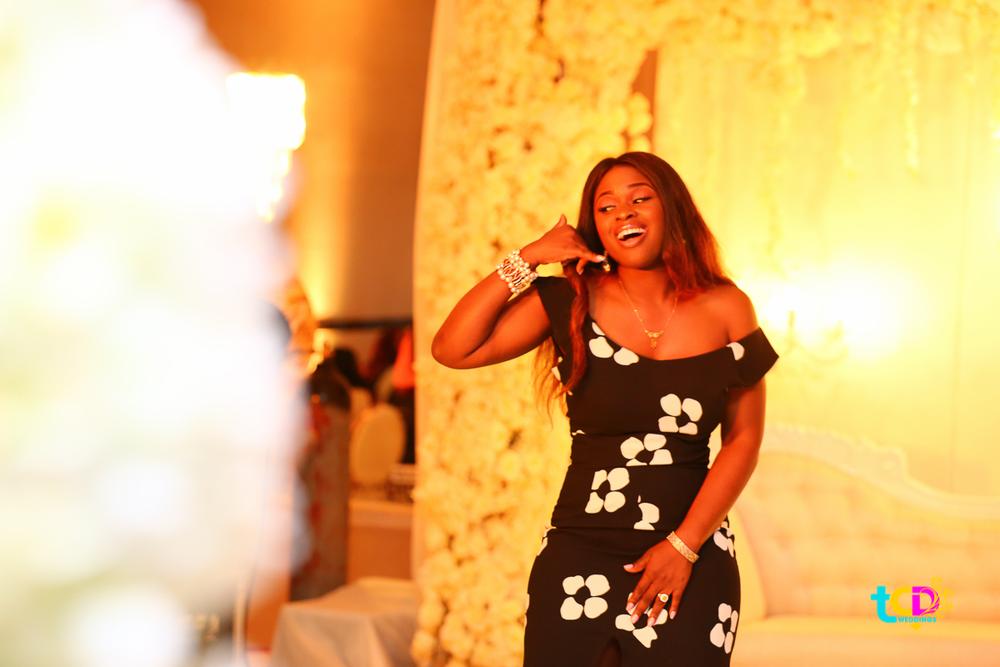 Gabrielle on her Hotline Bling!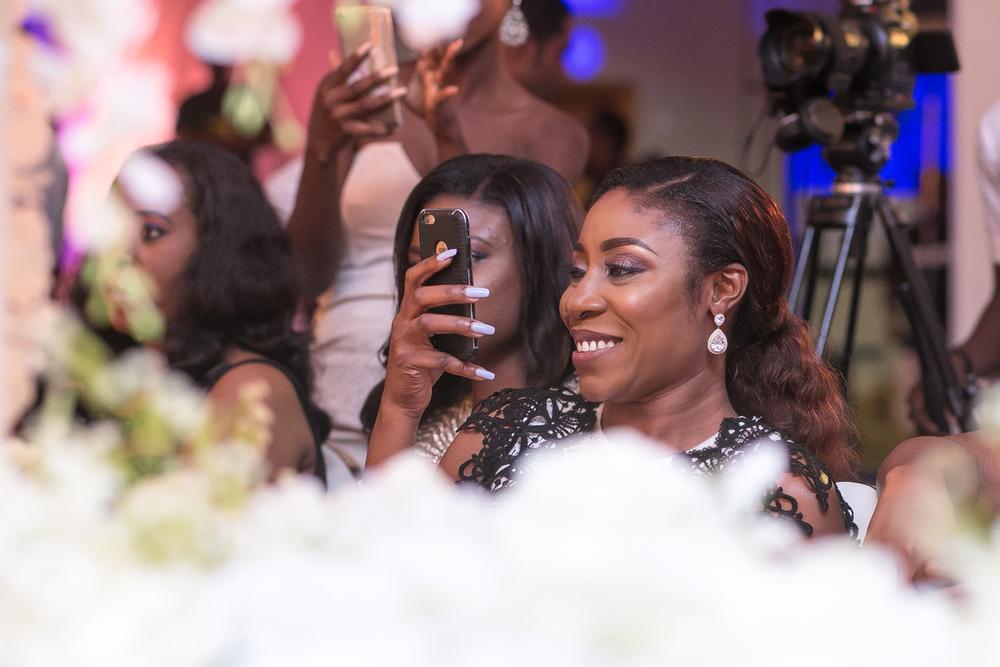 Ebun won a big basket of goodies with her moves!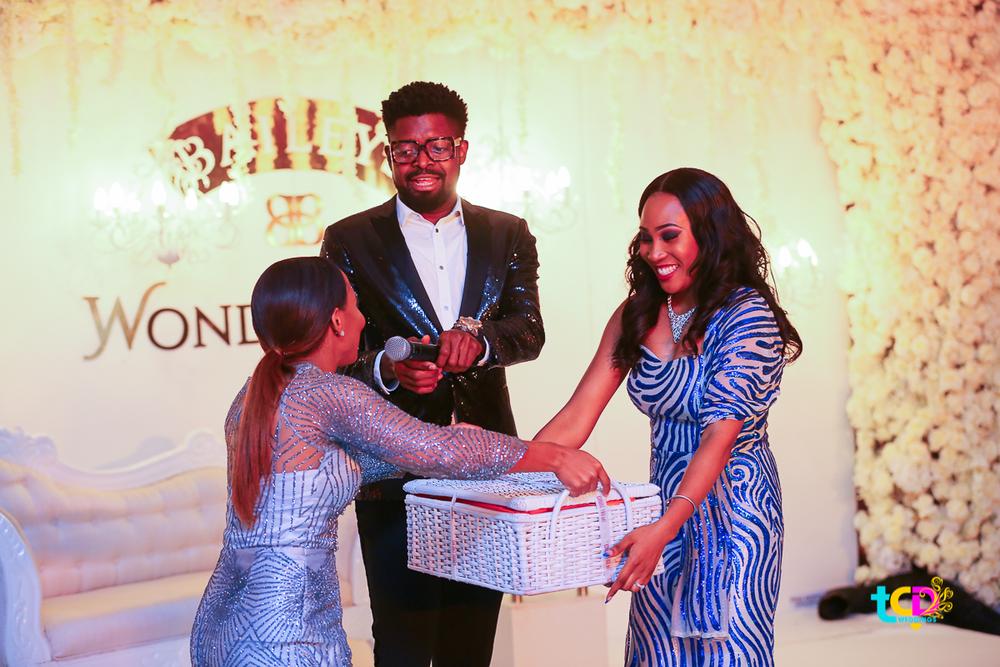 Then it was time for the celeb newlyweds to take the stage. Both OAP Toolz and style influencer and blogger Noble Igwe got married in 2016, and had great advice for the brides regarding big families, budgeting and more.
Next up was the 'Ask the Experts' session, where leading Nigerian wedding planners Deola of 2706 Events, Mosun of IPC Events and popular Kunle of Klala Photography & Films shared their expertise around picking a wedding planner, choosing a photographer and more, moderated by BellaNaija Weddings editor Ink Eze.
The brides got free consultations from our expert panel, and if they thought we were done for the evening, they had NO IDEA they were in for a very special surprise!
After feedback from the 2015 edition, we added a celebrity couple session with mega star Omotola Jalade-Ekeinde and Captain Matthew Ekeinde, who have been married for over 20 years, with four children, and both highly successful in their careers.
The accomplished actress and star pilot were VERY real when talking about getting married young, balancing career and home, while keeping it sizzling hot. Guests and brides were applauding and hollering for more, but we had to see them go after over 20 minutes of unadulterated advice!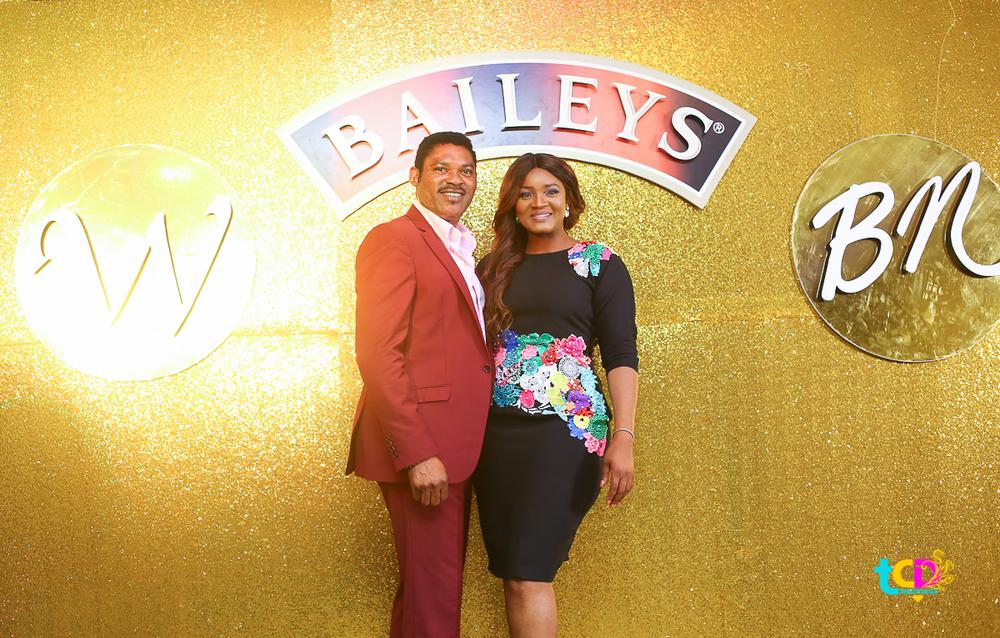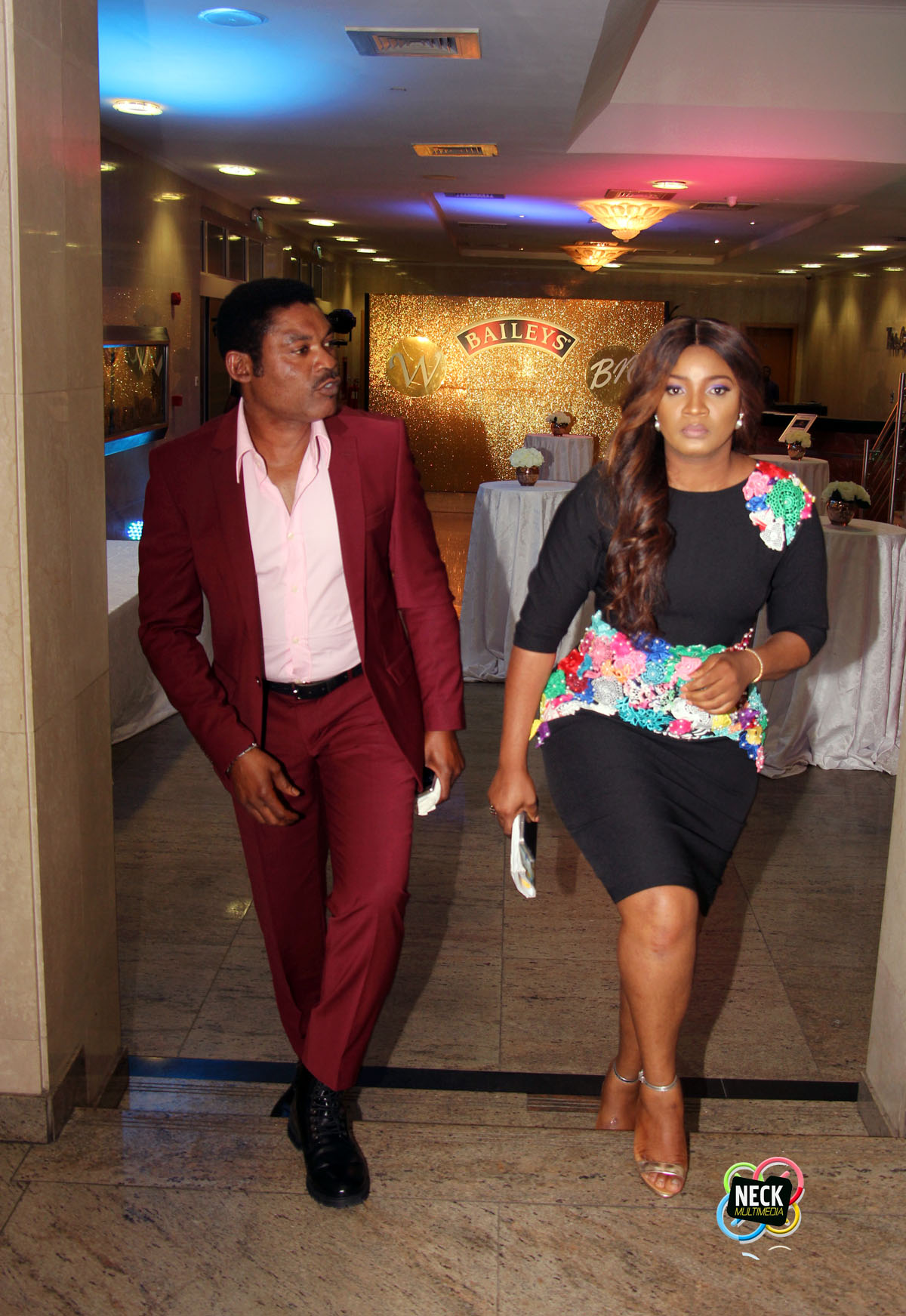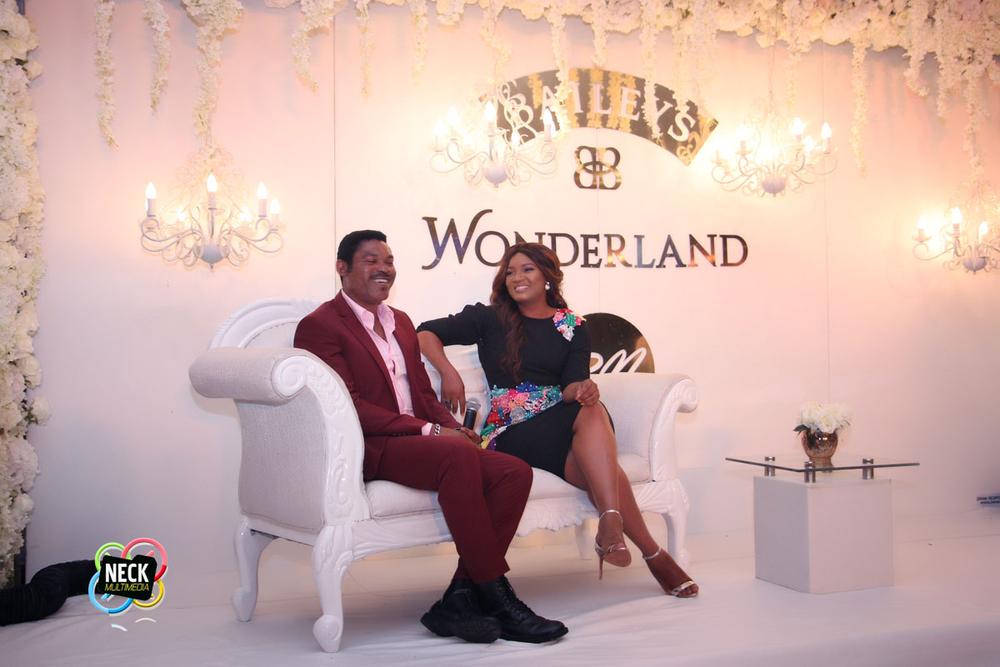 Look at Omotola's face – Captain was REAL!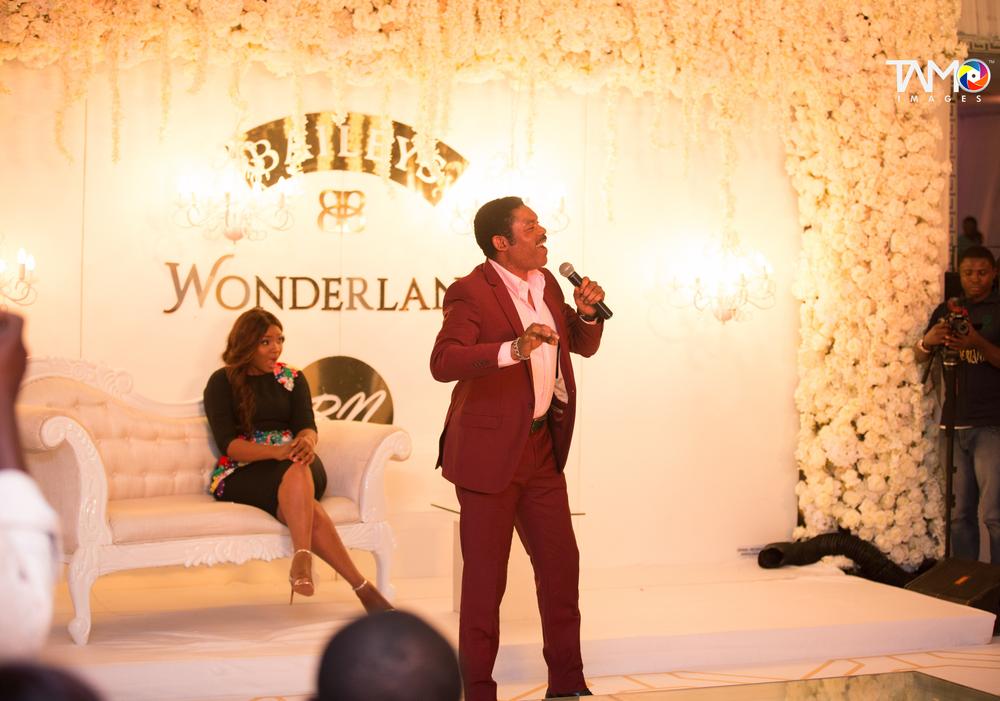 We can't give away what he said 🙂 You just had to be there :p
Next up was a speech from beauty entrepreneur, and makeup artist extraordinaire with over a decade of experience, Banke Meshida-Lawal of BM|Pro about hair and beauty for a bride's big day.
One tip that hit home was that brides shouldn't blindly follow trends or try something outrageously new on your wedding day.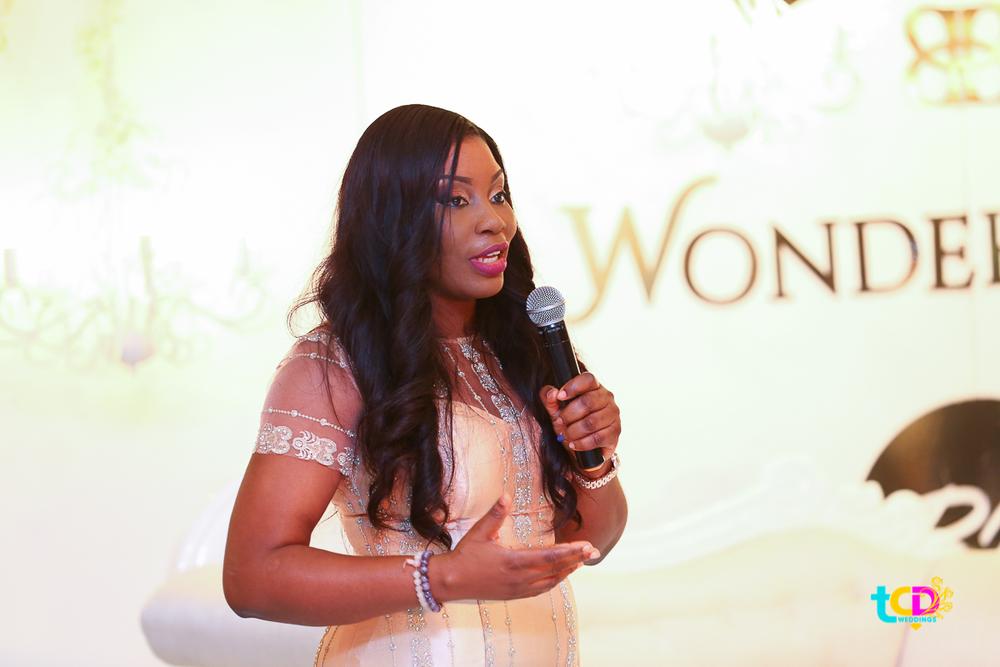 Baileys Nigeria brand manager Ufuoma Udjoh gave a Baileys toast, and thanked everyone for coming.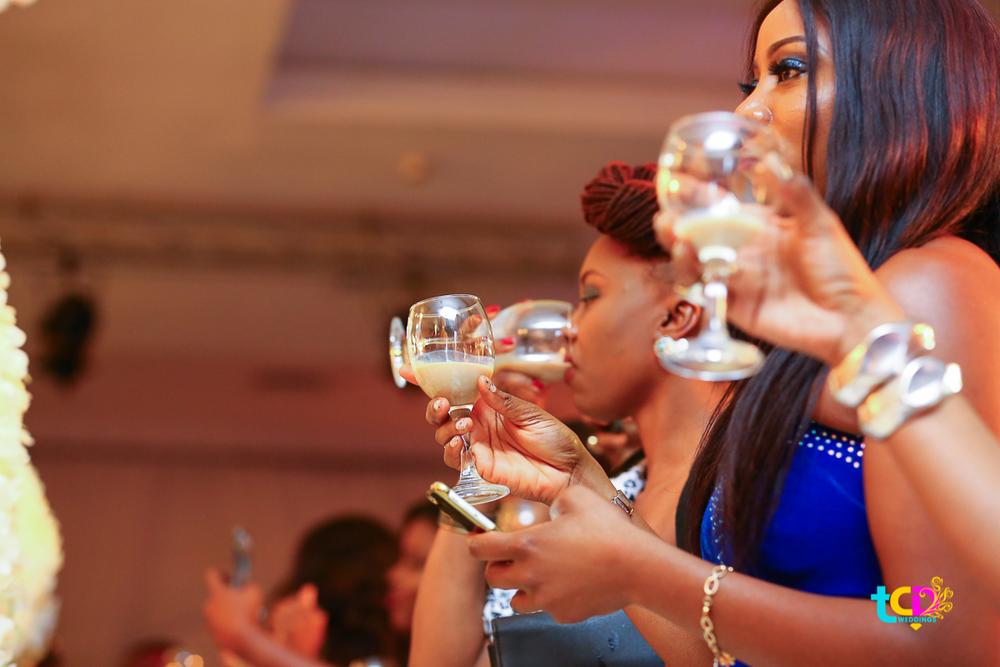 At this point, a live scene of WONDERLAND 2016 was unveiled by Pencils n Brushes.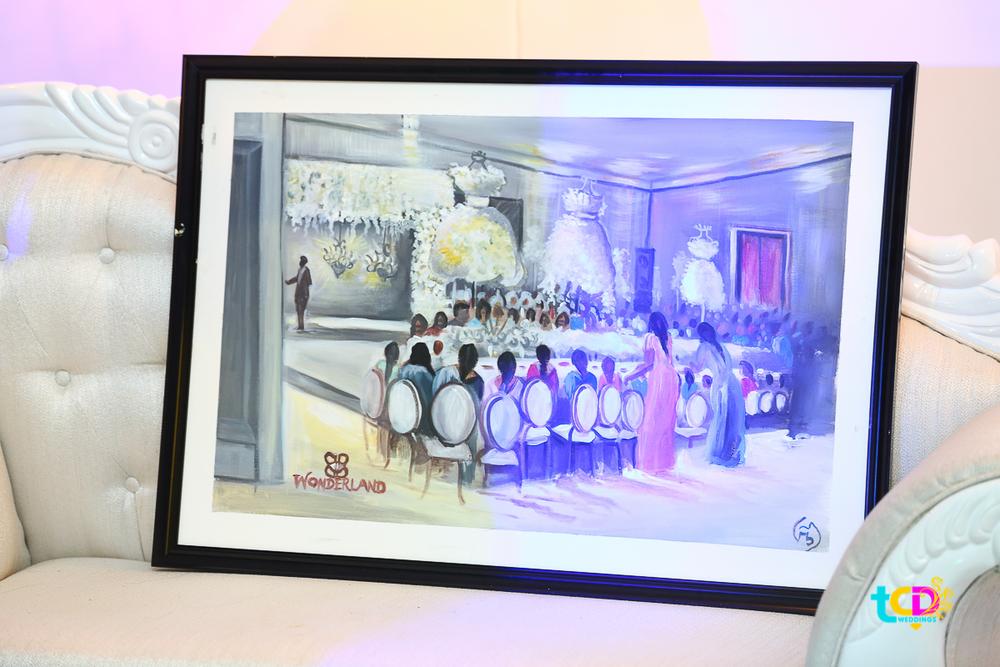 The grand prizes were given, the 9 lucky brides were chosen by raffle draw – there were 9 fabulous gifts in total !
Pwachom won the luxury honeymoon from Baileys Nigeria & BellaNaija Weddings in collaboration with SA Tourism – she was so excited!
Rolake got what she prayed for! The Baileys Bar for her wedding.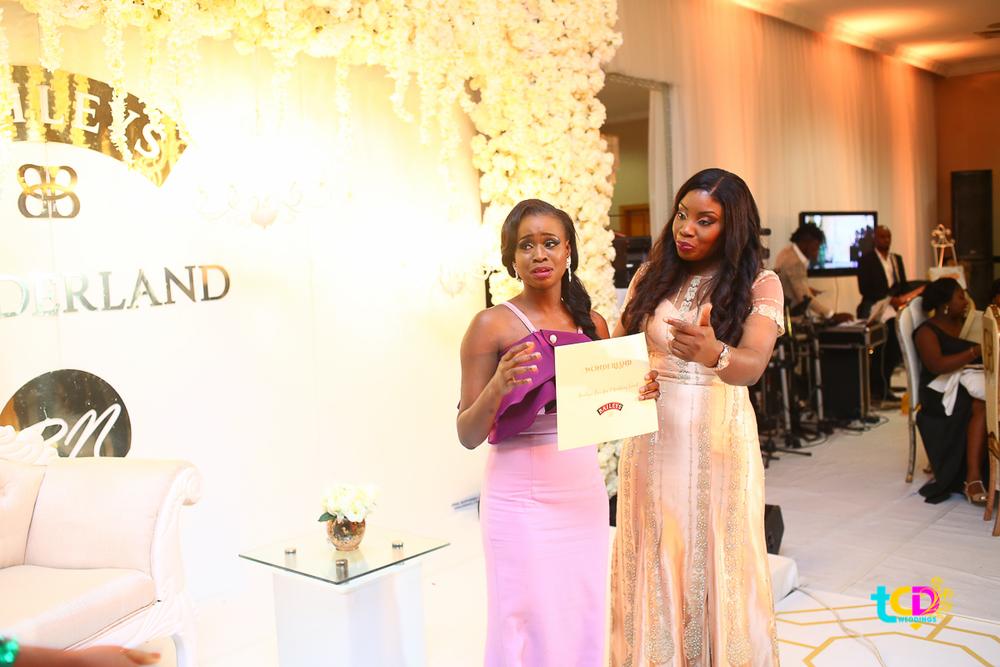 Wilma won a traditional beaded jewelry set for her and her groom from Lush Jewels.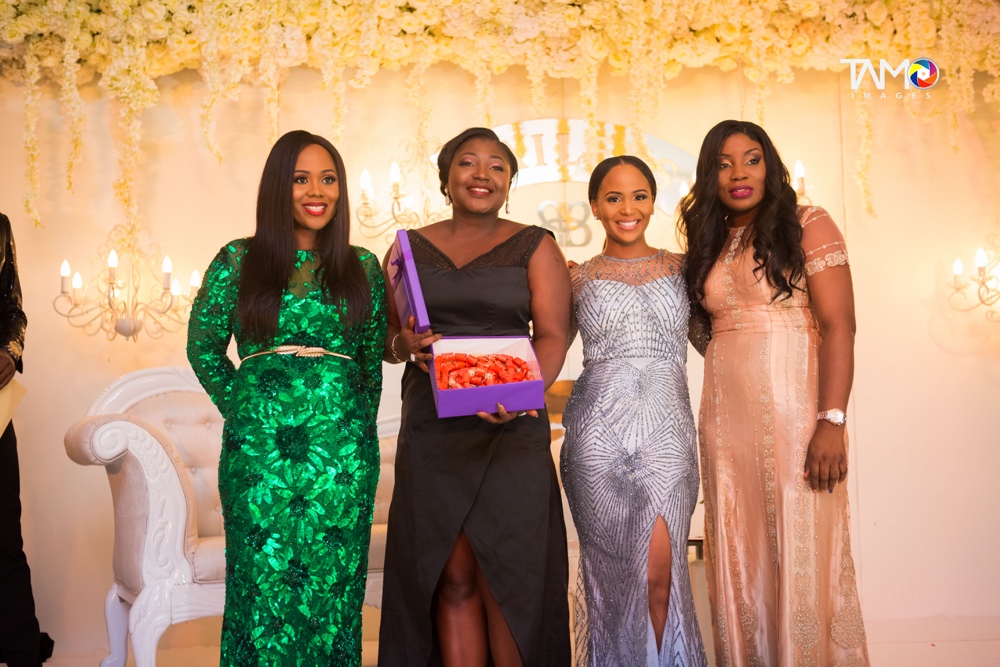 Antoinette won a stunning wedding dress from the latest Love, Tims collection.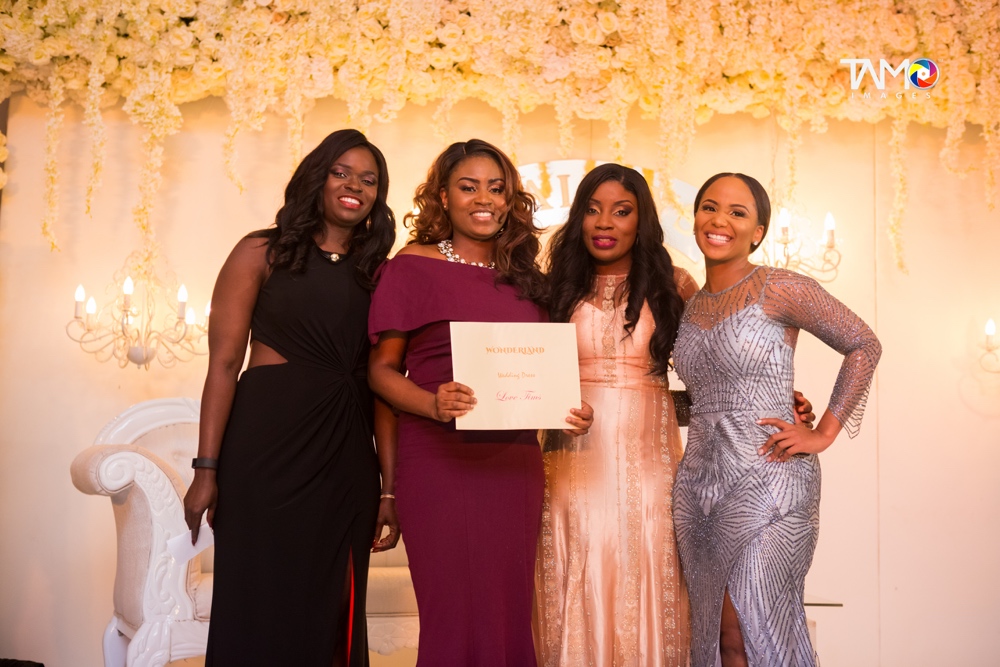 Doris won wedding photo and video coverage from speaker Klala Photography & Films.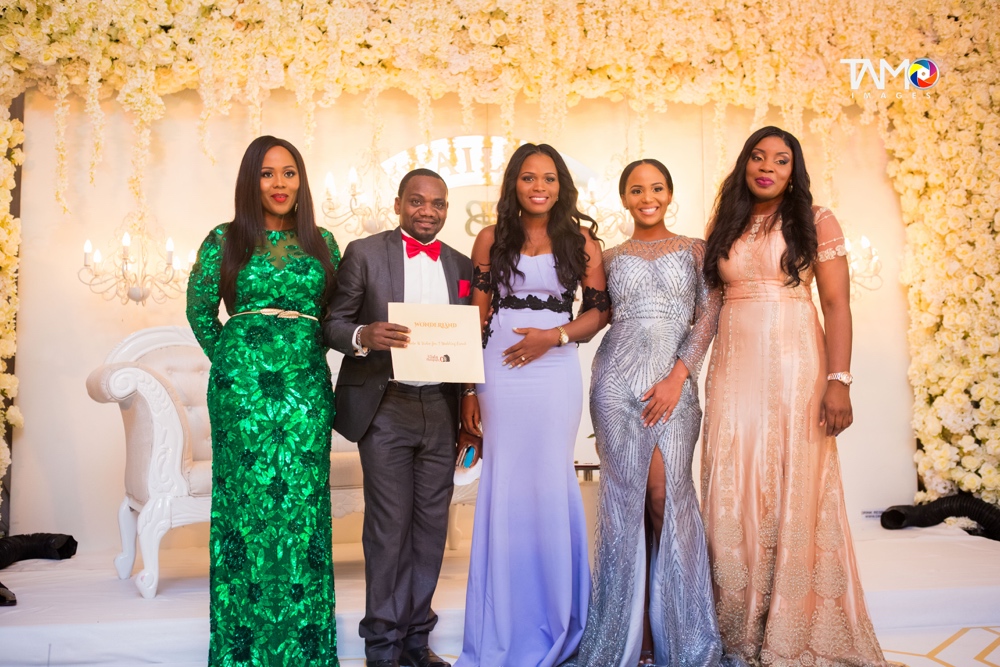 Two Brides won Luxury Traditional Fabric from B & E Fabrics
Every bride went home with a Lancome gift bag with cosmetics that are every girl's dream – mascara, lipstick, perfume, lip gloss, eyeliner and more.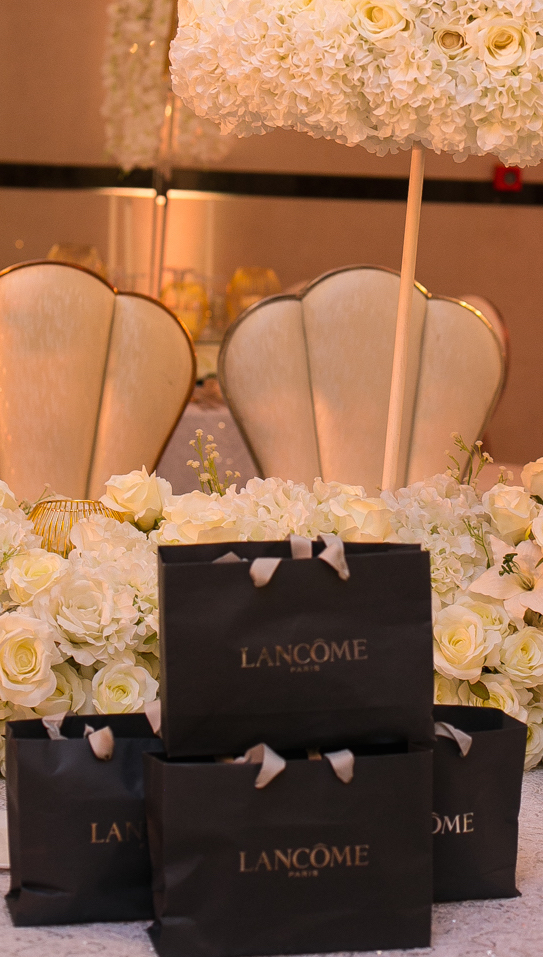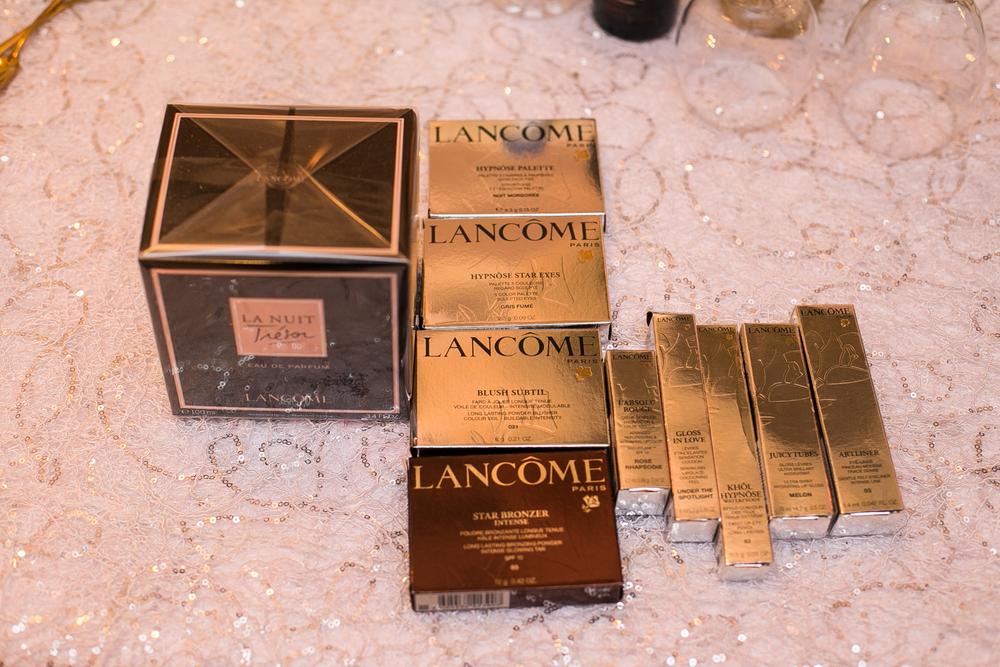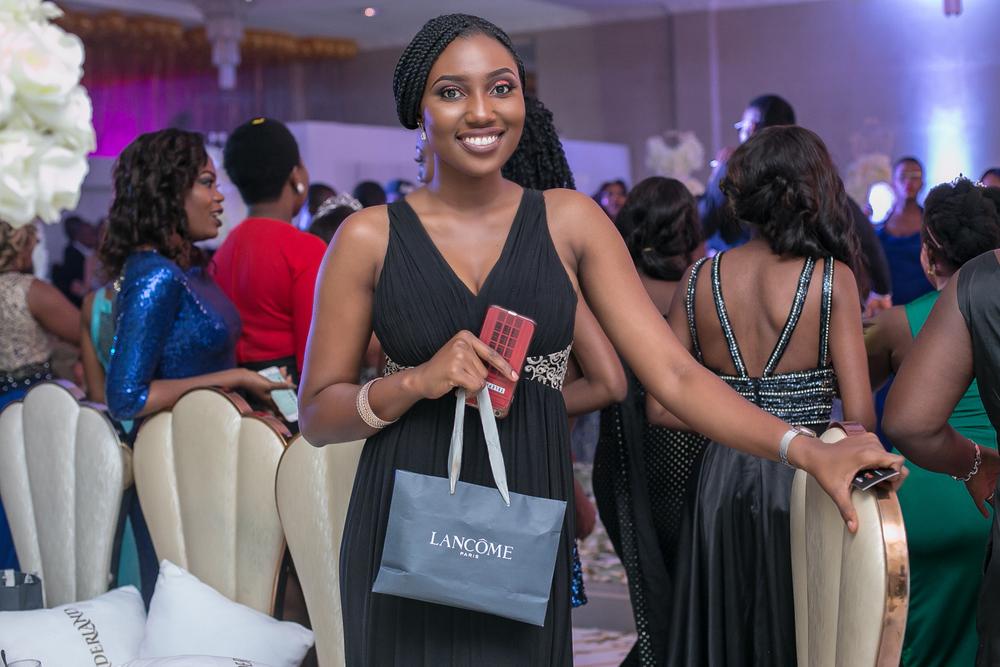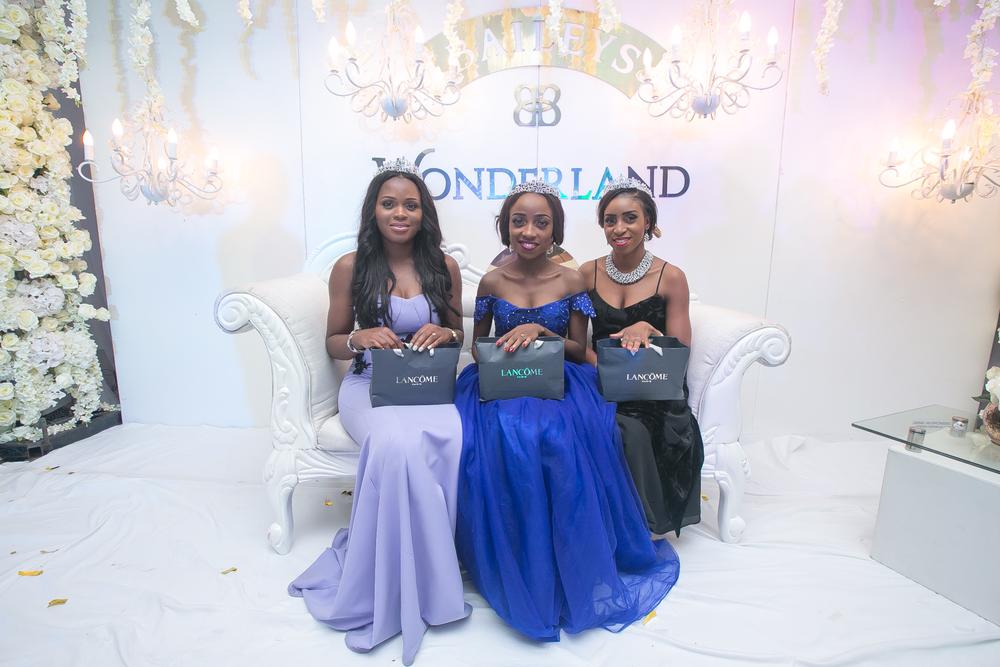 The gift box had a custom robe, a mug from The Gift Source, wedding mix from Wonderland DJ Obi & The Wedding Guru, nail polish from Amali Cosmetics,  a small box of treats from Andies Candies, earrings from Le Reve Pieces, The Essential Bridal Handbook from Funke Bucknor-Obruthe of Zapphaire Events, a 20cl bottle of Baileys, Baileys chin chin from Cupcake Couture and a gift for their new home from Swish Ideas.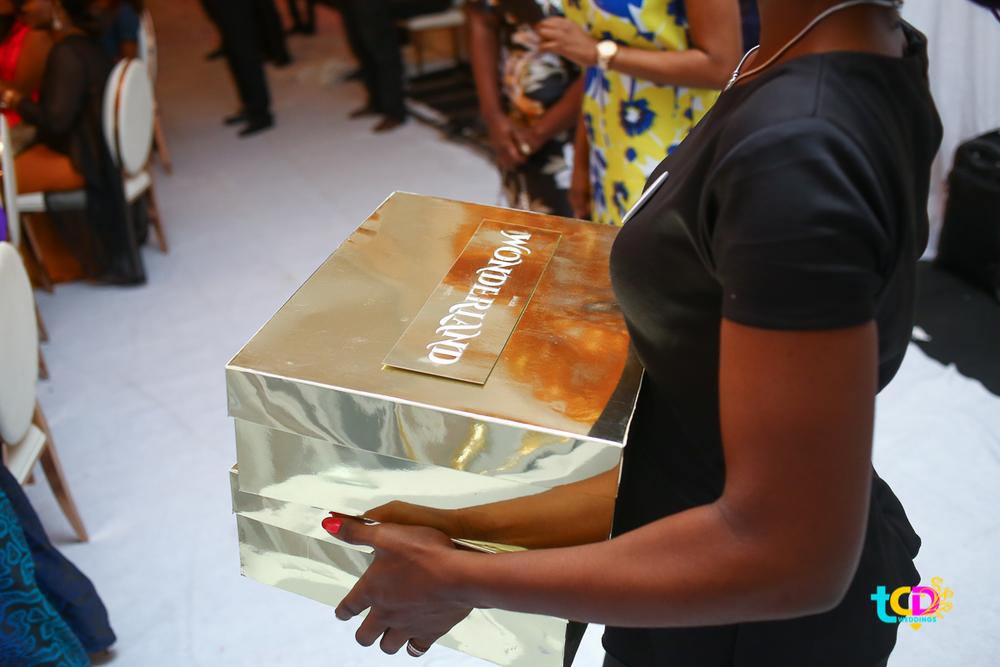 Next up was a surprise performance from Mr. Flavour himself!
It was time to PARTY!!!
It was a truly unforgettable time – #BBNWonderland was every bit a dream come true.
***
Photo Credit: TCD Weddings | Atunbi Photography | Tamo Images | Neck Multimedia | Amy Anaiz