They jumped into our mobile screens in the early harmattan of 2014 with a humorous and satirical analysis of Nigeria's political elite. And nobody was spared from their sharp witted satire. Not Senators, not Governors and not even the President of the Federal Republic of Nigeria as they poked fun at any and every one.
In fact their most popular videos were those parodying ex-President Goodluck Ebele Jonathan and his wife Dame Patience with comical renditions of the P-square classic "Personally" and Rihanna's "Drunk in Power" which both had over half a million views at the time of this writing!
But ever since the Muhammadu Buhari was inaugurated on May 29th, 2015 the Ogas at the Top have been mysteriously quiet, in fact nobody has seen or heard from them. They have not released a single video … not one single video.
In fact the last time the Ogas At The Top were seen was last year … just 2 weeks before Buhari's inauguration. It was a May 8th 2015 youtube video of Goodluck and Patience in the satirical "I Am Coming home" video which poked fun at the fact that the ex-power couple had just been kicked voted out of Aso Rock and were now coming home to Bayelsa. But since then nothing …
Numerous efforts to contact their managers over the whereabouts of the puppets have also proved futile or at best confusing.
The last recorded message to them was sent on the 17th August 2015 via twitter. And then we were informed that their puppets were on their season 2 break and gearing up for season 3.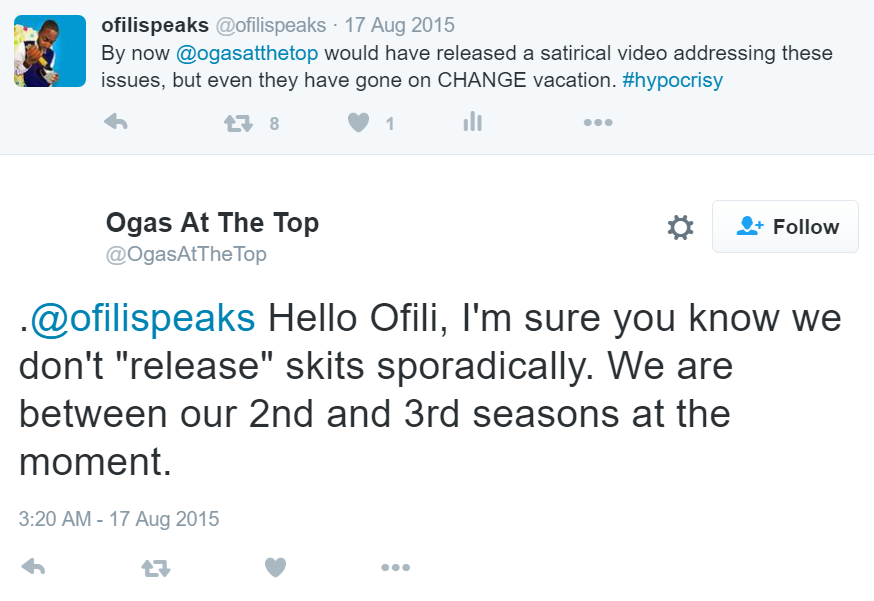 Well that break must have been a really looooong break because 1 year 1 month and 10+ days have passed since and Season 3 has still not started.
We are thus concerned that something BAD may have happened to the puppets, maybe they may have been kidnapped by political forces, maybe the recession has put them out of a job, maybe they are hiding because of fear from EFCC or maybe they are dead!
To be honest we don't know.
And please we are not saying they disappeared and stopped releasing videos because somehow they were sponsored by certain political forces to get a certain administration out of power. No we are not saying that (we don't want DSS trouble).
What we are just saying is that it is quite very coincidental that the last video was released the same month the new administration was inaugurated and that maybe there is a link … just maybe.
So we are putting all efforts to ensure that the Oga's At The Top come back to their satirical best, because Nigeria needs them.
We need people to poke fun at our Government and make us laugh not because laughter is the best medicine but because laughter sometimes makes people including the Government hear the pains of the masses. And these times are the toughest … the masses are in serious pain amidst double digit inflation, a recession and high unemployment rates. So we need the humor.
Thus I Okechukwu Ofili of ofilispeaks.com am personally putting down N150,000 of my money to anyone with key information on the whereabouts of the Oga's At The Top that can get them back on youtube releasing fresh new satirical videos. The money will be paid once a brand new youtube video is released.
Leave your tips and comments below.
We must find the Ogas At The Top before it is democratically too late. Share, retweet and like until they are found. And keep the puppets in your prayers!
PS: This is not a joke, the money is real. And the stakes can't be higher. We need to bring back our democratic rights to poke fun at the Government. The Ogas At The Top need to be found this is a National emergency.