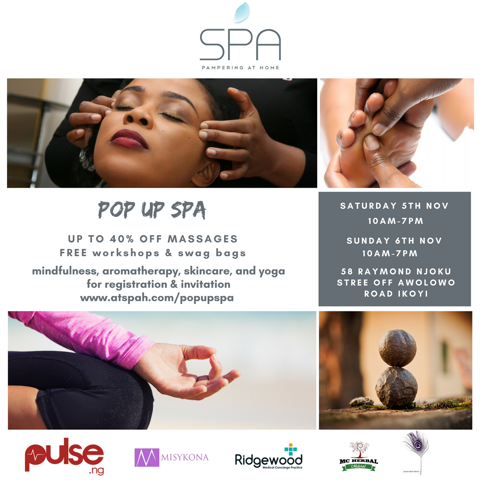 Chill like you hustle, massages and self pampering are not exclusive to the rich & famous.
High-pressure workdays, long commute, traffic congestion, trying to make ends meet, raising kids, not enough sleep or exercise? Do these sound like situations exclusively for the rich? NO!
If you are dealing with any of the above you are a perfect candidate for some well-deserved self-love and the best place to find it is at the Pop Up Spa.
Stress makes it difficult to focus & control your emotions; it can make you more prone to breakdowns and also ruin your sex drive.
While stress is unavoidable, managing stress is essential. A massage is a quick effective way to relax and refuel.
Pop Up Spa offers professional massages for everyone; head massages, shoulder massages, back massages and foot massages for specific and targeted relief.
What is Pop Up Spa? 
The Pop Up Spa is a quarterly event hosted by Spa Pampering At Home (S.P.A.H). S.P.A.H is a mobile spa service that personalizes RnR time for its clients by providing the services to them on the go, available at their homes, hotels or offices.
It is their mobility that allows them to Pop Up at a location near you. Allowing you to enjoy pure relaxation without any extra gra-gra!
The Pop Up Spa is more than just massages; other professionals in the wellness & beauty sector will join the S.P.A.H team. The event will host interactive workshops with Homeopaths, Aromatherapists and Yoga Instructors.
Workshops include, mindfulness, identifying and using essential oils, stress-busting yoga techniques.
Learn relaxation techniques that will take you to a safe and happy place, from mind boggling to focused and calm in 3 breaths!
Do yourself a favor, forget about the economy for a full weekend, and join us as we chill like we hustle!
Date: November 5th & 6th. All weekend (Saturday & Sunday)
Time: 10am -8pm daily
Venue: 58 Raymond Njoku Street, off Awolowo Road, Ikoyi, Lagos.
Mark your calendars and reward your mind and body.
For more information, please visit:
Facebook: @spapamperingathome
Instagram: @spapamperingathome