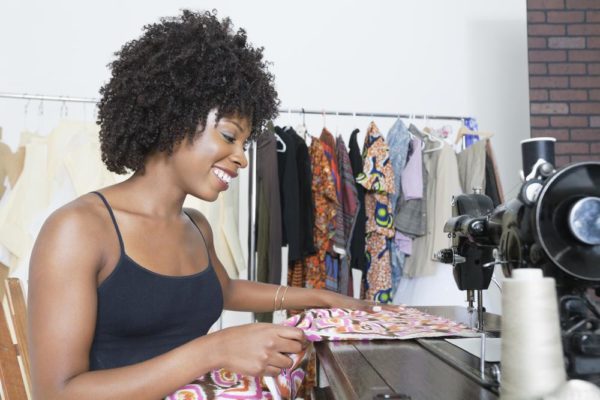 "This is the last time I'll be buying you girls lace fabrics in this house! Do you even have any idea how much those fabrics cost? I didn't buy them to be kept in the wardrobe, they're to be worn! No more lace" – That is my mum being a typical Naija mother.
It wasn't the first time she was getting upset that we hardly wore the expensive lace fabrics she ought for us. And believe me, that day wasn't the last. My mother did not understand that, not wearing it had nothing to do with the fabric, rather a whole lot to do with the style.
Every time she bought us these laces, we were excited. She would drive us to her tailor's shop which was about 30km away from our home so we could pick desired styles. Aunty, as we used to call the tailor, would give us catalogues to make the style selection process easier. I usually couldn't make up my mind then, so there were times I picked sleeves from a different design, neckline design from a another dress and probably skirt from yet another.
After we were done, the excitement of owning new clothes would get the better part of us and all we did was countdown the collection date.
My mum would bundle us into the car again on pick up day and off we went. Till date, I still can't explain why, but Aunty Tailor seemed to be hell bent on making us quickly get over our excitement when she brings out the clothes.
Killjoy best describes it.
She brought the clothes out on this particular trip and we were left wondering if she had our clothes mixed up with another customer's clothes. The designs were nothing close to what we picked. She almost, always changes the design! The painful part is she always gave us a reason for doing so. I remember vividly she once said "the style you picked isn't suitable for a child of God. It's indecent, this is better". Huh?!
And my mum who wasn't very involved in the style selection process because she wanted us to decide ourselves, never understood why we didn't like the 'fine' dresses.
Poor us!
In all fairness to Aunty Tailor, there were times when the 'spirit of indecency' had its way and she would cut exactly what we wanted. Only that, those were times the dresses weren't ready to be collected when we arrived at her shop. Imagine going all the way and all you get is your clothes not assembled. Let's not even talk about the days we got there and met the shop locked when she had said she'll be there.
That was the cycle of experience we had to put up with. Being a student of clothing and textiles in my school, made it even harder for me in particular because I wanted more than the service she offered. So, one day I told her I wanted to learn how to sew during the holidays.
Big mistake.
Her reply was "ha, you better face your book. You think it is easy? It's very time consuming and difficult o! Don't even think about it! " I believed her.
Believing her was even easier, because my home economics teacher in school had missed out on telling us what we could achieve with what she taught us in class. She didn't help us see the bigger picture of what we could achieve with the stitches we learnt in school and that even by hand sewing, we could make dresses or anything else. It would only take a longer time.
We put up with Aunty Tailor till eventually she closed shop unfortunately. I guess she'd disappointed too many people who had stopped patronising her.
Fast forward to 6 years ago, I enrolled in a fashion school after I resigned from my job at the bank, and realised Aunty Tailor lied.
It's not difficult if you set your mind to it and you're determined to achieve your end result. I enjoyed sewing and I still do. I had learnt it because I wanted to be able to craft out my own designs and have it fit just the way I wanted. Decent or not, is nobody's business.
I found that being able to eventually make my own clothes is convenient and comes with less disappointments.
I saved a lot on tailors' charges and was able to buy more fabrics as I desired.
I remember by my second month, my younger sister came home from school with Ankara fabric saying "I wore the gown you sewed for me to school last week and my friends liked it. Two of them brought fabrics that I should give you to make for them. How much is it so I can tell them? " I didn't believe it! In fact, I didn't even know how to charge them! Who would have thought I would start having clients and making money only two months into my learning when all I knew how to sew then were simple skirts and dresses?!
It felt very surreal!
After I graduated from the fashion school and clients started to troop in, I didn't stop learning. I can almost say today, that fashion school laid the foundation but further personal learning from videos and books groomed me better to be able to compete with the evolving trends in the fashion industry.
The most fulfilling part for me is that unlike, Aunty Tailor, for every busy lady who has reached out to me showing interest, I do not only teach them online, I also ensure that I encourage them and give as much support as I can because rather than see them as competitors, I see it as an opportunity to help them save money, acquire a skill, earn another source of income & build a profitable business. As they say…empower a woman, empower a generation.
What skills have you been pushed to learn?
Photo Credit: Photographerlondon | Dreamstime.com