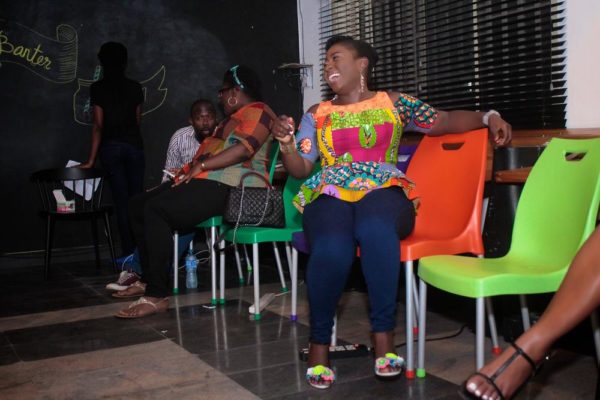 So, we'd talked about it for months and worked out the kinks, and it was finally here…My first live event!
I was excited, nervous, happy & nervous again. What if people didn't have fun or enjoy themselves? What if I started stammering? What if…What if?
I was asking these questions when I caught a glimpse of myself in the mirror as I got out of the car, and when I saw the girl staring back at me, I knew I had nothing to fear.  I looked like a bag of money. I was gonna own the night!
So I strode confidently into Stranger and smiled at the guests who had taken time out of their busy schedules to come see me.  October 14 was such a great day and the beautiful people who attended Friday Night Banter came ready to have fun, to banter and to make new connections. I loved it!
Here's what I had planned: everyone was going to have name tags so that people could make quick introductions and be more comfortable talking to the person beside them. Remember when I wrote about how I found it awkward going to events by myself?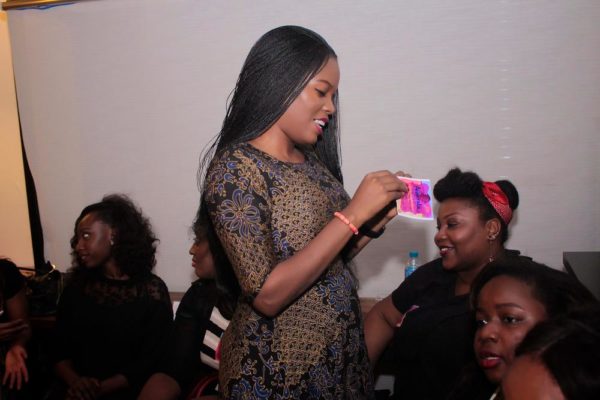 Well, I didn't want my guests to feel uncomfortable, so I reckoned an icebreaker to start the event will help people get familiar with other people in the room. We played a game called two truths and a lie. Everyone was required to state three facts, with two truths and one lie. Then the room would guess which was the lie.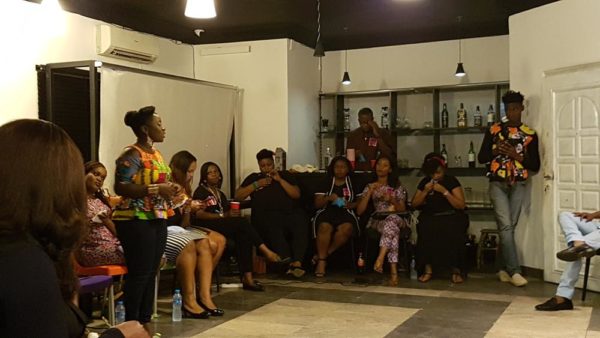 We kicked off the evening with a lot of laughter, because people came up with the most absurd things. Someone said she found the smell of fresh blood soothing and everyone was convinced that was the lie; turns out the lady is a surgeon and DOES find the smell of blood soothing.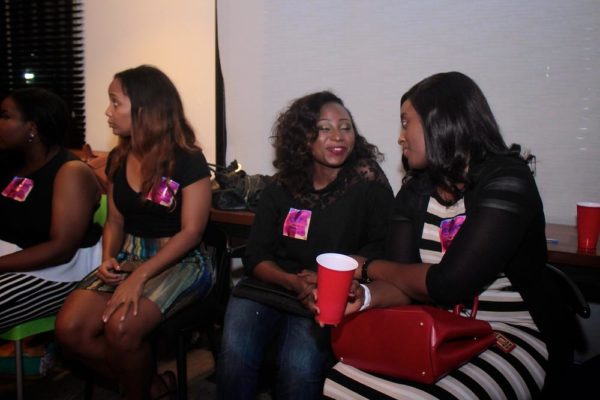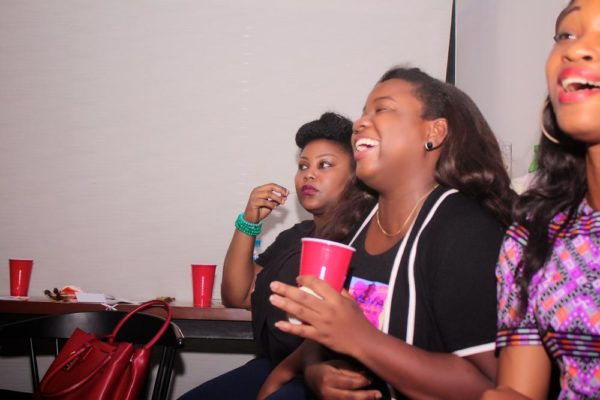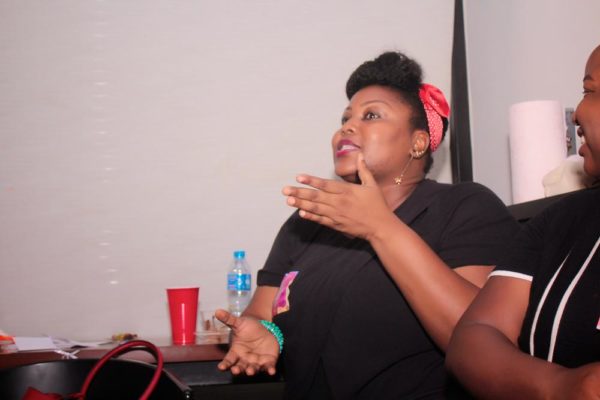 After the first round of games, we kicked off Friday Night Banter talking about office romance – from the Banter post, Love in this Cubicle. This was the most requested topic by the guests and, it was a nice way to kick off the gist. You know how people like love talk. There were no right or wrong answers so everyone got a chance to air their opinions. We then moved on to other requested topics like: Call Me Mummy Moyo, and doing 69 with 419. We had a diverse mix of people who shared interesting perspectives on these issues.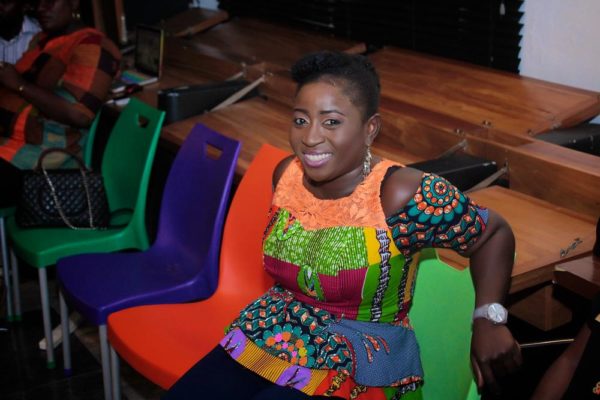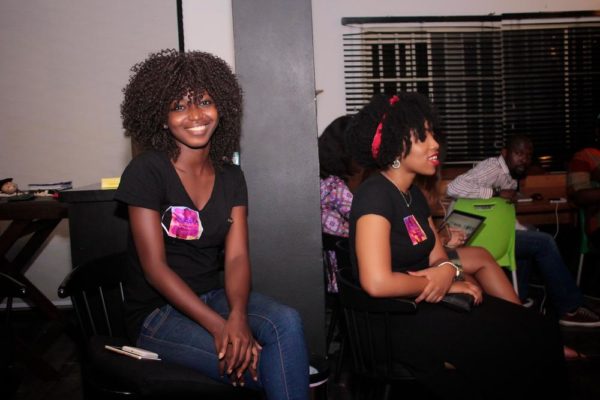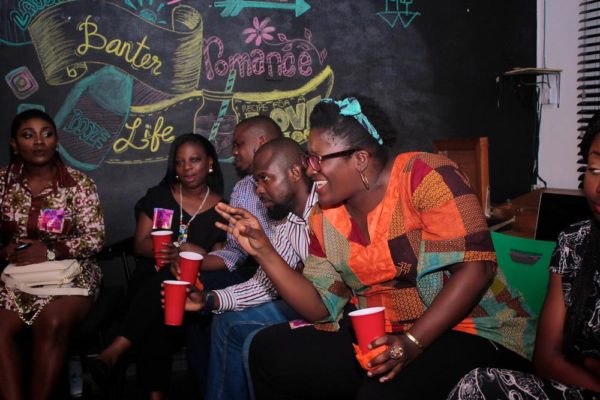 By this point, everyone in the room had settled into some form of rhythm with the people sitting next to them so you could hear chatter from different corners. Drinks were served. A couple of my friends said there was no way we'd have that event without Happy Juice, and so Ayodeji Rotinwa was stationed at the bar as the resident mixologist. Kindred folk, who like their spirits, naturally gravitated towards the bar. They didn't even bother looking back. All you needed to do was just stretch your hands towards the bar and 'Deji handed you a red cup.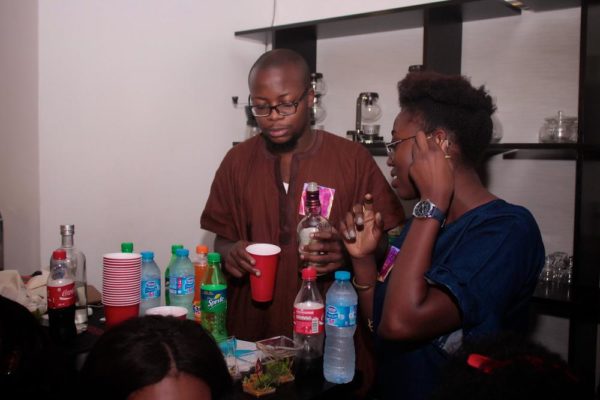 The amazing team from Chef Fregz catering started passing canapés around, so the gist started flowing easier.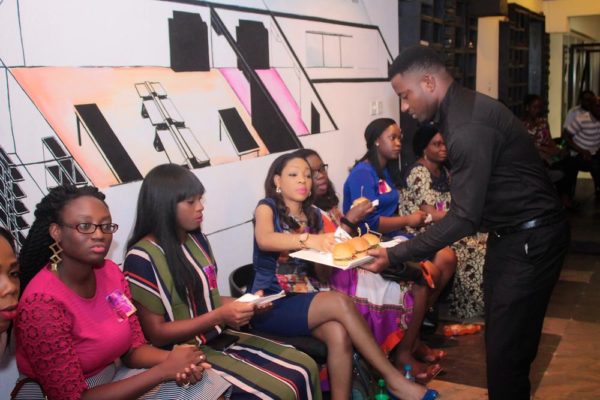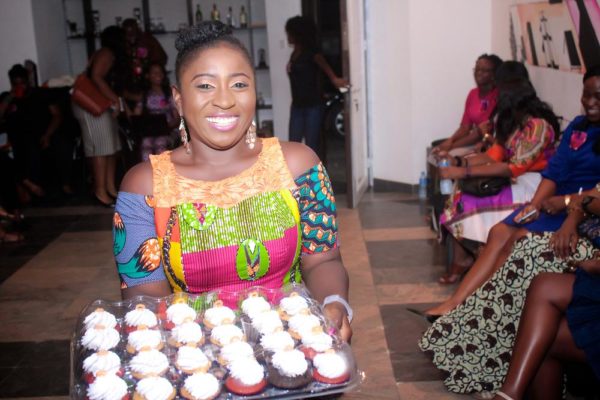 When things started getting rowdy, Nkechi 'Ink' Eze became our resident 'Keep the house in check' Lady! She was such a delight… nobody dared disobey her call to order.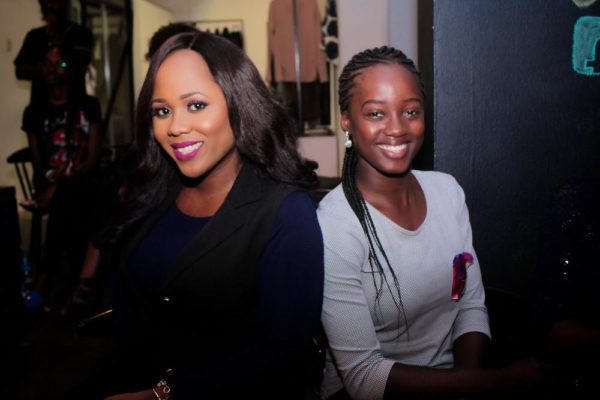 We had so much fun talking about coming out of the closet, and the shouting across the room was very intense. The passion was simply palpable and at some point I had to step in. Okay guys, let's calm down and talk about something fun! Yes? Yes… everyone agreed. We were not going to let anyone come to blows because of any topic.
My sister-friend, and a BellaNaija star Isio Wanogho was also in the room. We talked about Faking Orgasms and other juicy topics; but if I go into detail, this recap may turn into a book.
And if you weren't there, well…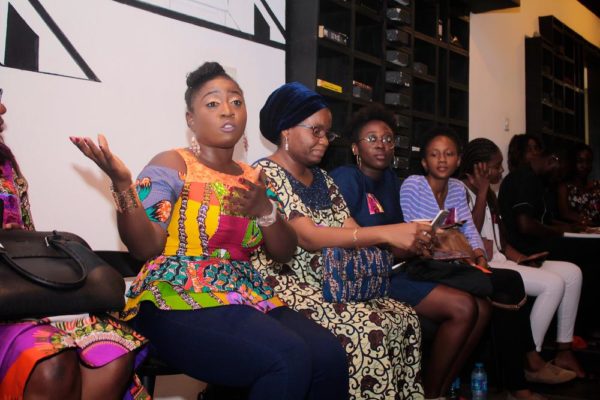 The BellaNaiajrians who came for Friday Night Banter were a nice mix of quiet and crazy! And as they chatted and formed friendships, something bubbled in my heart… JOY!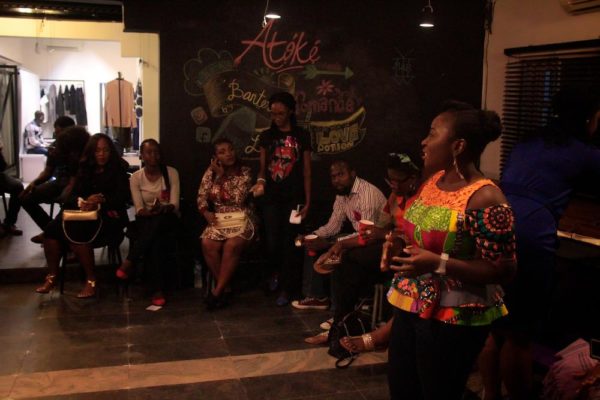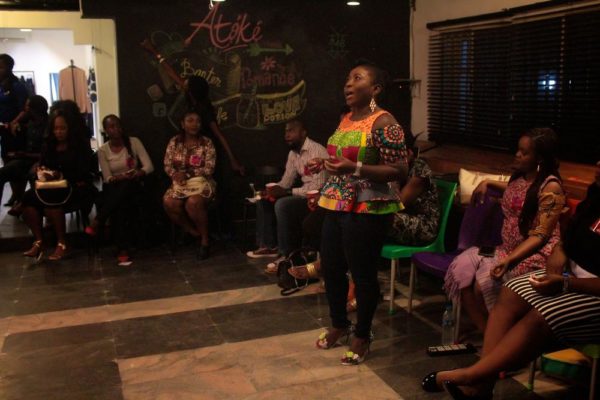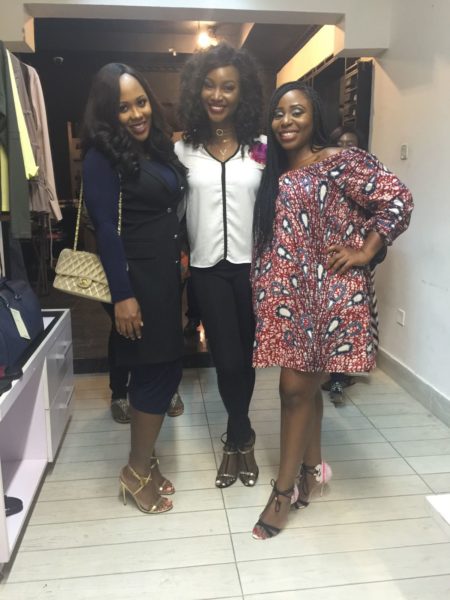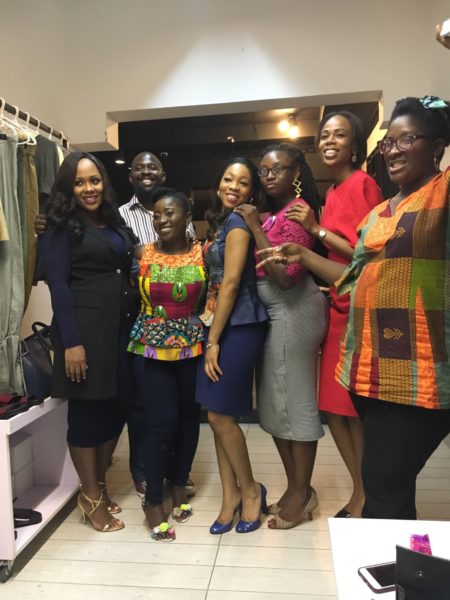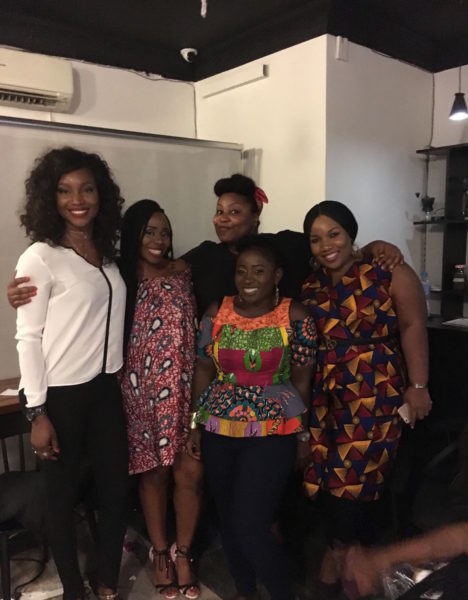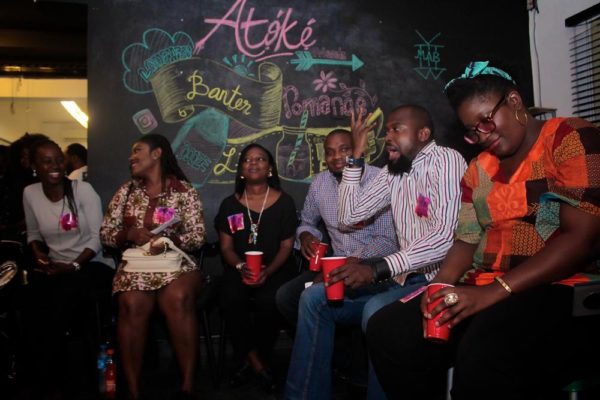 The night was not yet over. We served the guests parfait from SoFresh and we had a signature wall art drawn by artist Segun Akeredolu.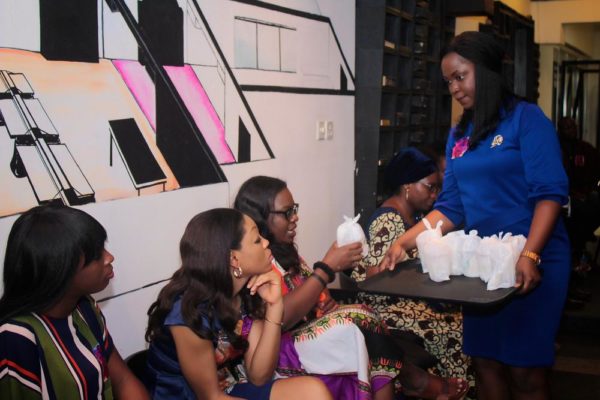 As we talked, Segun did a live drawing of what Atoke's Monday Morning Banter was about, and Stranger came to life with the burst of colours against a black background.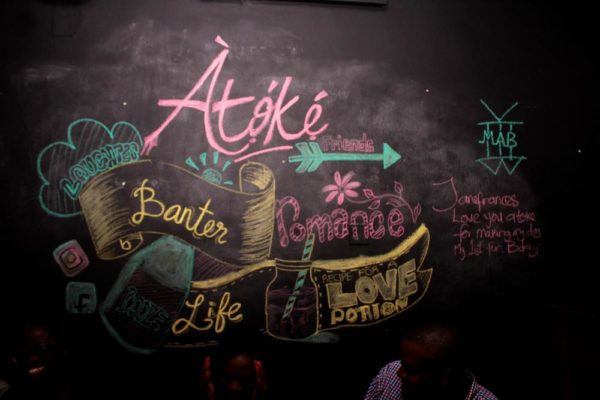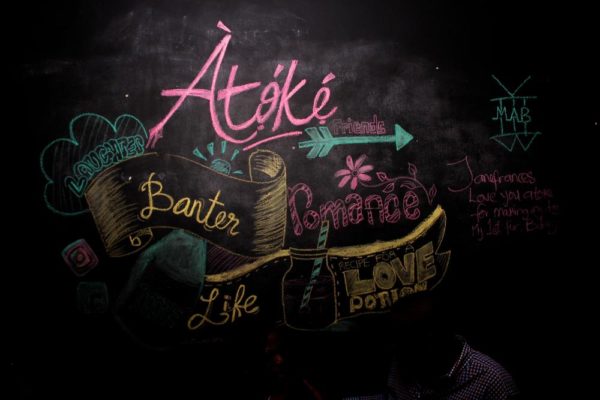 Before the night was over, everyone got a chance to leave their mark on the 'Wall of Fame'
I revealed a little bit about myself when I talked about Unpretty and it felt a little awkward. I was going to swiftly round it up when Wana Udobang told me to push through. I was in a room with strangers who had now become friends and it felt like being in a warm embrace of acceptance.
It was quite emotionally draining for me, but luckily I had Glory Edozien, the 'self-love ambassador, in the room. I then invited Glory to come talk to us about self-love and confidence.
I rounded up the evening with an update to the Elastic Heart series and because I'm in a much better place now, it wasn't so difficult to talk about it. One of the guests shared with us how that series helped her get out of her own situationship.
Essentially, Friday Night Banter was very memorable for me and I really hope everyone who came had as much fun as I did. K.B (also known as The Mo) was in the room being the nuisance I know and love. His energy was something else. Thanks, K.B; I never tell you thank you enough because your wahala is always so much, I can't get a word in edgewise.
I am truly grateful to everyone who came and to everyone who said we should do it again.
It felt rewarding to know that my writing had inspired someone to do something positive and at the end of the night, I encouraged everyone to live their life to the fullest and to impact positive change in every aspect of their lives.
Life is too short to do otherwise.
Finally, it will be remiss of me to end this recap without thanking the super team who made Friday Night Banter possible.
Osen Pogoson – Who sat on my bed and listened to me bounce ideas back and forth and helped me answer the Why, Where, When, How of the concept I had in my head.
Bobo Omotayo – Who restructured the concept and told me to narrow down the scale of my grandiose ideas and keep it focused on readers on BellaNaija.
Mnena Achineku – Who came up with the design for the invites and everything we needed to do for visuals. She made sure everything we put out represented the Atoke she knows and loves.
Moremi Amuta of Euphorique PR– Who was basically my ears, eyes and legs in Lagos.
Amina & Shola Aromokun of Konverge Media– Amina suggested Stranger (and it was the PERFECT space!) ShastiQ, thank you for providing your services.
Gbubemi Fregene of Chef Fregz – Who in the midst of his packed calendar said to me "we'll do it!" No questions asked. Chef Fregz committed to ensuring our guests didn't starve, and the food was so yummy!
Bimbo & Goke Balogun of SoFresh – Whose unflinching and immediate support for me was awesome. The timely and professional delivery of the fruit arrangement and the parfait was great!
Finally, and definitely not the least… Uche Pedro (and my awesome colleagues at BellaNaija – Desola, Ink, Eki, Rose, Jade and IK,) My ride or die team… You rock!
Photo Credit: Konverge media/ Gbenga Awomodu/ Toyosi Phillips