Hard Rock Cafe Lagos kicks off celebrations for the Vegetarian Awareness Month in October as they expand their legendary menu offerings and introduce new meatless options. On Saturday, October 1, 2016, Hard Rock Cafe Lagos along with other Hard Rock franchises around the world will begin serving the new vegetarian menu comprising of over 25 meatless options from Vegetarian Burgers, Wraps, Salads, Flatbreads and Juices, this falls on World Vegetarian Day which coincidentally is also on Independence Day.
Hard Rock Cafe added items in various menu categories of classic all-American cuisine to give guests the widest variety of options. The new selection will include innovative menu items such as the Roasted Squash and Walnut Pesto Wrap, Southwest Spiced Tofu and Black Bean Wrap and roasted Root vegetables and Kale Salad. Hard Rock will also expand its Legendary Burger menu to include additional meatless options, such as the Quinoa Burger, Mushroom and Barley "Kefta" Burger and Potato, Chickpea and Spinach Burger.
Something for Everyone
The new menu items will present guests with an option for every taste bud, adding to Hard Rock Cafe's robust menu of authentic American cuisine and beverage innovations. New menu offerings include:
Cauliflower Wings Buffalo Wings Sauce
Cauliflower Wings Buffalo Heavy Metal
Cauliflower Wings Buffalo Tangy BBQ
Tomato Water Melon Salad
Balsamic Roasted Carrot Wrap with Avocado
Wrap Grilled Ratatouille
 The expanded Legendary Burger menu includes;
Black Bean Quinoa Burger
Cauliflower Burger with Sliced Tomato
Thirsty for a Change
As part of the new menu expansion, Hard Rock Cafe's extensive, award-winning drink menu will also offer nutritious drink options. Fans will now find juices such as Kale and Apple, Beetroot, Orange and Ginger, Spinach Pineapple and Flex Seed, Cucumber, Spinach and Kale; and Pear Cucumber and Kale on the menu in select locations.
Vegetarian Awareness Month
The new menu items honour Vegetarian Awareness Month, which was designed to spread awareness of vegetarianism and the benefits of a meat-free diet. The International Vegetarian Union encourages individuals worldwide to spread the word and experience the vegetarian lifestyle. What began as World Vegetarian Day has blossomed into a month-long celebration of vegetarianism that involves educational events and festivities.
Hard Rock Cafe's new vegetarian menu features Hard Rock's hand-crafted American fare, with a commitment to fresh ingredients and the signature flair that guests can only get at Hard Rock. Guests can stop by at Hard Rock Café Lagos to try out the latest items or visit www.hardrock/lagos.com for more information.
Hard Rock Cafe Lagos Veggie Menu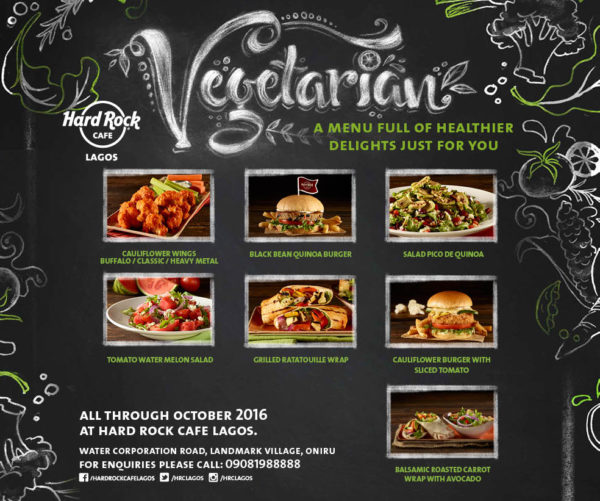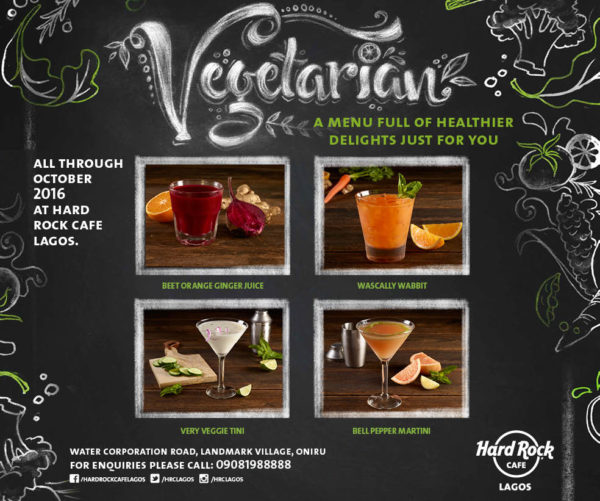 ______________________________________________________________________
Sponsored Content