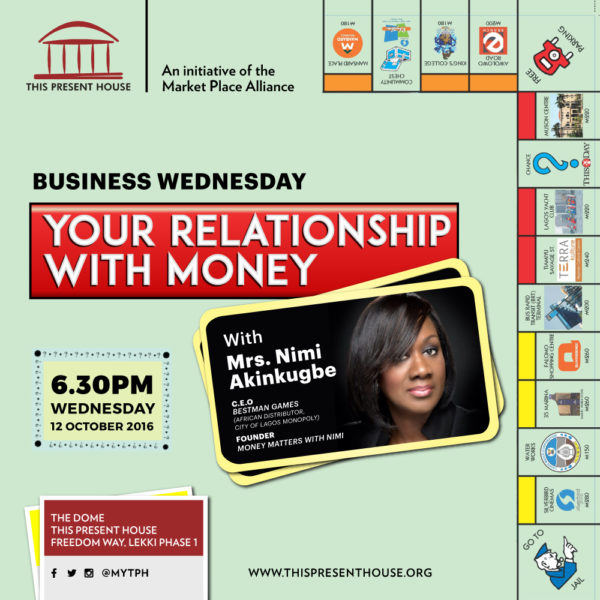 Everyone has a relationship with money. It is one of the most important relationships as it plays a critical role in a person's physical, emotional, financial and overall well-being.
Are you aware of your money habits? Are they beneficial to you? To be financially stable and independent, you need to have a good relationship with your money.
Come learn strategies on how to effectively improve your relationship with money and upgrade your financial status with Nimi Akinkugbe as she speaks at the TPH Business Wednesday event.
Date: Wednesday, October 12th, 2016.
Time: 6:30PM
Venue: The Dome, This Present House, Freedom Way, Lekki Phase 1, Lagos.
Nimi Akinkugbe is the CEO of Bestman Games. Bestman Games is the African distributor of customized editions of Monopoly. As the CEO of Bestman Games, she was responsible for the launch of City of Lagos edition. She also seeks to promote financial literacy as a tool for economic empowerment through her website "Money Matters With Nimi".
Business Wednesday is hosted by the Market Place Alliance ministry of This Present House, a community of Godly steward professionals who are passionate about extending the kingdom of God into various spheres of the economy.
If you cannot make it to the Dome, you can watch online at www.thispresenthouse.org and follow our social media channels @mytph