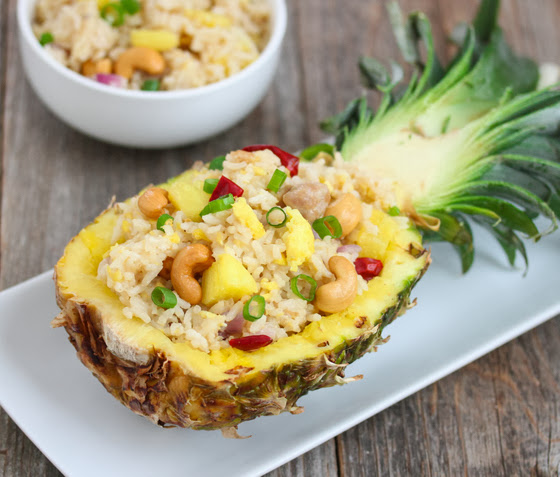 This is literally the sweetest fried rice ever! Everything about this meal is just perfect down to the presentation. We are taking our culinary skills to another level. No one will believe this is homemade rice.
Ingredients
1 pc Pineapple – Bendel
3 tbsp Amoy Blended Sesame Oil 150 ml
1 pc Onions Small ~600 g
1 cup Trio Mushrooms Whole 400 g
2 pc Garlic – 3 Bulbs
3 pc Tomatoes – Small Basket
1 pc Ginger ~500 g
2 cup Uncle Ben's Whole Grain Brown Rice 907 g
1 cup Green Beans ~1 kg
3 tbsp Amoy Dark Soy Sauce 150 ml
2 tbsp Spice Supreme Ground Black Pepper 65 g
1 bunch Mint Leaves
3 pc Carrot ~1 kg
Directions
Halve the pineapple, scoop out the fruit and chop. Keep some for the rice and the remaining for garnish.
Parboil the rice and set aside.
Heat the oil in a non-stick pot. Add the onions, carrot and mushrooms and stir fry until softened. Add the garlic (minced), ginger (grated) and tomatoes (diced) and stir-fry for about 1 or 2 minutes.
Add the parboiled rice, green beans and the chopped pineapples into a large sauce pan and stir fry for about 4-5 minutes. Reduce the heat, add the soy sauce and every other ingredients. Simmer until all the ingredients are well combined.
Remove from heat and add the remaining pineapples. Serve hot.
All the ingredients are available here

The code is valid till January 31st 2017.